LOVE AT FIRST SIGHT . . .
by Jo Anne Marquardt
Many of us are repeatedly attracted to France ~ we find it seductive, cultured, and
learn that even after many visits we still haven't gotten enough of it. Maybe we never will!
There are those special memories of our first time in Paris or our first night in a country inn
or some sweet little moment that remains with us forever. France has a way of drawing us in,
and here is the story of one person's love affair when it first began . . .
How
did I fall in love with France? It began with a captivating travel article about the village of Saint-Cirq Lapopie and a friend's impassioned description of her recent trip to the village of La Roque Gageac. In May of 1994 with no French-language speaking skills, my husband and I flew to Orly airport, rented a car and drove south to the Dordogne Valley.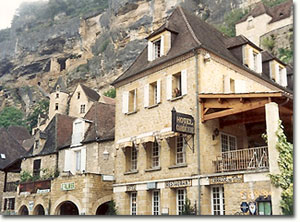 It was lunch time when we pulled up to what looked like a restaurant in a sunlit golden stone building overlooking the Dordogne River in La Roque Gageac. Up a flight of stairs, we were seated in the center of a picturesque dining room at an elegantly set table. The only word I could decipher on the menu was thon - tuna. We selected the three-course prix fixe menu and were not disappointed with what we were served. After a long lunch and some wine, we realized there was a hotel above the restaurant and haltingly inquired if a room was available. Our room was located in the front with three windows overlooking the river. The French franc price for the room, at the time, was the equivalent of about $35.
Hôtel la Gardette in La Roque Gageac
The next morning we pulled ourselves away from the view to drive on and explore more of the area. We "oohed and aahed" at scenery that called out to us to stop and admire. By late afternoon we had made a 50-kilometer loop and decided to return to Hôtel la Gardette for another night in our room with the view. The following morning Saint-Cirq Lapopie was beckoning us, and the Lot Valley wasn't far.
Approaching St-Cirq Lapopie we wondered if we had made a mistake in judging the distance. The drive up the steep and winding hillside was slow and torturous. As we rounded a final curve our jaws dropped open at the sight in front of us. We pulled the car over to marvel at the drama of the Lot River cutting a swath through the verdant valley below with St-Cirq Lapopie perched high above on the cliff with the church steeple and chateau ruin creating a memorable silhouette. We eagerly drove onward toward this mesmerizing sight, well worth the slow route to the top.
continued on page 2