---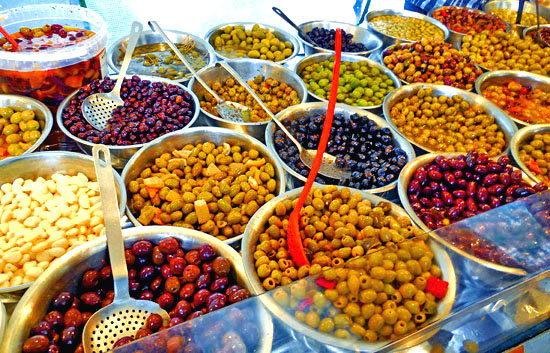 [Photo: © Cold Spring Press 2016]



FRANCE On Your Own © is pleased to offer this page of interesting offerings that may be of help when you are planning your next visit to France. We hope you find just what you are looking for in our MARKETPLACE!
Although we are very selective about the offerings we accept for this page, we regret that
we cannot guarantee satisfaction nor be held responsible for any transactions between parties to these ads.

To place an ad in MARKETPLACE, click to email us: advertise@franceonyourown.com
---
French Phrasebook & Dictionary
by Mathieu Herman & Robert Powers
Kindle - 2017 - 1563 Kindle pages - File size: 4861 KB

ISBN 9781929482931 ASIN: B01N7P4NSY


​With 1563 Kindle pages, this is the largest, most comprehensive French phrasebook on the market ~ more than five times larger than any other. This is a phrasebook not just for the mundane aspects of tourism, but for communicating with people; for expressing your wants, needs, ideas and problems; for making friends and acquaintances; for having fun and playing sports; for learning about French culture and enjoying French cuisine; and for dealing with a wide variety of situations.

And, not only is this phrasebook far larger than others, it's much quicker and simpler to find the expressions you're looking for. You don't have to fumble through confusing categories. In this phrasebook you go to the main word(s) of the phrase to find the hrase. And the main words are alphabetized like in a dictionary. Done in seconds instead of minutes.
T

he

phrasebook includes ten appendices covering pronunciation, grammar, numbers, clock time, calendar time, metric measurements, adult heights and weights, a 42-page French menu guide, and a glossary of common French signs and labels.
This book can be read on any device. When ordering, request a link to download the free Kindle App. Then start reading Kindle books on your smartphone, tablet or computer ~ no Kindle device required.

Order

French Phrasebook & Dictionary
by clicking on the Amazon banner.
For easier access to this publication, please enter
B01N7P4NSY
into your search.

---

FRENCH CHÂTEAU NOTE CARDS
These luxurious, ivory-colored classical note cards present our exclusive pen and ink drawings of magnificent château chambres d'hôtes in France. An assortment of twelve with matching envelopes will provide you with a unique and elegant way to drop a few lines to friends or to express yourself with a distinctive thank you message. Our cards also make very thoughtful and original gifts. See our prices below which include postage and handling.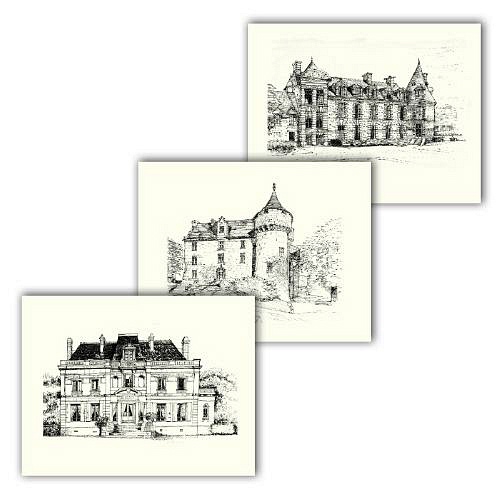 Three of the twelve cards (châteaus Canisy, Motte and Foulon) are shown above.
The actual size of each card when folded is 5 1/2" wide by 4 1/4" high
(14 cms wide by 10 3/4 cms high), printed on beautiful matte finish card stock.
They are blank inside, and the name of the château
represented on the face of the card is indicated on the back.
$15.50 to the United States / packet of 12 assorted cards includes first class postage and handling.
$16.00 to Canada or Mexico / packet of 12 assorted cards includes first class postage and handling.
$19.50 to Europe / packet of 12 assorted cards includes air mail postage and handling.
(Please inquire about cost to other destinations by email to watercolors@franceonyourown.com)
Check payments: Mail your check payable to Cold Spring Press with a note providing your full mailing address to the Post Office Box indicated at the bottom of this page. For payments by non-US dollar check, please add 5% to the total amount.
Credit card payments: click on the PayPal icon below. Please provide your full mailing address.




Make payments with PayPal. It's fast, asy and secure!
Currently, please allow for 2 weeks to receive your cards from the date your order is received by FRANCE On Your Own. If you need the cards in less time, please contact us at watercolors@franceonyourown.com for availability and express shipping costs.
If your complete mailing address is not provided and we do not receive an email address to contact you, we will not be able to ship your cards. Thank you in advance for remembering!
CSP1231

---
2 Fine Propertires for Sale!
HISTORIC PRIORY FOR SALE IN THE DORDOGNE
Character Residence ~ Ready to Move In!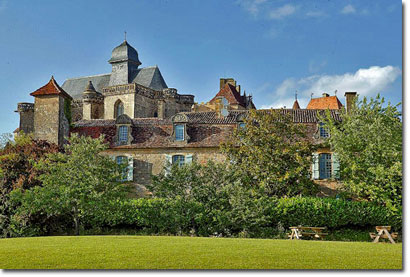 The
Périgord is one of the most popular travel destinations in France, and for good reason. It is overflowing with delightful towns and hilltop villages, lovely rivers, prehistoric sites, excellent cuisine, good weather, and so much more. All this makes the location of this historic Priory all the more wonderful. Whether you are seeking a large, comfortable home for yourself or a ready-to-go bed and breakfast business, this is the place of which dreams are made!
Located

in a charming village high upon a hill, the Priory enjoys a magnificent view over the valley below. A major attraction in the village is the massive castle with an interesting and tumultuous history. The castle, now owned by the French state and open to the public, adds to the appeal of this lovely hamlet which is not far from the bastide town of Monpazier dating from 1284.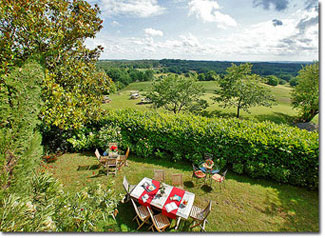 Excellent nearby restaurants, shops and colorful markets make this an ideal location for year 'round living. There is a variety of things to do and see in Sarlat and Bergerac, including browsing the fine boutiques and stores. Located between the Dordogne River to the north and the River Lot to the south, the Priory is ideally situated for exploring ancient towns and the famous prehistoric sites in the region.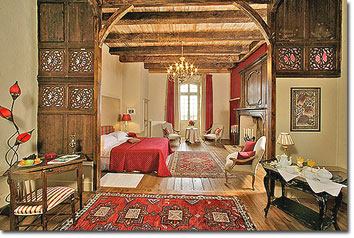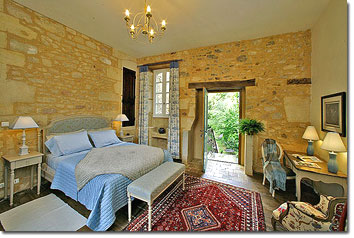 A bedroom in the Priory The bedroom in the self-catering apartment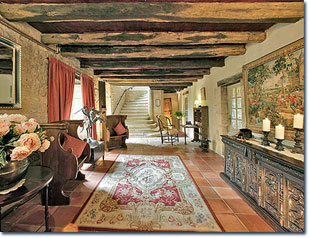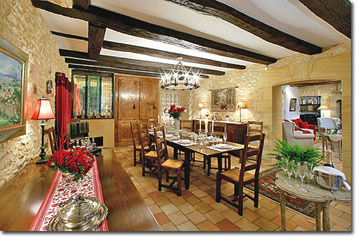 The grand stair and entrance hall
The warm and spacious dining room
The Priory
, as you can see, is a warm, historic and cozy home with fine architectural details and decorated by someone with excellent taste. It offers comfort and is safely nestled behind gated walls with parking for several cars. There are five bedrooms now serving as bed and breakfast accommodations on the first floor, the spacious apartment on the ground floor and the owners private quarters on the second floor. Priced very reasonably, the Priory can also be sold with the furnishings for an additional cost.
For
more information, price and to answer your questions, please contact us at
inquiry@au-chateau.com
and specify Priory on the subject line of your email. Merci!
[Copyrighted photos by Priory owner. All rights reserved.]
CX2-1231
---
XIX CENTURY FRENCH CHÂTEAU FOR SALE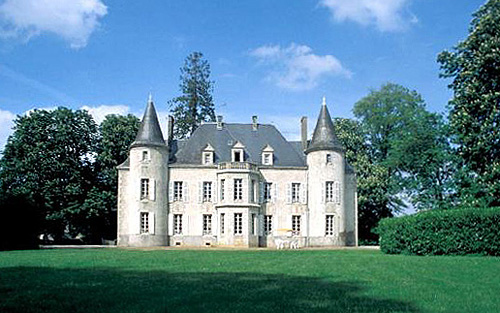 In the département of the Vendée in western France, with easy access to the Atlantic shore, a beautiful 19th century château is now for sale. Currently used as a family residence and bed & breakfast, the château shares its 13 hectares of parkland (32.5 acres) with three small rental cottages, a longère recently completely renovated as a 'dortoir' with facilities for conferences, seminars, weddings and other large gatherings, a heated swimming pool, horse stables and a SwinGolf course.

The château not only provides private accommodations for its resident owners, but it offers two double guest rooms, one twin guest room and two suites, all with en suite bathrooms, for guests, as well as a formal dining room, finely-detailed classical French interiors, exquisite stained glass and other unique attributes. The château is in excellent, move-in condition. The total capacity of the château, cottages and longère is 40 persons.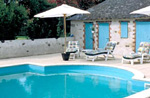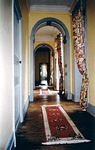 STAINED GLASS, HEATED POOL, CLASSICAL ARCHITECTURE
Nearby are many tourist attractions, including the historic city of Nantes (a half hour drive from the Château and two hours from Paris via TGV), Le Logis de la Chabotterie (historic castle of the Vendéen War) fishing, hunting, museums, son et lumière spectacle at Puy de Fou, the seaside resort of St Jean-de-Monts, La Roche-sur-Yon, the Île de Noirmoutier, and the Marais de Challans.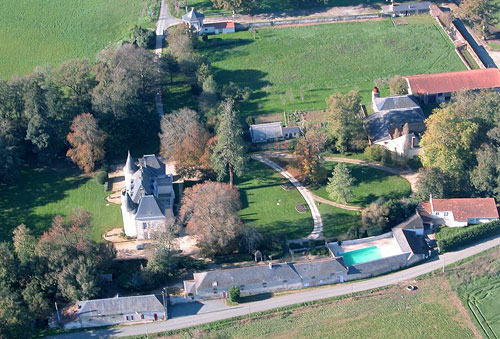 AERIAL VIEW OF CHÂTEAU AND DEPENDENCIES
[Entrance road to estate is at top left center of photo]
The château and its dependencies generate a very substantial annual income for its owners, while maintenance costs and taxes are very low.
Those with a serious interest in the possible purchase of this château can contact us at info@franceonyourown.com, (please indicate Vendée Château in the subject line) and we will be happy to provide more details, photos and price information. We promise a prompt response to all inquiries.
CX4-1231
---
---
DISCLAIMER:

Neither FRANCE On Your Own nor Cold Spring Press accept any liability, financially or otherwise, or assume any responsibility for the contents or offerings in the ads on this web site. Any purchases of goods or services are made between the buyer and the advertiser, and any differences or disagreements that may result because of said purchases will be resolved between them. Cold Spring Press and FRANCE On Your Own are not a party to any transactions between buyers and sellers unless specifically agreed to in writing by Cold Spring Press, P O Box 26098, San Diego, California 92196-009892 USA prior to a transaction taking place.



©1998-2020 Cold Spring Press. All Rights Reserved