---
ROMANTIC AND CREATIVE MARRIAGE PROPOSALS IN PARIS!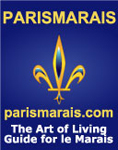 ---
DISCLAIMER: Neither FRANCE On Your Own© nor Cold Spring Press take any responsbility in any way
for the contents or information contained in any of the external web sites listed on this web site,
nor do they accept any liability or responsibility for any transactions between any parties
in regard to the web sites linked to FRANCE On Your Own© or its newsletter in any manner.
The sites and banner ads listed above are for informational purposes only.
Cold Spring Press, P O Box 26098, San Diego CA USA 92196-0098.
Home | Newsletter | Classifieds | Style de Vie | Carte Postale | Marketplace | Galerie | Archives | Links | Contact Us | Search
©1998-2023 Cold Spring Press All Rights Reserved