---
FREE!

FRANCE On Your Own has been published since 1997 -- originally created to
encourage independent travelers to plan their own visits to France -- as a
quarterly, illustrated print newsletter sold only by subscription.

Today, FRANCE On Your Own is transformed. Our goals have not changed,
but we have opted to provide an online version ~
a series of web pages. The online format allows us
to include graphics, color photos, live links to other useful web sites,
and, on occasion, our trademark original pen and ink illustrations.
And, we are offering our newsletter FREE to subscribers!

Past print issues are still available. They cover most regions
of France, have fascinating articles by people who live in or visit France
frequently, offer travel and transportation advice and tips, provide cultural
information and so much more. To see a summary list of all past newsletters or
to order one or more back issues, just click above on the Archives button.

In December of each year, we will provide links to that year's four issues
also on our Archives page. But to receive current newsletters containing
timely information, please do subscribe below!

Please take a few minutes to read the excerpts below
from past issues of FRANCE On Your Own that we believe will be of interest to you.
Simply scroll down the page to read examples of newsletters past.





~ Excerpts ~
---
An excerpt from our feature on the PREHISTORIC SOUTHWEST

It is always of value to know of one's origins. People prepare family trees and
research their genealogy to discover who their ancestors were and from whence they came.
But, what about our common ancestors, Cro-Magnon man and woman, those very people who
today are known as "early man"? Perhaps one way to find out what they were all about
is through their creativity ~ the artwork they left for us in the myriad caves of southwestern France
~ artwork that tells the story of their lives, their conquests, their daily bread and their spirituality.
Here we will visit some very interesting sites.
The first cave artwork was only discovered in the mid-nineteenth century, which is hard to believe since it existed from 40,000 to 10,000 BC during the Upper Paleolithic period, also called the Reindeer Age. The best of those paintings were done by those who became known as the Magdalenians ~ people who flourished in the Pyrénées region of Europe from 18,000 BC to 10,0000 BC. The Magdalenian creations have been around for two-thirds of the time humans have created art!

A little about the Magdalenians: They were named for a site in France, La Madeleine,
near Tursac on the Vézère River. They were Homosapiens ~ Cro-Magnon ~ and very
similar to today's humans. They were intelligent people who had many tools for hunting, carving
and fishing. During the last Ice Age, a drop in temperature of 4 to 5 degrees was enough to alter the plant and animal life upon which these people depended. In the Vézère River valley, home to
more prehistoric sites than anywhere else in France, this cooling caused the disappearance of
wooly mammoths, wooly rhinos, the musk ox, and reindeer, among others.
Reindeer were a primary source of food in the Périgord of Magdalenian times.

In 1902 cave art was finally accepted by both anthropologists and art historians as significant and authentic. As the 20th century drew to a close, Europe boasted 277 authenticated sites, 142 of which are in France, with others in Spain, Italy, Portugal, Germany and the Balkans. The art work itself is extremely fragile, and once a cave is exposed, not only to the outside air after being 'opened', but to humankind, the art begins to deteriorate very quickly. One example of this is the cave at Bédeilhac in the Pyrénées whose art vanished from deterioration within six months of opening to the public during World War I.

Air-conditioning installed in most caves today permits people to visit with less risk to the art work, and even with that advantage, some are open for only brief amounts of time to small groups of people, similar to the restrictions placed on visitors to Notre Dame Cathedral in Paris. Ancient art work can disappear so quickly, so every effort must be made to protect it.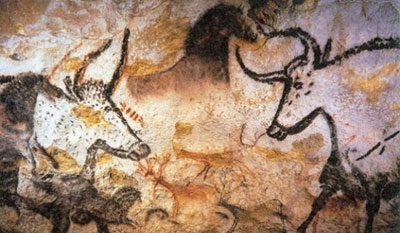 The earliest drawings were done by hands forming designs in soft clay, and this progressed to engraving with sharp tools. Some of these drawings were on the floors of caves and have long since disappeared under the feet of visitors. Then pigments were discovered, and painting was done on cave walls often incorporating the shape of the rock face itself to depict animals, the most common subjects of this art form. Red, iron oxide, black, brown and yellow were the available pigments, while white was used occasionally. These warm hues, aglow in the caves by just enough light for visitors to see the amazing work of our ancestors, are etched forever in one's memory after a visit to one of France's prehistoric wonders.
It is important to know that caves were not the homes of early man, but were most likely places of spirituality. Although the peoples of the stone age created art work outside the caves, those did not last very long. They soon discovered that the caves would shelter their creations ~ littledid they know for how long!
An excerpt from Discover Select Paris Suburb Treasures
Eastward Ho!
Let's go first to Vincennes, eastern end-station of Métro line N° 1; the trip from central Paris will cost you a single Métro ticket and about a 20-minute ride.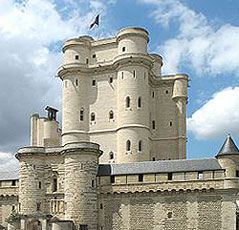 Fourteenth century: for almost a millennium-and-a-half, and although often itinerant, France's Kings had headquartered on Paris' Ile de La Cité in the royal palace whose vestiges you can still visit at the Conciergerie. Then, the irreparable happened: in 1358, during the Hundred Years' Franco-English War, King Jean Le Bon (John the Good) was captured by the English and imprisoned in London. His 20-year-old son, Charles, became régent (acting king) and found himself in a face-off with the Parisian townspeople, who slaughtered – before the young man – certain of John the Good's supporters.
Horrified, the new king-to-be, Charles V, fled the Conciergerie and went east, where he created at the city's boundary – protected by moats from both external and city enemies – La Bastille. Even there, he didn't feel safe and decided to move still further eastward, to the royal fortress-cum-hunting lodge at Vincennes where he had been born in 1338.
He decided to reside there and also make it the seat of his government and administration – a kind of second French capital! This required a complete architectural revamping whose extraordinary monumental result you can visit still today. Check out, for instance, the castle keep, some 50 meters high! Charles V died at Vincennes in 1380, but the castle's story didn't end then. . .
An excerpt from one of our issues featuring Provence
(our newsletters have color photos and live links to useful travel sites as shown here)
PROVENCE REVISITED
The Bouches-du-Rhône (13) is clearly the 'mouth of the Rhône' River, and here lie the marshlands between the Grand Rhône and Petit Rhône known as the Camargue. Monitored closely to protect its fragile ecological balance, this wild land still has it herds of black bulls, but the only 'wild' white horses left are those who escaped nearby ranches. The heart of the Camargue is les Saintes Marie-de-la-Mer, a town named for Mary Magdeleine, Mary Jacobe (sister of the Virgin Mary) and St Martha who, it is believed, arrived there from Bethany in 18 AD by boat. Today is the gathering place for the annual gypsy pilgrimage.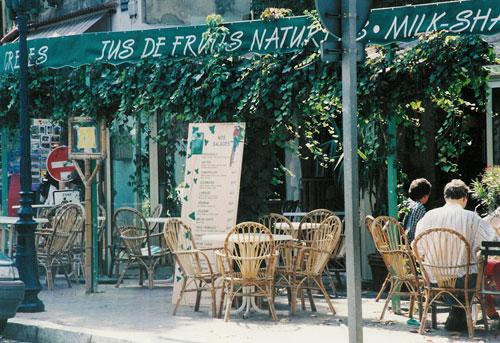 Marseille, the bustling port city founded by the Greeks, is nearby. A mile off the coast from the city is Château d'If, open to visitors who want to see the prison made famous by Alexandre Dumas' Count of Monte Cristo. Nostradamus' birthplace, the fine town of St-Rémy-de-Provence, offers antiques shops, restaurants and tree-lined streets, and just outside of St-Rémy are the Roman ruins at Glanum. A great place to stop, shop and explore is Les Baux de Provence; visitors can enjoy the older town in ruins and the newer town below with its narrow curved streets, ancient doorways and tourist throngs. Finally is the little fishing village of Cassis ~ the coastline known as the Calanques (inlets and rugged cliffs) stretches from here to Marseille and is an area rich in wildlife with over 900 species of plants, some of which are protected.


This is from our special feature on the Wine Route of Burgundy
BEAUNE
"A study in gold and ruby: If there is one town that can be summed up in the harmonious blend of two colors, that town is Beaune. Gold and ruby are the characteristic shimmering colors of the great wines of Burgundy of which Beaune is the undisputed capital." Those words may sound somewhat subjective, as well they should - they are from the Burgundy tourist office. We have visited Beaune, and our opinion is more objective. It's a wonderful town!
Beaune is first remembered for its narrow streets and bustling squares and the Hôtel Dieu, the museum created from a charity hospital (in operation until 1971) founded in 1443 by Nicolas Rolin, the king's chancellor, who came into great wealth. He and his wife decided to establish an almshouse and hospital for the city's poor. The quotations of the time from Nicolas and later King Louis XI are worth repeating. Nicolas wrote, "I set aside all mortal cares and consider nothing but my salvation, wishing by a happy transaction to exchange for heavenly riches those earthly ones bestowed upon me by God's favor, so to make transient riches eternal." Sounds quite generous and humble! However, Louis XI saw it differently, as there was always some question as to how Rolin acquired his enormous wealth. Louis said, "It's only right that he who made so many destitute in his life should build them an almshouse before he died."
Today, visitors can explore this remarkable place. The beds lined up along the walls in the huge ward, each with a bedside chair and a small place for one's meager belongings, the magnificent sculpture of Christ carved from one huge piece of wood, the apothecary of the nuns who served the poor, and the architecture itself are all notable. And, no doubt, most photographed is the Burgundian patterned roof.
Rolin did achieve something else that remains today. He needed to raise maintenance funds after his wife's dowry ran dry, and encouraged local vintners to donate land - vineyards, to be exact. The hospice, now still supporting 240 elderly people in Beaune, owns 2000 acres of vines. The annual wine auction, until recently held in the Hôtel Dieu, now takes place in the market hall. Tastings are offered in the hospice on that day.
The auction is the focal point of Trois Glorieuses, the three-day November wine festival. But, Beaune also offers visitors good museums, from the Musée des Beaux Arts with a collection of works of Picasso, Chagall and extraordinary Flemish and Dutch paintings of the 16th and 17th centuries, to the Musée du Vin de Bourgogne housed in the former 15th century mansion of the Dukes of Burgundy, where tours are given. Visit the museum's 14th century wine cellars to see ancient presses and vats, and get a real lesson in historic wine-making implements, methods and the soils of the surrounding vineyards. Don't miss the Jean Lurçat Aubusson tapestry located in the main room of the mansion.
<>
. . . and from a past December newsletter
RESTAURANT RECOMMENDATIONS ~ PARIS
We don't want these restaurants to become too popular because we'll have difficulty getting a table for dinner, but we feel we must pass along our tips for great dining experiences at a reasonable cost when you next visit Paris. They are all in our favorite neighborhood, the 7th arrondissement.
Le Bistrot du 7, 56 bd. de la Tour Maubourg (phone 01.45.51.93.08) Lovely menu selection, good service, quiet residential neighborhood. Our latest discovery.
Bistro de Breteuil, 3, place de Breteuil (phone: 01.45.67.07.27) Crowded and bustling, but somehow not noisy, very accommodating staff. Discovered in September because a friend in Paris suggested meeting him there. Quite reasonably priced with good food.
This excerpt is from Limoges: Where Works of Art Emerge
by Maribeth Clemente
Nestled into rich countryside where the most prized cattle of France graze, Limoges is a city steeped in a long tradition of arts and crafts. Along with its outlying area, Limoges is most certainly the focal point of a visit to this delightfully rural region known as the Limousin, located in central France.
The name Limoges is, of course, synonymous with china of the finest quality. Although many people think of it as a brand name, in fact Limoges is to china what Bordeaux is to wine.
The fine white kaolin clay of the region made this the ideal place for porcelain makers to set up shop more than 250 years ago. Prior to that, the French used faience for their tableware, a far less refined ceramic than porcelain. With explorations to far-away lands — primarily the Orient — the French were introduced to the rare qualities of china, which soon became the envy of French royalty. The oldest porcelain maker of Limoges is the Ancienne Manufacture Royale, founded in 1737, originally as a manufactory exclusively devoted to china production for the king and his court. The Manufacture is in full operation today, and although it is still producing ultra-luxurious creations fit for a king's table (or an Arab prince's!), it is also one of the best places to go for those beloved little Limoges boxes (astonishingly well-priced here).
Before you set out shopping, though, try to schedule a visit to the Musée National de la Porcelaine Adrien-Dubouché, a fascinating museum that features interesting examples of ceramics from all over the world and across the centuries. Here you will be able to distinguish the extreme whiteness and astonishing translucence of Limoges china, qualities that have earned it remarkable prestige and a reputation for value over more than two centuries. Your educational tour may continue at Haviland where part of its museum pays tribute to table settings created for famous places and people including Maxim's restaurant in Paris, the Empress Eugénie and an impressive number of American presidents. Bernardaud recently opened an exciting arts complex that occupies part of their original manufactory.
In this living museum, you can participate in any number of activities, including taking a guided tour of the works or actually delving into the creation of la porcelaine (great for kids!). A variety of temporary exhibitions also serve to educate and entertain, but, as in the case chez Haviland, you might become most consumed with their terrific factory discount shopping.


A taste of one of our Regional Features, this one on the Auvergne
The Massif Central is a large, diverse granite plateau infused with spectacular beauty, often called "la France profonde" — the rugged heartland of the country. The Massif encompasses nine départements, four of which make up Auvergne. The others are the three of the Limousin, and the départements of Lozère in Languedoc and Aveyron in the Midi-Pyrénées. With few large cities, this part of France is a "must see" on anyone's itinerary to experience the beauty of its valleys and mountains, castles, lush forests, Romanesque churches, charming villages, delicious regional cuisine, and wonderful local people.
Auvergne is special, as we recently discovered. The highest peaks of the Massif are in Auvergne, a rich land of green pastures and gentle foothills. Hiking, fishing and boating are popular pastimes. In the winter months, cross-country skiing is very popular, but, because the local mountains are not extremely high or always covered in snow, there is less downhill skiing. It is an ideal destination for lovers of the out-of-doors, but certainly not limited to those pursuits.
Throughout the area castles exist that are open to the public for visits. We have counted 45, only seven of which offer bed and breakfast accommodations or dining facilities. The majority have historic tours, museums, expositions, son et lumière and concerts.
The Parc Naturel Régional des Volcans d'Auvergne lies west of Clermont-Ferrand in the Puy-de-Dôme — a region of extinct volcanoes — and is one of many areas within Auvergne that are protected from incursion by any kind of development. The area is still not overrun by tourists, and the local inhabitants are happy with the level of activity as it is today.
An advantage of a visit to this region, aside from the lovely open roads and lack of crowds, is that prices are still so reasonable. The available inns are exceptional in quality, as well, which makes it even more desirable.
One more delight of the Auvergne: cheese! Saint-Nectaire, named for the Puy-de-Dôme village, is made from milk of Salers cows feeding on volcanic pastures and is aged in old wine cellars. A creamy cheese, it is one of many fine cheeses from Auvergne. Others include cows' cheese such as Cantal and Bleu d'Auvergne, ewe cheese such as Brebis du Lavort, and the goat cheeses Chevreton du Bourbonnais and Briquette du Forez , among others.
A sampling of our featured French Wine Report
Château Raymond-Lafon Exemplifies the Best of White Bordeaux
by Panos Kakaviatos
Red may be the color that comes to mind when one thinks of Bordeaux, but French wine journalists will gather January 22 in Paris to taste and judge the already legendary 2001 vintage of one of the finest white wines in Bordeaux: Sauternes.
For this sweet white Bordeaux variety, 2001 featured ideal weather conditions which allowed for the special mold called botrytis cinerea to concentrate grape juices just perfectly. Harvesters had a field day at Château Raymond-Lafon, one of the top Sauternes producers, which will be the appellation standard bearer at the Paris tasting this month.
"In 2001, we were able to pick our maximum yield, which will result in about 30,000 bottles, " says Charles Henri Meslier, the château's wine maker.
The entire Sauternes appellation includes some 6000 acres of vines in what is, arguably, the most beautiful of the Bordeaux appellations: gently rolling hills, foggy mist from the nearby Cerons stream, and a charmingly small and authentic town center.
Château Raymond-Lafon's 50 acres are preciously located right near the world famous Château d'Yquem. Pierre Meslier used to make wine for d'Yquem from 1961 until his retirement in 1990; he bought Raymond–Lafon in 1972, and he and his family have ever since been responsible for making Sauternes wines approaching the quality of d'Yquem, at about one-third its price, according to American wine critic Robert Parker. French critics also laud the quality of this Sauternes, and the Swedish government selected Raymond-Lafon for its Nobel Peace Prize dinner in 2000.
. . . and this is about special cities of France
ARLES - Gateway to the Camargue
It has been said that the best preserved and largest collection of Roman ruins can be found in France. In the south there are many examples, but our utmost favorite is Arles in the Bouches-de-Rhône — not just for its Roman ruins, but because this is an inviting and pleasant city. You may be surprised to learn that Arles is the largest city in France with a surface area of 758 square kilometers and surrounded by the exceptional beauty of the Rhône River, the Crau plains, les Alpilles and the wild Camargue. (Do plan a visit to the Camargue!)
In Roman times, Arles was a bustling metropolis and a symbol of ardent Christianity. This is seen in the Roman arena completed in 70 AD, said to have seated 23,000 spectators. Two of its original three tiers still stand, and today it is the site of bull fights (the bulls are spared), concerts and public functions. A Museum of Christian Art can also be found in Arles, tying it again to its strong Christian origins. Antiquities from the Greek and Roman era can be seen at l'Eglise St-Trophime, a former church, now a museum, displaying Greek and Roman statues and tombs as well as a statue of Augustus Caesar. Also worth visiting (you'll need to drive) is the Alyscamps (Elysian Fields) burial grounds southeast of Arles used until the twelfth century.
When in Arles be sure to visit the Roman Theatre on rue Porte de Laure, used today for the Arles Festival. It may be best recognized for its two remaining columns known as "the two widows" which stand like sentinels.
Frederic Mistral, the French poet, owned a 16th century Gothic house in Arles which today is the Musée d'Arlatan, home to artifacts, costumes, furniture and the implements of daily life in the Pays d'Arles, something he found fascinating and a collection which he established with the money from his Nobel Prize in 1904.
Another famous resident was Vincent Van Gogh, who was in the city two short years (1888-1889) painting the townspeople and local buildings. Considered eccentric, he was not well liked by the people in town. He committed himself to a sanitarium in nearby St-Rémy-de-Provence. . . In Arles, there is a cultural center, Espace Van Gogh, formerly the hospital where he received treatment in 1889, dedicated to his life and work.
Arles' location, history and charm have ensured its status as a prominent and much-loved tourist center, and it has avoided modern-day industrialization. With a population just over 51,000, Arles has a small-town feeling as it is explored on foot. Winding narrow streets, red-roofed buildings, and, in the air, the ever-present scent of someone cooking with garlic — add to this a good climate, and it is almost too good to be true!
Before you leave, be sure to cross the Rhône on Pont de Trinquetaille, turn right onto Quai St-Pierre and go as far as the cemetery. Stop there and look back across the river for a wide-angled view of this gem of a city.



An Excerpt from the French Wine Report
"Gala dinner at Chateau Mouton Rothschild "

by Panos Kakaviatos

Some 1,800 guests came to Château Mouton Rothschild – including Bernadette Chirac, wife of French President Jacques Chirac, and Claude Pompidou, widow of late French president Georges Pompidou – to enjoy a festive dinner party, known as the Fête de la Fleur, on the last day of Vinexpo.
Opera tenor, Placido Domingo, sang live on stage, surprising everyone with operatic songs over a sumptuous feast featuring the mythical 1982 vintage of Mouton Rothschild among other fine wines.
Gathered in tables of twelve under a colorfully lit and immense tent-like metal structure, guests were treated to an ambiance resembling the Cannes film festival, with noted cinema stars such as actress Catherine Deneuve and actor Jean-Claude Brialy turning up for the party held by Mouton Rothschild owner Baroness Philippine de Rothschild, herself a former actress.
The Commanderie du Bontemps, a brotherhood grouping Médoc, Graves, Barsac and Sauternes, has organized the Fête de la Fleur annually in Bordeaux since 1952 to celebrate the vine flowering in anticipation of the autumn harvest -- but the party also marked two special anniversaries.
During the dinner, a short film about Mouton Rothschild's history was screened to mark both the 150th anniversary that Baron Nathaniel de Rothschild of the family's English branch bought Château Brane Mouton and renamed the vineyard located in the heart of the Médoc, as well as the 30th anniversary that Château Mouton Rothschild was promoted as one of the top five "premier cru" wines in an otherwise rigid 1855 classification of top Bordeaux wines.
After the film, the Baroness asked guests to turn their menu to the page including words to a song called "the hymn of Mouton," announcing that the double anniversary was the perfect occasion to sing that song.
"But who will sing it?" she asked rhetorically.
As some diners – at least at my table – fought tooth and nail for every last drop of the 1982 Mouton Rothschild, a perfect 100 points on the Robert Parker scale, lush red curtains behind the Baroness rose and Placido Domingo, who had just flown in that afternoon from London, burst into song.
[Photo copyrighted property of Panos Kakaviatos 2003-2006. All rights reserved.]
From time to time we 'travel' with our readers to some of the Most Beautiful Villages of France
This excerpt is about a wonderful village in Burgundy's Côte d'Or département.
FLAVIGNY-SUR-OZERAIN
Did you see the film "Chocolat"? If you did, then you have already paid a visit to Flavigny-sur-Ozerain, for that is where the movie was filmed.
This walled Burgundian hilltop town, about 170 miles south of Paris, does not possess a chocolaterie or, as Juliette Binoche portrayed in the movie, a chocolatière. It is, instead, a town famous for the manufacture of anise sweets and dragée (sugared almonds) - and has been since the ninth century!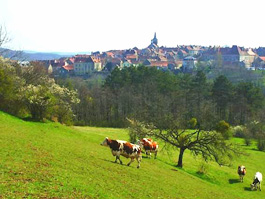 The village population is a mere 400, but it gained fame from Miramax's movie in 2000. If you are driving along the D905 north from Vitteaux (on the way to the Fontenay Abbey) and come upon the tiny D9 on your right before approaching Venarey-les-Laumes, make the turn. You will end up in one of the Most Beautiful Villages of France.
Besides adding it to your list of villages you've visited from Les Plus Beaux Villages de France, you will enjoy its cobbled narrow and winding streets, the peace and calm of a village with a small but devoted population, and perhaps a glass of wine at Renée Meugnot's family "Café Trop Chaud", only open on Tuesdays, Fridays, Saturdays, and Sundays. It may have been her café that convinced the movie's director to use Flavigny as the setting for Chocolat, for it is the first place he visited when he arrived in town.
If you want to spend the night in town, you might try the Hôtel le Relais de Flavigny (hotel/restaurant), owned and operated by Monsieur Guillier. The phone from outside France is: 33.3.80.96.27.77.
A charming B&B with two rooms that comes highly recommended by travelers is the Couvent Des Castafours - your hostess is Judith Lemoine. The contact phone for reservations from outside France is: 33.3.80.96.24.92). Visit her web site!
A visit to Flavigny-sur-Ozerain will be well worth your time. Its mayor, Gérard Foutheneu, says that Flavigny is "frozen in time".
[Photo courtesy of Marc Troubat, a resident of Flavigny sur Ozerain. All rights reserved.]
Readers of our newsletter will know that we give a great deal
of coverage to Paris ~ articles written by those who know the city well.
Here is an excerpt of just one of those:
The Street Markets of Paris Capture the 'Spirit of the Village'
by George Medovoy
There is no better way to breathe the spirit of Paris than to do as Parisians do, and visit its lively street markets to find the 'spirit of the village.' Paris has all sorts of street markets: from permanent markets to roving markets served by truck farmers; from organic markets to specialty markets; and, of course, all-purpose flea markets.
I cut my teeth, so to speak, on one of the city's food markets, which enticed me with fresh produce, fish and meats, as well as delicious pastries and breads. But one shouldn't forget the specialty markets, whose products run the gamut: old posters, perfumes, honey, exotic birds, paper products, absinthe glasses, kitchen linens, cheese, wine, and fashion. Goodness, one could build an entire visit around these markets – each of them, to borrow the words of the French writer Honoré de Balzac, "an undiscovered place, an unknown retreat."
I discovered the Paris street market scene on the rue Mouffetard, one of the city's oldest market streets, a narrow lane framed, like a living painting, by architecture dating back to the seventeenth century. Nearby is the Jardin des Plantes, or Plant Gardens, where King Louis XIII's doctors planted a royal medicinal herb garden in 1626 and which today, with its zoo and alpine garden, offer pleasant diversions during an afternoon picnic.
When the Romans inhabited Paris, which they called Lutètia, the rue Mouffetard was a principal thoroughfare. They built the nearby Arènes de Lutèce, a 15,000-seat amphitheater for performances and, as expected, gladiator fights.
On my morning out, the number 27 bus dropped me off at a little square dominated by the fifteenth-century Church of St. Medard. There, fruit and vegetable stalls marked the beginning of the market. But before I jumped into the market, I spied La Flute St. Medard, a quaint little pastry shop with lovely, fresh pastries in the window. What a lucky break! It was morning, and since I hadn't eaten a thing for breakfast yet, I went inside. The bell clanged as I opened the door. It felt nice and warm, a welcome change from winter's cold.
---

The above articles, including information about their authors, can be read in their entirety
by ordering the print newsletters or accessing the online editions, both on our Archives page.
And now, is it time for you to subscribe? Just send an email with the word 'Subscribe'
in the subject line to publisher@franceonyourown.com and your name will be added immediately
to our database. [We will not share subscriber information, so your privacy is assured.]
---
Home | Newsletter | Classifieds | Style de Vie | Carte Postale | Marketplace | Galerie | Archives | Links | Contact Us | Search

©1998-2020 Cold Spring Press All Rights Reserved