This column is intended to advise you about cultural events, news and happenings
in France or France-related events taking place in the United States
between now and the publication of our next issue.
In France. . .
o News from France: Plans may be afoot in the European Union to reintroduce visas for North Americans. Apparently, the US and Canada are being asked to waive visas for several EU countries (Bulgaria, Cyprus, Poland, the Czech Republic and Romania), or the EU will insist that North Americans have visas for entering any European Union country . . . The French may be paying a new tax to cover the expense of installing a rail link from Aeroport Charles de Gaulle into Paris. It could raise up to €400 million for the project and complete the 20-mile line in the next ten years . . . Sadly, many historical provincial churches are falling victim to the wrecking ball due to lack of funds for upkeep and renovation. Attendance at churches has fallen due to aging populations and the migration of younger people to the cities. Five churches in France have already been partially or completely demolished since January. Those with a 'classified' designation have official protection, but others, despite stained glass windows and fine architecture are not so fortunate. Only intervention by the State to classify more of the churches will save them. As of mid-September a year-long moratorium has been placed on any further demolition. Thirty-five percent of France's 45,000 parish churches were built in the 19th century and do not fall into any protected category. Demolition, according to those opposed to it, not only destroys the treasured buildings but also the traditional image of French villages. . . Animation is alive and well and thriving in France. French animators are enjoying global success, most recently for the 3D comedy Despicable Me 2, US studio Universal's most profitable film ever and animated by France's Illumination Mac Guff studios. French achievements in animation go back to the 1980s. French animation studio Plug Effects was partly responsible for The Smurfs 2. Mac Guff is increasing its 400-employee workforce this month by adding 200 more animators. . . The Louvre's Winged Victory of Samothrace has been removed from public viewing to be restored ~ until now it has been in a prominent position on the landing of one of the museum's most frequented staircases. The second century BC sculpture was dismantled, hoisted onto rollers and wheeled away to a closed room in another Louvre gallery for structural repairs and a meticulous cleaning to bring the marble back to its original hues. This project is expected to take nine months and Winged Victory, by an unknown sculptor, should be back in its usual place by June of 2014.
o Domaine de Moulin Mer at Brittany's western tip is a cozy and welcoming bed and breakfast and is now offering complete spa treatments in their wellness area: sauna, steam room, Jacuzzi and a qualified masseur for relaxing and rejuvenating massages. And, they are now offering the Moulin Mer Gift Box, personalized for each guest, for the Christmas Season. More information at Domaine de Moulin Mer.
o The Limoux Carnaval (Fécos) is the longest carnival in the world, running from January 26, 2014 to the first weekend of April when the effigy of the carnival king is tried, found guilty and burned in the center of Place de la République. Dramatic to say the least! Also, a tiny village near Limoux is selected each year to host the now famous Toques and Clochers wine festival. In 2014 the village is Toureilles. Thousands of people will participate in wine tastings, a parade, and major festivities including the Sunday wine auction. Some 140 wines are available for tasting. The proceeds from the auction go to the host village to restore their village church. Of course, food is abundant. For information about more activities in the region and a weekly rental only six kilometers from Toureilles and not far from Carcassonne, contact info@au-chateau.com and mention Tournou le Haut.
o Did you know that the first parachute jump was October 22, 1797 by Frenchman André-Jacques Garnerin from a hot air balloon? It was from 3200 feet at the Paris Exhibition over the city's Parc Monceau. Although a few others had preceded him, his was the first using an umbrella-shaped parachute without a rigid frame.
o Luxury French piano manufacturer, Pleyel, announced on November 13th that it will end production of the piano by the close of this year. Since 1807 the company, founded by Ignaz Pleyel a student of the composer Joseph Haydn, had manufactured over 250,000 pianos. Pleyel pianos were the choice of Chopin, Liszt and Debussy and are still treasured to this day. However, the company has fallen victim to cheaper pianos manufactured by the Chinese, Koreans and other Asian manufacturers. Production has steadily dwindled from nearly 140 pianos per month in 2000 to only 2 per month now. Made up of 5,000 separate parts, it takes from 500 to 1500 hours of work and 20 different crafts to create a Pleyel which sells between 42,000 to 200,000 euros. In France it is known as the 'Ferrari of pianos.'
o Musée d'Orsay will present Masculin/Masculin - L'homme nu dans l'art de 1800 à nos jours, a first of its kind: a large-scale exhibit of the male nude with origins in the Classicism movement of the 18th century. Through January 2. Information at musee-orsay.fr.
o French film director, Georges Lautner, died November 22 in Paris at the age of 87. Lautner is known for his many films of the 1960s, 1970s and 1980s ~ popular comedies that became part of France's "cinematic heritage" noted President François Hollande as he lamented the film maker's passing. He directed such well-known French actors as Jean-Paul Belmondo and Alain Delon.
o Paris' Grand Palais will host Georges Braque, an exhibit of the famed painter, sculptor and engraver and key member of the 20th century Avant Garde movement. His groundbreaking experiments with Cubism and his invention of the collage will be featured. Through January 6. Details available at grandpalais.fr.
o The Musée Maillol's exhibit Etrusques - Un hymne à la vie takes us through the daily lives of the Etruscans, an important Mediterranean civilization before the rise of the Romans. Over 250 works of art will be on display through February 9. More information at museemaillol.com.
o Until February 9, 2014, visitors can enjoy the lasting appeal of Art Déco at the Cité de l'Architecture et du Patrimoine, entitled 1925, quand l'Art Déco séduit le monde. Named for the 1925 Exposition Internationale des Arts Décoratifs et Industriels Modernes, France's significant contribution to the movement can be seen in architectural models, sculptures, furniture, paintings, and objets d'art.
o Bits and Pieces: Parenting classes are taking hold in France ~ The euro is now the strongest currency in the world ~ Increasing wine exports may cause a global shortage according to a Morgan Stanley research report ~ A telegram from Winston Churchill to John Dill, expressing his fear that France was going to attack England in 1940 after the British attack on the French fleet near Algeria which killed 1297 French sailors, sold at auction in London for the equivalent of $2500 US.
o Margaret's Château Kitchen: French Cooking Made Easy is a brand new online cooking magazine and a YouTube series, and she will be teaching cooking in her château near Bordeaux for those interested in joining one of their 3 Bordeaux Cooking and Wine Tours. Subscribe to her online magazine, to the YouTube series or sign up for a Tour in 2014 by sending an email to Ronald@BXWINEX.com. It is important you mention FRANCE On Your Own in your email!
o Louvre Museum's The Springtime of the Renaissance - Sculpture and Arts in Florence, 1400 - 1460 focuses on beginning of this historic movement through sculptures. Masterpieces by Donatello serve as the centerpiece of the exhibition, which also includes 140 Renaissance works of art grouped into ten sections. Explore the early days of the Renaissance through sculpture. Through January 6th.
In the US . . .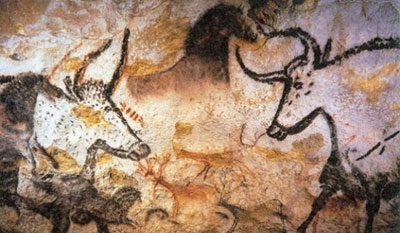 o Lascaux 3, one of the replicas of the legendary Lascaux cave paintings, can be enjoyed at the Houston Museum of Natural Science until March 23, 2014. Scenes from the Stone Age: The Cave Paintings of Lascaux was created by the General Council of Dordogne with the support of the region of Aquitaine, the Cultural Ministry of France and the European Union. The exhibit puts on display 2,600 feet of replicas of the famous mural paintings that unfurl over the walls of a grotto discovered by accident by four boys in September 1940.
o The Art of the Louvre's Tuileries Gardens traces the evolution of this famous Parisian gathering place, including large sculptures and masterpieces by the likes of Manet and Pissarro as well as photographs by Atget, Cartier-Bresson and others, through January 19 at Atlanta's High Museum of Art. More information available at high.org.

o Denver hosts a trio of shows devoted to French art from the late 1600s to the early 1900s, entitled Passport to Paris. An amazing collection of masterworks fill the three exhibits. Adding to the enjoyment, the Colorado Symphony will play related music on site each Saturday for the duration of the exhibitions. Through February 9th at the Denver Art Museum. Details available at denverartmuseum.org.
o In Brooklyn, at the Brooklyn Museum of Art, visitors can view The Fashion World of Jean-Paul Gaultier: From the Sidewalk to the Catwalk, celebrating the designer's irreverent and fun-loving aesthetic that celebrates the individual. The exhibit presents 140 haute couture and prêt-a-porter ensembles from the 1970s to today. Through February 23. For more information visit brooklynmuseum.org.
o Kansas City, Missouri, is the host city for Impressionist France: Visions of nation from Le Gray to Monet. Impressionism allowed painters to create without reproducing reality, and this exhibit juxtaposes photography with Impressionist paintings in some 125 works in seven separate categories including Modern Cityscape, Forests and Rivers, Marine Views and more. Through February 9th at the Nelson-Atkins Museum of Art. Details at nelson-atkins.org.