REKINDLING AN OLD FRIENDSHIP . . .
by Charlie Heckstall-Smith
Having the FRANCE On Your Own,web site for sixteen years has opened many doors for us.
We always find ourselves quite fortunate that the people we 'meet' online share our love for France
and, without exception, have interesting stories to tell. We want to thank Charlie
for contributing his lovely tale of reunion and the resulting business partnership
in the Var of Provence and Côte d'Azur ~ and all because of the Internet!
This is a story about how a long lost friendship was rekindled with the help of the World Wide Web and led not only to a renewed friendship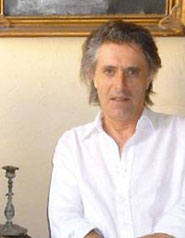 but evolved and blossomed into a business partnership set against the backdrop of the beautiful Var region of the Côte d'Azur.
I'm sure readers have all had great and fulfilling friendships over the years that circumstances and life have somehow conspired to interrupt. This piece describes just one of those friendships.
Jewels Newton and I met in London in the early 1970's and as teenagers we were oblivious to a world full of strikes, stoppages, and political turmoil. London was such a vibrant city at the time, despite what some historians suggest, and we both threw ourselves into all this great city had to offer and became very close friends. After several years of having great fun, the reality of adulthood took hold and, with our respective careers beginning to take charge of our lives, the slow yet inevitable breakdown of our social world began to occur, and we soon drifted apart.
After a break of some 20 years, it was Jewels who Googled my name, Charlie Heckstall-Smith, to see what came up and my UK based Property Acquisition Service Web Site popped up. She immediately sent me an email, which I replied to straight away with great excitement. After a series of very, very long telephone conversations and many emails, the memories came flooding back, and we were soon immersed in catching up on the last 20 years. Jewels and I agreed we should see each other as soon as possible because we still had much in common and our bond was still strong despite a 20 year gap. Consequently, we were both left with the feeling of just how we had allowed our
friendship to fade.
It was agreed we should meet when Jewels next came to England to see her mother and father and to stock up on her favorite tea, which she cannot buy in France. We duly met in the delightful and picturesque Hampshire town of Petersfield where a mutual friend, Anita, lives and with whom Jewels was staying for a few days during her trip. We immediately fell into deep conversation almost to the exclusion of our hostess, but to Anita's great credit she joined in with the spirit of the occasion and much fun was had reminiscing about our collective youth and the good times we all had.
Once we had exhausted several pots of tea and our fill of cakes, our conversation turned to our respective careers and the discovery that we had a great deal in common. Our thoughts quickly turned to whether we could merge our collective experience in some way to create a business that would appeal to us both, have merit and most importantly generate an income.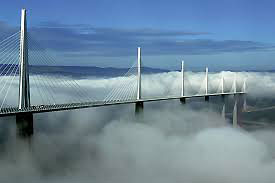 At the same time, it just so happened I was planning a road trip around France with my then 14 year-old son, Barney, as we had other friends living in France who were very keen to see us. Also, Barney really wanted to see the spectacular Millau Viaduct ~ a staggering 1,125 ft in height ~ which had recently opened to traffic on the A75 autoroute and had been featured on the popular TV Show, Top Gear. The trip was to include the Dordogne and Burgundy but now we had a great excuse to take in the Côte d'Azur as well. Three of the most beautiful and interesting regions of France in one trip! What fun Barney and I had together, a chance for father and son to enjoy each other's company before the inevitable teenage testosterone kicked in and dad wasn't so cool anymore. We had a great, great trip, which I would recommend to everyone as a deep seated bond was created with this event that will certainly live long in my memory.
While enjoying all the Côte d'Azur had to offer ~ beautiful scenery, beaches, Gallic atmosphere, wine, food, most particularly French bread, a favorite of mine ~ Jewels and I cemented our new found friendship and both agreed there was a business to be had with me based in the UK and she in France. She has spend many years successfully renovating property in France for clients and in doing so has built up strong and valuable trade connections that would make our plans more substantial and credible.
So we set about creating not only a Property Acquisition Service, which I already had in place covering the UK, for those wanting to buy in the Var region but also came up with a plan to create a Property Management Service for villa owners who are not based in France needing a safe pair of hands to look after their much valued asset. We hear time and time again how owners have been let down by empty promises lost in translation and large invoices for a 'make do and mend' approach to the maintenance of their homes. As a result, over the last three years we have worked hard to hone and create a bespoke management service that serves owners' best interests for the care and maintenance of their property. We have high hopes our efforts will be rewarded with a now growing portfolio of property and satisfied clients who know we care almost as much for their homes as they do.
In doing all this, Jewels and I have been re-energized and brought together our many, many years of experience in the property field to serve owners in this most evocative, diverse and picturesque region of France. After all, it was said that 'when God created the sun, the earth, the mountains and seas, and put them into place, he realized a little of each remained. So he gathered the bits together to make a paradise and Provence was born'.
The moral of this story is this. If there's a long-time friend out there with whom you are never quite sure how or why you lost contact, don't delay. Look them up, because you may have a true friend just waiting to rekindle a long lost friendship. Oh, by the way, if you have a house you need managing in Var, please think of us!!
Bonne chance à vous toute….
Charlie Heckstall-Smith is an an award winning documentary film maker
and involved in the British Film industry, providing locations and situations around the UK,
Europe and North Africa for feature films, television commercials and music videos.
To learn more about Property Management & Acquisition from owners