THE RENAISSANCE OF A LOIRE VALLEY CHÂTEAU ~
Maintaining and transmitting European Heritage and Culture in the 21st century
by Marnie de Vanssay
The 21st century had only just begun when Guy and I plunged into a six century-old time tunnel, as the family property fell into our hands like a hot potato upon the death of my father-in-law.
The dream of many mid-career managers of 'changing their parachute' came true overnight, larger than life. But, as we made our way down the familiar estate drive one cold March afternoon ~ to find no heating, gutter pipes leaking, and ceilings collapsing ~ apprehension and anxiety could be read all over our foreheads!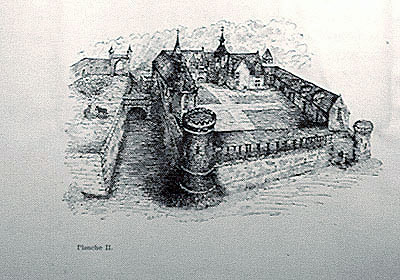 Château de la Barre in the 16th Century and in 1800
Guy had just lost his job following a takeover of his advertising agency, and Ariba, the Internet company for which I was recruiting, had started laying off over half of their European executives. What to do? Would we be the generation to fail the noblesse oblige values of our ancestors and sell 600 years of unbroken lineage? How could we possibly maintain one hundred acres of parkland and 40 rooms, not to mention the nombreuses dépendances, i.e., chapel, stables, cottage, gatehouse, laundry house and orangerie? Our last penny would disappear on the full-time salary of a gatekeeper while we would be riding rodeo in the fickle employment market, already at that time starting to show its first signs of impending doom for the over-forties.
During a Spring break in 2002 in Great Britain, relaxing at a couple Wolsey Lodges (elegant gentleman's homes opened to welcome guests in the tradition of Cardinal Wolsey), an idea started germinating.
Hundreds of kilos of sandstone, plaster, pipes, limestone, mortar, primer, grout and paint . . . four solid Makita sanding machines, two power drills, 200 rolls of wallpaper, 500 meters of designer fabrics, not to mention the tens of thousands of euros for plumbing, electricity and carpentry, plus far too many bottles of wine and almost a divorce later - we were ready to welcome our first guests, taking over the entire château for the week of the famed Le Mans race in June.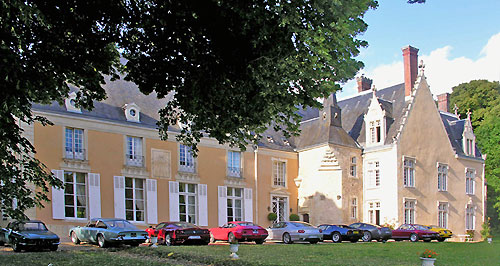 Exhausted, yes, but proud also, feeling like Olympic runners passing on the torch to yet another generation - a link in the chain, maintaining the 600 year-old family château, also part of the regional heritage of western France and a witness to an elegant European lifestyle of bygone times. Proud also because we feel we are living our conviction that values and heritage are important, and that a generation without identity and history is a generation without a future.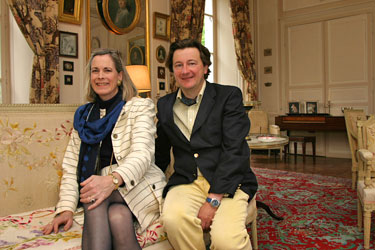 Many aspects of the renovation proved particularly interesting. While building the bar in the oldest room of the château, we uncovered an entire indoor window accessing a twenty meters deep well! During the Hundred Years War, access to an indoor water supply was essential, as this region, part of the Plantagenêt Crown of England was devastated - Henri II was born in Le Mans and Anjou-Maine only became part of the Kingdom of France as late as 1426.
Other finds came from rummaging through the château archives which comprise documents for the XVth century to World War II. Contrary to common belief that the Lord of the Manor was a wealthy, distant tyrant ruling over his serfs, they describe all the inhabitants without distinction gathering around the monumental fireplace of the fireplace room - called la pièce à feu -as well as the items, all simple, being passed down in the family: pewter plates, straw mattresses and linen dresses.
A number of fairly improbably items, stored in attic boxes, even provided surprisingly lucrative sources of renovation financing via eBay - the 21st century meeting the 19th: photographs of popes on their deathbeds, communion cards with St Lucy bearing her breasts on a platter, wild boar trotters (forelegs) transformed into silver candlesticks, broken telephone sets from the nineteenth century.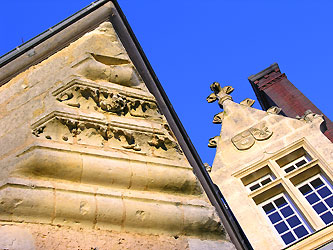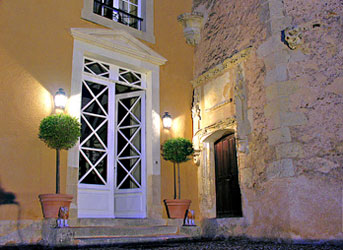 Château 'geometry' and the entrance in the evening
Marriages were arranged, but the letters between the IVth Marquis de Vanssay and his parents-in-law, describing his love for their daughter in 1778, show a depth of feeling and respect that no Hollywood romance comes close to. Guests enjoy reading these while sitting in the XVIIIth century ornate Grand Salon, where all the furnishings were especially crafted some 250 years ago for Charles de Vanssay's wedding. What a perfect surrounding in which to host a wedding or renewal of wedding vows as shown below.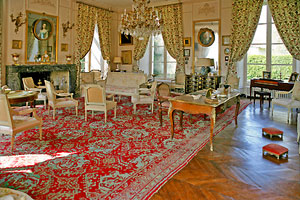 The Grand Salon and the de Vanssays with Didi and Harvey who renewed their wedding vows
The farewell to the last guest of the season ushers in the beginning of a new renovation project. The maintenance of a château is an ongoing, never-ending affair, a love and hate relationship!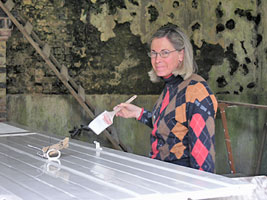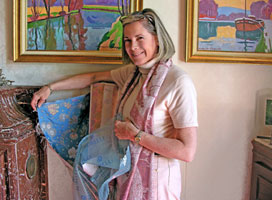 From restoration work to choosing decorator fabrics for the rooms . . .
The tedious, repetitive sanding and painting fortunately paves the way to the creative, decorative choice of fabrics or the completion, this Spring, of the restoration of the family chapel - the walls of which are currently being primed to carry three gigantic paintings of the Nativity, the Resurrection and Pentecost, executed by a Cambodian/French artist depicting the exuberance and joy of true spirituality while keeping to the color tones of the original stained glass windows.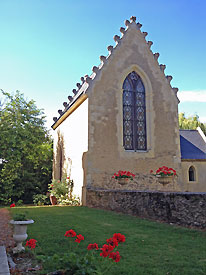 The chapel in 1890 and fully restored today
Although our memory is often drawn into the past, our hands need to be responding to the present while our eyes focus on the future. It is in this that our twenty years of experience in marketing, communication, sales and PR comes in handy analyzing: Where do our clients come from? How can we draw them to our region and our château? What makes Château de la Barre unique? What special events should we stage, with the former middle class traveler having become poorer, but an entire new class of almost 'indecent' spenders having emerged? We have just quote for a couple flying in by private jet, renting the entire château exclusively for two days, with a top notch chef, a 1953 Bentley, a trio of harp, violin and flute, and helicopter visits of neighboring châteaux - just for a wedding anniversary. And, we will be welcoming a small group later this year for a high-end 'etiquette' weekend.
Our learning curve with Internet communication is also constantly evolving, moving from traditional email contacts with editors of glossy magazines to designing web sites and coming to grips with the rapidly changing social media through Twitter, LinkedIn, Google+, Pinterest and now our own blog.
Our approach has to be simultaneously and constantly innovating and yet still steeped in 600 years of tradition. Today we are moving past being just a luxury accommodation for travelers discovering the Loire Valley, to communicating our 'brand identity', our specificity, which lies in sharing the exclusive experience of French elegance, history and joie de vivre.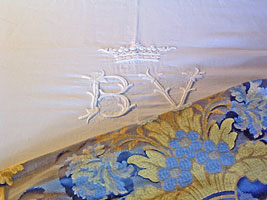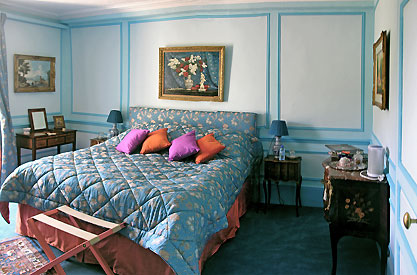 Family monogram La Chambre Bleue
In an increasingly impersonal world, Château de la Barre offers a private estate where clients become guests and often friends, taking time to reconnect with family in exclusive surroundings. It is about relationships, those built between our clients traveling here with their friends, but also between our clients/guests and us. And, there are those built between our staff and our guests. One look at our chauffeur, David's, guest book speaks volumes. And so many more: relationships built between us and the many regional suppliers with whom we work, from our cleaning lady and gardener to the cheese farm, romantic nearby gardens, golf clubs, other châteaux, the local tourist board, restaurants and shops, concert pianists, hot air Montgolfier balloon pilots, stone masons giving lessons in Medieval techniques, and so many more.
Relationships in France general originate around the dinner table. Sharing a meal creates a bond, be it our cheerful English breakfast or the very formal Grand Siècle Dinner ~ or just tea under the centennial elm trees.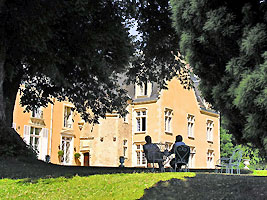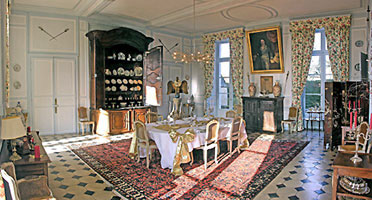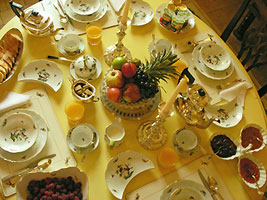 Tea under the elms The Grand Dining Room Lovely breakfast at the château
We feel we have gone the full circle, from our very individualistic careers 'yuppie style' to the joy of working together and supporting each other in a region where our good fortune helps others who in turn help us. It is a system of noblesse oblige some people might call antiquated and better replaced by norms and regulations. But do these actually foster personal relationships, dynamic enterprise and respect human dignity? What if work were made for man and not the reverse?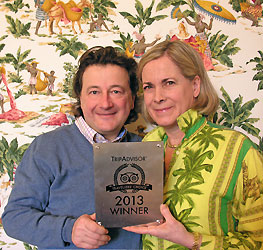 Life at Château de Barre allows our guests to escape into this bygone era, traveling in time to when the rhythm of the days was slower, graciousness ruled conversation and French elegance or 'art de vivre' was the reference. Here guests can reflect upon the lives and deeds that now belong to history, and savor the present in surroundings preserved for their appreciation and enjoyment ~ today and, hopefully, for another 600 years!
Share in the experience of life at Château de la Barre.
Contact au Château for more information, availability and any special
events being planned by the Count and Countess for their guests.