IN THIS ISSUE:
Hail Storms Strike
France's Vineyards
Twisted Tongues
~ Challenging French phrases
Ici et Là
Tall Ships Sail to
Rouen
by Rob Silverstone
Bringing Burgundy to You
by David and Lynne Hammond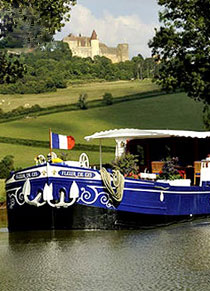 Cruises in France
A Discount for Our Readers

Post World War II Le Havre
by Arthur Gillette
Reminiscences
by Rosemary Bell
Featuring:
Fall in love with These
French Villages Part IV

"Nature cannot be tricked or cheated. She will give up to you the object of your struggles
only after you have paid her price." - Napoleon Hill, American Author [1883 - 1970]

We read recently that the Champagne producers of France expected to have a bumper crop harvest and a banner year. Unfortunately, the end of July brought five days of wind and rain, ending with a hail storm the last day. The steep slopes of many vineyards were eroded by the heavy rains. Sadly, neighboring Burgundy suffered damage as well a few days earlier. On the 24th of July hail storms ravaged the prestigious Côte de Beaune growing region with an expected loss of some 4 million bottles, or 15% of their 2011 production. Familiar appellations such as Pommard had damage to 70 to 90 percent of their vines in the northern Pommard, and in the southern Pommard and neighboring Volnay the damage was 30 to 70 percent of the vines. Mersault vineyards were badly damaged in the Côte de Beaune as well, and steady rain caused major flooding of vineyards along the storm's path. There was even more bad news in France - the Alsace region was not spared when, on August 6th, hail storms battered the vineyards and the estimated loss is now 60% in the southern part of the region.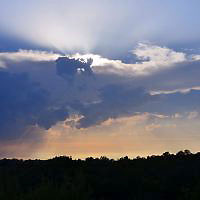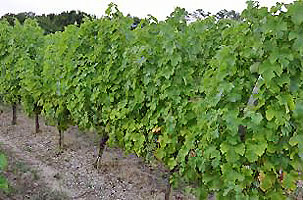 The western sky and Château Bauduc's vines before the hail storm
But, Mother Nature hadn't forgotten Bordeaux. On Friday, August 2, a typically calm and lovely day in the Bordeaux region, a surprise evening storm quickly approached from the Atlantic and carved a swath of destruction across some of the region's most notable vineyards. Like the aftermath of a tornado in the American midwest, some vineyards had 100% loss while their neighbors had none.
Gavin and Angela Quinney, the owners of Château Bauduc near Créon in Bordeaux, were about to enjoy dinner with friends in the garden when Gavin looked at the western sky and knew something was brewing. We've followed Gavin's wine blog for several years, enjoying well-written accounts of life as a vigneron in France, always filled with his wry humor. His are the 'house wines' for Gordon Ramsay's restaurants, and his web site and blog included amusing videos of the occasional visits by Oz Clarke and James May that have brightened our days. The August blog, however, was quite unsettling with news of the hail storm that destroyed half Bauduc's 2013 harvest. Gavin tells it better than we possibly could, so here are a few excerpts from his blog to give a clearer picture of what took place.
"It was warm and sunny but there was a chill in the air, similar to the lull before the storm in September 2011, when hail narrowly missed us, and in May 2009, when it didn't . . . We were debating if there was still enough time to have dinner outside – it was just after 8:30 – when the wind picked up. Then rain. Hard rain. Within seconds, as the wind moved up a gear, the dreaded hail, hurtling from west to east – small icy white balls, bouncing on the ground, clattering on the tiled roof overhead and pinging loudly on a watering can . . . The hailstones weren't especially large but they came in low, from the side, propelled by fierce winds. Not good for young grapes, not good for leaves and branches, not good at all.
continued on page 3