POST WORLD WAR II LE HAVRE :
A Pioneer Implementation of Modern Developments in Architecture, Technology and Town Planning

by Arthur Gillette

Our Autumn 2012 issue included a 'selective sampler' of Parisian Art Déco architecture by Arthur Gillette
that featured the Théâtre des Champs Elysées built in 1913 by the Perret brothers architects.
Almost four decades later one of them, Auguste, was entrusted with overseeing the reconstruction of Le Havre.
Arthur recently visited that major French seaport and filed this report on its post-War architectural revival.




In September 1944, and mainly to prevent a possible German invasion of England, the RAF bombed Le Havre destroying about 80% of the city center, including some 12,500 apartment houses, and killing about 5,000 people ~ far from all of them German occupants. Perhaps unpredictably, the general depth and extent of the ensuing shock engendered a strikingly positive post-war town-planning and esthetic effort to rebuild the city. Entrusted with imagining and carrying out reconstruction was a multipurpose team led by the earlier Art Déco master architect, Auguste Perret, who came to be known as "a poet of reinforced concrete."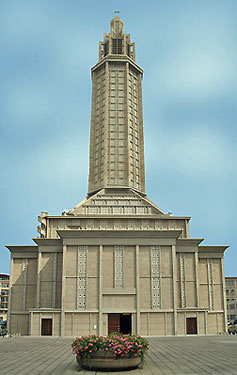 The overall plan included a number of masterpieces, an early one of which was the St. Joseph Church designed by Perret himself.
Begun in 1951 and lasting until the Church's consecration in 1959 (dedicated to the memory of those killed during the bombing), construction involved 700 tons of steel and no less than 50,000 tons of reinforced concrete, 12,768 pieces of colored glass for the stained glass windows and a bell tower 107 meters high, i.e. just over the length of a soccer field ~ and what is said to be the tallest church tower in France!
"You want your church to be beautiful and amiable?" asked Perret of St. Joseph's priest. "Well, entrust its windows to a woman."
And that's what happened. Their design was by Master Glazier Marguerite Huré. Today, as the sun follows its daily path, the spire's interior is almost a multicolored movie of the gradually revolving windows' reflections.
Soon afterwards, in 1961, came another masterpiece the Museum of Modern Art, the first major museum built in post-war France. In addition to often daring temporary exhibitions it boasts an extraordinary permanent collection including works by none less than Courbet, Pissarro, Sisley, Renoir, Bonnard, Dufy, Monet, Dubuffet, Boudin and Degas. Here it is, "protected" since its inauguration by The Signal (yes, in reinforced concrete, not stone) whose sculptor was Henri-Georges Adam.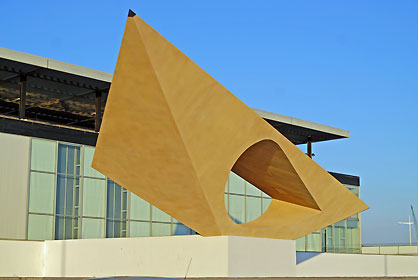 Inaugurated by then Culture Minister André Malraux, it has come to be known by his name. And Musée Malraux has given way to MuMa, apparently a takeoff on New York City's MoMa! I personally find that its vast glass-clad exterior, allowing much light to enter although it's filtered to protect the works exhibited, clashes with the rebuilt city's generally more sober design. Nevertheless, the interior layout is unpretentious and very visitor-friendly, as is the Museum's café.
Twenty years later and boom! Conceived by Brasilia's mastermind, Oscar Niemeyer [December 1907 - December 2012], The Volcano multipurpose cultural center opened.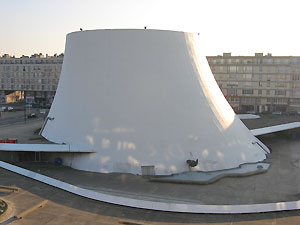 "Opened" should probably be "erupted" since the structure certainly clashes with rebuilt Le Havre's overall conception. But, what exactly was August Perret's overall conception for bringing Le Havre back to life? Well, precisely that: he wanted to create a livable city. To do so he focused not on luxury, but on apartment buildings intended for middle-class families such as those who had been dispossessed by the massive 1944 bombing.
This was a theme and variations approach involving some twenty architects in creating four-sided squares with interior space around which clustered not-too-tall houses, thus exposed to sun and air on two sides. Here is an overview of the city center grouped around the Town Hall tower: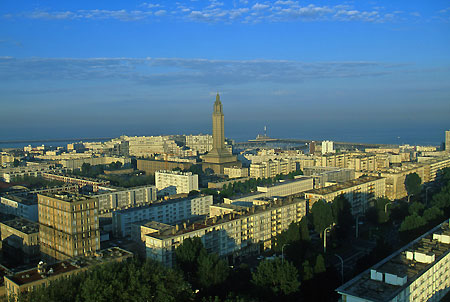 Do those regular rectangles look a bit boring? Well, as a closer look reveals, Auguste Perret kept modest decoration as a central concern. "Concrete is stone that we manufacture," he said, meaning that it could be washed, painted, roughened or left unsurfaced, thus displaying what a Tourist Office brochure calls "every nuance in tone and texture'. And downtown Le Havre's widespread street-level columns can be round, square, oval, and so forth ~ anything but boring to the stroller.
What is it like actually to live in one of the Perret-style apartments? To find out, we visited friend Monique who lives in a 1956 building near the Town Hall.
After looking around, I asked "What's it like to live here?"
She laughed and said "I've no objections to not having a 2000s modern atmosphere. And every day I can appreciate the burnished concrete and modest but fine woodwork."
"What drawbacks?" I continued.
"None," came the answer, "and my kids certainly didn't mind growing up here."
You don't know how to visit Monique's place? Well check out the Appartement Témoin, a centrally located mini-museum that brings Le Havre's typical rebuilt habitat of the 1950s to life. Reminiscent of Monique's place, the furniture, decoration and furnishings ~ radio set, 78 rpm record player, refrigerator, coffee grinder, toaster and right down to a period telephone ~ reminded me vividly of my suburban New Jersey childhood at that time!
Friend Monique pointed out that the Appartement Témoin is not a "dead reminder" of the past. Various activities are regularly organized there, not to forget its use as background for various films.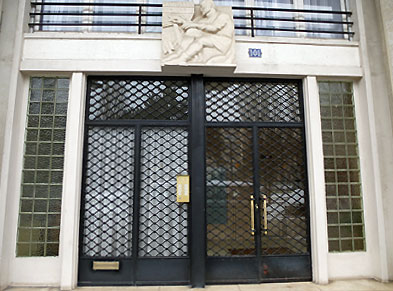 Overall, the 'new' downtown of Le Havre boasts sober but not boring architecture. An esthetic concern not only shaped the way concrete was treated, but also led to widespread use of little bas reliefs to decorate apartment house façades, mostly done by local artists. The one above, honoring a local sculptor and with overtones of both Art Déco and modern design.
And another, recalling Le Havre's essentially maritime vocation and particularly a shipyard that disappeared in the early 1960s.
It thus doesn't come as a very big surprise that rebuilt downtown Le Havre was the first European city center to be placed, in 2005, on UNESCO's World Heritage List. A major criterion for this selection was: "The post-war reconstruction plan of Le Havre is an outstanding example and a landmark of the integration of urban planning traditions and a pioneer implementation of modern developments in architecture, technology, and town planning".






The Tourism Office's Website in English: http://uk.lehavretourisme.com/
Contact Arthur Gillette to take advantage of his amazing knowledge of Paris
and France by enjoying one or more of his Paris Through the Ages Strolls.
Visit our Marketplace page for a complete list of strolls and information about Arthur.
Email: pouchkine38@gmail.com