The two villages featured in this issue are in very diverse regions of France. The first, in the Vally of the Lot, is perched high above the river and a delight to visit. The second, in the rolling green wine country of Burgundy, is a place we've visited more than once as it always offers us something new to discover. We hope you will have the opportunity to spend time in these villages when you are in France.

SAINT-CIRQ LAPOPIE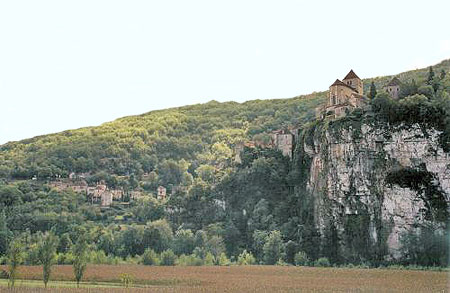 Saint-Cirq Lapopie above the River Lot
The French responded to a public television poll in May of 2012 conducted to find out what their favorite village was in all of France. Despite some fierce competition from many beautiful villages, Saint-Cirq Lapopie in the département of the Lot (a member of the association Les Plus Beaux Villages de France) was the overwhelming favorite. That first dramatic sighting of it from the River Lot below stays in one's memory forever. And the drama doesn't end there.
We left our car in a parking area somewhat below the town and walked up with all the other visitors, a pale granite wall rising on our right side. As we walked, we began to wonder what it would be like to be one hundred meters (300 feet) above the River at the edge of a sheer cliff! Upon reaching the village at the top, we looked down at the valley below and knew it was well worth the climb.
Saint-Cirq Lapopie was the seat of one of the four feudal dynasties in the region known as Quercy. It served as a fortress against invaders, and it seems that the 'invaders' today are tourists. With a tiny resident population of about 200 people, the tourist population in 2012 was over 600,000! Of course, merchants and those catering to visitors with restaurants and accommodations are pleased, but there are always those who wish fewer outsiders were interested in their little village.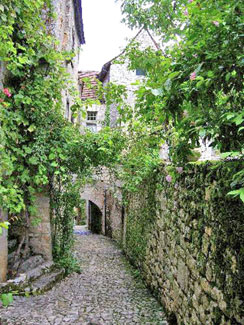 The streets are narrow and winding (thus the reason to leave cars below) and the houses are picturesque with steep roofs and ancient stone walls. An incredible thirteen buildings in the village are classified 'historic'. In order to maintain their membership in Les Plus Beaux Villages de France, they must not have outward signs of modernity. You will not see television satellite dishes or electric wires, for example, as they are well hidden or buried underground.

The village has the other distinction of being on the pilgrim Route de Saint-Jacques de Compostelle; the faithful would come through the village on their way to Cahors to visit Cathédrale St-Etienne.
We fondly recall the lovely lunch of salads and omelettes at a café where we sat outside as people strolled by. Sadly, our time there was only for the day, but it is definitely on our list of places to visit again. We must add that beyond this lovely village, a visit to the Lot with its meandering gentle River is a 'must do'. This may be one of the most bucolic, satisfying and undiscovered regions of France ~ despite the throngs invading Saint-Cirq Lapopie.



The winding River Lot as seen from a viewpoint near Crayssac

---
NOYERS-SUR-SEREIN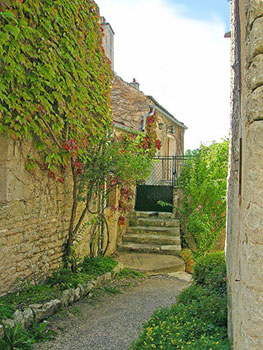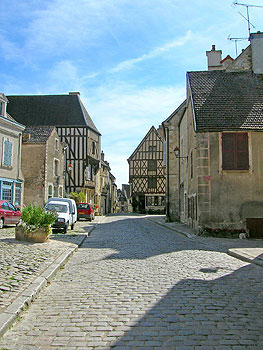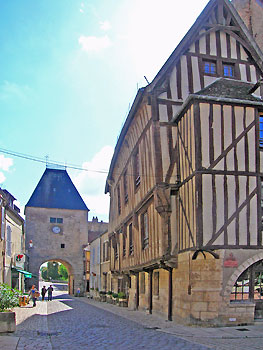 Three views of Noyers' cobbled lanes and streets and one of the original medieval gates
This medieval village, with its founding before the Roman conquests, has the tiny River Serein looping around it. Half-timbered houses, cobbled streets and winding lanes make the village very inviting and interesting. Located in Burgundy's Yonne département, Noyers is the kind of village that draw's you back whenever you are in the region.
On our second visit last fall, we enjoyed lunch in a restaurant recommended by our hosts at Château de la Resle. One enters through the charcuterie and is taken to a back cobbled alleyway. On the opposite side is the restaurant, Maison Paillot, belonging to the butcher. There were tables outside for dining, but we opted to sit inside which was quiet and cozy. We've read mixed reviews about the food, but we found it to be quite good and the service was pleasant.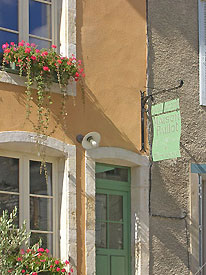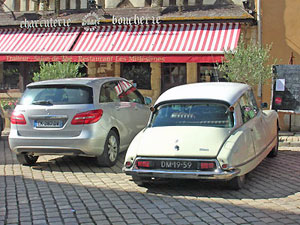 Maison Paillot Terrasse restaurant Parking next to a classic Citroën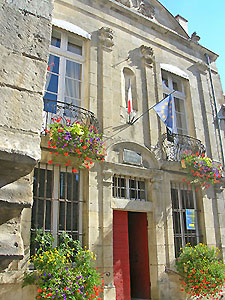 The Mairie in Noyers is stately as all the Mairies in French villages seem to be. Adorned with flowers, flags of France and the European Union, and a bright red door, it is definitely vying for the center of attention in the village. Noyers is also a member of the Most Beautiful Villages of France and boasts eighteen towers along its ramparts ~ of twenty-three originally standing. The resident population is less than 1000 people, but it hosts many thousands of tourists each year. You will find artisanal shops such as potters, painters, photographers, jewelers and one that specializes in Medieval illuminations. There are nearby equestrian trails and a pony club as well as a tour company to take visitors to the surrounding Chablis vineyards. For those who want a panoramic view of the Morvan landscape, myriad vineyards and medieval towns, you can board a light aircraft for an aerial view as you've never seen it. The village is east of Auxerre, a city worth visiting, and not far from the Abbaye de Fontenay and Vézelay ~ the starting point for pilgrims on the Route de Saint-Jacques de Compostelle.

---
Helpful links for Noyers: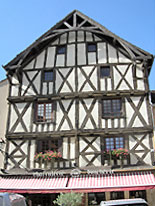 Restaurant:
Les Millésimes et Maison Paillot
14, place de l'Hôtel de Ville
89310 Noyers-sur-Serein
Tél. 03 86 82 82 16 [from within France]
Menus : 23, 42 (dîn.) €
Fermeture hebdomadaire : Lundi, dimanche soir (hors été)
Web: www.maison-paillot.com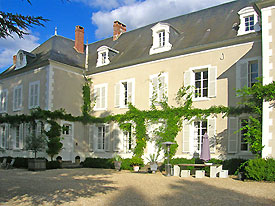 Bed & Breakfast:
Château de la Resle
rue des Buttes
89230 MONTIGNY LA RESLE
Phone: 33.6.86.11.29.22 [from outside France]
Email: info@chateaudelaresle.com
Web: http://www.chateaudelaresle.com






REMINISCENCES
by Rosemary Bell

"In Paris the past is ever present. You can't escape it." The author of this quote escapes me at the moment; I have it pasted on my computer at school to remind me of the richness of a city that, although over 2,000 years old, still knows the meaning of the word panache. Granted, her streets may need some repaving, and owners need to be more diligent about picking up after les chiens, and some elevators in the Métro for those of us who are physically challenged would be appreciated, but it did not dampen my spirit or love affair that I've had with this city since 2006. That was the year I spent seven weeks of my sabbatical in Paris, living in the 12th arrondisement.
This past Christmas I created a computer mouse pad as a gift for my colleague who lived with me in Paris in 2006. I took some random photos of our time in Paris, put them together with the caption "We'll always have Paris." She was touched and asked when we were going to return. "This coming summer", I replied. By January we had our tickets. We planned an early June trip with a visit to Munich along with our nine days in Paris. This time around we wanted to take our sweet time and savor the city. You know we would sit by the Seine, sip a Kir Royale, and just mosey through the Latin Quarter at our own pace. We intended to visit a few museums we missed the last time, and try to find the Socialist commune restaurant where we had our first taste of French delicacies. And, lets not forget the falafel place in the Marais that I didn't get to enjoy the first time around.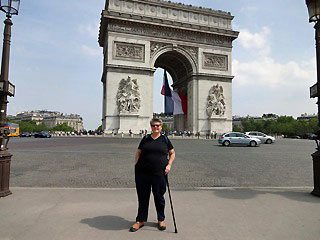 Now, I've struggled with fibromyalgia for the past 27 years. This chronic syndrome makes getting around difficult. Add to that foot surgery three years ago that still hampers my walking, and you would think I would want to stay home with my feet up. Not on your life! I might be slow, but I'm still a formidable woman.
We arrived at Charles deGaulle airport in the late afternoon of June 5th after hours of delay leaving San Francisco. The first thing that slapped us in the face was the heat. The next punch was the stifling humidity. Then we settled in for the taxi ride from the airport to the 16th arrondisement. It was a harrowing ride. Paris driving and drivers are not for the faint of heart
My sabbatical was in winter ~ you know, boots and down coats. Well, now I couldn't wait to get into the hotel lobby for some air conditioning. No air conditioning! I learned quickly that many hotel rooms, restaurants, and museums rarely have air conditioning.
We arrived at the Elysées Union Hotel in the 16th. Damn the jet lag ~ we immediately set out for the Eiffel Tower that was a ten-minute walk from our hotel. "Where did all these people come from?" I thought, as I tried to wade my way through the masses on the Pont d'Iena. Then I remembered it was summer vacation, not the middle of February! I also noticed many vendors, mostly young men, selling cheap trinkets all along the bridge and concourse leading up to the Eiffel Tower. Even with all this overwhelming stimuli, I was in awe as the Tower stood majestically touching the very blue Paris sky.
I had joked that the first thing I was going to do when I got to Paris was sit at an outdoor café and have a Kir Royale. Couldn't do that in the winter! After two Kir Royales, and a front row sidewalk seat to watch the beautiful people walk by, we were ready for some bistro food at one of the many cafes in our neighborhood. I love this area because of its proximity to the Eiffel Tower, a few blocks away is the Arc de Triomphe and the Boissière Métro station which was not far from our hotel.
Giverny was on the agenda for the next day, and what an experience it was! The heat and sun were stifling, but it did not dampen our spirits. We had met up with a colleague and her husband from school and spent the day walking through Monet's gardens. Giverny is forty-six miles from Paris by train from Gare St. Lazare. A short bus ride takes you to the entrance. For those physically challenged (disabled 4 euros) there was a discount for entrance that was a nice gesture, but I was more interested in the elevator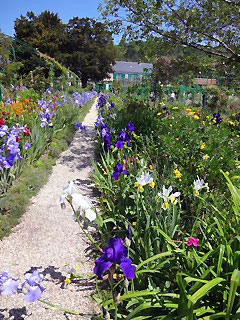 to take you down to the gardens. That was extremely helpful.
Giverny was stunning; the gardens were blooming in all their glory. Meticulously nurtured, there are too many species to mention, but the colors were vivid and crisp. I had no favorites, as they were equally gorgeous. We crossed the Japanese Bridge and the water lilies in the pond began to move. Then we heard a cacophony of croaks. The frogs blend in very well with the green water lily pads so it was hard to capture a photo. I was not able to make it to Monet's house, but after lunch at a local restaurant, we boarded the train back to Paris.
That night we asked for a restaurant referral from the front desk and wound up at Restaurant de Jamin on Rue de Longchamp. What a gem! They had a full menu, and I ordered Andalusian gazpacho as an appetizer. It was exquisite. It had a smooth, creamy texture, and was a vibrant orange/yellow color. It came with duck croutons. That was hard to top, but they managed to do so with the duck breast in pureed sweet potato. I love to eat; I love to eat well-prepared and tasty food. I have copied the Andalusian gazpacho at home, sans duck croutons. This restaurant deserves five stars based on the service, quality of food, creativity and presentation.
Friday and Saturday were museum days. My travel companion wisely purchased two Paris Museum Passes at home before she left. It cost 39 euros, and we had free access to over 60 museums and monuments without queueing up. You can purchase a two-day pass, right up to a six-day pass, but the pass must be used on consecutive days. My only issue was finding the office to pick up the tickets. Again, the heat nearly did me in.
The first museum we visited was Musée de l'Orangerie, Paris. This museum had been closed for renovation in 2006. The Musee de l'Orangerie houses Impressionist and post-Impressionist paintings. It's located in the west corner of the Tuileries, near the Place de Concorde. There you will see works by Cezanne, Matisse, Renoir and Picasso. There were also paintings by Italian Impressionists and others. My colleague, who is an artist and art historian grinned at me like a Cheshire cat as we strolled right through the lines with our museum passes, but that wasn't why she was smiling. It just so happens that the l'Orangerie is the permanent home for eight Water Lilies murals by Claude Monet. The French government built a pair of oval rooms during the 1920s to house the masterpieces. I was awestruck. You can get really close to them (don't touch!), and I spent the best part of an hour ogling them. I strongly recommend you visit Giverny first; then plan a trip to the l'Orangerie as it will bring your visit to the gardens to life. Note: If you go in summer, I'd suggest you take the Métro to the Place de la Concorde. We got off at the Louvre stop, walked to pick up the passes, and then braved the heat and dust as we crossed the Tuileries. It's hard to walk across the sand and dirt paths of the gardens with a cane.
The remainder of the day was spent strolling along the Seine to cool off. I think the rest of Paris had the same idea!
Saturday morning dawned sunny and hot. I was almost praying for a thunderstorm to cool things down, but no luck. We took the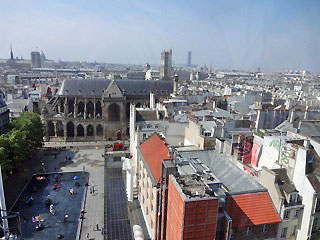 Métro to the Centre Georges Pompidou Centre in the Beaubourg area of the 4th arrondissement. The panoramic view from the top is worth the visit. The high-tech and modern monstrosity, an article in Le Figaro declared "Paris has its own monster, just like the one in Loch Ness," was controversial at first, but gradually it was crowned as a creation that turned the architectural world upside down. It houses the largest collection of modern art in Europe. My colleague was euphoric; I, on the other hand yearned for the Impressionist masters. This is where my sensibilities over the past and present collide. To me, the Pompidou could not hold a candle to the majesty of the Parisian skyline or an Impressionist's brush. What I really enjoyed was the museum store that had a tremendous amount of educational material. I picked up a few things to use in my Western Civilization classes.
We made it to Munich; however, my colleague got ill so we had to cut the last four days in Paris short. This means my 'bucket list' has gotten more full, and I see a return to the City of Light and Love on the horizon.

Here is contact information for three of my favorite French delights:
Restaurant de Jamin
32 Rue de Longchamp
Paris , France
http://www.restaurant-jamin.com
33-1-45-53-00-07 (from outside France)
Paris Museum Pass
http://en.parismuseumpass.com/
Giverny Restaurant Les Nympheas
wheelchair accessible
http://www.giverny.fr/LES-NYMPHEAS,66.html
Rosemary Bell teaches history at Skyline College in San Bruno, CA.
In 2006, she went on sabbatical to Paris and other parts of Europe.
She feels she was born on the wrong continent;
Paris holds a very special place in her heart and she is already
planning her next adventure back to the City of Light.
Our thanks to her for sharing her recent (June) experiences with us.