Water, not Wine in Paris?
A Tale of the Wallace Fountains
by Arthur Gillette
If you've ever been to Paris, even if only via photos, you most probably cannot not have noticed one of these fountains.

For Parisians and visitors to their city, a typical feature found pretty much everywhere in the French capital (120 still exist) is the public water fountains of which this is but an example.
The Franco-Prussian War of 1870 left much of Paris severely damaged and one of its major casualties was the aqueducts that supplied the city with drinking water. The post-war shortage was so severe, and the price of water so high, that alcohol was increasingly consumed, leading to rampant alcoholism.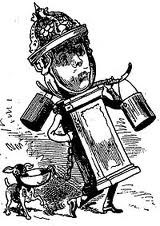 Post-war reconstruction involved many philanthropic interventions, such as those by the recently created French branches of the Red Cross and the Salvation Army. This atmosphere – and the danger of mass alcoholism - prompted a Francophile British philanthropist, Sir Richard Wallace, to fund the design and construction of some fifty public drinking water fountains.
To be easily recognizable they all followed a unique aesthetic design (Wallace was an art-lover) and were all painted green; to be readily accessible each was equipped with a cup-on-chain.

The newly burgeoning Parisian Middle Class did not need the Wallace Fountains and even mocked them. Here is an 1873 caricature of Richard Wallce with/as one of his fountains.

Designed not only to supply a basic need, each fountain offers a message via its four graceful caryatides symbolizing goodness, charity, simplicity and, of course, sobriety.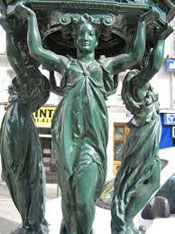 Artefacts that have come to symbolize Paris - and perhaps its unexpected ability to drink water as well as wine - fountain replicas are today found in several other French cities as well as in Brazil, Canada, Great Britain, Israel, Jordan, Mozambique, South Africa and Spain - not to forget New Orleans.

The next time you are in Paris (hopefully not just via photos), feel free to quench an H²O thirst at one of the Wallace Fountains. Almost a century and a half after their creation, and much to the relief of today's homeless street dwellers who use them, they are still bubbling away and free of charge.

No doubt fittingly, Wallace is buried in the major Père Lachaise cemetery in Paris. I doubt, however, that (shunning a French custom) his casket contains a bottle of wine.