This column is intended to advise you about cultural events, news and happenings
in France or France-related events taking place in the United States
between now and the publication of our next issue.

In France. . .

o NEWS: France's government is once again discussing fracking. Although France gets 75% of its energy from nuclear power, the debate is heating up again about shale gas - and Paris may be sitting on one of the biggest deposits of shale gas in Western Europe. Energy giants in France, such as Total, claim to know how to do the hydraulic extraction, but fracking is banned in France, and the current government has vowed to keep it that way. Former President Sarkozy's administration enacted the ban in 2011 amid an anti-fracking outcry, and President Hollande has promised to maintain the ban, but mixed signals are coming from some in his administration. Environmentalists are concerned about the lobbying of government officials and they insist on reining in the use of fossil fuels instead of risking the health of the people and the planet by fracturing - especially in this country of natural beauty. . . Eurostar will introduce London to Marseille trains beginning May 1, 2015. The train will stop at Lyon and Avignon before reaching Marseille in about 6 hours and 15 minutes. The return trip will take longer due to customs and immigration inspections in Lille, France, as England is not part of the EU's visa-free Schengen zone. Tickets for the new route will go on sale in December. For further information visit http://www.eurostar.com.

. .

Britain's Competition and Markets Authority (CMA) banned Eurotunnel's Dover-to-Calais ferry service, MyFerryLink, and told them to cease operation on June 27th. They say that MyFerryLink, formed when Eurotunnel acquired the assets and three ferries of SeaLink in 2012, would force the remaining ferry companies out of business, creating a monopoly for Eurotunnel. MyFerryLink planned to fight the ban saying that CMA doesn't have jurisdiction, among other arguments. . .

Raymond Berthillon

, the creator of Paris' iconic, superb, all natural ice cream, died in Paris on August 9th. He and his wife began a small sorbet shop in 1954 in his mother-in-law's Ile St-Louis hôtel which grew into the amazing Berthillon ice cream empire ~ with more than 70 varieties produced in the hôtel he converted into the Berthillon ice cream production center. Don't miss the chance to try Berthillon ice cream for yourself next time you are in Paris.

o The

American Church in Paris

is very pleased to welcome

Garrison Keillor

for two performances of his

A Prairie Home Companion

radio show on Friday, September 5 at 8 PM and Saturday, September 6 at 4PM. Open seating in the ACP Sanctuary is offered, and doors will open 30 minutes prior to each show.

It is expected to sell out, so reserve your tickets now at

acparis.org/phc

.



o Patrimoine Weekend is September 20 and 21 (always the third weekend of the month), so if you plan to be in France, you might want to take advantage of the free admission to state-owned buildings, châteaux and monuments. Privately-owned châteaux will also briefly open their doors (a few hours in the afternoon Saturday and Sunday) for guided tours of some of their rooms. It's a great opportunity to see many authentic and historic architectural treasures of France. Visit the French Government web site at http://www.journeesdupatrimoine.culture.fr/.

o Piscine Molitor, only one of 38 public swimming pools in Paris, is now restored and once again open after having been closed since 1989. This is a pool with famous connections and a colorful history. It is located at the edge of the 16th arrondissement near Stade Roland Garros, and the design is inspired by an ocean liner retaining much of its original 1929 Art Déco charm - when it was inaugurated by Olympic swimmer, Johnny Weissmuller. It is the place where the bikini debuted in 1946, followed by the topless trend in 1968. It is more recently associated with the movie, Life of Pi, whose hero's name was Piscine Molitor Patel! Today, the pools (the two original pools were restored) are surrounded by a 124-room hotel, and all the rooms have pool-facing portholes. The address is 2 avenue de la Porte Molitor. For room prices (there is a separate $245 daily rate to use the pools) and further information, telephone 33.1.56.07.08.50 or visit their web site at www.mltr.fr.

o The Hôtel de Ville commemorates the 70th Anniversary of the August 1944 Liberation of Paris with

Libérer Paris - Août 1944

. The exhibit contains contributed items from museums and private citizens including films, photos, sound recordings, illustrations and more. Through September 27th. More information at www.parismusees.paris.fr.

o The Château Royal de Blois is the site of Jardins de Châteaux à la Renaissance this summer and into the fall. The châteaus gardens were commissioned by King Louis XII, and the show illuminates the connection between architecture and landscape design during the 15th and 16th centuries. Through November 2. Details available at www.chateaudeblois.fr.


o Granville, Normandy, is the location for Dior, Images de Légende at the Musée Christian Dior, exploring the relationship between the couture designs and the photographers who elevated their work into art. Through September 21. Information at www.musee-dior-granville.com.


o Rouen, Normandy, hosts Cathédrales 1789-1914, un Mythe Moderne at the city's Musée des Beaux-Arts. Some 180 masterworks will be on display in the form of paintings, sculpture, photos, films, furnishings and jewelry. Through August 31. Details at www.rouen-musees.com.

In the US . . .


Los Angeles . . .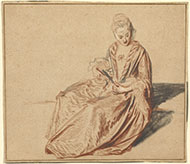 o Rococo to Revolution: 18th Century French Drawings from Los Angeles Collections until September 21 at The Getty Center. Celebrating the art of drawing in France during the 18th century, this exhibit illustrates the aesthetic evolution from the decorative exuberance of the Rococo style to the linear austerity of Neoclassicism. Works from the J. Paul Getty Museum and from distinguished private Los Angeles collectors by such artists as François Boucher, Jacques-Louis David, Jean-Honoré Fragonard, Jean-Baptiste Greuze, and Jean-Antoine Watteau are featured. Learn more about the exhibition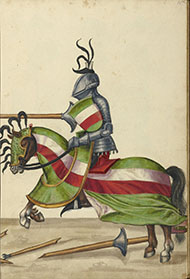 o
Chivalry in the Middle Ages
until November 30, also at
The Getty Center
. The popular understanding of the Middle Ages - visions of damsels in distress and knights in shining armor - is dominated by the romantic ideal of chivalry. Drawn from the Getty Museum's permanent collection, this exhibition explores how elite members of Medieval society practiced the chivalric arts to demonstrate their affluence and sophistication.
Learn more about the exhibition
o Philadelphia's
Barnes Foundation hosts
The World is an Apple: The Still Lifes of Paul C
é
zanne
through September 22. Focusing on his revolutionary experiments with color and perspective that led the way to Cubism and other movements of modern art, this exhibit is a special selection of twenty-one paintings. More information at the Barnes Foundation web site:
www.barnesfoundation.org
.
o Degas/Cassatt
provides new insight into the connection between these two Impressionists through more than 70 pieces of various media. Through October 5 at Washington, DC's National Gallery of Art. Details at
www.nga.gov
.
o Two vast exhibitions
bring the work of René Lalique to the public in Corning, New York at the Corning Museum of Glass:
Ren
é Lalique: Enchanted by Glass follows the designer from his beginnings to his winning of top honors at the 1900 Paris Exposition for his Art Nouveau jewelry to his help in pioneering Art Déco. Some 200 production molds, drawings, jewelry, perfume bottles and hood ornaments will be on exhibit. The companion exhibition,
Designing for a New Century: Works on Paper by Lalique and his Contemporaries
, includes rare books, drawings, and period photographs. Through January 4, 2015. Further information at
www.cmog.org
.