FUN WEDDING CELEBRATIONS IN PARIS - An Interview with an Unofficial 'Officiant'
by Arthur Gillette



One category of foreign visitors to Paris that seems not to have diminished much with the world financial crisis

~ quite the contrary perhaps ~ is couples who come to celebrate their honeymoons or wedding anniversaries.

Mr X, a longtime American resident who prefers to remain anonymous, works for several specialized agencies

as a 'celebrant' at such events. Arthur Gillette interviewed him for FRANCE

On Your Own

.

A.G. What is your role in these celebrations?

Mr X The agencies I work with handle the logistics (gown, tuxedo, car, photographers, etc.), and my responsibility is mainly to find an appropriate site - generally outdoors - and prepare and read out a celebratory declaration, some ten minutes long and based on the couples' background, interests, and wishes, ending with an invitation (never declined!) to exchange kisses.

A.G. Outdoor sites?

Mr X Yes. Generally, the couples have spent quite a bit to get and stay here. So the Ritz and Crillon, for example, tend to be out of financial bounds. In any event, there's definitely something more romantic about a relaxes, flowery and green-leafed park than a stuffy, five-star hotel.



A.G.

But what about winter?



Mr X

Well, let me get back to that in a minute or two.



A.G.

Looking forward to some cold fun! But first, what have been some celebration challenges?



Mr X

Lots! For example, a couple from California was intent on doing the ceremony at a spot of longtime Franco-American significance. "Hmm," I thought...then "Ah - what about Lafayette's tomb at the Picpus Cemetery?" That's where, during the Liberation of Paris in 1944, US soldiers arrived, and one of General Pershing's aides said the now-famous words "Lafayette, we are here!"



A.G.

And?



Mr X

A graveyard didn't really seem appropriate for a love tryst. So I thought some more and finally came up with a spot on the south side of the Tuileries Gardens once frequented almost daily by Thomas Jefferson when he was in Paris. From it, he gazed at the 18th century Hôtel de Salm on the Left Bank, just across the Seine. In fact, Jefferson drew inspiration from the Salm's structure to design the façade of Monticello!



A. G.

Any more challenges on that occasion?



Mr X

You bet! The couple arrived separately, the 'bride' having been elaborately coiffed and dressed to surprise the 'groom' and brought by an agency assistant.



A.G.

What happened then?



Mr X

Luck! A crook tried one of the outdoor scams now becoming common in Paris. Sauntering towards the two men, he suddenly stooped down with feigned surprise and seemed to pick out of the garden path what looked like a gold ring. This he then offered to sell to them. The 'groom' shelled out about ten euros for the gilt plastic toy, and the ceremony went off without a hitch.



A.G.

The 'bride' wasn't disappointed?



Mr X

Oh, no. When she learned of the replacement she just laughed and said, "Heck, I've already got my gold wedding ring, and I told him not to spend more money on jewelry." The 'groom' grinned with relief. And, I think that somewhere above us Thomas Jefferson may well have been smiling at such a peaceful solution to a potential conflict.



A.G.

What about another 'lucky' celebration?



Mr X

An agent knew I was learning Chinese and asked if I could do a ceremony for a couple from China. "With a little preparation, no problem," I told her. There was a problem, however: the couple was Catholic and wanted the celebration to take place - and photos taken - in an empty church. But the chosen date was Easter Monday! Know of any empty churches in Paris on Easter Monday?



A.G.

What on earth did you do?



Mr X

The agent and I put our heads together, consulted the Church hierarchy and came up with the Expiatory Chapel. That's a tiny, seldom-used church in a little garden not far from the Gare Saint Lazare. It's 'expiatory' because it marks the spot where Louis XVI and Marie Antoinette were buried after being guillotined at nearby Place de la Concorde.



A.G.

Lucky, indeed!



Mr X

Wait, there's a 'lucky' P.S. to this one. The couple arrived immaculately dressed and smiling broadly. But, when I started by little thinkpiece in Mandarin the smiles gave place to uncomprehending frowns. As I had not been forewarned, they were from Hong Kong where Cantonese is spoken. The 'lucky' P.S. is that they spoke and understood excellent English. So that's how I made my declaration.



A.G.

Finally, what about a cold outdoor celebration?



Mr X

That was a real challenge! A couple from Australia reserved for an outdoor ceremony; fair enough, and the gal chose a, shall we say, rather extremely

décolleté

robe. The problem was their immovable date: Valentine's Day! Can you imagine the temperature in Paris parks and gardens on any February 14th?



A.G.

What did you do, bring a portable heater?



Mr X

Nope. Much better than that. After considerable rumination and consultation, the agent and I hit on probably the only solution in Paris to such a temperature/date conundrum: The Palmarium.



A.G.

Which is?



Mr X

The huge Palm Grove Greenhouse at the City's Parks and Gardens Headquarters in the Auteuil neighborhood. It's heated in winter to preserve not only palm trees and other cold-sensitive vegetation, but also tanks of tropical fish. We swished in with the photographer snapping away and were just about to begin the celebration when up zoomed a stern-looking woman in uniform and with a badge.

"What's going on here?" she demanded in no uncertain terms.

I explained, and her authoritarian grimace melted into a smile.



"Ah bon!"

, she laughed. "Can I watch?"



Contact Arthur Gillette to take advantage of his amazing knowledge of Paris
(and France) by enjoying one or more of his Paris Through the Ages Strolls.
Visit our Marketplace page for a complete list of strolls and information about Arthur.
Email: pouchkine38@gmail.com




---
SPONSORING THIS ISSUE

Find France's most special places to stay on a web site that offers
personal service from your first inquiry to confirming your reservations.
au Château offers over 85 unique properties for bed and breakfast accommodations,
weekly rentals, or self-catering gîtes on a château estate. We have member properties
from the north near Calais to Provence, and from the foothills of the Alps to the Atlantic.
Experience the most delightful getaways in the bucolic French countryside.
Visit au Château today!

---
THE BOOKSHELF: The Battle for Wine and Love or How I Saved the World from Parkerization
a book by Alice Feiring


Someone once said when writing a book that "the title is everything". It must be true in this instance because I found myself in possession of a little book that I can't remember buying. It must have been one of those titles that was so intriguing, I had to own it. And, truly, the title is everything because this book lived up to all my expectations.


It's a long title for a little book, The Battle for Wine and Love or How I Saved the World from Parkerization, and it held my complete attention over the two days it took to read it from cover to cover. Written in 2008 by Alice Feiring, a self-proclaimed "child of the sixties" who once thought of wine as elitist, the book is about her one-woman campaign to find truly good wines - wines that had not been altered to achieve a top rating by Robert Parker. The book caused some outrage and controversy even before it was published, and knowing that now made me even more interested! Parker, trained in law and only becoming a wine critic in the mid '70s influenced by his wife's appreciation of wine, had become a self-proclaimed expert on wine, popular through his newsletter, and now has a worldwide following, although not everyone agrees with his opinions. In the decades since he began writing about wine, his influence has, it seems, grown to the point, as the author points out, where vintners around the globe are adjusting, altering and manipulating their wines to make it to the top of his ratings list.


Alice Feiring is an American journalist and author, who has been the wine and travel columnist for Time magazine and is an advocate of 'natural wine'. She has contributed to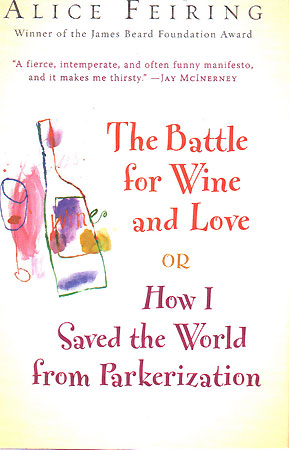 the New York Times, New York Magazine, the San Francisco Chronicle, Condé Nast Traveler, Forbes Traveler and has a blog, 'The Feiring Line' , rated among America's leading wine blogs ~ named one of the seven best by Food and Wine ~ and winner of the James Beard Foundation Award. She has been praised for her part in 'high-quality wine journalism', and in 2011 she was selected as Online Writer of the Year by the Louis Roederer International Wine Writers Award. I tell you all of this because it is important that you know that she has a respected place in the world of wine.


My hope when I first began reading this book was that Parker's influence hadn't taken hold in France, as French wines are definitely our favorites. But, sadly, it seems that it has. Alice points out that in today's global wine scene, winemakers are trying to 'standardize' their wines, making wines that are ready when they want them to be - not when nature decides. She mentions that sellers of wine don't want customers returning to complain that their favorite wine didn't taste the same as the previous vintage they purchased.


It is important for me to point out at this juncture that Alice Feiring never criticizes anyone, including Parker, for the sake of criticism. She writes honestly about her evolving into someone with an extraordinary (my word, not hers) palate not only for wine but for food. She tells it as she sees (and tastes) it, and advocates for all those vintners producing excellent wines ~ wines she hopes more people will seek out to enjoy.


Once you read this book, and follow Alice as she visits winemakers here and abroad, you can't help but be a bit depressed to know that one man's palate (and who is really to say his is the best?) can change the way generations of wine families made those superb wines. How can his name hold so much weight? Thankfully, there are a few holdouts who know what they are doing and have been doing for decades or even centuries won't be changed by one American wine critic. One bright spot is France's Loire Valley, spared the Parker ratings because he doesn't happen to like wines made with Cabernet Franc grapes ~ odd because Cabernet Franc is a major player in Bordeaux wines, which he seems to adore.


The author thinks that Parker's ignoring the Loire has been its salvation. She reminds us that the wine in the Loire is made from oganically grown grapes, unaltered, and following the fine traditions of "terroir-driven communities of natural winemakers". Loire wines remain delicious, affordable and authentic, so next time you take a trip to your local wine merchant, be it Costco or a specialty wine shop in your neighborhood, don't let those rating numbers affect your choice of wines. Look for the Loire reds and whites, and remember something an old friend, who was quite a wine expert himself, said to me many years ago: Don't pay attention to the hype about certain wines and vintages. A wine is only a good wine if you like it!


Oh

, and we're off to the Loire next month and plan to enjoy the wines!
- Editor


Click here to buy The Battle for Wine and Love or How I Saved the World from Parkerization.

And be sure to follow Alice on her blog as well as a series of
her past guest blogs for the New York Times.