Who doesn't enjoy a fine meal in a foreign country? And what exactly does a 'fine meal' entail? On my last trip to France I believe I hit the jackpot. Not only must the food taste good, it must be beautifully prepared and presented with professional service in an attractive setting.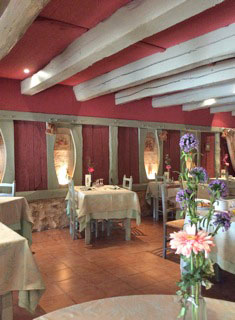 A rainy evening at Hôtel Restaurant Salvetat near Cadouin (Dordogne) began with an apéritif of Perlant du Perigord (the pink sparkling wine of the region) around an old fashioned fire. We were seated in the warm-toned, ambient dining room with old beams painted pale green and served an amuse bouche (mouth amuser from the chef) of crème of tomato soup. My entrée (appetizer) was escargots in a red wine garlic sauce with a thin, flaky sheet of pastry on top. Fabulous. My plat principal (main plate) was pintadeau (guinea hen) stuffed with chestnuts, resting in tarragon sauce and accompanied by morsels of vegetables and tiny potatoes artistically cut to resemble mushrooms. For dessert I chose prunes from Agen poached in chamomile tea and submerged in Armagnac liqueur, with a scoop of vanilla ice cream on the side, light but flavor packed. With the meal we drank a Duras wine called Pie Colette. The server explained it was a play on words, as picolette in French refers to a person who drinks a lot. I dubbed this meal . . .dinner with humor.
The French pacing of a meal is meticulous. The client owns the table for the evening so the pace is leisurely, allowing time to savor each course. Comprehending a French menu is a plus, as subtleties are difficult to translate into English. Three courses offered on a prix fixe menu are often a bargain but can become too much when ordered over a period of several nights.

At Mangio Fango near Ste-Marie-de-la-Mer (Camargue region of Provence), a formula of two courses was my choice. The amuse bouche, an assortment of tiny, from-the-oven pastries topped with cheeses and savory herbs, whet the appetite. I passed on the entrée and ordered a plat principal of loup de mer (sea bass) that came with an accompaniment of delicious vegetables creating a framework for the fish. The potatoes gratin were heavenly as was the creamy celeriac, the eggplant mousse, crispy pea pods and artichoke hearts. Can you picture the colors and textures carefully placed around the fish on a black rectangular plate? It was like an artist's palette. White wine from Arles enhanced each delectable bite. Dessert put me over the top. . .warm tarte tatin with ice cream . . . maybe the best I've ever eaten.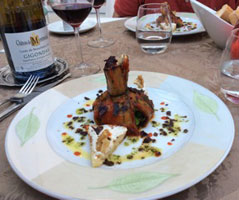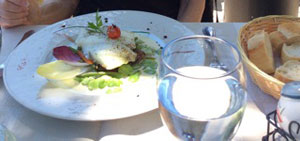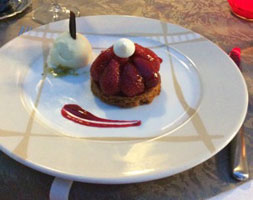 Some of the luscious meals Jo Anne and her husband enjoyed


Now for a simple lunch at Hôtel Restaurant Bello Visto in the perched village of Gassin near St-Tropez. Seated on the terrace in the garden, we had a mesmerizing view of the distant Mediterranean. We both chose the plat du jour, a grilled St-Pierre with an incredible butter-basil-herb sauce that enveloped the fish as well as the medley of perfectly cooked vegetables that included fava bean, cherry tomatoes, mushrooms, green beans and carrots. It was a simple but memorable outdoor dining experience.


Port St-Jean-Cap-Ferrat
Our next indulgence was at La Cabane de l'Ecailler (hut of the oyster shucker) at Port St-Jean-Cap-Ferrat (Côte d'Azur) where we sat on the elegantly set terrace to gaze out at the yachts and azure water. The amuse bouche was a lightly fried, oh-so-tender, calamari with a mayonnaise Yuzu sauce. My plat principal was Asian style rare tuna that melted in my mouth and came with thin, lightly sautéed vegetable sticks sprinkled with sesame seeds. I had no reason to complain but swooned when I tasted the risotto with freshly-grated truffles on top that came with my husband's petit lobster. Wine from the region was a perfect match. We wisely share a dessert; a café gourmand coffee with a selection of several miniature traditional French desserts. The servers, handsome, impeccably dressed men in black, were exceptionally attentive, professional and a little flirtatious!

Hôtel Montmirail near Vacqueyras (Provence) was a grand respite in the country. Like a large resort, the terrace was set up to accommodate numerous guests. Creamy zucchini mousse with a shrimp balanced on top was the amusing amuse bouche. The creative entrée consisted of thinly sliced eggplant wrapped package-like around other chopped vegetables, tomatoes and chicken, set-off by two wedges of cheese and confetti-like vegetable flakes. The plat principal was beef, but I requested fish and received a grilled filet of bass with a vegetable medley. The Gigondas wine was spectacular as was the attractive strawberry tarte with green apple ice cream. This may have been my favorite meal based on the criteria cited at the beginning of the article.

I'm

in reverie with these exceptional French dining experiences dancing through my mind and making my mouth water. I'm definitely ready to return!
Jo Anne Marquardt is a true francophile and travels to France as often as possible.
She keeps journals during her visits, and you can click to find a collection
of her memories in The Bookshelf feature of one of our past issues.
Jo Anne is an accomplished artist, and all the illustrations and cover art for her books are her own.


Click on the banner to order your copies today!


TRAVEL TIPS

We have all experienced jet lag at one time or another, so here are a few things you can do to mitigate the problem the next time you fly:

o

As soon as you board your flight, set your watch to the time it is at your destination. Then begin the flight with that time in mind. If it is night where you are going, try to sleep. If it is early morning, stay awake. Behave as though you are already there.


o

Stay hydrated. Drinking lots of water ~ but very little caffeine or alcohol ~ will help prevent jet lag as well as fight against the dry airplane air. A saline nasal spray is a handy thing to have to combat the dry air as well.

o
It is now being recommended that you travel with packets of sanitizing hand wipes and clean off airplane tray tables, armrests, buttons at your seat for the TV, etc. to keep your exposure to germs at a minimum. Take a wipe into the lavatory, too, to wipe those surfaces others have probably touched such as door handles.


o

Once you reach your destination, do something active! If you arrive at 10 AM, check your bags at your hotel (they probably won't have your room ready but will keep your baggage for you), and take a walk. Go to lunch. In the afternoon, once you've checked into your room, you can take a nap, but keep it to 30 minutes or less. If you sleep too long, your body clock will be out of sync. Go out sightseeing, find a restaurant for dinner, and return to your hotel room at bedtime. You'll wake the next day like you've always lived in that time zone.

Other tips:

o
Take a sanitizing wipe and clean the TV remote control in your room as well as the telephone on the bedside table, if there is one.
o

Don't eat heavy meals. Start off light to keep your digestive system working.
o

If flying during hurricane season, keep that seat belt on! Turbulence can occur, so it's better to be buckled in.


o

Hurricanes and other bad weather conditions can cause flight delays, cancellations and missed connections. Buy travel insurance! It's not expensive and covers almost all unforeseen problems.


o

If you have at least a month before traveling and you live in the United States, consider signing up for

TSA's Precheck

so you can get on a shorter line at the airport and not have to remove your shoes, belts, watches, jackets, etc., and you can keep your laptops and liquids in your carryon baggage. Once approved, which for us was only a few days, your boarding pass will indicate your Known Traveler number. There is an $85 per person fee. For a TSA Precheck located near you, visit their web site - https://universalenroll.dhs.gov/#precheck-home.

Bon voyage!

TRAVEL INSURANCE:
Check with
Travel Guard
online at
www.travelguard.com
or phone them
at 1.800.826.1300 for information about travel and trip cancellation insurance.
You can choose your plan and have coverage for lost luggage, cancellation/interruption/delays
in your flight, medical expense and evacuation coverage, 24-hour emergency assistance, and more.
We've used Travel Guard for many years, and we do recommend that you consider it.

DISCLAIMER: You have received this newsletter because your email address is on our Opt-In mailing list, i.e., you have requested to receive FRANCE On Your Own ©. If you would like to discontinue receipt of this newsletter, please send an email to publisher@franceonyourown.com with "unsubscribe" on the Subject line.
Unless indicated otherwise, photos, graphics, artwork and text in the FRANCE On Your Own © newsletter are all the property of Cold Spring Press and FRANCE On Your Own © and cannot be copied, duplicated or used in any manner by anyone without the express written permission of Cold Spring Press. FRANCE On Your Own © is published online by Cold Spring Press, P O Box 26098, San Diego, California 92196-0098. This publication is copyrighted and no portions of the text, artwork, graphics or photographs may be reproduced or distributed in any form or by any means or stored in a database or retrieval system without the written permission of the Publisher. For more information about FRANCE On Your Own ©, visit our web site at http://www.franceonyourown.com.
Recommendations made in this newsletter are based upon the personal experiences of the Publishers or contributing writers solely to provide information to subscribers. Cold Spring Press and FRANCE On Your Own © make no endorsements nor are any guarantees or promises of satisfaction given or implied. Any and all information is correct to the best of our knowledge, and the Publishers accept no responsibility for errors and/or omissions. The responsibility lies entirely with the traveler to obtain current information regarding accommodations, availability, schedules, prices, reservations, or any other pertinent details. We do not guarantee the historical accuracy of the contents of articles in this newsletter. Historical accuracy is dependent upon one's sources of information -- and contradictions often exist among those sources. Links to other web sites or email addresses are provided for informational purposes only and do not imply any guarantees of service or endorsement of any organization or their business practices.
FRANCE On Your Own © is electronically transmitted via email. To add your email address to our database for this FREE newsletter, send an email to info@franceonyourown.com, and please put Subscribe in the subject line. We do not share email addresses with any other organization.
BACK ISSUES of the print version of FRANCE On Your Own © and Free online back issues are available on our web site at http://www.franceonyourown.com/Archives.htm.
©1998-2014 Cold Spring Press All Rights Reserved