THE OLDEST HOUSE IN PARIS?
by Arthur Gillette
Many, many Parisians and non-Parisian tourists visit such ancient buildings as the 3rd century Roman Bath vestiges at the Cluny Museum and, of course, the 12th-14th century Notre Dame Cathedral, not to forget other venerably aged churches as the 12th century Saint Pierre de Montmartre and its contemporary Saint Julien Le Pauvre in the Latin Quarter. Then there are the Medieval military buildings such as Fearless John's Tower (see our December 2006 issue).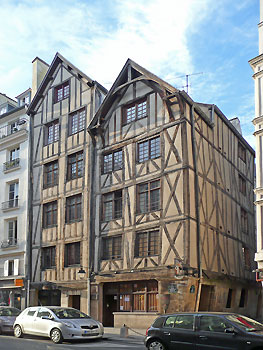 Yet, how many may wonder what and where is the oldest dwelling house in the French capital?
Until recently, apparently not all that many. The general accepted answers were a bit unsure - even fairly hotly disputed. One candidate was two side-by-side half-timbered buildings on rue François Miron in the Marais district, which you can see here.
This candidacy was perhaps the more attractive since it is situated just across the street from the headquarters of the Historical Paris Association. You can visit its web site here (in French).
The problem was that, although the cellars and ground floors of these buildings date most probably from the 14th century, the rest was remodeled in a Medieval style during the 1970s!


A Runner Up Takes Over
Next candidate? On the following page you can see it at 3 rue Volta, still in the Marais district. Strongly in its favor was the fact that, after many fires caused by the wood infrastructure of half-timbered houses, Queen Catherine de Medicis had that type of construction forbidden in 1560. So, 3 rue Volta had to have been built well before then.
continued on page 2