This column is intended to advise you about cultural events, news and happenings
in France or France-related events taking place in the United States
between now and the publication of our next issue.
In France. . .
o News from France: High tides, heavy rains, gale-force winds, and floods plagued Brittany beginning before the Christmas holidays and into the first week of February. Much of northern France had heavy rains and wind, and there was also flooding in Provence. . . A Spanish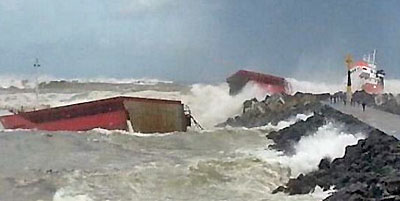 cargo ship, Luno, with no cargo lost its engines after leaving the harbor of Bayonne off France's Atlantic Coast and split in two after hitting the breakwater near Anglet. The French Coast Guard began to immediately pump the fuel tanks dry and two helipcopters brought all twelve crewmembers to safety. . . French authorities have given approval for a new Russian Orthodox church to be built near Paris' Eiffel Tower. Permission had been held up since 2010 when the Russians acquired the left bank land, and the original design was criticized by the Mayor of Paris. New plans are being prepared and expect to be ready next January for the limestone and glass domed structure on the Seine's left bank. . ."Unlucky" French château near Bordeaux lost its brand new owner and its former owner in a helicopter crash into the Dordogne River one day after the sale. The Chinese buyer from Hong Kong bought the château and 160 acres of vineyards for about 30 million euros ($41,000,0000). His son and an interpreter also were lost in the crash. The château is thought to be unlucky because a previous owner died in a plane crash in 2003. . . 88 year-old French industrialist billionaire and Senator Serge Dassault was detained Wednesday, February 19, for alleged vote buying in his former suburb south of Paris. He will face further questioning in the days to come. The well-known manufacturer of fighter jets is under suspicion that he bought votes in Corbeil-Essonnes where he was the Mayor from 1995 until 2009. Ranked as the fourth richest man in France, French judges suspect that he had a system of buying votes which influenced the results of three Mayoral elections in his suburb of Corbeil in 2008, 2009 and 2010. . . Military veterans' claims of ill health from radiation are now substantiated by the release of classified documents proving that radiation from the French army's nuclear tests in Algeria in February 1960 spread radiation across North Africa and as far away as Spain and Sicily. . . Dijon's Musée des Beaux Arts re-opened several refurbished galleries in the fall following a six-year renovation project. They are able to display an additional 200 works and much of their collection has been restored. . . Paris' Cluny Museum has put six tapestries, woven in Flanders around 1500, back on display after a two-year absence for restoration and cleaning.
o The Musée National de la Marine's Le Voyage de l'Obelisque - Louxor/ Paris will describe this amazing engineering feat - transporting the 70 foot high, 230 ton obelisk from Luxor to Paris in 1830 - through dioramas, scale models, plans, documents and archeological objects never before displayed. Through July 6. More information at www.musee-marine.fr.
o The Louvre-Lens will present its first archeological exhibit until March 10th, entitled Les Etrusques et la Méditerranée - examining Etruscan civilization through more than 400 objects from Europe's most important Etruscan collections. Information at www.louvrelens.fr.
o Sèvres-Cité de la Céramique focuses on a little-known aspect of Picasso's career - a time when he worked with a couple in Vallauris and over 25 years produced around 4000 ceramic objects. Strong colors are but one of the characteristics of some 150 pieces on exhibit. Through May 19. Details at www.sevresciteceramique.fr.
o Custom-designed itineraries for visits to France's seven wine regions are yours from Wine Routes France. Perfect for the independent traveler, registered chauffeur, Pierre Galmes, makes all the arrangements for you. Or, if you prefer a chauffeur-driven tour in a luxury air-conditioned car (smoke-free), he will be happy to drive you and be your guide. The itinerary will include access to wine producers, tasting lunches, dinner reservations where you meet the chef, château or hotel accommodations, day-by-day route planning, and more. Itineraries and vehicles for the disabled are available. Visit his web site at www.wine-routes-france.com for more information.
o Musée du Luxembourg in Paris will mark the 200th anniversary of the death of Empress Joséphine with works from her private art collection. Artifacts from her origins as Joséphine de Beauharnais, daughter of a sugar plantation owner from Martinique, to her widowhood during the Reign of Terror, her later marriage to Napoleon Bonaparte, and her life after their divorce, will be on exhibit. Through June 29. Information at www.museeduluxembourg.fr.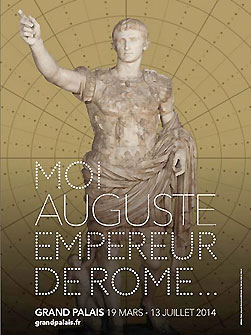 o The Musée d'Orsay is the venue for an exhibition of the art of Gustave Doré (1832-1883): The Power of the Imagination. This prodigious artist of the 19th century became famous around the world for his caricatures and as an illustrator. He drew, painted, sculpted and made engravings, and he influenced many of those in the art world. Through May 11. Information at www.musee-orsay.fr.
o Paris' Grand Palais will host a grand exhibit to commemorate the 2000 anniversary of the death of Roman Emperor Augustus I entitled, Moi, Auguste, Empereur de Rome. A recreation of a villa, frescoes and art objects, statues, furniture and more will be on display to show the visitor the impact this one man had not only on Romans but citizens elsewhere that came under his influence. March 19 to July 13. More information at www.grandpalais.fr.
o Fête du Citron, the annual gala in Menton, Côte d'Azur, is now taking place until March 6. The citrus festival is marked by parades at different times of day and night, citrus-covered floats, fireworks, sale of citrus products such as jams, honey, soap and more, and giant sculptures made of citrus fruit. Details at www.fete-du-citron.com
o The Pompidou Centre hosts the first major European exhibit of the work of the late photographer Henri Cartier-Bresson. More than 300 photos, films and documentary materials recording the great events of the 20th century will be on display. Through June 9. Information at www.centrepompidou.fr.
In the US . . .
o Birmingham's Museum of Art will host Delacroix and the Matter of Finish, displaying an easel-sized version of his monumental 1844 work 'The Last Words of the Emperor Marcus Aurelius', which symbolized the end of the Roman Empire. February 22 through May 18. More information at www.artsbma.org.
o Impressionist France: Visions of Nation from Le Gray to Monet brings to light how the new art of photography freed painters from the need to reproduce reality, thus opening the way for Impressionism to take hold. Over 125 works of landscape are shown in both photographs and paintings created between 1850 and 1880. At the Saint Louis Art Museum. Information available at www.slam.org.
o Toledo, Ohio's Museum of Art will present The Art of the Louvre's Tuileries Garden with more than 100 works never before shown outside of France. The exhibit will include large sculptures from the 17th to the 20th centuries and paintings by Manet and Pissarro, with photos by Cartier-Bresson and Atget. Until May 11. Information at www.toledomuseum.org.
o Sacramento's Crocker Art Museum will feature a show entitled Jules Tavernier: Artist and Adventurer - a 19th century painter born in Paris who created illustrations of the American West for Harper's Weekly, including scenes of the Monterey Peninsula, and in Hawaii where he become court painter to the King. Through May 11. More details at www.crockerartmuseum.org.
o From March 10 until May 26, New York's Metropolitan Museum of Art will host an exhibit entitled The Passions of Jean-Baptiste Carpeaux, Napoleon's favorite portrait sculptor. More than 200 works of art will be on display. Information available at www.metmuseum.org.
o The 22nd annual French Film Festival will be held at the Byrd Theatre in Richmond, Virginia, between March 27 and 30, screening two dozen recent features and short films, presented by either their directors or cast members. Detail available at frenchfilmfestival.us.
o New York's Museum of Modern Art presents Gauguin: Metamorphoses, highlighting the artist's prints and transfer drawings relative to his major paintings and sculptures. From woodcuts to watercolors, more than 160 pieces will be on exhibit. March 8 through June 8. Information at www.moma.org.
o 1839 saw the birth of photography in France, and it still remains a place of progressive ideas. An exhibit at the Detroit Institute of Art features the work of some of the Continent's best known photographers including Bresson, Atget, Cameron, Frank and Richter. Until April 27. More details at www.dia.org.
o Rudy Kurniawan, a Los Angeles wine dealer, was convicted in December of doctoring wines and putting them up for auction or selling them privately as authentic vintage wines. He amassed labels, sometimes through friends who worked in high-end restaurants selling premium wines, washed bottles, relabeled inexpensive wines and sealed them with corks he had also collected. Sealing wax and foil were found in his home where he apparently created all the fakes. It is believed his actions cast a cloud over the entire wine world. French vintners were especially hit hard as they produce some of the world's finest wines. Convicted of fraud, the 37-year old could face up to 40 years in prison.
Other Countries . . .
o French Film Festival, New Zealand - until April 23. It is one of the largest Gallic film festivals outside France, and screenings will take place in eleven cities across New Zealand. Information at www.frenchfilmfestival.co.nz.
o London's Barbican Art Gallery at the Barbican Center, Silk Street, will host part two of the first international exhibit devoted to French couturier, Jean Paul Gaultier, The Fashion World of Jean Paul Gaultier, following its show in New York. It will include 140 haute couture and prêt-a-porter ensembles along with accessories and sketches. Details at www.barbican.org.uk.