OUR LIFE IN THE BUCOLIC ALLIER . . .
by Audrey Semple
Eight earlier issues of FRANCE On Your Own have in one way or another referenced the
département of Allier in the rugged Auvergne region of central France. The most recent
mention focused on the lovely landscapes, Romanesque architectural treasures and history of
the Allier. We are fortunate with this issue to have a new perspective from someone who
has lived there for over two decades ~ and whose story beckons us all to pay a visit.

Garrison Keilor would feel at home here ~ like Lake Woebegone, nothing much happens in Allier, one of the least exciting départements in France. But, even after more than twenty years here, it still retains its quiet charm for us.
One of the great pleasures, after life in congested England, is to drive on roads that are virtually empty ~ even country roads, in spite of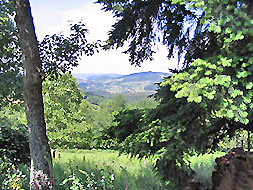 their regular tractor traffic, are mainly deserted except in serious agricultural periods. In these mountains, farming is not intensive as it is on the plains. There's a high proportion of deux chevaux (2CV) and voitures sans permis around here as the very elderly still feel safe to drive on these by-roads, although some of the younger residents are a bit wary of these octogenarians. The system in France, whereby you can drive without having a driving license, is baffling. People who fail their test over and over and finally abandon the idea, simply buy a voiture sans permis ~ et voila! They're on the road ~ the increased cost of insurance more than compensated by the freedom to get about in a extremely rural region. Young people, who for one reason or another haven't got a license, buy these sans permis cars, too. And, without losing street cred either, they look as stylish as any of the small cars on the market, such as the retro Fiat 500. They are also very practical, just enough room for the driver, a passenger, a shopping basket, and a baguette! Their engines sound like old fashioned Singer sewing machines. Just give them a wide berth is my advice; the driving is often unpredictable, not to say erratic.
Not only are the roads clear. The skies are, too. The stars are immense and light pollution is unknown. Planets, shooting stars, satellites, the odd comet and other occasional night sky phenomena are in abundance. August is a great month for stargazing and hot enough to sit outside until after midnight. Though officially the busiest month for tourists, we don't really notice them, even though all summer we have guests in our gîte. They, too, are usually quiet people, here to enjoy the silence ~ the often remarked-on silence ~ of the surrounding countryside. It's true. Even outside you can 'hear a pin drop'.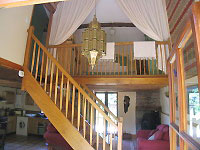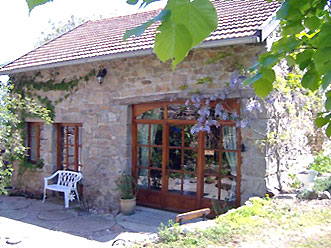 Even interesting landscape features don't intrude. They can be seen at a distance: the Puys of the distant Puy-de-Dôme département, silhouetted darkly against a spectacular setting sun, are quietly there to enjoy. Walking can be enjoyed immediately as one leaves the house or gîte. Swimming can be enjoyed, quietly, in local lakes and plans d'eaux, and a local enterprise (walking high up in the trees) has proven to be very popular, but even this is pretty quiet with most people concentrating on their next step.
As befits the area where we live in the Bourbonnais Mountains, the landscape is full of the influence of the Ducs de Bourbon ~ and they have left their traces everywhere. L'Allier has more chateaux than La Loire and even some of those that are privately owned open their doors to the public during the Journeé de Patrimoine in September, when the entry fee is reduced or free. We love these visits to ancient dwellings where people still live and to the many Medieval villages we have on our doorstep. All can be quietly enjoyed by building buffs like us. And if it's buildings you like, the small but significant spa town of Vichy is a must with its eclectic range of architectural styles ~ art nouveau very dominant ~ and the beautiful arboretum, planted for Napoleon III. For such an important, historic little town, Vichy can be strolled around very easily, its pleasures visual and atmospheric. It was here, we discovered, one doesn't pay for car parking between 12-2pm . . . bien sûr, on mange à midi!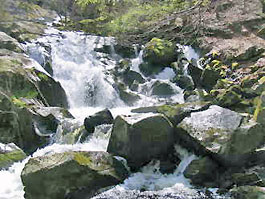 One of the noisiest things round here are the rivers: the mighty Allier and the smaller but more local River Barbenan, which used to power 13 moulins milling wheat, walnuts and cattle feed. We're proud of our waterfall, Cascade de la Pisserotte, an easy walk from the house and never failing to please. It's about an hour's round trip walk, and the energetic can climb up the rocks to the top. In the Spring there are wild daffodils clinging to the sides ~ goodness knows how they got there ~ and in Autumn, the chance to pick mushrooms in the surrounding woodland.
My husband rides our horse, Valinka, we play with our cats, Misty and Squirrel, we enjoy our chickens and quail......we sit by the woodland pond and watch the fish, we enjoy the bird life and occasional glimpses of pine martens, red squirrels, sanglier (wild boar) couleuvre (big harmless grass snakes), salamanders and birds of prey. From early Spring to late Autumn we work in the garden and potager. We eat all meals outdoors and continue to develop our passion for wine. From Easter until the end of September we have people in our gîte and enjoy their company. They, too, seem to like it here, with no complaints that it's too quiet.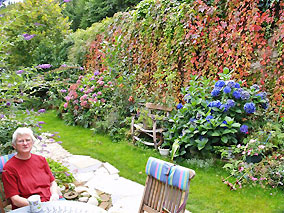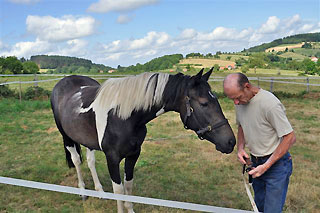 C'mon, Garrison, pay us a visit ~ you'll immediately feel at home!
Audrey and Chris Semple offer guests the lovely Geneste Petite Grange holiday cottage
in the peaceful Allier. Surround yourself with beautiful gardens, amazing vistas and
the benefits of nature all around. We thank Audrey for sharing her little corner of France with us.
Web Site: http://www.geneste-petite-grange.co.uk/
Telephone: Tel: +33 (0)4 70 55 55 94 (24 hrs)
Languages spoken: English, French
Email: geneste.pg@wanadoo.fr

[Photo credits: Audrey and Chris Semple. All rights reserved.]

TWO ANGLO-FRENCH SPORTS MYSTERIES
by Arthur Gillette

MYSTERY NO. 1 - The Origin of Tennis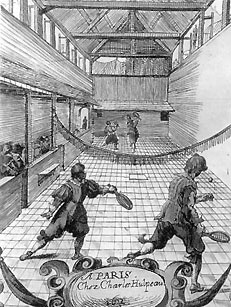 Most French people - and probably most people worldwide - believe that tennis originated in England. Indeed, as early as 1530 King Henry VIII, who became an active tennis player, had a court built near London at his Hampton Court Palace that still boasts a thriving club of some five hundred members. In fact, as early as the fifth century a street game that involved slapping balls bare-handed existed in Tuscany. How then did it reach England in its more-or-less present form?
By the 12th century the game had taken root in France, where it was known as le jeu de paume (palm game), played on a defined space and eventually with rackets and a net.
Early 16th century King François I was an avid player and, during a royal visit to his French counterpart, the English Monarch Henry VIII discovered the game and imported it to England.
In France, players shouted tenez! (take this!) to their opponents upon serving a ball. English courtiers were puzzled at the pronunciation 'tenay' that didn't jibe with the written word. And so decided to pronounce the last letter, hence 'tennis'!
Another linguistic holdover in the game: when a score was 15-0, 30-0 and so forth, the French pronounced '0' as l'oeuf (a zero-shaped egg) - still today the English-speaking tennis players say 'love' meaning 'zero'.


MYSTERY NO. 2 - The Origin of Rugby
The International Rugby Board affirms England as the 'founder nation' of rugby. True enough, the game's first written rules were English and date from 1845. They are often accepted as having stemmed from an incident twenty-two years earlier. One day in 1823, a young student of the Public (read 'private and elite') School in the town of Rugby, William Webb Ellis, fed up with hands-off soccer, picked up a ball and ran with it. But, where did the youngster get the idea to break soccer's rules?
In fact, the sport may well stem from a much, much older - and much, much less elitist - game known in France as la soule. Nothing to do with saoûl (drunk!), it may have originated from Roman times and was popular in a Basque district known as Soule.
Whatever its origins, the game involved gangs of villagers using feet, hands and sometimes sticks to force a ball to a goal (often a tree?) in a neighboring village. Soule matches in France are reported as early as the 12th century. Here is what the game looked like in Lower Normandy during the early 19th century. It had 'emigrated' to England much earlier, probably after the Norman conquest of the country following the Battle of Hastings in 1066.
Editor's Note: Engraver John Condé (most active between 1785 - 1800) and whose sketch was the basis of this illustration entitled 'La Soule en Basse Normandie', dated 28 February 1852, was thought to be an Englishman who styled himself as a French artist. The illustration attributes the source to this sketch by M. J. L. de Condé, M. indicating Monsieur, of course.