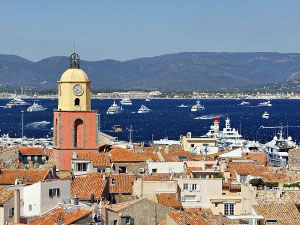 One of the pleasures of living down here in the Var is that I am within reach, not totally easy reach, but reasonably handy to what I have come to regard as one of the loveliest art museums in the south of France, the Musée de l'Annonciade in St Tropez.

Tourists are beguiled by the art delights of the south of France, of the Matisse and Chagall Museums in Nice, the Picasso Museum in Antibes, and the newly opened Bonnard Museum in Cagnes-sur-Mer. Specialist art culture tours sweep their clients along the autoroute from Van Gogh's Arles to the Cezanne trail in Aix-en-Provence, as well as the special haunts of Matisse, Renoir, Bonnard and Dufy. But, more often than not, they leave out the Annonciade which has one of France's finest collections of modern art featuring works by Signac, Maillol, Matisse, Bonnard, Vlaminck, Braque, Manguin, Cross and others.

Perhaps this is just as well, as St Tropez - possibly the most renowned resort in the south of France - is not all that easy to access. But, more on that later.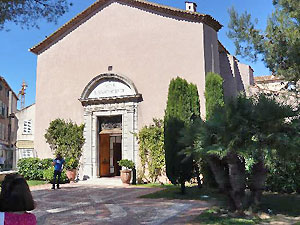 For art aficionados, particularly those who love the Post Impressionists from the late 19th century to the mid 20th century, who love the color and excitement of the Fauvists and the Nabili crowd, the Annonciade is a must.
Its history and origins really started around the arrival in the then little-known small port of St Tropez, of the painter and yachtsman, Paul Signac (1869-1935). Signac had started by studying architecture, influenced by the exhibitions featuring the Impressionists and striking up a friendship with Seurat, he became a painter specializing in the pointillist style. Combining a love of painting with sailing, he sailed around the coast of France, 'discovering' the small port of St Tropez, as so many others did after him.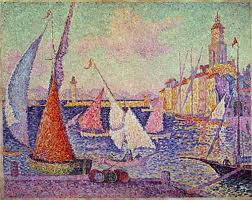 His arrival in the port was first noted around 1892 aboard his yacht Olympia, one of the 28 yachts he subsequently owned. Fascinated by the sea, he never ceased to love picturing it in all its moods, sailing all over the Mediterranean, painting the port of Constantinople among other scenes. He bought a home in the area, and from that point St Tropez tended to become his home base.
His friendships with numerous painters of the era resulted in many coming south to the Mediterranean - Seurat, Derain, Vlaminck and others - a trend that continued and increased.
As president of the Société des Artistes Indépendants from 1908 until his death, Signac encouraged younger artists (he was the first to buy a painting by Matisse) by exhibiting the controversial works of the Fauves and the Cubists.
The Museum, originally for many years a chapel, successively then a marine workshop, was acquired and restored in 1937 to house the Tropelen Museum. Then, in 1950, it was put at the disposal of the art collector Georges Grammont, who left his collection of 56 important works to the nation. The Annonciade, named after the original chapel, opened its doors in 1955. The Grammont collection now forms the base of its permanent collection, and it is a gem. Some years later, the Signac family donated a number of his paintings to the Annonciade, thus increasing its considerable collection of works of that era.
The Annonciade is right at the heart of St Tropez, facing out over the old harbor. Its very distinctive simplistic chapel structure looks over a crammed harbor, filled choc-a-bloc with a forest of zillion euro mega yachts from all over the world, their fore decks bristling with the ultimate in satellite technology - the heart of St Tropez glitz and bling.
Yet walk into the Annonciade and you come into an era of calm and relaxation and a collection of stunning works. The Museum is neither too large nor too small, so you don't become art weary, struck down by culture fatigue, and the art works and sculptures on display always amaze. To add to our enjoyment, there are benches on which one can sit and admire particular works. Upstairs, which houses the permanent collection, there are large comfortable leather armchairs where one can sit, admire and reflect.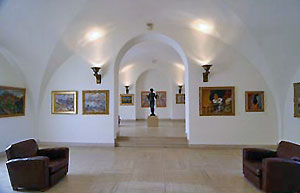 First floor gallery housing the permanent collection
The Annonciade stages special exhibitions throughout the year, beautifully curated and usually featuring some of their permanent collection centered the show around one particular work or painter.
Past exhibitions included one devoted to Henri Manguin in the summer of 2011 featuring Manguin's Baigneuse a Cavalaire, below right. Summer 2012 saw a show devoted to Charles Dufresne - Une Rève Oriental - featuring many of his works from visits to Morocco and the North African coast and its souks, shown in the center below.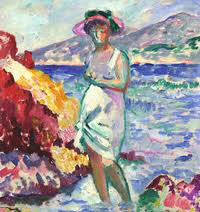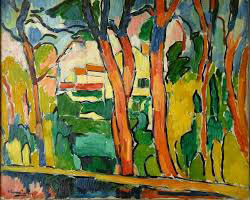 In the summer of 2013 the Annonciade devoted a show to the painter Maurice de Vlaminck, a superb show which stunned with its brilliance and slabs of color. Above right is his Route de l'Estaque, strikingly similar to one painted of Estaque (on the coast near Marseille) by Vlaminck's friend and fellow artist, André Derain. They were indeed Fauvists (wild ones), using color outrageously for that time.
I visited Annonciade's latest show in January, and it's another stunner. From mid-December to the 10th of March, 2014 "Ils on peint les ports" features works by Signac, Bonnard, Camoin, Jaulmes, Derain, Marquet and others, who painted not just St Tropez but port scenes all over the Mediterranean. Just inside the Museum, one comes across a superb sunset view of La Calanque by Charles-Henri Person (1912). Further on, one is struck dumb by two works of André Derain - a huge view of the Le pont sur la Thamise and another of Westminster and the Houses of Parliament.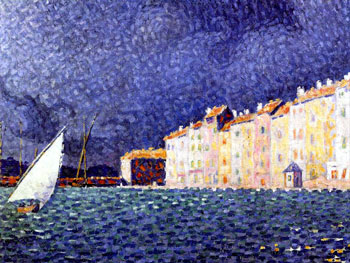 Another superb Signac work is in the show, all blues and greens - L'Orage - shown here. Also included in the show are works by Bonnard (Le Port de St Tropez, 1914), Camoin (Marseille, Le pont transbordeur, 1928), Jaulmes (Coucher de soleil, Cannes, 1930), and other paintings by Camoin, Marquet, Henri Le Basque and André Dunoyer de Segonzac.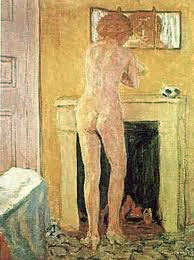 If you cannot be there in time for this show, perhaps you can plan for the upcoming Spring and Summer Exhibitions. From the 15th of March to the 23rd of June, Pierre Bonnard: les nus de Marthe, sa Muse, son Modele. The Bonnard will feature many works from a private collection, not seen before, of Bonnard's muse, and later wife, Marthe. They met in 1893, and from then onwards she featured exclusively in many of his paintings until her death in 1942. They were married in 1925. His ideal model, she appears in numerous Bonnard works, in oils, crayons and in photographs.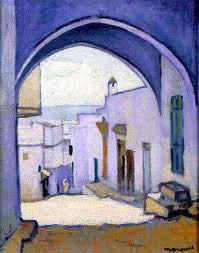 And, from the 5th of July to the 13th of October, La couleur sous la lumière de l'Orient: de Delacroix a Matisse will be an exhibition dealing with how painters reveled in the colors of the Orient, so close to them but at the same time struggling with the intensity of the light, the strength of colors, and how to depict them. Renoir, Matisse, Camoin, Marquet and others, all reveled in these surrounding, but found them overwhelming. Later on, Macke, Moilliet, and Klee all visited Tunisia - Moilliet in particular painting some wonderful watercolors of the region. Kandinsky, inspired by the Orient, made his first ventures into abstraction with the work Cimetière Arab, 1909.
The Annonciade is putting together an ambitious, eclectic collection of works, oils and watercolors from private collections, national and international museums, and for the show will be producing a catalogue.


Albert Marquet - la Citadelle Tanger

How to get there:
Getting to St Tropez can be a bit of a puzzle. It lies out on a promontory, cut off by the Maures mountains from the more easily accessible autoroute, but one can take a bus from Toulon-Hyères Airport - the 7803 bus (www.varlib.fr) goes to St Tropez five times a day for about €2 one way.
And, of course, one can drive there by car. Unfortunately, the main coast road from either Ramatuelle or principally St Raphaël and Set Maxim, is a bit of a hazard, particularly in high season when the latter (the D98) more resembles the Long Island Expressway in a permanent traffic jam.
By far the easiest way to get there is by boat, which one can catch from either St Raphaël (leave your car there) or Ste Maxime, and take the ferry across the bay. What could be nicer? In St Raphaël, catch the Bateaux de St Raphaël shuttle service (www. bateauxsaintraphael.com) across the bay to St Tropez. The crossing takes an hour. In Ste Maxime, make for the Bateaux Verts (www.bateauxverts.com) at 14, Quai Léon Condroyer. It's around 15 minutes to St Tropez.
For the super, seriously rich people, when cost means little, one can helicopter in from Nice or Cannes to La Mole Helicopter airport just behind St Tropez, or alternatively, sail into St Tropez harbor in one's mega yacht. From your mooring there, it's just a short step into the glories of Annonciade.
For us ordinary mortals, bus and car can do it, and with planning, believe me, this museum is worth it.
Anita Rieu-Sicart is the Editor of VAR VILLAGE VOICE
monthly magazine circulating to English-speaking residents,
mainly expatriates, living in the Var region of the South of France.
Visit her information-packed web site at www.varvillagevoice.com
And, subscribe to the online edition!
[Please mouse over photos for descriptions and credits.]


---
SPONSORING THIS ISSUE

Find France's most special places to stay on a web site that offers
personal service from your first inquiry to confirming your reservations.
au Château offers over 85 unique properties for bed and breakfast accommodations,
weekly rentals, or self-catering gîtes on a château estate. Many of the members
will be happy to host a wedding, birthday or anniversary celebration!
Experience the most delightful getaways in the bucolic French countryside.
Visit au Château today!
---