IN THIS ISSUE:
The Winners of our
Photo Contest
Twisted Tongues
~ Challenging French phrases
Ici et Là
The Bookshelf
~ A Tour of the Heart
a book by Maribeth Clemente
Spend a Day at the
Lime Flower Festival in July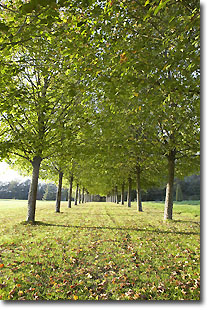 Lime Tree Alley (Allée des tilleuls)
at La Borde Maison d'Hôtes, Burgundy
Notre Dame's
Archeological Crypt
by Arthur Gillette
Featuring: Fall in love with
These French Villages
Part III
Weddings in Provence
by Anita Rieu-Sicart
Meudon's Clean Forest Day
"Photography is truth." - Jean-Luc Godard, Paris-born film director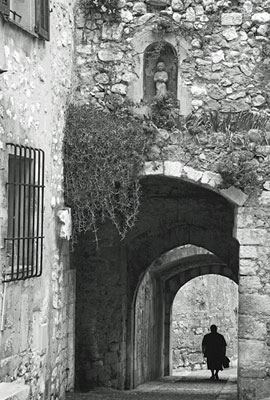 We are very pleased to announce the winner of our Second Readers' Choice photo contest ~ it is the photo 'Passage through Time' taken by Bruce Hartley of Innerkip, Ontario, Canada in the wonderful village of St-Paul-de-Vence, Alpes-Maritimes, in late summer of 2011. As with our first contest two years ago, our winner is once again a Canadian! Bruce will receive a year's subscription to France Magazine, the excellent quarterly published by the French-American Cultural Foundation in Washington, DC.

Bruce's
love of photography and travel began as a student when he did a year of studies at Aix-Marseille University. His career in education provided several opportunities for return visits to France with students. Now retired, he and his wife continue to travel extensively, however France remains their favorite destination. His winning photo was taken with a Canon Rebel digital SLR camera as the couple walked along the ancient city walls. Just as he prepared to photograph the scene, a woman dressed in black appeared to complete the image. [Readers can see more of Bruce's photos at
www.brucehartleyphotography.weebly.com
.]
The second place photo was a mere five votes behind the first ~ this delightful scene in the Béarn village of Buziet during the the summer of 2012 was taken by Elizabeth Claverie of Novato, California, while she was visiting family in the region. Her camera was a tiny Panasonic Lumix. She will receive a gift of illustrated French château note cards courtesy of the web site au Château.
Elizabeth tells us that she goes to France periodically to visit her father's family in the little village of Buziet ~ her grandfather was born in the house in the photo. She said, "My sister and I were showing the house to my grandson and met the man who lives in the house now, and he enthusiastically gave us a tour and a box of things that were left in the house by my grandfather's nephews ... a couple of them were builders, and in the box was a collection of handmade wooden planes used for building, my grandfather's wedding picture from America as well as an assortment of other pictures and papers. We felt instantly connected to the house and the area and then to the cows, which just happened to walk by as we were bidding adieu to the new owner."
Our thanks to all of those who participated by sending in their photos and to those who took time to vote for their favorites. It was not possible to provide a gift for third place, as we had a 4-way tie! [Please click on the photos to see a larger and more detailed version of each.]