The two villages featured in this issue are both in the picturesque Limousin region of west-central France and are members of that small and exclusive association, Les Plus Beaux Villages de France. The first visit is to Saint-Robert in the Corrèze on the border with the Dordogne, and the second is Mortemart in the Haute-Vienne - each with its own unique character to make it memorable.

SAINT ROBERT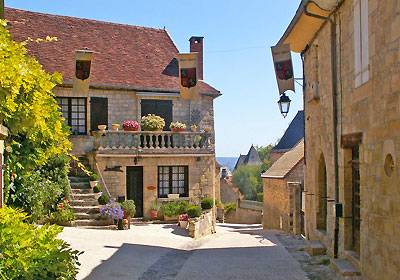 Saint-Robert is the birthplace of Henri-Pierre Roché, author of Jules et Jim, adapted for the screen in 1962 by François Truffaut who discovered the story while browsing a secondhand book store in Paris. The 1953 semi-autobiographical novel was about Roché's relationship with writer Franz Hessel and his wife, Helen Grund. Truffaut became Roché's friend and obtained his approval to make the film. Not only was the soundtrack by Georges Delerue called one of the best ten soundtracks of all time by Time magazine, but the film was listed in the publication's 'All Time 100 Movies' list.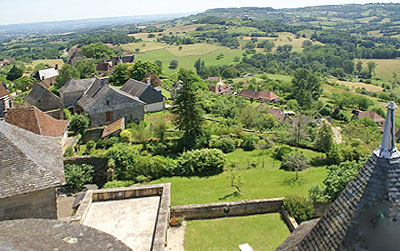 Today, this pretty little commune, which we mentioned is designated one of the 'Most Beautiful Villages of France', has a population of about 350 people. It is perched high in the Corrèze hills, and the view from the churchyard is breathtaking. We discovered it on the advice of our hosts at Château du Bois Noir when planning our day exploring the countryside - they said we should not miss Saint-Robert, and when we arrived there, we immediately knew why.
The villagers are understandably proud of their twelfth-century church, Eglise Saint-Robert, an ancient Benedictine priory founded by the followers of Saint Robert of Turlande, founder of the Abbaye de la Chaise-Dieu in 1043. The village was the site of battles in the French Wars of Religion (1562–98), and the nave of the church was destroyed during that period. A plan shows its proposed reconstruction (see photo). The church is a fine example of Romanesque architecture and, after much rebuilding and repairs in the late 19th century, it remains the focal point of Saint-Robert in this hilly countryside.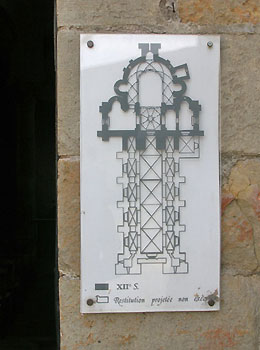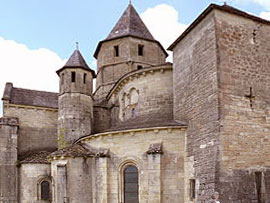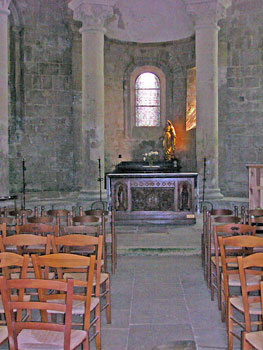 Diagram of proposed reconstruction of the Nave, the Romanesque church, and one view of the interior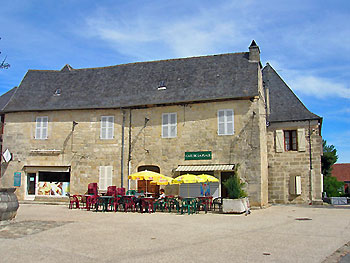 We stopped for ice cream at this little café on the village square opposite the church. If you decide to visit the Corrèze, just over the border from the Dordogne, we hope that you will make a point of visiting Saint-Robert. Enjoy a stroll through the village; the friendly townspeople are warm and welcoming.





---
MORTEMART
Mortemart in the Haute-Vienne of the Limousin is truly one of the Most Beautiful Villages ~ and a lovely historic place to visit with a tiny population of about 125 people (2008). The village was built around an old feudal mound and a stone castle built in 995 by the Lord of Mortemart, Abon Drut, after he successfully defended the nearby city of Bellac against the Count of Poitiers. The castle was destroyed by the British in the 14th century, rebuilt at a different location, but eventually ordered dismantled by Louis XIII. Also in the 14th century, a native son, Cardinal Gauvain, founded three monasteries here, two of which were the Augustinians and Carmelites. Although the religious people are no longer occupying them, the buildings remain along with the villages charming old homes.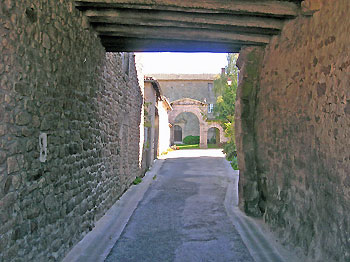 The 16th century covered market and an ancient passageway
Be sure to have lunch at the local hotel/restaurant, Le Relais Mortemart, a member of the Logis de France organization. The atmosphere of the restaurant is warm and comfortable, and the menu offerings are perfectly prepared and delicious.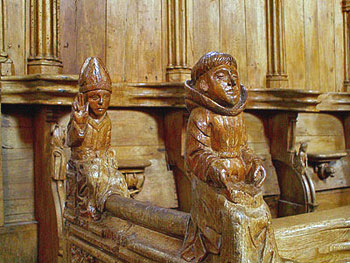 The center of this tiny commune is, as with most villages in France, its church. Eglise des Augustins, the beautiful church and former convent, holds a lot of surprises, not least of which is its stunning altar. Also quite interesting in this little Medieval church are the carved wooden choir stalls depicting both people and animals ~ some grotesque, many offering satirical messages, others suffering the illnesses of the day such as one with an apparent toothache. From the front and side, all characters seem quite well-behaved, but when viewed from the back many have lifted their robes to expose their bare bottoms!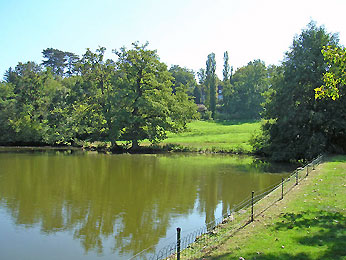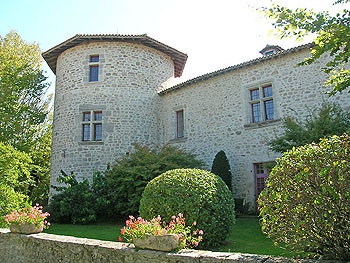 Another highlight of the village is the 15th century Château des Ducs de Mortemart, backing up on a delightful green area with a large pond, home to several white swans and one rather elusive black one. Built by the Lords of Mortemart, it rose to the status of dukes under Louis XIV. Still standing are both the Augustinian and Carmelite monasteries.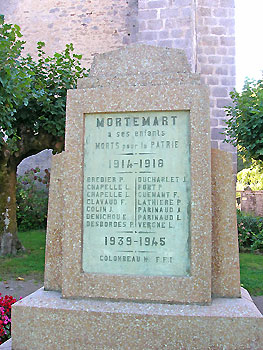 Travelers to France who visit the countryside will have seen memorials in most towns and villages dedicated to those lost in the two World Wars. Mortemart is no exception. The granite monument to its fallen soldiers is near the church and a sad reminder of what even the smallest village in France endured in the twentieth century.
We sincerely hope that one day you will have the opportunity to spend some time in Mortemart. It is a sweet little place that, despite its size, has much to offer the visitor as it reminds us of days gone by and the tranquility of the townspeople's daily life. We're sure you will find it delightful.








---
WHERE TO STAY WHEN VISITING THESE VILLAGES: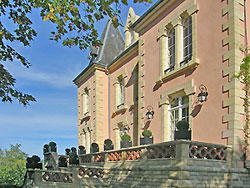 Utterly charming and definitely elegant is Château du Bois Noir, high on a hill in the Corrèze with unending views and near St Robert, where guests are treated with warmth. This jewel of a château has been thoughtfully and tastefully renovated to the highest standard by its Dutch owners creating a truly authentic period atmosphere while not neglecting any comforts and conveniences. Breakfasts are delightful, but one should be sure to make reservations for dinner at the château. Madame van Ampting is a superb chef, and we found Monsieur to be excellent in recommending the right wines. Click on the photo to see their web site for further information.
Château du Fraisse has been in the same family since 1220 - yes, 800 years! - and has been loved and treated very well enabling us to enjoy it today. The count and countess welcome all their guests with smiles and kindness, and the location in the Limousin département assures visitors of a lot to do including visits to porcelain factories in Limoges, fishing on Lake St-Paradoux or visiting the Oradour-sur-Glane memorial village among many other nearby attractions. Of course, Mortemart is near to the château as well. Breakfasts are served in the regal dining room with morning sun pouring through the windows. Click the photo for more.




CLEAN FOREST DAY - Community Participation to Clean up French Forests
by Arthur Gillette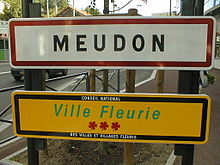 When I arrived to study at the Sorbonne several decades ago, I was eager to continue my American student's experience of weekend volunteering with the American Friends' (Quakers) Service Committee to help repaint and generally refurbish poor people's slum dwellings. My French fellow students laughingly assured me that there was no such hands-on possibility to do that in their country. After some searching, I discovered the Service Civil International association and started weekend workcamping in some pretty dreary Paris suburbs.
My news of those very instructive outings into a little-known aspect of Parisian reality upended the other students' laughter into severe criticism. "Hey," they blurted out, "by volunteering to do those jobs you [read: "stupidly naïve Yankee"] are enabling the French State to shirk its duty to take care of the poor!"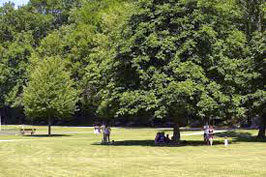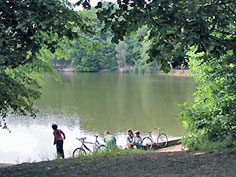 Lovely areas of the Meudon Forest for picnics and relaxation
In the years since, France has evolved towards much wider acceptance and promotion of grassroots community participation in social problem-solving. A literally 'grassroots' example is the Journées Forêt Propre (Clean Forest Days) now regularly organized in a number of the country's suburban and rural areas.
For some years now I've lived in Meudon, a town about twelve train minutes to the west of central Paris and which is in good part covered by a Forêt Domaniale (State Forest). Covering a surface of more than 1,000 hectares (some 2,500 acres) it has been recognized as a natural treasure since the 18th century.
The Meudon forest is a lovely place. It has certainly been treasured by my wife, Madeleine, and me, and we often take 'green strolls'. On one of these, some ten years ago, I happened to notice a bottle someone had pitched into a pathside ditch. I virtuously recovered it intending to deliver it to a local municipal glass recycling bin.
"Look," I said to Madeleine on clambering out of the ditch and pointing to a second bottle near where I'd spotted the first and partly covered with fallen leaves and grass. In all, the ditch contained no less then twelve identical empty whisky bottles! In our imagination, a gang of buddies came to the place after work every Friday to guzzle booze with nary a thought for the forest environment.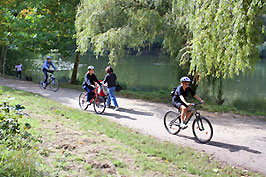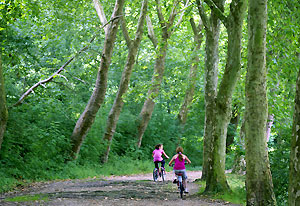 Cycling in the Meudon Forest
No wonder that since 1982 a local NGO, the Committee for Protecting Meudon Sites (Comité de Sauvegarde des Sites de Meudon - CSSM), has organized an annual Clean Forest Day in cooperation with municipal authorities, the National Forestry Office, and such other entities as the local Scouts.
"At the outset," recalls CSSM Clean Forest Day coordinator, Gerard Ader, "we were going against the grain, and many people made fun of the operation. But, we've persisted, and over time have been more and more successful."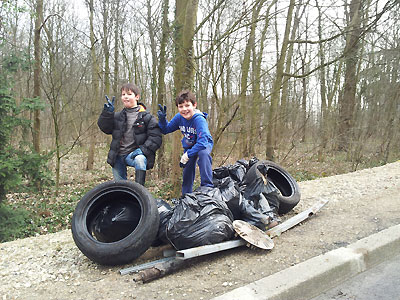 Over the last 30 years a grand total of many thousands of half-day volunteers have salvaged a total of something approaching one hundred tons of trash, while (particularly the youngsters – mainly Boy and Girl Scouts and Cubs) deciding that "I won't throw anything on the ground anymore."
Thekinds of trash thus collected have changed over time. "At the outset," remembers Monsieur Ader, "we found large household appliances and even automobile spare parts. Now, there are fewer things in those categories and more trash in lighter categories such as plastic bags, tin cans and various fast-food wrappings. So the annual tonnage has actually decreased from over five tons to about four." Lighter, but nevertheless long-lasting: A cigarette butt dissolves after a year or two, but a plastic bag can survive up to a century and a glass bottle no less than four thousand years.


The Clean Forest Day held on March 23rd 2013, following a particularly cold and rainy winter, attracted 350 volunteers (compared with some 420 in 2012) who recuperated some four tons of trash (five tons in 2012), probably at least partly because the previous months' weather had discouraged trash-leaving strollers.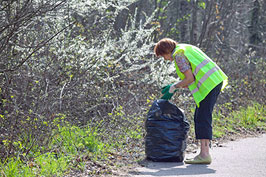 At 2 PM that Saturday, volunteers – individuals, couples, families, teams – came to tables set up at six different points of entry to the Forest and were given sturdy gloves and large plastic bags, supplied by the West Paris sub-regional authority, and mini-maps of the terrain to be cleaned. Two and a half hours later, the full bags were placed at roadside pickup spots to be collected by the local garbage services. Then the volunteers gathered at three sites for convivial picnics.


"Did anything special strike you about the 2013 Operation?" I asked Monsieur Ader.
"Well," he smiled, "the volunteers as usual were overwhelmingly local and young, but I also encountered a student from Spain and another from China! Oh, and at the end of the day I got a report that a heavy object had been found – a discarded safe!"
"And?" I asked.
"No luck – it was smashed and empty."