WEDDINGS IN PROVENCE . . .
by Anita Rieu-Sicart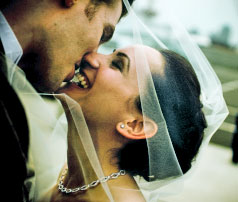 A recent Survey by a UK Wedding magazine concerning the increased costs of organizing a wedding in the UK, stated "The average cost of a wedding is now £21,939, research has found – an increase of more than £7,000 in a decade, 14 per cent in the past three years." That's a hefty increase in costs but which is possibly not reflected in this region.
VAR VILLAGE VOICE monthly English-language magazine, circulating to English-speaking residents principally in the Var region of Provence, has regularly published articles about organizing Weddings in Provence*. One prime reason is that as so many retired expats from the North of Europe have settled in Provence, and many of their children and grandchildren have found it ever more convenient to hold their weddings in the region.
It seems that, despite the ghastly state of the economy, while most of us are tightening our belts, brides are spending more and more on their big day. In 2003 the bill for the big day was £14,643, rising to £18,781 in 2006 and £19,265 in 2009 in the UK. But while weddings are becoming more lavish, they are also becoming more intimate. Since 2009 the number of guests has fallen by 7 per cent, dropping from 101 to 94 last year. It means the average cost per guest has gone up by more than a fifth, from £191 in 2009 to £233 three years later. This is considerable, but some costs can be trimmed, refined, honed and slimmed down by holding a wedding here in the lovely Var countryside.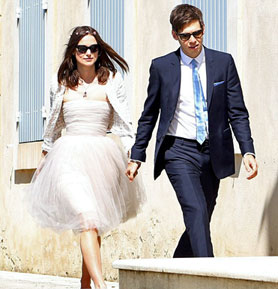 There are so many reasons why couples decide to hold their weddings in this idyllic part of France, and possibly the most important is the weather. Everyone wants the day to be perfect, to unroll under blue skies, with the sun shining. So, where better to enjoy that bliss but here in Provence? In fact, quite often they have to take into consideration having a marquee more for shade from the sun than as a refuge in rain. Actress Keira Knightley just married her beau, rock musician James Righton, this month near her parents' home in Mazan in the Vaucluse département to great excitement and secrecy! Reports have it that the ceremony was attended by only eleven people!
There are literally hundreds of superb venues from which to choose. There are those romantic chateaux, many of them wine domaines, set in this rapturous countryside of forested hills, perched hillside villages, and valleys carpeted by ever increasingly famous Provençal vineyards ~ like that of Miraval, recently bought by Brad Pitt and Angelina Jolie, who now sell their own Pitt-Jolie wine.
In addition to the numerous wine domaines catering to weddings up and down the region, there are also several golf clubs, with luxury facilities, that delight in organizing weddings, a fact that might well appeal to parents and grandparents of the happy couple, who can combine the wedding with a golf holiday. One such that springs to mind that of the picturesque Domaine de St. Endreol Complex, just by La Motte, not far off the A8 Autoroute (equidistant from Nice, Marseille, or Toulon-Hyères Airports). St. Endreol boasts a luxury hotel and restaurant, superb wellness/beauty spa, swimming pool, and villa rentals.
The venue could be €2,500 for the day, including all the tables, chairs etc. And there are special deals available offering the exclusivity of the lush hotel, the wellness spa with all the trimmings, saunas, hammam, etc., plus self-catering studios for two or four people, and the swimming pool, a morning-after brunch for all the party, and use of the Palayson Restaurant. For example, have a look at the section devoted to weddings on the St. Endreol website**, which lists two very enticing sample menus, one at €49 and another €69, including drinks and coffee.
Another luxury golf resort with superb wedding facilities is that of Dolce Fregate***, at St. Cyr, right on the coast and offering wonderful views out over the Mediterranean. It, too, has a luxury hotel and restaurant, wellness spa, and villa rental accommodations. As they say, "Dream Weddings" are their specialty, so take advantage of their experience.
Weddings are very good business for everyone concerned, and so there is strong competition which makes it all the more possible that one can achieve a good deal – you just need to ask. As Virginie Gamba told me, "You need to ask precisely what is included in any deal and what will you do for me and my party?"
Venues catering to weddings do have masses of experience and all the contacts you could wish for. They can help out and organize, including all those tricky things that could go wrong at the last moment ~ video, photographer, hairdresser ~ you name it. They have the local contacts at their fingertips, so you can relax and enjoy yourselves.
Another great golf venue offering wedding facilities is that of Nans les Pins, closer to Marseille, with its luxury hotel and restaurant****. They are part of the Relais & Chateau organization, and they have a lot to offer, including a very playable golf course.
Naturally, because this region is home to so many vineyards, the cost of supplying wine and Champagne for any wedding is bound to be very reasonable. There is a wide choice of excellent caterers, plus super and reasonably priced accommodation, either via local chambres d'hôtes, the au Château web site, or villa rentals.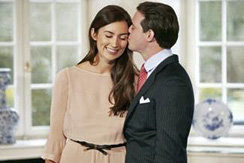 Prince Felix of the Grand Duchy of Luxembourg will be wed in September in the Var
Apparently the highest expense according to this latest wedding survey and the most expensive part of the wedding tends to be the honeymoon. Well, that's a no brainer for a start. Most couples take their honeymoon in Europe anyway, so what is better than this glorious region? They can have the wedding here and the honeymoon, either in privacy, in a luxury seaside villa all on their own, or with all the family and friends, or they can take off on an active holiday ~, sailing, horseback riding, canoeing, climbing, etc. The choices are enormous, and it's only a short budget plane ride away from the UK, Holland, or Scandinavia.
Costs of venue hire, food, catering and drink have all gone up. And, most often it's the bank of mum and dad who are footing much of the bill for these lavish weddings. Fifty-three per cent of couples shared the cost of the big day with their parents, while eleven per cent had the whole day paid for by their family. Only thirty-one per cent paid for it entirely by themselves. But, it's a great occasion that people are still willing to save and invest in to ensure they and their guests have a day to remember. Personalization is the key trend now ~ wanting something a little bit different. And, that's precisely what they can have here in the Var. Plus, there are lots of super villas to be rented, lovely chambres d'hôtes to please the most exacting tastes of visitors, and the vital component: great weather, sunshine and blue skies! Beat that!
---
As of our publication date, the exchange rate between the
pound sterling costs in this article and other currencies is:
£1 (GBP) = $1.50 (US)
£1 (GBP) = €1.17 (Euro)
£1 (GBP) = $1.56 (AUD & CAD)
Check daily exchange rates for these and
other currencies at http://www.xe.com

---
* A download of this article in pdf. format is available from its web site at www.varvillagevoice.com
with useful information and background about organizing weddings in this region of the South of France.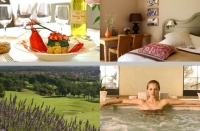 ** www.st-endreol.com, or email: v.chevrier@st-endreol.com for the special Weddings Brochure.


***www.dolcefregate.com/weddings/weddings, and contact Virginie.Gamba@Dolce.com for their Wedding brochure.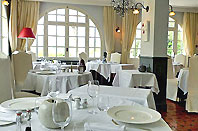 **** www.domaine-de-chateauneuf.fr/
Anita Rieu-Sicart is the Editor of VAR VILLAGE VOICE monthly
magazine circulating to English-speaking residents and available by subscription.
Rates: €20 for Internet version, €40 for print issue to French address, or €52 for print issue to Europe.
Other rates, please inquire. Dollar rates possible.
www.varvillagevoice.com
You can subscribe to the online edition if you visit her web site.

---
DISCLAIMER: You have received this newsletter because your email address is on our Opt-In mailing list, i.e., you have requested to receive FRANCE On Your Own ©. If you would like to discontinue receipt of this newsletter, please send an email to publisher@franceonyourown.com with "unsubscribe" on the Subject line.
Unless indicated otherwise, photos, graphics, artwork and text in the FRANCE On Your Own © newsletter are all the property of Cold Spring Press and FRANCE On Your Own © and cannot be copied, duplicated or used in any manner by anyone without the express written permission of Cold Spring Press. FRANCE On Your Own © is published online by Cold Spring Press, P O Box 26098, San Diego, California 92196-0098. This publication is copyrighted and no portions of the text, artwork, graphics or photographs may be reproduced or distributed in any form or by any means or stored in a database or retrieval system without the written permission of the Publisher. For more information about FRANCE On Your Own ©, visit our web site at http://www.franceonyourown.com.
Recommendations made in this newsletter are based upon the personal experiences of the Publishers or contributing writers solely to provide information to subscribers. Cold Spring Press and FRANCE On Your Own © make no endorsements nor are any guarantees or promises of satisfaction given or implied. Any and all information is correct to the best of our knowledge, and the Publishers accept no responsibility for errors and/or omissions. The responsibility lies entirely with the traveler to obtain current information regarding accommodations, availability, schedules, prices, reservations, or any other pertinent details. We do not guarantee the historical accuracy of the contents of articles in this newsletter. Historical accuracy is dependent upon one's sources of information -- and contradictions often exist among those sources. Links to other web sites or email addresses are provided for informational purposes only and do not imply any guarantees of service or endorsement of any organization or their business practices.
FRANCE On Your Own © is electronically transmitted via email. To add your email address to our database for this FREE newsletter, send an email to info@franceonyourown.com, and please put Subscribe in the subject line. We do not share email addresses with any other organization.
BACK ISSUES of the print version of FRANCE On Your Own © and Free online back issues are available on our web site at http://www.franceonyourown.com/Archives.htm.
©1998-2013 Cold Spring Press All Rights Reserved

---

previous page