---

THREE PARIS HISTORIES JUST BENEATH « PARADISE »
Revamped, the Notre Dame Archeological Crypt Is Open Again
by Arthur Gillette

Since the Middle Ages, the space in front of Paris' Notre Dame Cathedral – as with other churches in Europe - has been known as le parvis, a modified name for "paradise". For many centuries it was crowded with homes and shops. But in the mid-1700s some demolition (including three small churches) took place there for hygienic reasons. Then, in the 19th century because of the Second Empire's craze to overhaul and modernize the French capital, all the buildings that remained were razed to make way for today's huge, often-crowded, esplanade from which visitors can admire the Cathedral's façade.

By the late 1950s, automobile traffic had so escalated in Paris that the authorities were avidly seeking in-town sites to build public parking lots. The space beneath Notre Dame's expanded parvis seemed a good choice. When preliminary digging began, long-forgotten vestiges of both Roman and Medieval times were immediately discovered. Luckily for them (and us!), Culture Minister André Malraux had good access to then-President Charles de Gaulle and, after careful unearthing and study of the underground vestiges from 1960 to 1972, it was decided to replace the planned major parking area (only a small one was built) with an Archeological Crypt site open to the public.

Understandably, it was less popular than the nearby Cathedral. With some ups-and-downs, the number of visitors nevertheless grew, rising for example from 108,484 in 2006 to 150,852 in 2009. Briefly closed recently to reorganize and revamp its presentation (signposting and free brochures, tactile image tables, and audio guide rentals for €3 in English and Spanish as well as French) and overall scenography, the Archeological Crypt is again open to the public. Today, you can visit it every day except Easter and Pentecost Sundays and major holidays from 10 AM to 6 PM.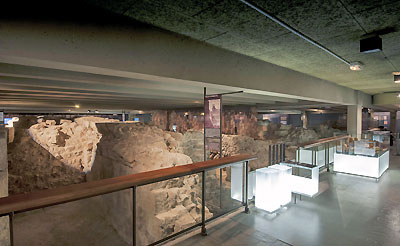 Once underground, you perhaps predictably discover a pretty astonishing amount of different kinds of ancient masonry, some looking like rubble and others clearly parts of human-crafted structures.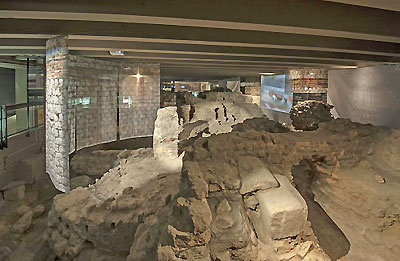 And here is a taste of the new explanatory scenography.






By and large, the visible vestiges date from three periods of Parisian history. The most recent is the 18th century mentioned above and represented mainly by the base of a longish arm of the then-created Hospice des Enfants Trouvés (Abandoned Children's Home), replaced 200 years later by the huge nearby, and still extant, Hôtel Dieu Hospital.
Earlier remains date from the Middle Ages, when the long-lasting construction of the Cathedral (first stone laid in 1163) gave rise to major urban and commercial development just in front of it. Now you can see, for example, a well and stairs leading down to a shop cellar.
Perhaps most intriguing during a Crypt visit are the remains left by the Gallo-Roman period. These include a length of the wall built in the fourth century A.D. around the Ile de la Cité to defend it against the invasion of such Barbarian tribes as the Franks (from which… France). Then there is a length of stone wharf that served the thriving, and mainly commercial, river trade up and down the Seine.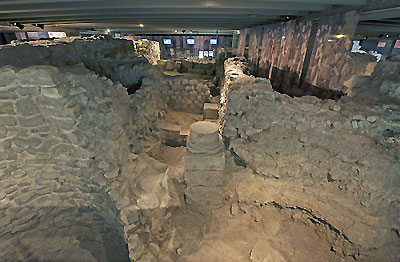 Here is something more 'homey' - bits of residences such as this base of a 4th century column. Especially striking are the relatively extensive vestiges of the fourth century public baths. Cleanliness was considered very important at the time. But the thermae were also popular as a place just to relax, practice various kinds of physical activity and chat, chat, chat (often meaning to discuss politics). Ingenious technology was brought into play to construct the baths. Here, for instance, is a picture of the central heating system used to ensure flow of warm air beneath the floors of the baths.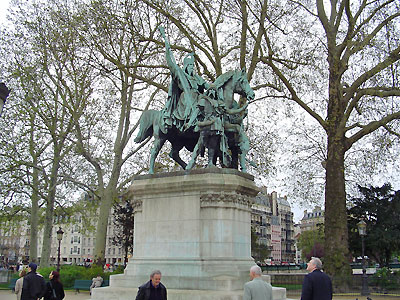 After your visit and when re-surfacing to "paradise", don't fail to notice a nearby architectural element that I find hilarious: the equestrian statue of Charlemagne erected in the late 1800s.
What's the joke? Well the two brothers who sculpted this figure needed a rough and tough-looking model, someone like a front-line attack rugby player. Luckily, they found him close at hand: the model was the Chief Doctor at Hôtel Dieu Hospital just across the newly expanded parvis!





Contact Arthur Gillette to take advantage of his amazing knowledge of Paris
by enjoying one or more of his Paris Through the Ages Strolls.
Visit our Marketplace page for a complete list of strolls and information about Arthur.
Email: pouchkine38@gmail.com

Next Issue: Post World War II Le Havre:
A 'Pioneer Implementation of Modern Developments in Architecture, Technology and Town Planning'