"Outside of Paris, there is no hope for the cultured."
Molière:
Jean-Baptiste Poquelin - 1622-1673
International Ups, Downs, Outs & Ins of Hector Guimard's Paris Métro Entrances
by Arthur Gillette
Many (perhaps most) visitors to Paris are intrigued by the Art Nouveau street-level Métro entrances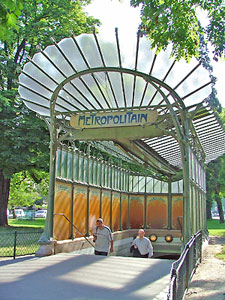 that abound in the French capital. Like their design, their century-old history has known many a twist and turn. Here we will recall some of that history's main episodes.
Some Ups - Selection circa 1900 of Art Nouveau architect Hector Guimard's swirly Art Nouveau design for the street-level entrances to stations of the brand new Paris Métro (subway) brought a lilting departure from the very staid Haussmannian architectural style then dominating the French capital. Despite criticism, there was international acclaim from avant garde creators and fans. Here, for example, is the Porte Dauphine kiosk in Paris.
. . .and Some Downs - By the middle of the 20th century, Art Nouveau's swirls were definitely 'out', and a number of Guimard's Métro entrances were destroyed. The Etoile Station was demolished in 1962 and the Bastille Station as late as 1969. A bit earlier, when after World War II Guimard's American wife Adeline returned to France offering to donate his archives, she couldn't find a taker!
Outs - Yet foreign appreciation had not waned very much and led the Museum of Modern Art, for example, in New York City - where Guimard died in 1942 - to acquire part of the dismantled Raspail Station as early as 1958. It is visible there today with a broader array of Guimard's creations (a letter opener, a door handle, an armchair, etc.)
A similar acquisition was made in 1960 by Munich's Staatliches Museum für Angewandte Kunst (State Museum for Applied Art). Later, in 1967, Montreal's Subway built a replica, with the help of Paris Métro spare part stocks used to repair the still-existing entrances in that city.
. . .and some Ins - Foreign admiration of Guimard's handiwork probably contributed to turning the tide in France itself, and seven of his Métro entrances were listed as historical monuments in 1965. The remaining 79 became similarly recognized, and protected, in 1978. In recent years, the turned tide has overflowed in the form of gifts from France of Guimard Métro entrance replicas to subway systems abroad (most recently in 2007 to Moscow for its Kievskaya Station) in cities such as Lisbon, Montréal, Chicago and Mexico City.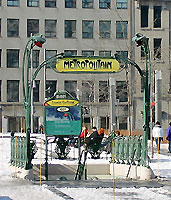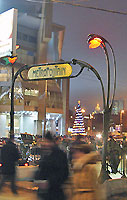 Replicas of Guimard's Métro entrances can be found in Montréal, Chicago and Moscow
[Mouse over photos for descriptions and credits.]