As the winter Christmas cabins melt away into the bright January sun, the citizenry of Narbonne faded into their cozy heated homes waiting for the next event: Carnival! This year's theme was the sea, but not all of the floats cooperated, and we have a bizarre but delightful mix of fishes from the sea, pharaohs and mummies in Egypt and Napoleons on horseback. Who can figure out these Narbonnais? Each village around Narbonne participated and several vignerons appeared on their tractors which were thinly disguised as floats. Lucky for us, this year's Carnival was not on a below-freezing day as it was last year.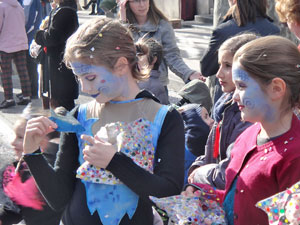 Scenes from Carnival in Narbonne
Just before Carnival, the last holiday of the season was January 6th, Epiphany. Mille-feuille cakes with tiny ceramic trinkets are consumed in large quantity ~ those with the good luck to bite on the trinket are supposedly guaranteed lots of money for the rest of the year. I hope the mayor of Narbonne got one this year; he certainly needs it with all the money the city is spending on a grand renovation in the center of town.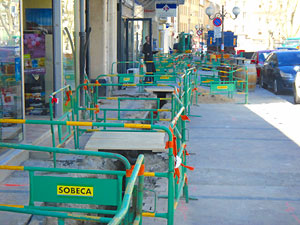 To give him credit where credit is due, the work seems to be moving on without any great delays. Some of the work was very intrusive; at one point several blocks of stores had an enormous trough in front of their entryway which was covered with a gangplank at each entrance so that customers could go into the store. Inside this trough the workers laid impressive tubes of wires and enormous pipes for water and sewage. It was all done within a week and the trough filled in with asphalt. The city is a patchwork of cement, asphalt and old marble tiles that will hopefully soon be covered with an elegant stone finish.

The work has come home to me personally ~ in front of my building we have not one or two buildings covered in scaffolding but four buildings undergoing major renovation work on their surfaces. The old concrete is dug out, the cracks and holes are filled in, and then a new creamy surface of concrete is smoothed onto the exposed rocks. The final layer of concrete is then painted in pale yellow, peach or rose which are the colors the city seems to favor. The photo says it all; what a sight! While I am more than happy to see the renovations come to fruition in my neighborhood, it is sometimes a trial to deal with the clangs and shouts of workers at 7:30 in the morning, the reduced parking spaces and the constant layer of dust on my car. It's all for a good cause, and I can't wait for the final result.

Despite the economic crisis and the construction chaos in the city, we have seen quite a few new magasins independents open up, some in places that haven't been used in decades. De Bourg, the neighborhood where I live on the right side of the canal, is flourishing in particular. I am intrigued by the new shop called Paso Doblé / Coiffure Café which offers a dual menu of hair and body treatments combined with light snacks, champagne and coffee. The corner hasn't been occupied since I arrived here over three years ago. It has been open now for over six months and appears to be doing very well.
Next to Les Halles there used to be an old funky restaurant decorated in wood with slate signs on the outside. It featured classic French dishes which concentrated on abats, lapin and cheval, none of which are my preferred dishes. It closed suddenly, to my surprise, given its location across from the indoor farmers' market and its normally crowded interior. It wasn't closed for good however, just for a makeover. Gone are the old slates with chalked-on menu and the dark wood interior. Replacing it is a clean fresh and bright exterior along with a new name: A La Table Du Marché or 'At the Market Table' ~ very apropos.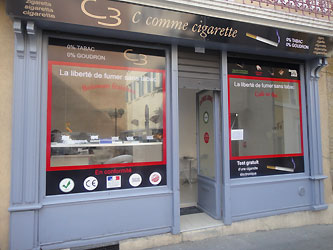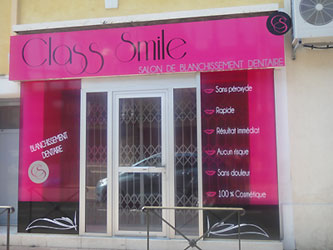 Unusual new shops in Narbonne
On the quirky side, we have a teeth-whitening or blanchissement dentaire store called 'Class Smile'. Obviously, smoking is a problem for some as another store a few blocks away is dedicated to helping people quit smoking with fake cigarettes. It is called C Comme Cigarette or 'It's Like a Cigarette'. The large C replaces the contraction C'est ~ 'it is'. This is a commonly used replacement when people text. In trying to reduce my mobile telephone bill, and in the interests of keeping up with the times, I am texting in French quite a bit lately. Another shortcut I use often is qq for quelqu'un and resto for restaurant. Actually, just about any French word can be abbreviated by just using the first couple of syllables and dropping the rest. Recently a friend texted me as Marla instead of Marlane which initially made me wonder if he knew my correct name. Then I saw how he abbreviated his name from Florent to Flo – not a choice an English speaking guy would make. However, in the interest of maintaining a good working knowledge of French I try not to abbreviate too much and use all my accents marks. The French themselves admit that they are losing their ability to spell correctly due to the enormous use of abbreviations.
In addition to the new shops we even have a new independent theatre which opened recently next to the canal. It is called Théâtre d'Entresorts and is located on the Quai Lorraine. The show they put on was definitely of the 'alternative' kind with an an art film featuring weird clips from the '70s (that was a very strange time indeed) along with three intermissions of live French folk music featuring a bass and a guitar. The music was very good and enabled the crowd to get up off of their seats and wander over to the bar for a glass of wine, beer or soda. The crowd was young, 35 and under, well-educated and very enthusiastic.
Also, the Narbonne city center has also acquired a fancy new wine bar ~ it used to be a tired restaurant called Les Barques located on the left side of the canal on the side of La Cité but is now Le Bar au Vin Les Barques. I was fortunate to be there right at the opening night, completely by accident. The place was humming with at least a hundred customers, very upscale with a décor that would please any big city lover. Low lighting, lots of smoky glass and modern furnishings complement a huge mural of an aerial view of New York City. The owners were extremely good at handling a large opening night crowd and delivered plenty of tapas, full course menus and wines without a hitch. Very impressive, and it was obvious they have done this before.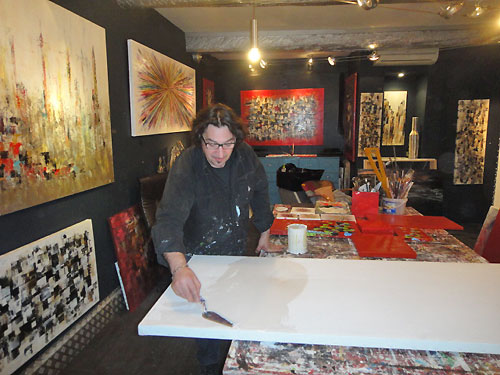 What else can be added to this mix of newcomers to Narbonne? Ah, yes, we only lack one more addition, that of a new artist's atelier. Vincenzo Galati has lived in Narbonne for 35 years since his parents brought him here from southern Italy. He successfully ran and owned three Italian restaurants in Narbonne for over 20 years until one day he decided his destiny was to be an artist. Thus he sold his restaurants and has since dedicated himself to his passion, and it shows. His atelier is packed to the rafters with his unique and wonderful abstract creations. Take a look at the photo for an idea of his works – his web site is www.vincenzogalati.com – he has just relocated to rue de L'Ancien Courrier.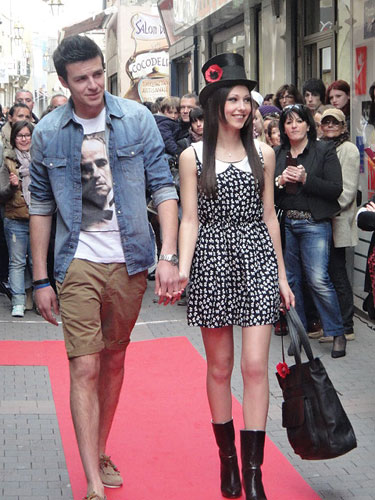 Narbonne obviously doesn't let the world pass her by, as not only does she have new commerce she also has her part in the social Occupy movement. Yes, there is an Occupy Narbonne movement going on. La Passarelle and les Barques have been successfully targeted. Tents, armchairs, mattresses and booths were set up sans permis and allowed to stay for a day or two. Passersby paid them due respect. The sight was unusual, to say the least.
On a more glamorous note, I was able to attend a very professional and exciting fashion show right on the rue de L'Ancien Courrier. One of the local boutiques wanted to flaunt their wares and did a very good job of doing so. A sizable group of about two hundred crowded about the red carpet which traveled the old Roman street. Techno music surged from the storefront DJ. Of course they were about a half an hour late in starting, but when they did it was well worth the wait. Guys and gals sauntered down the runway with aplomb showing what was going to be hip for summer wear. Straw hats and striped shirts with tennis shoes and long shorts for the men. Flirty dresses and high heels are in store for the girls. Everyone had attitude and the crowd was very pleased.
Narbonne may have its newcomers but there is always an old friend here – les vins! I am constantly discovering new wines to fall in love with and while this time I haven't had the opportunity to visit le domaine, I did not want to hesitate in talking about this wonderful red Corbières Cuvée Classique 2009 from Château Ollieux Romanis. A robust, fruity and luscious wine it is a heady accompaniment to classic French dishes such as confit canard, a classic steak or cassoulet.
As the ancient bell tolls in the Place de La Mairie, Spring heralds the new and the old alike here in Narbonne where nothing will be the same but all will be as it always has been. Somehow it all comes together seamlessly as it has done for over a thousand years.
Vocabulaire
vigneron – wine maker
mille-feuille – thousand layer or filo dough pastry
magasin independent – individually owned store (as opposed to a chain store)
abats, lapin, cheval – animal organs, rabbit, horse
apropos - fitting
quelqu'un - someone
La Passarelle – pedestrian bridge
Les Barques – the pedestrian area around the canal
sans permis– without a license or permission
confit canard – duck leg preserved in duck fat
cassoulet – a white bean casserole with sausage and various meats

---
For additional information about living in or visiting Narbonne
by land or canal boat, or for a lovely bed & breakfast stay with the O'Neill's
[http://www.narbonnegites.com] contact marlaneoneill@hotmail.com.
Please visit the Style de Vie page of the FRANCE On Your Own web site to read
Marlane's account of their life on the Canal du Midi. And read Marlane's earlier
Notes on Narbonne in previous issues of FRANCE On Your Own.
To access them, visit our Archives page and scroll down to the bottom.
[Photo credits: Marlane O'Neill 2012. All rights reserved.
Mouse over photos for additional credit information and descriptions.]

---
DISCLAIMER: You have received this newsletter because your email address is on our Opt-In mailing list, i.e., you have requested to receive FRANCE On Your Own ©. If you would like to discontinue receipt of this newsletter, please send an email to publisher@franceonyourown.com with "unsubscribe" on the Subject line.
Unless indicated otherwise, photos, graphics, artwork and text in the FRANCE On Your Own © newsletter are all the property of Cold Spring Press and FRANCE On Your Own © and cannot be copied, duplicated or used in any manner by anyone without the express written permission of Cold Spring Press. FRANCE On Your Own © is published online by Cold Spring Press, P O Box 26098, San Diego, California 92196-0098. This publication is copyrighted and no portions of the text, artwork, graphics or photographs may be reproduced or distributed in any form or by any means or stored in a database or retrieval system without the written permission of the Publisher. For more information about FRANCE On Your Own ©, visit our web site at http://www.franceonyourown.com.
Recommendations made in this newsletter are based upon the personal experiences of the Publishers or contributing writers solely to provide information to subscribers. Cold Spring Press and FRANCE On Your Own © make no endorsements nor are any guarantees or promises of satisfaction given or implied. Any and all information is correct to the best of our knowledge, and the Publishers accept no responsibility for errors and/or omissions. The responsibility lies entirely with the traveler to obtain current information regarding accommodations, availability, schedules, prices, reservations, or any other pertinent details. We do not guarantee the historical accuracy of the contents of articles in this newsletter. Historical accuracy is dependent upon one's sources of information -- and contradictions often exist among those sources. Links to other web sites or email addresses are provided for informational purposes only and do not imply any guarantees of service or endorsement of any organization or their business practices.
FRANCE On Your Own © is electronically transmitted via email. To add your email address to our database for this FREE newsletter, send an email to info@franceonyourown.com, and please put Subscribe in the subject line. We do not share email addresses with any other organization.
BACK ISSUES of the print version of FRANCE On Your Own © and Free online back issues are available on our web site at http://www.franceonyourown.com/Archives.htm.
©1998-2012 Cold Spring Press All Rights Reserved

---

previous page