This column is intended to advise you about cultural events, news and happenings
in France or France-related events taking place in the United States
between now and the publication of our next issue.
In France. . .
o The big news in France is the election on May 6th of François Hollande, France's first Socialist president since François Mitterand left office in the mid 1990s. Hollande, the consistent favorite in the polls, promised to steer away from the austerity policies agree upon between his predecessor Nicolas Sarkozy and Germany's Angela Merkel, to raise taxes on the very wealthy, and take steps to see that retail banks separate themselves from the business of risky investments, among other things. He was officially sworn into office on May 15 and attended the G8 Summit meeting at Camp David on May 20 and 21, a meeting that was originally scheduled to be held in Chicago.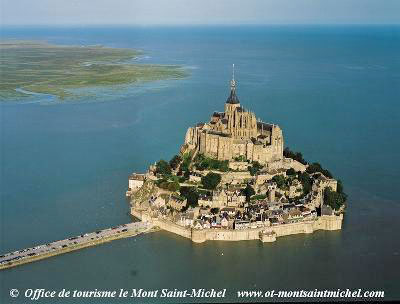 o Le Mont Saint-Michel in Normandy is also in the news. For decades, this UNESCO World Heritage site has been in danger of becoming landlocked. At risk is its eco-system because of earlier land reclamation projects, an ill-advised dam on the Couesnon River, a causeway-dike that prevented the river and tides to circle the mount, and a 37-acre parking lot at the foot of the island. Sediment has built up and the sea has receded, despite high tides of up to 49 feet, the highest in Europe. Studies to remedy the situation began in 1995, and work began ten years later. Finally, in 2011, a new state-of-the-art dam on the Couesnon river was constructed to use the power of the river and the tides to clear the river channel, returning water to the cove. It is expected to completely flush away the sediment that fills the bay in the next ten years. On April 28 of this year, the new parking and visitor center near the dam opened. Visitors can access le Mont Saint-Michel by walking or choose between the shuttle bus or a horse-drawn carriage. In 2014, when the new causeway road has been completed (including a footbridge to the island), water and tides will once again be able to circulate entirely around the mount. If you are interested in learning more about the restoration project, please contact Anne Garçon by email at a.garcon@rcm-mtstmichel.fr or visit their web site at www.projetmontsaintmichel.com.
o Debussy, la musique et les arts is an exhibit showing how the composer, Claude Debussy, was inspired by the art of Degas, Renoir, Bonnard and others and can be seen through June 11 at Paris' Musée de l'Orangerie. The exhibit is in honor of the 150th anniversary of Debussy's birth and explores his relationship with artists of the time. Details at www.musee-orangerie.fr.
o Until June 18 visitors to the Centre Pompidou in Paris can experience some sixty works by Matisse in an exhibit entitled Matisse - Paires et series which presents different approaches used by the artist from 1904 until the 1950s to create the same design or motif. More information at www.centrepompidou.fr.
o Arsene Tchakarian, a Turkish-born Armenian, is the last survivor of the Manouchian Group, foreign Resistance fighters decorated as World War II heroes and depicted in poetry, film and song. At one time the group, which was viewed as being too close to communism, fought against French fascists outside Parliament during the riots of February, 1934. Tchakarian became active in the left-wing Popular Front alliance struggling for better working conditions. Recalling the war, he remembers returning to Paris and being shocked to see that there were Germans everywhere and the Nazi flag flew from the Eiffel Tower. French police in collaboration with the German security services arrested 23 of the group's members, and after a one day 'show' trial, they were all condemned to death. Tchakarian was able to escape with the help of one police officer and made his way to Bordeaux to continue to work with the Resistance until the end of the war. Today, at the age of 95, he is proud to keep alive their legacy, and he speaks up with other surviving Resistance fighters against the excesses of big business and a movement against finance capitalism. He visits schools to speak of his experiences, although he admits that there are many who don't want to hear what he has to say.
o The Louvre is pleased to once again have Leonardo da Vinci's masterpiece 'Virgin and Child with Saint Anne' after a lengthy restoration. The museum is celebrating this event with L'ultime chez-d'oeuvre de Léonard de Vinci: la Sainte-Anne, reuniting the 1498 oil painting with all the documentation regarding how it was created. Through June 25. Contact www.louvre.fr.
o A study by Swedish hygiene products manufacturer, Tena, reports that when it comes to personal hygiene, the French are the cleanest in Europe. It is based upon polls taken regarding hand washing, bathing and time spent on personal hygiene. The report said that, although personal hygiene in the 21st century is much the same in all European countries, the French are slightly ahead. Click here to read more.
o Last minute information from Anita Rieu-Sicart of the Var Village Voice: The Rendez-Vous aux Jardins show, started in 2003 by the French Ministry for Culture and slated for the first weekend of June, has expanded nicely from its beginnings. In 2011 1.8 million visitors discovered 2200 public and private gardens all over France, including 400 gardens opened specially on that weekend to the public and more than 200 for the very first time. The theme of this year's show is typified by Monet's Jardin à Giverny. In addition to the opening of these gardens, many parallel events and animations take place, guided visits, concerts, readings, demonstrations, workshops for children, lectures, games, competitions, gardens opened at sunset on Saturday night – a plethora of delights for all gardening fans. Go to the web site to see what is happening in your locality: www.rendezvousauxjardins.culture.fr
o The Musée Maillol will have an exhibit of the work and life of Artemisia Gentileschi who ran a studio of her own in Naples at a time when women had no legal standing and were dependent upon their male relatives. The show entitled Artemisia 1593-1654 - Pouvoir, gloire et passions d'une femme peintre will run through July 15. A feature of the exhibit is her painting 'Danae' which is believe to be of the artist herself, painted when she was only 19 in 1612. You can learn more at www.museemaillol.com.
o A best-selling book by Pamela Druckerman, an American living in Paris and raising her children there, is entitled Bringing Up Bébé. She writes about her experiences and observations in this book subtitled, One American Mother Discovers the Wisdom of French Parenting, and she relates how impressed she is by French children's good sleeping habits, eating three balanced meals a day without snacking in between, and the focus of parents on getting children in France to learn self control, speak well, have good manners and be happy with themselves. Of course, like most books of this genre, it has caused a certain amount of controversy, but visitors to France will probably find that French children are remarkably well-behaved and seem to be well-adjusted. For those interested in purchasing the book or the Kindle version, it is available at Amazon.com.
o And, at the Musée d'Orsay visitors can enjoy Degas et le nu (Degas and the Nude) devoted solely to the artist's treatment of the human body. There are some 160 paintings, sculptures and works on paper in this extensive exhibit. Until July 1. Details at www.musee-orsay.fr.
o The French mourned the passing recently of Raymond Aubrac, a much-loved hero of the French Resistance. He died in Paris at the age of 97. Born of Jewish parents in July, 1914 as Raymond Samuel, he changed his name when he joined the Resistance early in World War II. His wife, Lucie Bernard, with whom he established Liberation Sud (one of the first networks against the Nazi occupation of France), was instrumental in helping him escape when he was being transferred by truck from a prison in Lyon in 1943 to another prison. She personally led the commando attack that freed him and another hero, Jean Moulin. Lucie died in 2007, and Aubrac is survived by three children and many grandchildren and great-grandchildren.
o For those in love with Paris both past and present, Eugène Atget, Paris will be thoroughly enjoyed. This respected photographer of the 20th century photographed the famous and the not-so-well-known places in Paris. The show features 230 photos taken between 1898 and 1927, and a special exhibit centers on the artist's influence on the Surrealists. Until July 29 at the Musée Carnavalet.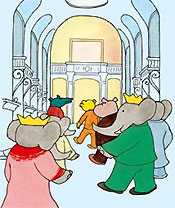 o Les Histoires de Babar is the title of the exhibit of 100 original storybook drawings, as well as toys and games inspired by the famous elephant king, now through September 2nd at the Musée des Arts Décoratifs to celebrate Babar's 80th birthday. Find more information at www.lesartsdecoratifs.fr.
o Giverny's Musée des Impressionnismes Giverny will present a rare showing of drawings and paintings by the artist Maurice Denis. Entitled Maurice Denis, l'Eternal Printemps, it is all about Spring, featuring beautiful panels and screens showcasing the artist's talent as a decorative painter. Denis was one of the prominent members of Les Nabis (Hebrew and Arabic for 'the prophets') that included Bonnard, Vuillard and Vallotton who sought new ideas in art when they joined together in Paris in 1888. Through July 15; details at www.mdig.fr.
o 1917 is the exhibit at the Centre Pompidou Metz in Lorraine's Moselle département through July 30. Visitors will see works by major artists such as Duchamp and Brancusi, along with work by amateur artists, focusing on this one horrific year of World War I. The exhibit runs from May 26 through September 24 and more details can be found at www.centrepompidou-metz.fr.

In the US . . .
o Old Masters to Monet: Three Centuries of French Painting from the Wadsworth Atheneum is the title of an exhibit in Cincinnati, Ohio at the Taft Museum of Art through September 16th. Some fifty masterworks will be on display from the Wadsworth, the country's oldest art museum, founded in 1842. From the 17th to the early 20th century, the show features all major genres of French painting and the evolution of French society as effected by the Revolution and industrialization. Visit their web site at www.taftmuseum.org.
o Portland Maine's Museum of Art is one of two locations for the exhibits of the works of Edgar Degas. The Portland show, entitled Edgar Degas: The Private Impressionist runs through May 28th, and shows the artist's work from the private collection of Robert Flynn Johnson, curator emeritus of San Francisco's Achenbach Foundation for Graphic Arts. This accumulation of Degas' and other artists' works spanned a period of forty years and reveals little known work by Degas - a very private man. Inquiries can be directed to info@a-r-t.com.
o Entre Nous: The Art of Claude Cahun is an exhibit by the Surrealist born Lucy Schwob in 1894, a show of photos she took and her writings and those of her partner, Suzanne Malherbe (also known as Marcel Moore). Until June 3 at the Art Institute of Chicago. Information available at www.artic.edu.
o An exhibit in Denver at the Denver Art Museum through July 8 features a multi-media presentation entitled Yves Saint Laurent: The Retrospective. It spans the 40 years of his career from Dior in the 1950s to his final runway collection in 2002. Details at www.denverartmuseum.org.
o New York's Metropolitan Museum of Art presents The Steins Collect: Matisse, Picasso, and the Parisian Avant-Garde through June 3. Gertrude Stein and other members of her family were involved with artists and were patrons of the arts, advancing Modernism both in Paris and elsewhere abroad. About 200 works, photos, correspondence and other items once owned by the family will be on display. More information at www.metmuseum.org.
o Washington DC's National Museum of Women in the Arts hosts Royalists to Romantics: Women Artists from the Louvre, Versailles, and Other French National Collections. This revealing exhibit of 77 works of art shows how French women circumvented accepted morés of the 18th century to express themselves in an artistic way. Visitors will discover many artists for the first time. Through July 29. For more information visit www.nmwa.org.
o San Francisco is the place to be to see The Fashion World of Jean Paul Gaultier: From the Sidewalk to the Catwalk at the de Young Museum through August 19. Sketches, examples, films and stage costumes combine to present his haute couture career celebrating the 35th anniversary of his first prêt-à-porter collection. More at deyoung.famsf.org.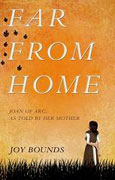 o This year is the 600th anniversary of the birth of Joan of Arc. You might be interested in a novel just published entitled Far From Home by British author Joy Bounds. The novel is set in fifteenth century France and is based upon the true story of Joan of Arc and told from the unique perspective of her mother. At the age of 17, Joan had extraordinary military success against the English before being captured and cruelly burned at the stake. What must her mother have been going through? Find one possible answer to that question in the novel. Available online (paperback price £8.99 GBP, $16.95 US; Kindle $6.79 US). [See page five of this newsletter for a few facts about Saint Joan.]


o Edouard Vuillard: A Painter and His Muses, 1890-1940 is the title of a show examining the artist's entire career from his Avant-Garde beginnings to his depictions of domestic life, his decorative art and later portraits. From now until September 23 at The Jewish Museum in New York. Details available at www.thejewishmuseum.org.
o The Paris Opéra Ballet will stage performances in Chicago's Harris Theatre (June 27 through July 1), Washington DC's Kennedy Center (July 5 through July 8) and New York's Lincoln Center (July 11 through July 22). The programs will include Giselle, Suite en blanc, L'Arlésienne, Boléro, as well as Orpheus and Eurydice. Times and ticket information available at www.harristheaterchicago.org, www.kennedy-center.org, and www.lincolncenterfestival.org.
o US auto giant General Motors agreed at the end of February to form an alliance with France's largest auto maker PSA Peugeot Citroën. The alliance includes GM buying a 7% stake in the company to share 'vehicle architecture and jointly buy parts'. The two companies believe this will result in a savings each year of two billion dollars. GM insists this is not a merger, but 'an alliance', which will also enable GM and Peugeot to help their lagging sales in Europe. They will begin collaboration on small and mid-size cars at first, including crossovers and multi-purpose vehicles and hope to sell vehicles built with the joint architecture by 2016. Each said that marketing and vehicle sales will remain independent. The alliance gives General Motors the second largest stake in Peugeot after the 30% held by the Peugeot family. Twenty-six percent of General Motors is owned by the American government. There has been criticism in many circles about this alliance as Peugeot's finances and prospects for success are brought into question. It remains to be seen how this business venture plays out for either company.
---