PRESS RELEASE: Special Offers for Rail Travel in France
We've used Rail Europe for over two decades to make our long distance
travel in France easier and convenient. Taking the train from Paris to other
cities in France before retrieving our rental car has saved us time to enjoy
more of why we traveled to France. The comfort and ease with which we can
travel by train is why we highly recommend that you try it, too!

New York, New York - Rail Europe, Inc's exclusive France Rail Passes encourage travelers to make the most of their French vacation experience by exploring more of the country by train.

The France Rail Pass offers travelers extensive 1st class travel on the national rail networks of France for 3 to 9 days within a one month period. The France Rail Pass Premium includes all of the same 1st class rail benefits in addition to a private concierge service. Travelers can avail themselves of this service within 5 days of booking their premium pass and at any time during its one-month duration. The private concierge services include, but are not limited to, restaurant reservations, specialized shopping excursions, exclusive museum tours, wine and champagne tastings, personalized chef experiences and personal training sessions.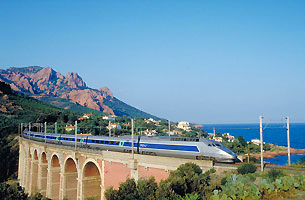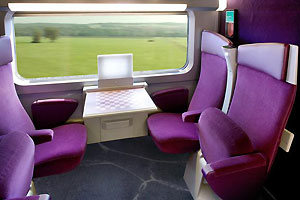 Beautiful views of the Côte d'Azur All new second class seats on the TGV
From May 15 to Jun 14 2012, Rail Europe will offer a 20 percent discount on selected France Rail Passes and also on the France Rail Pass Premium - so for a limited time, travelers can explore more of France for less with the launch of the OOH-LA-LOVE: 20% OFF SELECTED FRANCE RAIL PASSES promotion. Visit RailEurope.com for more information or to make a booking.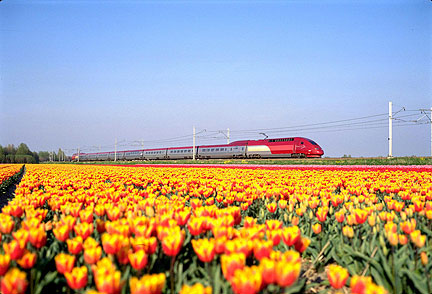 Take the Thalys high speed train between Paris and other European cities
Our thanks to Samina Sabir, Public Relations Manager at Rail Europe, Inc.
in New York for providing this timely information for our readers.
Learn more and buy tickets at http://www.raileurope.com
[Photos courtesy of Rail Europe. All rights reserved.
Mouse over for descriptions.]

THE BOOKSHELF: Dog Trots Globe - To Paris & Provence
by Chula as told to Sheron Long

Most of us have to find someone to look after our beloved pets that we leave behind at home when we travel. We worry that they will be okay, we hope they won't stop eating because we are not with them, and some of us call home a few times just to be sure our pets are doing well in our absence. The Longs of California decided to take their Sheltie, Chula, with them ~ no worries about separation anxiety on her part or theirs ~ because they knew how much she would enjoy France! Dog Trots Globe - To Paris & Provence is Chula's delightful travelog of her own canine experiences in La Belle France, with a foreword and afterword by her loving traveling companion, Sheron Long.
Chula, a Sheltie (whose full name is Chula Wula D'Augue), at the age of nine, was about to take her first international flight, a process that evolved over many months for her owners who (as we discovered on page 148) learned there was much more to flying with her than they had imagined. There were reservations to be made in the hold of the plane, a round-trip ticket to buy for Chula, determining the exact size of the dog crate she would need, being sure to afix proper identification to both the dog and the crate, and of course stocking it with food, water, a familiar toy and a comfortable pad for the long flight from California to Paris.
Sheron explained the more involved process for the next part of the trip: entering France with your dog. Chula had to have a microchip ~ Sheron suggests you carry your own portable scanner (in case the one in France isn't compatible) so that you can prove the dog is chipped. Beyond that detail were the forms to complete including one from the USDA, one from the EU, and the International Health Certificate which can only be completed ten days before departure. Whew! The red tape information was well placed near the end of the book, because until arriving at that page, the entire visit in France was simply fun!
This is a delightful book. It's not very long, but it is rich in color photos, great descriptions of the towns and villages of Provence, pleasant stops at restaurants and patisseries (with their associated fragrances), a dog's view of Paris' city streets, and all the discoveries ~ simple things we humans often overlook ~ from a little dog's perspective. Chula had an exciting time on the TGV to Avignon, took great joy in romping on the lawn in the backyard of the house they had in Saint-Rémy-de-Provence (although not crazy about the local cats!), and was enthralled by the hundreds of sights, sounds and smells surrounding the vendors' stalls on market day. This dog really knew how to get the most out of a vacation!
Chula, Sherry and Bob experienced la transhumance as thousands of sheep and goats were herded through town just past their café table heading for the hills and high pastures for the summer. She waded through a field of lavender, cautiously alert to avoid the bees, and just as she became completely adjusted and at home in Provence, they headed for a short stay in Paris. Chula especially seemed to enjoy the Eiffel Tower, never tiring of it, and rode the glittering carousel to the amazement of bystanders. But, Paris sidewalks and streets are not the best surfaces for white paws, so when they returned to Saint-Rémy, Chula was off to the Beauté Canine for a thorough pampering.
Dog Trots Globe - To Paris & Provence is enjoyable on several levels, one of which is that it is a great little travelog with many historical tidbits and so well written by both Chula and Sheron that you think you're right there with them. The great photographs are the icing on the cake (most of them taken by Bob Long), peppering all the pages with the bright colors of Provence and the glamor and excitement of Paris. One of our favorite photos, however, is Sherry's ~ taken of a completely happy Sheltie sitting up front in the car with Bob on their way home to the Carmel Valley of California after a very long 18 hours of travel.
We highly recommend this little gem of a book, perfect for lovers of dogs and France!







Click on the Amazon Link to order yours today!
Dog Trots Globe - To Paris & Provence is published by
OIC-Books, Carmel, California OIC-Books.com ISBN 978-1-936951-00-0
Copyright 2011 by OIC Books



The Bavent Festival of Clay
Visitors to Normandy who will be near Caen (the city of William the Conqueror) in the Calvados département might enjoy the first annual Clay Festival June 2 and 3, 2012.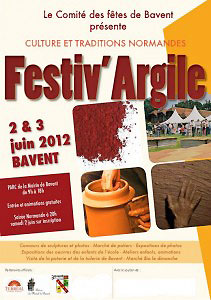 In partnership with the city of Bavent and the pottery, this weekend event is designed to show the resources and heritage of the town and the talents of its people. Various activities have been organized for both days including tours of the tile and pottery factory, Saturday and Sunday workshops for children, and clay-based care offered by an esthetician. Shuttle service between the pottery and town will be provided to allow visitors to move more easily.
Sculptors who enter the competition, Norman Culture and Tradition, can win up to 500 euros for first prize. A photo contest with the theme 'Earth' is also part of the event, and a potter's market will be held for two days with an organic market added on Sunday.
Kay Moat, Director of the Pottery, is offering classes for the town's school children, and the resulting work will be exhibited during the weekend in the judo hall. The organizers thought it was important to involve the town's children because they are the future of the town who will carry on its traditions and preserve its heritage.
For those in the region who would like to stay in a lovely château bed and breakfast, we suggest Château de Bénéauville in Bavent. This unique and lovely historic property offers a king suite and a twin bedroom, a heated swimming pool, bicycles, and more. It is convenient to the sights and attractions of Normandy including the D-Day landing beaches and the resort towns of Trouville and Deauville.
And, if you are planning ahead to 2014, you might be interested to know that the 2014 World Equestrian Games will be held in Normandy from August 24th to September 7th. Book early for your rooms! Château de Bénéauville would be happy to reserve a few of its stables for visitors' horses. Some 500,000 visitors are expected to attend the Games!