"Wandering re-establishes the original harmony which once existed between man and the universe."
- Anatole France
Europe is a very diverse region of the world with so many cultures - and for travelers they are all conveniently close to one another. But France, in our opinion, is quite special.
France (not quite as big in area as the state of Texas) is the largest country in Western Europe and can lay claim to some other 'big' tourist attractions such as Europe's largest pine forest - the Landes Forest in Aquitaine - and along its edge the Dune du Pilat, at 107 meters Europe's highest sand dune. It stretches north to south 3 kilometers along the Atlantic Côte d'Argent and east to west 500 meters! France's Mont Blanc, 15,782 feet high and bordering Italy, is the highest mountain in Western Europe, the European Union and the Alps. With several mountain ranges, dormant volcanoes, over one hundred nineteen rivers and many more tributaries, the French landscape is one of amazing variety. France hosts more tourists annually (76.8 million in 2010) than any country in the world - followed by the US, a distant second at 59.75 million - a distinction France maintains year after year.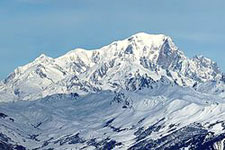 Mont Blanc South Face
Dune du Pilat
What helps tourists to get around in France? Well, we love Paris' easy-to-use Métro system; and the SNCF, France's national railway, owns the world's largest fleet of trains - most of which are TGVs - those high-speed, silky-smooth trains that get you almost anywhere in France in 1, 2 or 3 hours. And, who makes them? Alstom, the world's largest train manufacturer, is a French company. Another transportation mainstay of the French economy and a leading employer is its automobile industry, second in Europe only to Germany. Speaking of Paris, it is the largest city in Western Europe in area, and without a doubt the most romantic city in the world!

One thing we all notice as we fly over France is farmland. Hundreds of thousands of acres of farms can be seen forming that familiar green and tan quilted pattern - meticulously laid out and tended farms that contribute so much to the needs of Europe and the world. France has 48.2 million acres devoted to agriculture - the most in Western Europe - and it is the world's second largest exporter of food (after the US) owing to its mild climate and fertile land.
We mustn't forget the wine, a staple in France both on the table at mealtimes and as a major export. In 2010 France was the top wine producing country in the world. And you can't discuss France without mentioning its cheese! France has, it is said, between 400 and 500 different cheeses, more types of cheese than any country in the world. And, what wonderful cheeses they are!
Despite all these interesting facts about France, most of us do not travel there because of statistics. We crave France's excellent cuisine, and as we all know, the French have made an art of dining. Nature beckons, too. The country simply has the most beautiful scenery from green valleys to rugged mountains and 5500 kilometers of coastline along the Channel, the Atlantic and the Mediterranean - half of which remains wild and pristine. Those who love history and architecture will not be disappointed ~ there are the extremely well-preserved historic sites from Roman ruins and antiquities to soaring Gothic cathedrals and a variety of styles and periods from Medieval fortresses to 18th and 19th century elegant manoirs. Finally, what most of us who visit France come to appreciate is the unique lifestyle of the French: strong in its traditions and adhering to simple everyday routines such as walking to the market, enjoying a leisurely lunch, and valuing and preserving life in the small villages that dot the countryside. Is it any wonder that we are all fascinated by France and eager to return?