by Arthur Gillette

Just imagine - in a single 240-hectare (about 600 acres) park, a little under an hour's drive northeast of Paris you can find
an astonishing 17th-19th century castle offering the largest painting gallery in France after the Louvre (!), a library including 10,500 rare books plus another 2,000 precious manuscripts, and a kitchen once run by renowned 17th century chef François Vatel
a vast French Garden including a Grand Canal 600 meters longer than that of Versailles
an English Garden carefully reproducing that genre's disorder intended to replicate that of Mother Nature
a Grand Stable, one of the largest in France, where equestrian displays alternate – because of its extraordinary acoustics - with operas and classical music concerts, near a soon-to-open Horse Museum, and
exotic displays recalling the Far East faddishness celebrated in the 18th century and including a 'Grand Monkey House' and an 'Anglo-Chinese Village'.

The Michelin Green Guide says that this place "deserves a place among the France's major curiosities."
What place are we talking about? Well, here's a hint - the first of five fortified structures that have succeeded one another here over two millennia was built by a Gallo-Roman notable named Cantilus. Since then, his name was transformed into Chantilly.
Here is a 17th century engraving of the site: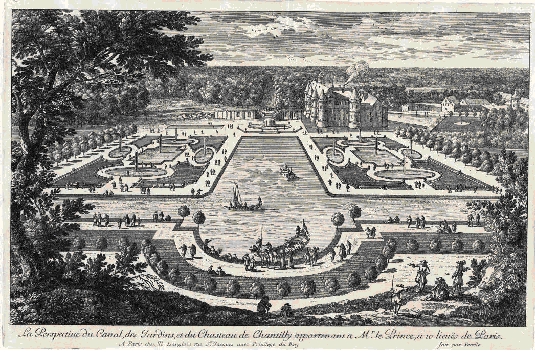 ...and today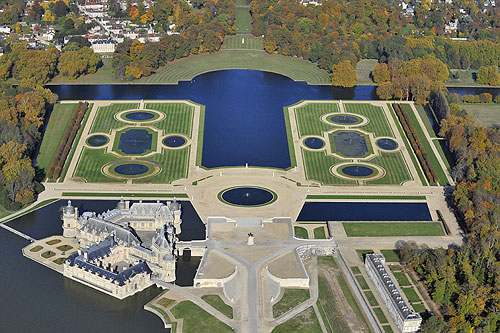 A word of warning - don't try to "do" Chantilly in a single afternoon or even a day. It's well worth an entire weekend or, if you're particularly interested in one or several special aspects, even longer.
Some High Points
Perhaps predictably, these were often due to the individuals who owned and embellished the place. An early one was the Duke Anne (then a man's name too) de Montmorency, an art lover and pal of the 16th century Renaissance King François Ist. He refurbished the Chantilly Castle with considerable taste, finding time along the way to have no less than twelve children.
A century later came Henri II de Bourbon – the Grand Condé – who, among many other feats, had Le Nôtre (later to serve at Versailles) design the French gardens you can visit still today. He also attracted to Chantilly such literary figures as Molière, Racine, La Fontaine and Madame de Sévigné, not to forget the master chef, François Vatel.
In April 1671, the Grand Condé invited King Louis XIV (with whom he had had political problems) and the Royal Court to a three-day hunt-cum-feast. Vatel busied himself superbly in the kitchen which you can now visit (and where you can lunch). The problem was that his order of seafood didn't arrive. Thoroughly embarrassed – indeed distressed – by this mishap, Vatel thereupon committed suicide by piercing himself three times with a sword.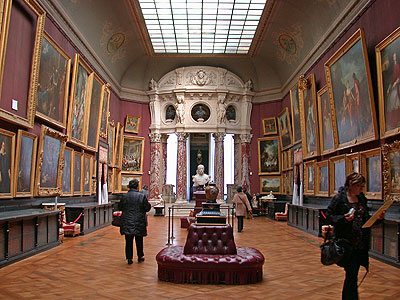 Less grim, joyful in fact, was the ownership of Chantilly by the 19th century of the Duke d'Aumale. A major military actor in the conquest of Algeria, he later retired to his Chantilly domain and devoted himself to rebuilding in a neo-Renaissance style a good part of the castle (largely destroyed during the French Revolution), and to collecting paintings and books resulting in today's Musée Condé and extensive library.




The Musée Condé

Although an avid skirt chaser, he had no inheritors and willed the Domaine de Chantilly to the Institut de France, which groups the Académie Française, the Académie des Beaux Arts, the Académie des Sciences, etc., and still today manages the site.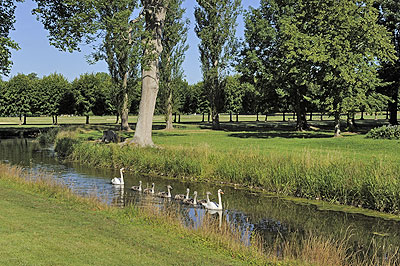 For more information concerning access possibilities, schedules, temporary exhibitions, etc., go to www.domainedechantilly.com and click on the British flag for English.
Oh, are you wondering about the Crème de la Crème in my title? Aha! Haven't you heard of the delicious Crème Chantilly invented there by François Vatel? Why not try it? You can find the recipe in English at http://frenchfood.about.com/od/pastrycream/r/vanchantilly.htm




The Park, Canal & Family of Swans
[Mouse over photos for detailed descriptions and credits.]
Contact Arthur Gillette to take advantage of his amazing knowledge of Paris
and nearby sights by enjoying one or more of his Paris Through the Ages Strolls.
Visit our Marketplace page for a complete list of strolls and information about Arthur.
Email: arthurlgillette@gmail.com


SPONSORING THIS ISSUE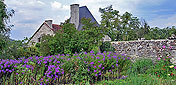 This beautiful château on a hill near the River Creuse offers five double bedrooms,
four bathrooms, a large salon, formal dining room, kitchen and incredible gardens.
The swimming pool is an added bonus, but the most spectacular are the views.
It is for sale, and the low price will surprise you!
Please click on the photo to contact us for details and photos.
---
FEATURING: A Pictorial Tour of Winter in France ~ The Savoie and the Var

We have all read and heard about the brutal winter being experienced in Europe - primarily Eastern Europe - this year, as well as the hardship and deaths it has caused. The two photos that follow were among many published by news organizations to illustrate the winter of 2012 in France, which up until now has been mild in comparison to countries to the east.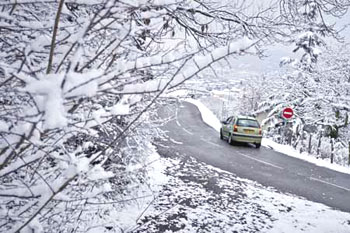 Vineyard near Rousset in Provence under blanket of snow Road near Lyon, France

The Savoie in the Rhône-Alpes
While the harsh weather has taken its toll, we would like to show you some of the beauty that winter also brings. The owner of a château chambres d'hôtes in the Savoie département of the eastern Rhône-Alpes sent us photos taken this winter, and we want to share them with you. The Savoie was one of two historic regions (the other the Haute-Savoie) that was annexed by France in 1860. It is said that its name is from the Latin meaning 'covered in fir trees', which wouldn't surprise anyone who has visited there.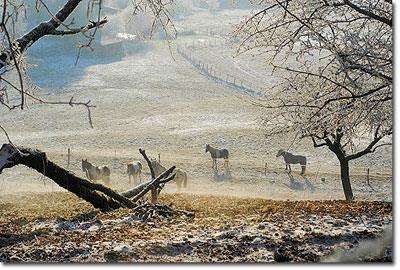 This light dusting of snow doesn't bother these horses seen from Château des Allues in Saint-Pierre d'Albigny. Savoie has natural resources which enable it to get much of its electricity from hydroelectric power, and it is well known for its unique cheese and, more recently, some excellent wines. Tourism flourishes here because of winter sports and its famous ski resorts at Albertville, Courchevel, Val d'Isère and its proximity to Chamonix and Mont-Blanc in the nearby Haute-Savoie. The thermal spa town of Aix-les-Bains and three others also draw visitors seeking hydrotherapy.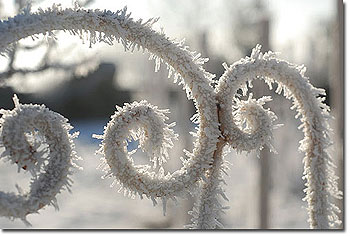 Dramatic photos such as this, taken by Stéphane Vandeville on his estate, emphasize the artistry of nature. Ice crystals form on the gate for a once-in-a-lifetime photo opportunity.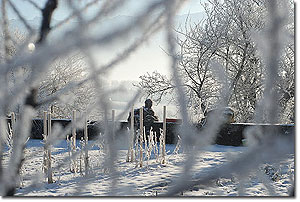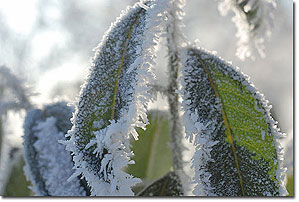 Further examples of nature's ability to enhance one's surroundings are found in these photos
of Château des Allues vegetable garden on the left, and a close-up of a sturdy plant
enduring the wrath of winter as it is covered in ice crystals.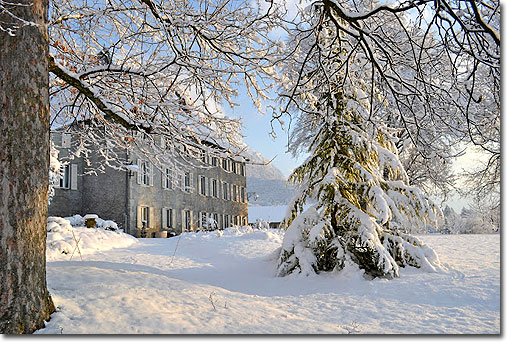 Winter sun glows on the snow blanketing the ground, trees and lovely Château des Allues. In the background you have a glimpse of the distant hills. The location of the château is perfect as a base for winter skiing holidays in France or for spring, summer and autumn hikes in the region. The Alpes are not far away!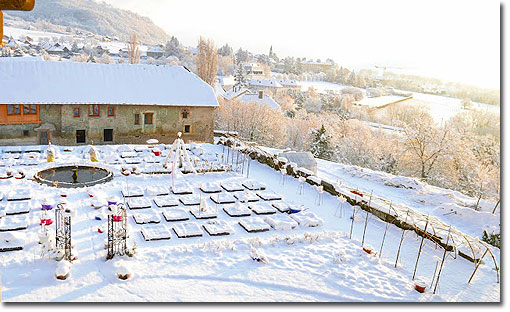 Château des Allues is famous in the region (and has appeared many times on French television) for its amazing kitchen garden. Stéphane puts a great deal of effort into growing biologique fruits and vegetables, and he gets a much needed rest from gardening when the patch is buried under a layer of snow. Please visit it by clicking on the above link.








---
The Var in Provence
Anita Rieu-Sicart, who so kindly contributed the article in this issue about the hunt for sanglier, also sent us two photos of her lovely Provençal village of Lorgues taken this winter. One cannot deny the way winter and its colors bring a feeling of peace and tranquility over a scene - whether it is a landscape or a village.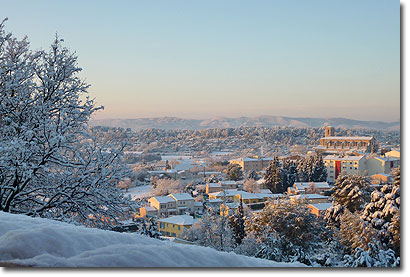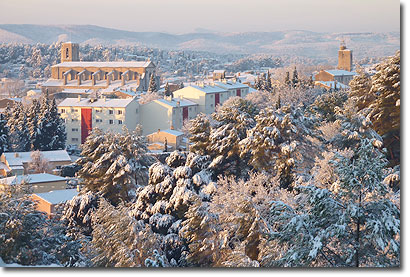 Lorgues is a fortified, active town with a population of just over 6,000 people. It has an authentic Medieval old town ideal for travelers to wander and make discoveries of their own. To assist them: the important old sites are identified by numbered plaques. As seen in both of these photos, the massive 18th century collegial church of St-Martin (one of the largest in the Var) and is an outstanding feature of the town. Surrounding it are vineyards and olive groves - two of Provence's most delightful products!
The département of the Var has as its administrative center the coastal city of Toulon, France's major naval port on the Mediterranean. Other important towns that may sound familiar are Fréjus, Saint-Raphael, Draguignan, and Hyères. A prominent landmark in the Var is the Gorge du Verdon and its river, a favorite of those who love to hike, kayak and enjoy the outdoors. Another attraction off the coast is the Porquerolles - a small group of islands reached by ferry from Hyères and worth a visit!
We hope you've enjoyed this little photo tour of France in winter, and that wherever you are, you are able to find warmth and comfort from the cold while still appreciating the more beautiful aspects of the season.