Let's face it - Narbonne is not a pretty picture these days! With scaffolding, construction fences, bulldozers and giant holes in the sidewalks and sur les barques, we are going to have a very busy bee winter. In fact, the new logo to exemplify this period is exactly that: a bee in hardhat holding a set of engineer's drawings. The mayor has published several pamphlets, announcements and videos explaining the work to be done, all with the bee-in-hardhat logo. Click here to see the latest developments in French and the bee logo compliments of the City of Narbonne's web site.

Work on the Quai de la Republique was started last fall and finished in time for the traditional Christmas festivities - bravo! This involved installing huge new sanitary pipes thus tearing up the ground in front of several in town restaurants. The work was done on time and - luckily - with no new archeological finds. While it is exciting and romantic to discover a medieval relic (and quite likely) while tearing up the 1,000 year old plus Narbonne walkway, the reality is that it would delay work by several months - even years.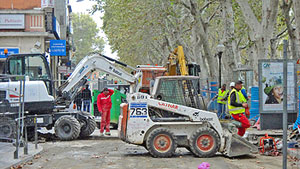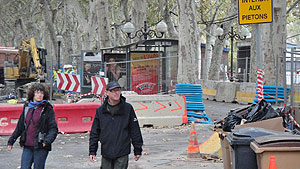 The construction site along the canal in Narbonne
I witnessed this phenomenon in Toulouse back in 2002 when the construction of a major métro station was halted for almost a year to allow archeologists the chance to painstakingly unearth a 2,000 year old village complete with a cemetery and its skeletons. They labored with fine brushes to sweep off the centuries of mud. Meanwhile, the city of Toulouse gnashed its teeth and bit its nails over the excess budget costs and delay. At last the city was able to restart métro construction but to hollers of outrage from various archeological organizations that wanted to explore the site further. Most Narbonnaise believe this will happen here as well. Hopefully the work will continue as planned and there will be few delays.
The bright warm weather of the summer months continued into autumn as September, October and even November were unusually warm. In fact, November hit an all-time record high: the warmest November on record for the past 100 years! The unusual warmth attracts French tourists longing to escape from their chilly environments in the northern areas of France, and thus my chambre d'hôte had a lot of last minute bookings. Business was brisk well into November.
The city of Narbonne managed to put on another bright and festive Christmas village on the Cours Mirabeau and on the Place de la Hotel de Ville. Instead of the ice-rink of past years, the Place de la Hotel de Ville erected a music stage and there were Disney-like characters singing and prancing daily to entertain the families. After doing their song and dance act they all piled into the little white tourist train, along with the kids, for a magical tour around the city. The costumed characters always thrill the kids, and the train is a cheerful sight of pure joy as it careens down the streets.
Comedians, hired by the city, wandered through the cafés amusing people with magic tricks and jokes. Costumed stilt walkers plied the ancient Rue Droite and children shrieked with delight on the merry-go-round and various other rides and amusements. The pink barbe-a-papa was popular as well as the spiced vin chaud whose fragrance invites people to sample the cinnamon and nutmeg laced brew. Wood cabins glowed with sweet treats, colored crystal, silver jewelry, fancy scarves and regional delicacies such as foie gras, cassoulet and confit de canard.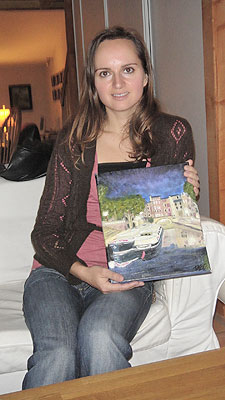 In my French class we have delightful new students. In addition to our British classmates, there are two young Russian woman, one from Siberia and the other from St. Petersburg, as well as a 19 year old Serbian gal, all of whose understanding of complex French grammar rules gives us native English speakers cause for embarrassment. It's very good to have a mix of people from different countries studying together. Not only does this enrich our cultural experience, but it forces us all to speak French rather than our native tongues as that is our only common language.
Our lovely teacher, Cynthia, is about 30 years old but well-traveled enough to gracefully navigate the multicultural landscape. She is a native Narbonnaise who lived in Spain and the Middle East; in addition she spends her summers in Paris. Having just purchased her first home, an apartment in the city center of Narbonne, she spends her spare time renovating and installing vital features such as the kitchen. French houses and apartments are sometimes sold stripped of all modern conveniences and even light fixtures and switch plates. The new home owner is faced with naked wires in the ceilings and walls and empty holes where the kitchen appliances once were. Even the cupboards and plan de travail may be yanked out. She has successfully managed to get her kitchen installed so should be able to move into her bijou apartment soon.
To celebrate I gave her a house warming gift of one of Rob's oil paintings of the view from the passerelle on the Canal de la Robine. It's good to see young professionals installing themselves in Narbonne, a small city, rather than one of the big ones such as Toulouse or Montpellier. I think it has just as much to offer, if not more, despite la crise.
Which brings us to - la Crise with a capital C! Even a little city like Narbonne has its manifestations or manis about the economic crisis. Roughly 60 or so gather regularly in front of Les Halles, usually on a Saturday morning, to distribute handwritten signs and walk through town handing out leaflets about banks and the economy. They end at the Hotel de Ville where they form a large circle and the musically inclined sing or play a musical instrument. It is peaceful and good natured even if the subject can become heated between people who don't completely agree. The group is very representative of Narbonne. There are students, retirees, rich and poor; la Crise affects them all.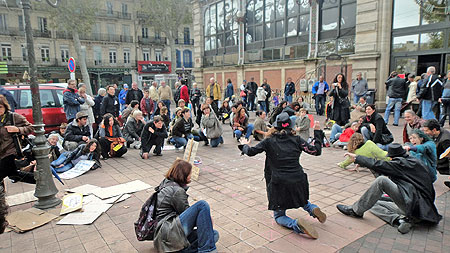 One Saturday morning during le petit déjeuner I briefly mentioned the manifestation to a young well-to-do Parisian couple staying at my B&B Place de Jacobins. They were here for a casual weekend to get away from their stressful lives in the fashion business in Paris. Suddenly the elegant lady sprang to life and, declaring she was very mani, asked for the information of where the demonstration was being held. A few minutes later, off they went! Feeling a little responsible I went along with them, and we walked the streets together with the rest of the demonstrators. The weather was warm and sunny and, although it was an unusual activity for a B&B host, we all enjoyed the experience.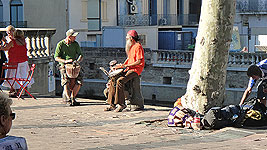 Another aspect of La Crise: it is almost impossible to escape the news about the euro. The television tells us it is in danger of disappearing. Certainly the images of Greece are disturbing enough. The euro is at a 16-month low against the dollar. What to do, what to do? The answer is, after one has invested in some gold and silver to hedge against currency decline – not much. Life goes on, and here in Narbonne we have seen virtually no changes. The euro continues to be used, it goes farther than the dollar did for me in the USA, and prices are low.
For a quick economic snapshot: tomatoes-on-the-vine average about one euro a kilo (about 60 cents a pound), large white mushrooms are about 3 euros a kilo (about $1.80 a pound), zucchinis goes for around a euro a kilo – well you get the drift. It doesn't take very much to put a really good and healthy meal on the table. Recently, I bought top-quality rib-eye steaks for 8 euros a kilo which is about $4.80 a pound and Norwegian salmon for 6.50 euros per kilo, about $3.90 a pound. Prices vary and there is a lot of competition between the various food chains and the farmer's markets. Food and wine costs in a relatively inexpensive American city such as Atlanta, Georgia, are comparatively higher than in Narbonne. [Editor's note: prices based on exchange rate of 1 euro = $1.32.]
While in the grand surfaces there can be found any kind of fruit and vegetable available all year 'round, in the farmers markets there is generally only what is in season locally. Following the season's offerings means you get more flavor and vitamins. Frequently I hear French deride out-of-season produce as either frozen or lacking in goodness due to an extremely long journey from the other side of the planet.
Bio products have become particularly popular, and we now have a regular Saturday morning market at Place Forum, one of the oldest public squares in Narbonne, which features strictly bio or organic produce. Sometimes it is extremely crowded despite the fact that the prices are often double that which is charged for 'regular' food. It reflects the French consumer's intense interest in having food that is chemical-free, pure and clean.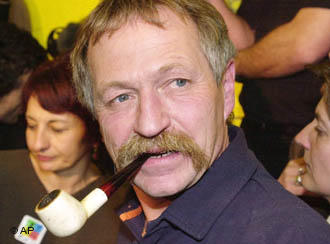 French farmers are very particular about how their livestock is raised. Some, such as José Bové became famous folk heroes. They have been militantly against genetically modified crops as feed and their meats are proudly celebrated for the quality of the animal's life. Concurrences are held annually all over France for the best raised goose, chicken, beef, etc. and medals are actually pinned to the winning meat. Later the medal is recreated in paper and the producers sell the meat with the reproduced medaille and the details of what year and town it was held and if it is gold, silver or copper.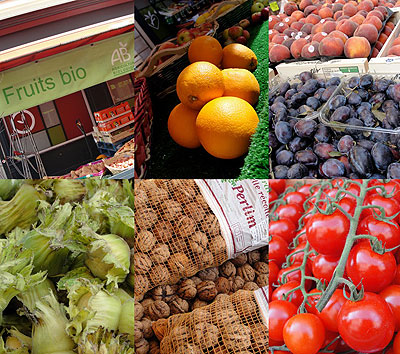 We live in a true cornucopia here in Narbonne, and there is more than enough produce to feed the population. A bird's eye glance at Narbonne's geographical location shows it is nestled in vineyards and farmland. In addition, Spain and Italy are not far away - two countries from which produce flows in abundance. Last summer there was a bumper crop of succulent white Italian grapes that everyone was talking about because of their sweetness and unusual juiciness. Each one was a bulb of deliciousness waiting to explode in the mouth, and there was a fresh bunch on every dinner table. Obviously the Italians were sharing an unusually good year with us, and the price of such goodness was ridiculously cheap. Crisis? Bah-humbug.
New shops continue to arrive on the scene to replace those closing. In my neighborhood côté de Bourg there is a new American-style snack shop called Coffee and Juice and a combo hairdresser/café called Paso Doblé. Both appear to be very popular right after opening, especially with the ladies. On the other hand, there are shops which have closed – one or two mysteriously so given their popularity – however often there is a new one immediately opening on the same spot. So, La Crise touches us here and there but it is difficult to say exactly why given that some shops were doing excellent business before closing.
Across the board, real estate in the Languedoc Roussillon is holding its prices firm; there has even been a very slight increase according to Les Notaires, something most other regions would be very happy to have instead of a decline. Credit cards are relatively rare and most people use a debit card to pay for purchases. Mortgages tend to be about 15 years long so those who buy have a chance of actually owning their home. By comparison, the average home loan in the USA is 30 years and even longer and most people have a substantial credit card debt of several thousand dollars. Student loans are practically non-existent in France as the universities are almost free of charge.
Enough of la Crise – passons-nous à autre chose! Wine, for example, is a welcome addition in any crisis and just another reason why Narbonne is ideally located. Wine is integrated into the Narbonnaise paysage, and we get more and more varieties of cépages planted every season to replace the old vines. White chardonnay grapes, for example, are becoming more and more popular and are slowly supplementing the classic rosé wines that are quaffed in great quantity during the hot summer months.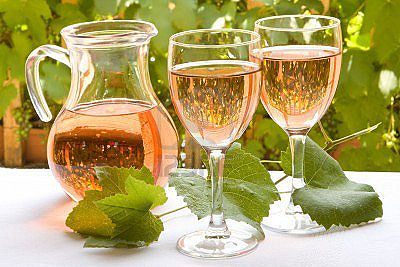 Rosés still remain the classic drink of the Languedoc Roussillon and most of southern France for that matter. Rosé in some parts of the world are created with a mix of white and a small quantity of red. This concoction causes shock and horror for the French who have outlawed such a method of winemaking. Nothing but the true rosé will do in France and once you taste them you understand why. They taste nothing like the typical sweet rosés that are often associated with large jugs. Nevertheless, rosés are sometimes not even considered to be 'real' wine by some French wine connoisseurs. I know because I have actually heard this remark from visitors from other parts of France (other than the south). I try to warn them not to express this opinion too publicly here where rosé is produced and consumed in large quantities
Wine has trends just like everything else including fashion, home décor and food. The rosé gris has been a popular trend now for the past couple of years. This is a rosé so pale in color as to be almost grey, hence the term gris. The red grape skin hardly kisses the wine with its color. However, southern rosé comes from extremely hearty and tannin-rich red grapes, bathed as they are by the fierce southern sunshine. The red grapes are crushed with the skins sitting in the mash for just a few hours, and then are filtered out. Thus southern rosés are usually a ruby pink in color and can be very dry in flavor. Some of them, if you close your eyes in tasting, are so rich and dry that they almost taste like a red wine. So, imagine drinking a lush and fruity red wine without the tannins and you get the idea of what a classic Narbonnaise rosé wine tastes like.
To round out this discourse on rosé I have featured one of our local vignerons. He is located just outside the Narbonne city limits, just a five minute drive from town center. His vineyard is beautifully situated on a the nature reserve called La Clape, and he enjoys a view of the Narbonne Cathedral from his idyllic country winery. Domaine Angel produces no white wines, only rosés and reds. His rosés are among some of my favorites.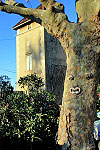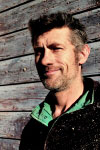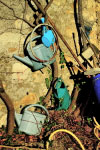 Domaine Angel Michel Kleinrichert watering cans
Michel Kleinrichert is a young vigneron whose domaine is well aged in an envious position on La Clape. Although his location is envious with its country location and cathedral view of Narbonne he works arduously to create his wines from scratch. My cohort and photographer Dymphna Cahill and I managed to luck out and find him on the premises renovating the interior with only one other person to help him. Amazingly the two of them have managed to do an enormous amount of work together.
Dymphna got some great shots of our young man chez lui. Michel is the most welcoming host despite our interruption of his work (or perhaps because of it), and he graciously receives us in la cave. There we are treated to his lovely rosé en bouteille and the even better BIB! At less than five euros per bottle they are excellent value. His rosés have hints of grapefruit in them with a dry finish making it a perfect summer drink. He also produces the best Carthagène I have tasted in Narbonne. Carthagène is best compared to a port but it is very different as well.
You won't find Carthagène anywhere but the Languedoc Roussillon. It is not exported, at least not in any significant quantity, and it is made is fairly small quantities. Winemakers originally made it for themselves from mixing grape spirit (think of the Italian grappa) with grape juice. Thus the alcohol is derived not from fermentation but from the grape spirit. The sweetness of the vin de liqueur comes from the sugar of the grape juice. Apparently it started gaining popularity as the vignerons began to bottle it for sale to the general public.
If you want to sample the best Carthagène Narbonne has to offer (in my humble opinion) then stop by to visit Domaine Angel for a bottle. He also hosts wonderful summer parties – the last one was called the Underpants Party since it featured clotheslines pinned with various plain and fancy underwear. Oo-la-la! Only in France!
More information: Domaine Angel
31 Domaine Angel
11100 Armissan
Email: ddomainelangel@free.fr
Tel: 00-33-4-68-45-67-51
Vocabulaire
sur le barques – sidewalks elevated along the canal
quai de la Republique– The Canal de la Robine is divided into various quays: quai Valliéres, Quai Victor Hugo and Quai Dillon in the center of town.
HÔTEL DE VILLE – This is always where you can find the Mayor's offices.
barbe-a-papa – cotton candy
cassoulet – a white bean casserole with duck, goose, pork and/or lamb – it depends on the region it is made as to the meats within.
foie gras – literally ''fatty liver'', this is duck or goose liver and is an expensive delicacy.
confit de canard – duck leg conserved in duck fat.
rue droite – The name of the old road where Roman soldiers originally marched. It is also known as the Via Domitia.
vin chaud – hot mulled wine.
plan de travail – counter-top in the kitchen.
bijou – jewel
passerelle – foot bridge.
la crise – the crisis
petit déjeuner - breakfast
manifestation – demonstration or strike
grand surface – large commercial chain store.
concurrence - contest
Bio - organic
José Bové – This French sheep farmer successfully opposed the military takeover of French farmlands in 1976, an action which would have thrown many farmers off of their land. Since then his political and social involvement on behalf of small farmers and against genetically modified crops has been legendary. He has lived in the USA and speaks fluent English. [Editor's note: For further details about this activist, click here.]
Côté de Bourg – Narbonne is divided into two halves: La Cité on the right bank of the canal and de Bourg on the left bank of the Canal de la Robine.
passons-nous à autre chose – let's change the subject.
paysage – the landscape
cépages – grape type such as Grenache or Chardonnay for example.
gris – grey.
vigneron – wine maker
chez lui – chez is a particularly French word which means 'at someone's place'. Chez eux, chez lui, chez elle and chez nous mean 'at their place, his place, her place and our place'.
la cave – the space where wine is kept. It used to be normally in a cave in the basement of the house but now it can be anywhere including under the table, in the kitchen or in a closet.
en bouteille – in the bottle
BIB – bag-in-box

---
For additional information about living in or visiting Narbonne
by land or canal boat, or for a lovely bed & breakfast stay with the O'Neill's
[http://www.narbonnegites.com] contact marlaneoneill@hotmail.com.
Please visit the Style de Vie page of the FRANCE On Your Own web site to read
Marlane's account of their life on the Canal du Midi. And read Marlane's earlier
Notes on Narbonne in previous issues of FRANCE On Your Own.
To access them, visit our Archives page and scroll down to the bottom.
[Photo credits: Marlane O'Neill 2012, Dymphna Cahill and other sources 2012. All rights reserved.
Mouse over photos for additional credit information and descriptions.]

---
DISCLAIMER: You have received this newsletter because your email address is on our Opt-In mailing list, i.e., you have requested to receive FRANCE On Your Own ©. If you would like to discontinue receipt of this newsletter, please send an email to publisher@franceonyourown.com with "unsubscribe" on the Subject line.
Unless indicated otherwise, photos, graphics, artwork and text in the FRANCE On Your Own © newsletter are all the property of Cold Spring Press and FRANCE On Your Own © and cannot be copied, duplicated or used in any manner by anyone without the express written permission of Cold Spring Press. FRANCE On Your Own © is published online by Cold Spring Press, P O Box 26098, San Diego, California 92196-0098. This publication is copyrighted and no portions of the text, artwork, graphics or photographs may be reproduced or distributed in any form or by any means or stored in a database or retrieval system without the written permission of the Publisher. For more information about FRANCE On Your Own ©, visit our web site at http://www.franceonyourown.com.
Recommendations made in this newsletter are based upon the personal experiences of the Publishers or contributing writers solely to provide information to subscribers. Cold Spring Press and FRANCE On Your Own © make no endorsements nor are any guarantees or promises of satisfaction given or implied. Any and all information is correct to the best of our knowledge, and the Publishers accept no responsibility for errors and/or omissions. The responsibility lies entirely with the traveler to obtain current information regarding accommodations, availability, schedules, prices, reservations, or any other pertinent details. We do not guarantee the historical accuracy of the contents of articles in this newsletter. Historical accuracy is dependent upon one's sources of information -- and contradictions often exist among those sources. Links to other web sites or email addresses are provided for informational purposes only and do not imply any guarantees of service or endorsement of any organization or their business practices.
FRANCE On Your Own © is electronically transmitted via email. To add your email address to our database for this FREE newsletter, send an email to info@franceonyourown.com, and please put Subscribe in the subject line. We do not share email addresses with any other organization.
BACK ISSUES of the print version of FRANCE On Your Own © and Free online back issues are available on our web site at http://www.franceonyourown.com/Archives.htm.
©1998-2012 Cold Spring Press All Rights Reserved

---

previous page