This column is intended to advise you about cultural events, news and happenings
in France or France-related events taking place in the United States
between now and the publication of our next issue.
In France. . .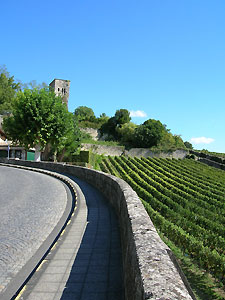 o The Mayor of the French wine town of St Emilion in Aquitaine has recently sold a Medieval monument to pay off debts of €750,000. Residents were shocked to hear of the sale of the site, which includes a reception hall, cellars, a cloister, offices and gardens, just after €570,000 was spent to restore it. They believe that it was far undervalued when sold to the vice president of the Bordeaux Chamber of Commerce and owner of the sparkling wine company housed there. He promised to keep it open. It seems that St Emilion is financially collapsing under a debt load four times that of other French towns of its size, partly owing (according to the regional accounting office) over staffing, lower payments of business taxes, and a bad habit of borrowing to finance spending - despite the fact that it takes in abundant revenue. St Emilion is a UNESCO World Heritage Site. Another World Heritage Site, the Citadel at Blaye (see our last issue to read about the Citadel) found financial help from the French oil company, Total, to create a foundation. St Emilion is hoping to create a foundation such as England's National Trust.
o 'Carlos the Jackal' (Ilich Ramirez Sanchez), was convicted and sentenced in December to life in prison (again) - with the possibility of parole in 18 years when he will be 80 years of age - for a series of bombings 30 years ago. He is already serving a life sentence for killing two French secret service agents and an informer in Paris in 1970. At his trial his outbursts included calling for revolution and weeping aloud for Moammar Khadafi.
St Emilion and Its Vineyards
o The Pompidou Center will host Danser sa vie through April 2 - an exhibit devoted to the relationship between dance and the visual arts since 1900. The show will illustrate the ongoing dialogue between dance and artistic disciplines such as sculpture, paintings, films, videos, etc. For more information please visit http://www.centrepompidou.fr.
o Paris' Galerie des Gobelins and the Galerie Nationale de la Tapisserie will be the two venues for Décors et Installations' presentation of contemporary works that were commissioned by Mobilier National who supplies furnishings to French government offices and embassies. Through April 15. Details can be found at http://www.mobiliernational.fr.
o Claude Debussy was inspired by the art of Degas, Renoir, Bonnard and others for his Impressionist music. To honor the composer on the occasion of the 150th anniversary of his birth, the Orangerie in Paris will present Debussy, la musique et les arts with an exhibit of paintings, drawings, letters and photographs. Through June 11. More information can be accessed at http://www.musee-orangerie.fr.
o One of the largest collections of 18th century ornamental boxes in France is housed at the Musée Cognacq-Jay in Paris. An exhibit entitled Boîtes en or et objets de vertu au XVIIIe siècle showing these gold, mother-of-pearl, enamel and porcelain boxes adorned with miniatures and precious stones will run through May 6. Click here for more information.
o Until September 2 the public can enjoy Les Histoires de Babar at the Musée des Arts Décoratifs as it celebrates the 80th birthday of the world's favorite elephant king. Some 100 original drawings and Babar-inspired toys and games from the 1930s until today will be on exhibit. Information at http://lesartsdecoratifs.fr.
o Sèvres' Cité de la Céramique has recently re-opened its north wing and visitors can see pieces dating from antiquity, medieval times and the Renaissance including work from around the world. Some 1300 works will be on display, including 100 that have never been exhibited before. Visit http://www.sevresciteceramique.fr for more information.
o President Nicolas Sarkozy has officially announced that he will be seeking a second term of office in the upcoming elections representing his center-right party, the Union for a Popular Movement (UMP). The first round will be on April 22 and the second round on May 6. His primary opponent, Socialist Party candidate François Hollande, is currently leading the the polls for the first round of voting. Marine Le Pen, from the far right National Front party, is polling third, and centrist candidate, François Bayrou, is polling last.
o In the US . . .
o Liberty, Equality and Fraternity is the title of an exhibit in Miami Beach examining French Design from the late 1940s until the present day in the context of political, economical, cultural and technological forces. Some 150 objects by such notables as Philippe Starck, Roger Tallon and Pierre Paulin will be displayed in Le Corbusier-inspired blue/white/red modular systems through March 26 at the Wolfsonian - Florida International University. Details at http://www.wolfsonian.org.
o Richmond Virginia's Virginia Museum of Fine Arts will host the visiting exhibit entitled The Mourners: Tomb Sculptures from the Court of Burgundy though April 15 on loan from the Musée des Beaux Arts in Dijon, France. This funerary art comprises 40 16-inch high mourners sculpted in alabaster, each expressing grief. This is the conclusion of a two-year tour of the United States. More information is available at http://www.vmfa.state.va.us.
o Gauguin and Polynesia: An Elusive Paradise is the title of a show at the Seattle Art Museum through April 29. This exhibit examines the artist's involvement in the culture of the South Seas though some sixty of his paintings, sculptures and works on paper along with an equal number of examples of Polynesian art. For more please visit http://www.seattleartmuseum.org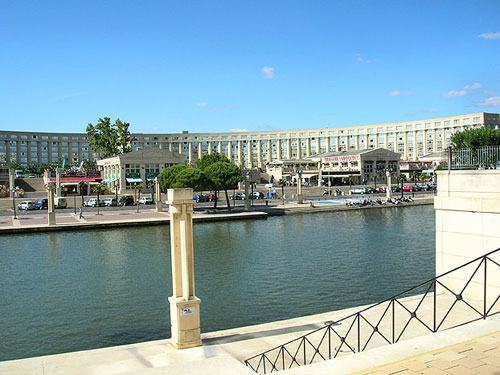 o The New York Times published a list of the 45 places in the world travelers should visit in 2012. Included on that list is Montpellier, France, one of our favorite French cities. They emphasized Jean Nouvel's new city hall opened in November (he is France's most celebrated architect) which was designed in collaboration with François Fontès, and Nouvel's RBC Design Center which will soon open its doors. The city's tram system was also praised. We cannot say enough about the stunning contemporary architecture in Montpellier that is so complimentary to the city's older and very popular areas such as the place de la Comédie. Please read our feature on Montpellier in our December 2007 issue by clicking here. We think Montpellier is a not-to-be-missed stop on any visit to southwestern France. [Where to stay when visiting Montpellier? Do consider Château de Grézan, about an hour ten minutes away - an amazing chambres d'hôtes with a history dating back to the Knights Templar and a listed Monument Historique by ISMH. Known locally as La Petite Carcassonne - look at the web site and you will see why - it is surrounded by vineyards and your hostess is a charming delight!]
Montpellier's Esplanade de l'Europe on the River Lez




---