IN THIS ISSUE:
Patrimoine . . .
~ An opportunity for free access to
France's finest historic buildings
Paris Enigmas
Ici et Là
~ A special PBS program in September:
Lafayette: The Lost Hero
Our Readers Write about France
~ Sole Searching
by Rosemary Chiaverini
Gallery Openings in Provence
and Paris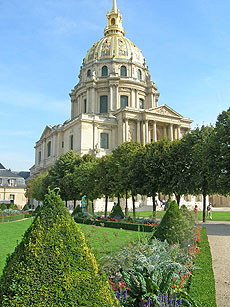 l'Hôtel des Invalides in Paris' 7th

FEATURING:
Paris' 7th Arrondissement
Vaux le Vicomte
~ Versailles before Versailles
by Arthur Gillette
Notes from Narbonne
~ A Door Story
by Marlane O'Neill
". . . your correspondent has decided that the French combine the greatest simplicity with the best results."
- Westbrook Pegler : France in One Easy Lesson

This issue will arrive in email boxes in mid August when many of our readers are away on vacation ~ in France, we hope! Therefore, it will be one page lighter than usual, but still packed with lots of useful information and interesting articles.
We want to remind you that the third weekend in September is Patrimoine...a delightful time to be in France, both for great weather, few crowds and, important to today's frugal tourist, free admission to many public buildings including magnificent royal châteaux. Officially known as Les Journées du Patrimoine (the national heritage weekend), it is a time when a traveler not only saves the cost of admission to public buildings, but he or she also gains access to private homes on the list ~ homes that would not normally be open to strangers.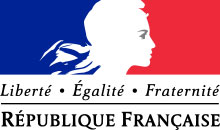 This year Patrimoine falls on the 18th and 19th of September, and, if you are fortunate to be in France at that time, be sure to take advantage of the wealth of money-saving and historically significant opportunities both in Paris and the countryside. Some 14,000 buildings will be open for visits, so you are bound to have the chance to get inside one or more beautiful and enlightening historic buildings.
At this time the official web site is not complete, but it will be on August 23 for you to visit and see the list of buildings that are included. Monuments historiques (listed historic buildings) that are privately owned are expected to participate in Les Journées du Patrimoine especially if they received money from any level of government to complete historically authentic restoration work. To learn much more about this interesting cultural opportunity during your time in France, visit the web site later this month at http://www.journeesdupatrimoine.culture.fr/! In the meantime, visit the site below that, among other categories, lists works by village. Choose a village that you may be visiting in September to see what national treasures will be open over the Patrimoine weekend: http://www.patrimoine-de-france.org/oeuvres/.
Château de la Barre in the Sarthe département of northwestern France
invites guests to stay with them September 17 to 20th,
and take part in a guided tour of the region during Patrimoine weekend.
For more information contact inquiry@au-chateau.com.
---
FRANCE On Your Own is going to sponsor a photo contest for amateur photographers who submit their own photos of France. Many of you have a photo that you think is special. Share it with us! The submission deadline is December 31, 2010, and all photos must be the sole property of the sender.
Photos should be emailed to us in .jpg format and no larger that 2000 pixels on the long side. They must be fully described in an accompanying email as to date taken, exact location and include the complete name of the subject of the photo (building, monument, village, beach, national park, etc.). The name, email and country of residence of the photographer must also be included. Send to publisher@franceonyourown.com with Photo Contest in the subject line.
We will select several photos to include in our Winter 2011 newsletter, and we'll ask readers to vote for their favorite. The top three choices will be in the Spring issue of FRANCE On Your Own.
---