Vaux le Vicomte - Versailles before Versailles
by Arthur Gillette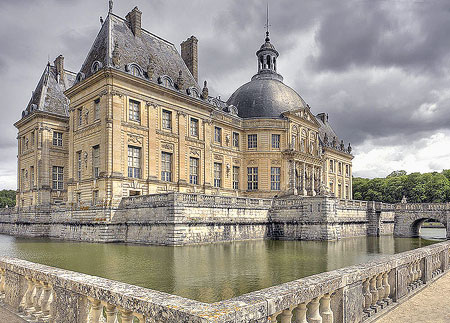 His motto was Quo non ascendam? ("Up to where shall I not rise?") and his coat of arms was… a squirrel, symbolizing the wealth he acquired. Who was he? None other than that ill-fated 17th century luminary, Nicolas Fouquet. Already a member of the Paris Parliament at the age of 20, and a skillful administrator, Fouquet did indeed rise, and rise, and. . . rise. The Thirty Years' War had left the French Sun King Louis XIV's royal treasury in a pitiful state, and Fouquet was appointed Superintendent of Finances to set things right. To do so, he laid his own fortune on the line as collateral for investments, and did indeed begin to balance the royal accounts.
The investments were smart and Fouquet was able to build himself, a few carriage hours from Paris and fairly near the royal Fontainebleau residence, a sumptuous castle and park: the baroque Vaux le Vicomte located in Maincy, near Melun, 55 kilometers southeast of Paris in the Seine-et-Marne département. To complete the project, three villages were razed and 18,000 workmen mobilized.
Fouquet was not only a clever financier, but also a promoter of culture and art. Among his acquaintances were Molière and fables author La Fontaine, not to forget the master creators he hired to build Vaux le Vicomte. It, by the way, is still there today, restored by a 19th century tycoon/philanthropist close to its original state, and can be easily visited via the Regional Express Railway (RER) from Paris to Melun and then shuttle bus or taxi. You can stroll at leisure through castle and garden and/or rent a four-passenger golf cart by the hour. To get really in the mood, young ladies can hire period dresses.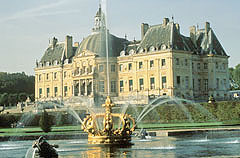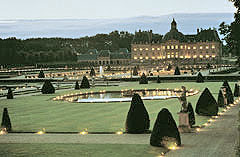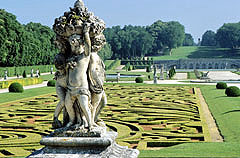 Château Vaux le Vicomte today - fountains, candlelit evenings, and gardens
Close to original state
The property's close to original state is quite simply mind-boggling. The moat-surrounded castle itself is a work of art gracefully designed by the architect Louis Le Vau (of Île St-Louis reputation) and sumptuously decorated by artist Charles Le Brun, who had to create a weaving factory on-site so great was Fouquet's demand for tapestries.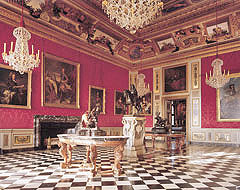 Salons, bed chambers, reception rooms, bathrooms (ever seen an armchair bathtub or armchair bidet?), many with ceilings representing colorful neo-classical allegories painted by Le Brun himself not to forget extraordinary statuary (Roman Emperors and more allegories), follow one after another…and then more so!
The 33-hectare garden was created by 17th century jardinier suprême André Le Nôtre, inspired by and improving on Italian Renaissance perspective criteria, as at the Giardini Boboli in Florence. It is said by some specialists to have been the first jardin à la française where, contrary to English-style gardens that sought to recreate the random disorder of nature, the human hand has put flowers (in-season at Vaux: 42,000 tulips and 11,000 forget-me-nots) and low hedges in a kind of horizontal/geometrical/botanical tapestry that stretches down a slope in a huge rectangle 1.5 kilometers long and some 300 meters wide to an upward hill culminating with a huge statue of Hercules grasping his club.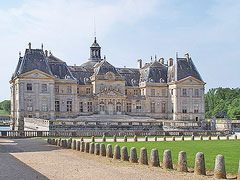 Perhaps at Fouquet's behest, Le Nôtre threw in some visual pranks along the way. For example, strolling down the garden paths you come upon pools not visible from the castle's majestic (intended to impress) garden-side stoop. And when, 18 meters lower towards sea level than the castle, you get down to the bottom of the garden, you discover ~ surprise! surprise! ~ a side-to-side Grand Canal on which gondolas may have glided. Just above it is the huge (4,000 m2!) square Mirror Pool designed and sited so that, if there's no wind, the castle itself some 400 meters away is perfectly reflected and framed in it. Best time to view this is a summer night when 2,000 candles are lit inside the building. Vaux le Vicomte's entire park ~ forest plus garden ~ covers 500 hectares, twice the size of intra muros Paris around 1200 A.D.

Ill-fated?
We've seen his 'luminary' side. But what was ill-fated about Fouquet? After Mazarin died in 1661, and having put the Royal Treasury back in shape, he hoped to be appointed Prime Minister. Mazarin's advisor Colbert was, however, very much on his case, probably hoping himself to be P.M., and whispered nasty stuff about Fouquet to the monarch.
The King hoped to defuse that interpersonal conflict when he abolished the post of Prime Minister. But Colbert had a firm hold on the royal ear, and the King decided definitively to deflate Fouquet.
There upon rich and cultured Nicolas made a grievous mistake (is Steven Spielberg reading this? what a film!): he decided to flatter Louis XIV by organizing a mega party in the King's honor soon after Mazarin's demise. On August 17th 1661, the 28-year-old Louis and entourage arrived at Vaux le Vicomte from nearby Fountainebleau around 6 PM.

The violins of Jean-Baptiste Lully played in the castle


Molière premiered a comedy ballet called Les Fâcheux (only too-well-named: 'The Troublesome Ones') in a corner of Le Nôtre's garden


In vast kitchens you can visit today, already-renowned chef Vatel (there's still a five-star Parisian restaurant bearing his name) oversaw preparations for a banquet served to the king on gold plates. Grrrr! He had had to have his own melted down to pay for war expenses


There were water jousts on the ponds


1,200 fountains cooled the evening air


Special lotteries were held (with only winning numbers!), and


The whole bash was literally topped off by an extraordinary fireworks display.
Totally one-upped and feeling belittled by this show of wealth, connections and taste, King Louis decided on the spot to throw Fouquet in jail. His mother, Anne of Austria, dissuaded him from doing so, but not for long. Nineteen days later the Superintendent was behind bars. His trial turned out to be a very complicated affair and dragged on for many months. The King wanted Fouquet's head (literally) but the judges favored banishment only. Finally, a deal was done; the sentence was life imprisonment.
No one seems quite sure where, after an initial lock-up in the Savoie, Fouquet did his time. There is, however, speculation that he may well have been the mysterious Man in the Iron Mask who, in addition to Alexandre Dumas' fictional interpretation, happened to have been a real ~ although still-to-be-definitively-identified ~ person, known to have died at the Bastille in 1703.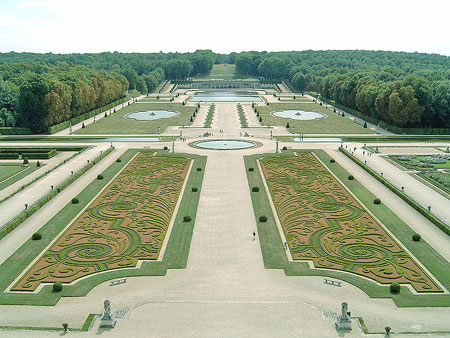 Château Vaux le Vicomte's magnificent Le Notre gardens
After Fouquet's downfall, architect Le Vau, gardener Le Nôtre and decorator Le Brun were simply swiped by Louis XIV to outdo the Superintendent's project at . . . Versailles, something of a mega enlargement of Vaux le Vicomte.
I recently stood in the lunch line at Vaux' 'Squirrel Café' and conversed with two Russian visitors discussing the two "V"s. The gist of their conclusion? "Yuck. Versailles is too overpowering. Give us grand, but more human-scale, Vaux le Vicomte anytime!"
A mischievous sign near the Vaux ticket office agrees, offering a back-handed slap at an unidentified Versailles. It blandly pronounces Fouquet's creation 'unequaled'. I guess I buy that!
[Mouse over photos for descriptions and credits. Some photos
courtesy of: www.vaux-le-vicomte.com unless otherwise noted.]
Arthur Gillette is available for tours of Vaux le Vicomte
and Senlis outside of Paris in addition to his 17 fascinating
strolls in Paris. His Paris Through The Ages offers
a wealth of fascinating historic walks that you will find
listed on our web site's MARKETPLACE page.
Contact Arthur by email at armedv@aol.com.


---
SPONSORING THIS ISSUE
Looking for an historic yet lively place to spend your next visit to Languedoc (the 'other South of France')?
Stay at Rob and Marlane's lovely chambres d'hôtes for an authentic experience. Enjoy Narbonne's
city center in well-appointed accommodations, with centuries of history, wonderful restaurants at your doorstep ~
and fine beaches just minutes away. Email marlaneoneill@hotmail.com and click on banner to visit their web site.
---