by Marlane O'Neill
Summer is back! And just on time, a few hiccups with the late snowfall, but good and hot now. With summer Narbonne puts on her flowers, the oleander is exploding and the showy pots on the bridges are brimming with color. The tourists are back, our little chambre d'hote is running and busy and we are at the beach at least three times a week. Bastille Day brings fireworks ~ very impressive fireworks indeed ~ for a small city.

The Tour de France passes through our neck of the woods once again. This time we go to see them high in the mountain village of Esperaza. We make the one and a half hour trip complete with picnic and sunscreen. It is always a thrill even if it only lasts for a few seconds.

The theme 'Tempos d'Eté' is back on the walls of the Palais des Archevéques. The colorful sails have been stretched across the streets of Narbonne and music is the best part of all. Small impromptu musical groups pop up everywhere such as a group that played in the Place de la Mairie today wearing long capes covered with the flags of the world. Outdoor combos and even orchestras are a regular feature. One orchestra catches our attention in particular with the initials on their music stands: NBB, which stands for Narbonne Big Band! It's a really big band with both a male and a female singer, five trumpet players, five saxophone players, four trombones, a drummer, a guitarist, a piano player and a sound man. They have been around for about 12 years and play all around the villages and towns surrounding Narbonne. Check out their beautiful web site at www.narbojazz.fr ~ you can also hear a sample of their music there. They have only recently come back to play in Narbonne in the Place Contemporaire on Thursday evenings.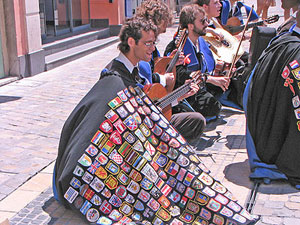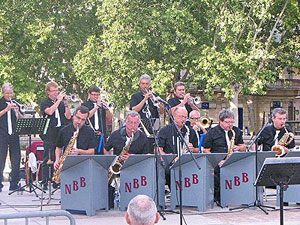 Impromptu String Ensemble Narbonne's Big Band
While they play, people can also wander around about to sample wares from a couple dozen food and wine stands that have been set up to promote products from Aude, the department (number 11) of France where Narbonne is located. Among the wines, foie gras, cheese and honey, one very elderly gentleman had Poire William eau de vie to sample. Not for the faint hearted, it has a mighty kick and one should sample with caution. His Poire William 'Reserve' is excellent and measures up to the German and Austrian Poire William with which we are more familiar. He had several of his granddaughters at the stand to help him and together they make a charming portrait of real French agricultural life. Monsieur Cathala also produces wines and other products at his Domaine des Pouzets in Narbonne.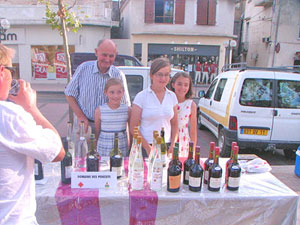 Monsieur Cathala and family with their Eau de Vie Market Day in Narbonne
For the first time ever we have a Miss Grand Narbonne pageant - a premiere! About 20 contestants representing Narbonne and all the surrounding villages (hence Miss Grand Narbonne) proudly made their debut on a runway in the Place Contemporaire. A New Orleans style jazz band that sings in English (with a great French accent) backs them up. The beautiful young women come out in bathing suits and then parade in summer outfits. For the finale they sweep around the runway in gorgeous flowing gowns and the young men swoon at their feet. One contestant in particular stands out and she is the winner along with two Dauphins who are the runners up. I catch a photo of the new Miss Grand Narbonne just before the crowds surge in front of me in ecstatic celebration. Thus it is impossible to get nearer to the stage, and I have to be content with a blurry photo of the winner (not shown). But, she is shown third from the left (in the red gown) in the photo I manage to take just before the winner is announced. The Narbonnaise love their beauty queen. I hope we see more of her in photos and in person. Little Narbonne keeps getting bigger and bigger.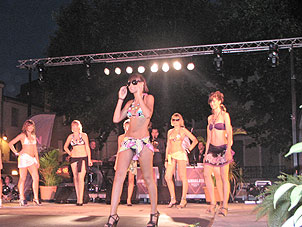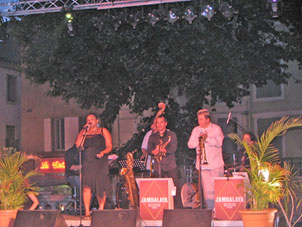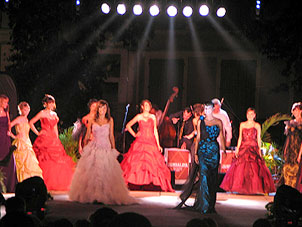 Now that we have been here over a year, my perspective of Narbonne is more intimate, and I have a story to tell of a smaller picture. It is a little Narbonnaise story about 'patrimoine'.
When we first laid eyes on our new home here in southern France, the first thing we saw ~ and doesn't everyone ~ was the front door. Rather tall, about 11 feet high and heavy, it is made of solid wood and it has a noble air about it. It was dusty in some places with a little rot at the bottom (well, it did look old), but I really didn't pay much attention at the time. I wasn't aware of how old it was. It looked serviceable, and that is what mattered. We were so much more curious about seeing the interior living space and the common areas inside that the entry faded behind us as we hurried in. The outside of the building looked solid and attractive. That was what we cared about. Fast forward a year later, and I am having a most interesting conversation with an artisan who grew up here in Narbonne on the very same street as our building.
Monsieur Vidal came to us mysteriously; I really don't know how I found him or did he find us? I was calling various companies for a quote to install two new interior doors in our apartment to make it cozier and facilitate the operation of our little chambre d'hôte. There is a large foyer just inside the entry way and the main apartment is to the left while the chambre d'hôte is to the right. We really needed a door for the little hotel room to make it completely private and another double door for our side to give us privacy as well. As doors had never been installed in these openings, they were not perfectly square, nor were there any pre-existing frames. Visitors get their first impression from these two doors so they also had to be, well, stylish. A couple of devis came through accompanied by sharply suited salespersons with nice manicures and fancy pens. 'Sign here - and now!' they would implore. I couldn't help wonder who would do the work ~ certainly not them ~ which they confirmed, of course. The sums of money they wanted were seriously high and mighty. I fended them off, looking for someone who looked more like they worked with doors, not just papers and pens.
Things started to look gloomy for us. We thought about installing the doors ourselves and ordered a pair through the local brico-marché. Six weeks later we eagerly came to the store to find that ~ the doors had not yet arrived. After another four weeks of badgering the manager we discovered a minor detail: what we had ordered (and paid for) did not exist. In other words, we wanted doors with glass window panes installed, which were on display at the store and which we ordered, but they were really not available. The door we wanted was on display with the panes installed in the door. The manager showed us what came in as our order: solid wood doors with the glass panes very neatly bound in shrink wrap next to the doors. We were welcome to take the solid doors and install the glass panes ourselves. Staring in disbelief at the manager I asked him if he could tell us how to install glass panes in a door. I certainly didn't know how. He shrugged the classic French shrug that means 'not my problem'. Okay, a full refund later we are standing out on the street and starting to think that we are not going to get our doors.
A week later I received a phone call from a man who said he was coming over to see us about our doors - sure, said I, come on over. I brace myself for another full-fledged and suited sales force.
The next day I said hello to Monsieur Vidal. Intense eyes set in a classic Roman face, wearing worn blue jeans and a very quiet manner he proceeded to spend about an hour measuring and talking quietly. He talked a little to us, but mostly it was to himself. He looked doubtful about our project and wasn't very positive about anything at all really. He showed us a small photo album with very beautiful pieces of furniture in it that he said he had created. I wondered ~ they looked too good. He left. Not much small talk. His sales manner was less than perfect, almost defying us to hire him!
The devis came in and was not cheap, but much better priced than many that came before it, by half in fact. I asked him how he had heard of us. He said he didn't know; he just had our number scribbled down from some messages. I couldn't find out where I heard of him either. We both traced back to the companies we knew, and there was not a common one between us. I mentioned friends who gave referrals, and he knew none of them. I was still suspicious if this was just another attempt to make business with people who obviously didn't know what they were doing. However, we were desperate so I finally called him back and accepted his bid. Fingers crossed, our luck held out. We discussed the door we wanted, made sure it had the glass panes installed, made a down payment and waited.
About a month and a half later he and his father, a smaller man in his late 60s or early 70s, came into our apartment toting exactly the model of door we had originally ordered - with the glass installed. It had taken these two experts about a week to install the glass properly. Imagine if we had tried!
They set about to work with intensity and zest. Their ardor also extended to arguing with each other with a lot of passion and attention to detail. They could discuss the tiniest aspect of door hanging with each other as if it were the latest political scandal. We sometimes wondered if they would start shouting, but it never came to that. Finally, the job was done. We were astounded with the results these two men achieved. Many times we have had doors installed but this was the first time we witnessed a work of art being installed as doors. They fit seamlessly; they worked soundlessly and looked devastatingly beautiful to us.
So, with this experience in mind, I found myself in a most interesting conversation with an artisan who grew up on the street where I live: "Madame O'Neill, it is a shame what is happening to your front door," said Monsieur Vidal. "What? What is wrong?" He shrugs the French shrug, not his problem. "It is just that the door will be ruined beyond repair if something is not done soon," he says with a raised eyebrow. "Really? Show me," say I. With that we trot down to the building front door and both lay eyes on the old entry door which has spent a lifetime in the intense Narbonne sun. I finally see my front door for the first time in a year. I see a grand old lady, maybe 250 years old or so. Graying, but strong, collapsing at the base but standing, old but useful ~ and neglected. I see what he means without him having to say a word. I see the rot behind the panels, the layers of dirt on the molding. He explains how old this door is and the work involved in creating such a door. He adds that we have an additional 'problem' ~ the hinges. Hinges? "Look," says he, as he opens the door. And there I see the ancient hinges that are constructed within the masonry so that the doors cannot be 'unhinged'. In other words, the grand dame must be renovated sur place and not in a shop. Additionally, if the door goes beyond repair a replacement of a plain, ugly metal door would be around 5,000 euros. Another door like this would be practically impossible to find. Everyone wants one. "Faites le devis," I say. "Please!" He looks at me quizzically, as if he is surprised to hear my response. It seems that people don't pay much attention to things like doors in Narbonne - but apparently I have seen the spirit of this lady faster than he thought I would, so he agrees.
My first task is to convince the rest of the building owners to pay for this renovation, which is surprisingly easy. They appreciate our grand dame as much as I do. With the approval of all in writing I sail over to the City of Narbonne where I obtain a promise of 25% reimbursement of the cost of the work upon completion. It is all in the spirit of keeping the historic center original and maintained. Mr. Vidal does the renovations. He replaces the rotting wood, the hollow molding and fills the fissures and holes where hardware was but is no longer. Now comes the difficult part. In order to get everyone to sign off on the door renovations I agreed (hastily) to sand and varnish this fresh makeover!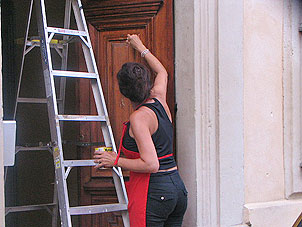 The author hard at work refinishing the door, and the final result!
Two weeks of sanding, scraping and cleaning in the hot sun and our lady is ready for her close-up, er, varnish. During this time I meet the neighborhood regulars, all of whom stop to chat with me at least a couple of times. A local whose hobby is studying old woods and carving styles teaches me how to determine the age of the door by counting the rounded crowns on the center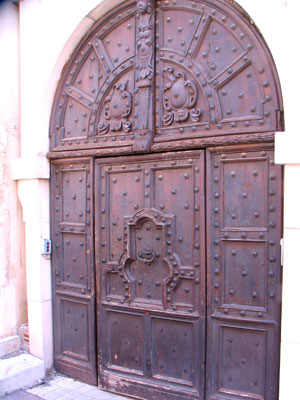 column. He ascertains the door was created around 1750, which is about the age of the building as well, so it makes sense. The day I add my first coat of varnish, Rob and I go for a celebratory lunch at the restaurant across the street. The waitress, the owner's daughter, smiles at me as if she knows me. She says that she and her family have been watching me work and looks at my husband as she says "She is a superwoman!" I am pleased, a little embarrassed, but I appreciate that there are certain things that have meaning and importance even if they go unnoticed for decades. This lovely old hand carved door has a spirit that I felt as I scraped and sanded the carvings of the carpenter's work so long ago. Tourists noticed the door as well as they ambled down the street. They would remark about it, the wood, and the style. I sanded and varnished, but the door sang back. She is a Grande Dame now. She has dignity; she no longer stoops, but stands tall to face the next century with certitude, beauty and pride. She is a Miss Grand Narbonne herself.
I am inspired by her and take my camera to the streets of Narbonne to find her Dauphins, silent sentries of time in this ancient city. The photos show one door in particular that looks older than ours - a lot older. She is still standing incredibly strong and is ravishingly beautiful. She is the original Miss Grand Narbonne.

---
Wine Notes Camplong Winery
Several years ago, back when we lived aboard a steel Dutch motor yacht and cruised the canals and rivers of France, we were invited to a dinner on a lovely saddleback tchalk owned by an Englishman and his Canadian wife. We were in the Canal du Midi near the Dordogne and there were about a dozen people at the dinner party. During the apéro we were given a choice of several bottles of wine to choose from on the side bar. There was also one bag-in-box wine at the end of the bar. I noticed that everyone skipped the bottles and kept returning to the boxed wine.
It was a rather upscale group of wine lovers, so I thought what they were drinking might be pretty good. I had a taste myself and was very impressed with the fruity and mellow flavors and the velvety feel of the ruby red wine. Taking note of the name - Camplong - we called them up the next day for more information.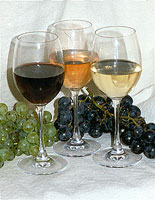 We found out that the winery is in the Corbières region of the Canal du Midi, not far, and they delivered! So we ordered several boxes since we were about to take a long journey with several different friends joining us for the ride, at different times, up the Rhone, on our way to Paris. The delivery man came the next day and unloaded the boxes in a hurry as he had a busy day ahead. He then ran off!
"Monsieur! Stop please. How do we pay you?"
"I don't know. I don't handle the payment. Look on the boxes. There is a facture attached to one of them somewhere. Au revoir!"
Finding the facture was not a problem, but who delivers to a customer living on a boat that is about to leave town without asking for payment? I called the winery.
"Madame, thank you for the prompt delivery. How do I pay you?"
"Whenever you like in the next three months is fine," was the unconcerned reply.
I reminded her that I lived on a boat and would be traveling to Paris.
"Enjoy your voyage!' was her answer. I could have been a vacationer; the boat could have been hired, not owned. But it was not a problem for the winery. I later found out that this is often the way wineries work, giving people several weeks or even months to settle the bill. As it was, I was still worried I could forget. After all, I was going to be drinking a lot of that wine. So, I gave them my payment over the telephone with a credit card. I didn't want to meet any gendarmes looking for us along our travels.
It wasn't until last year, 2009, that we finally visited the Camplong winery. Their wine is as excellent as ever, and they sell most of it in 'bib' that is how the French say 'bag-in-box'.
Founded in 1932, the winery still harvests the grapes by hand. There are 250 hectares of which 95% is classed Appellation d'Origine Contrôlée Corbières. Five exclusively Mediterranean varieties of grape are grown: Carignan 40%, Cinsault 10%, Grenache 28%, Mourvèdre 12%, and Syrah 10%. On average the annual production is 12,500 hectoliters of red, rosé and white Corbières, with white being 5% of the production and rosé between 10% to 15%. The rest is red ~ our favorite of the three. 50% of the production is exported to other EU countries, Japan and the USA.
Vignerons de Camplong, 11200 Camplong d'Aude, France
Telephone (from within France): 04.68.43.60.86
Fax (from within France): 04.68.43.69.21
email: vignerons@camplong.com
web site: www.camplong.com
French words in Italics:
Palais Archevèque - the Archbishop's Palace. Narbonne used to be the seat of the Catholic Church in the southwest zone of France and the Archbishop lived in the palace, which is now the Mayor's place.
Dauphins - heirs apparent or runners-up.
patrimoine - heritage. The French use this word to refer to the heritage of the country. Landmarks, antiquities, historical buildings, sites and even literature are patrimoine.
devis, 'Faites le devis' - estimate, 'make an estimate'.
brico-marché - hardware store
sur place - in place
apéro - apéritifs, drinks and nibbles before dinner, happy hour
facture - the bill
gendarmes - policemen

For additional information about living in or visiting Narbonne
by land or canal boat, contact www.narbonnegites.com or mail info@narbonnegites.com
Please visit the Style de Vie page of the FRANCE On Your Own web site to read
Marlane's account of their life on the Canal du Midi. And read Marlane's earlier
Notes on Narbonne in previous issues of FRANCE On Your Own.
To access them, visit our Archives page and scroll down to the bottom.
[Photo credits: Marlane O'Neill 2010. All rights reserved.
Mouse over photos for additional descriptions.]

---
DISCLAIMER: You have received this newsletter because your email address is on our Opt-In mailing list, i.e., you have requested to receive FRANCE On Your Own ©. If you would like to discontinue receipt of this newsletter, please send an email to publisher@franceonyourown.com with "unsubscribe" on the Subject line.
Unless indicated otherwise, photos, graphics, artwork and text in the FRANCE On Your Own © newsletter are all the property of Cold Spring Press and FRANCE On Your Own © and cannot be copied, duplicated or used in any manner by anyone without the express written permission of Cold Spring Press. FRANCE On Your Own © is published online by Cold Spring Press, P O Box 26098, San Diego, California 92196-0098. This publication is copyrighted and no portions of the text, artwork, graphics or photographs may be reproduced or distributed in any form or by any means or stored in a database or retrieval system without the written permission of the Publisher. For more information about FRANCE On Your Own ©, visit our web site at http://www.franceonyourown.com.
Recommendations made in this newsletter are based upon the personal experiences of the Publishers or contributing writers solely to provide information to subscribers. Cold Spring Press and FRANCE On Your Own © make no endorsements nor are any guarantees or promises of satisfaction given or implied. Any and all information is correct to the best of our knowledge, and the Publishers accept no responsibility for errors and/or omissions. The responsibility lies entirely with the traveler to obtain current information regarding accommodations, availability, schedules, prices, reservations, or any other pertinent details. We do not guarantee the historical accuracy of the contents of articles in this newsletter. Historical accuracy is dependent upon one's sources of information -- and contradictions often exist among those sources. Links to other web sites or email addresses are provided for informational purposes only and do not imply any guarantees of service or endorsement of any organization or their business practices.
FRANCE On Your Own © is electronically transmitted via email. To add your email address to our database for this FREE newsletter, send an email to info@franceonyourown.com, and please put Subscribe in the subject line. We do not share email addresses with any other organization.
BACK ISSUES of the print version of FRANCE On Your Own © and Free online back issues are available on our web site at http://www.franceonyourown.com/Archives.htm.
©1998-2010 Cold Spring Press All Rights Reserved

---

previous page