Our Readers Write about France . . . continued ~ Sole Searching

While it is true that you are totally independent when traveling solo, and free of the constraints of the whims or moods of others, planning plays a major part in getting the most out of your daily excursions. If you noticed previously, I mentioned the Friday Market when speaking of the train to Italy. Some museums have quirky visiting days and hours. You don't want to take a boat to market day in St.Tropez on the day you have tickets to see your favorite artist at the Nice Jazz Festival. Taking a little time to stock up on information and then literally mapping out your course will pay off big in memories, experiences and personal enrichment.

Planning also provides a means to get the most mileage out of a day whether it is by car or public transportation. One year, in Provence, I organized my day so I could have a croissant and café at a Peter Mayle historical bakery in Bonnieux, before driving via several D roads (département) to see the little villages in the Luberon he mentioned in his books. I took a different route back in order to see several additional quaint villages and stopped in Lourmarin for dinner. I ended that glorious day with a good meal sitting right next to Mr. Mayle himself! It still is one of my fondest memories.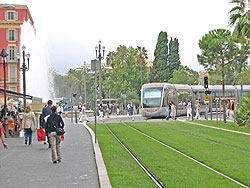 Two years ago, when I vacationed in Nice, I did the same thing only with public transportation. After breakfast at a table outside the hotel lobby doors, I went to the Gare Routière and boarded the No. 100 local bus eastbound. Armed with both a bus and rail pass, I embarked on my hop on, hop off adventure. First stop: Villefranche-sur-Mer for their weekly market. After buying a few gifts, I resumed my journey and visited Monaco and Monte Carlo where I visited the Garibaldi Museum to see this fantastic exhibit on Princess Grace and her life. Next stop: Menton where I visited the Jean Cocteau museum. I took the train back home as I wanted to stop in Beaulieu-sur-Mer and leave enough time to walk to St. Jean Cap Ferrat to visit David Niven's house. Picked up the bus once again and returned to Nice with enough time to stop in for an apéritif and panini at the local bar owned by the affable Jean Marc. (Jean Marc cut his hair recently – that was the latest email I received from my 'family' at the Villa La Tour!) The day ended with a concert at the Jazz Festival. It was one of my most fabulous days and all done for less than $20.00 - transportation and my museum pass.

While I espouse the art of planning and exploring, plan to not plan one or two days. Put on some on some good walking shoes, stick a map in your travel sac, make sure you have a fresh bottle of water and hoof it – even if it is in the countryside. Make sure you acknowledge the people you might pass with a respectful "Bonjour Madame/Monsieur." That simple phrase is one of the secrets to getting along with the French. I remember the day I went for an early morning stroll in a remote part of the Périgord and came across a house with a fantastic vegetable garden. After Madame and I exchanged morning pleasantries, she invited me in for a café and pastry and spoke about her life in the Périgord, the house, and why and how she plants all her vegetables. I returned several more times during my stay to visit Madame during my morning walks and we still exchange holiday greetings to this day.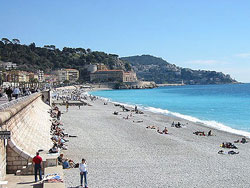 In Nice, one of my serendipitous day trips was by bus and foot. I decided to take a northbound bus all the way to the end just to see where I would wind up. It stopped at the Musée Matisse. Upon leaving the museum, the next building in view was his house. Think about that connection. One building is where his inspiration flourished; the other building is where that inspiration is shared with others. Since it was all down hill back to my hotel, I decided to walk off my pain au chocolat and hoof it. The sun was traversing from east to west so the shadows on the buildings were magnificent. Before too long, I saw a sign for the Musée National Marc Chagall and an arrow. Off I went, and there I feel in love. No, I didn't bump into someone who whisked me away to a romantic dinner at the Hôtel Negresco – I fell in love with Chagall.
What started out as a bus journey thinking "I wonder where this will go" and it turned into a love of Chagall and the mindset "I wonder where this new found passion for Chagall will take me next?" You see, it really is a journey of self-discovery if you are open to new experiences and stay present in the what's going on around you NOW.
I could go on and on about the pleasures of traveling solo – the people I met, the hospitality extended, the unexpected surprises - but at some point this article needs to end! My next trip toute seule is to Lyon and Lake Annecy, and I cannot wait to see what each day brings, where my spirit moves me or to find out the answer to the question "I wonder where the this boat is headed?"
Whether it's by car, train, bus or foot, here's one suggestion on how you can get the most out of your vacation in France. Leave your American ideals where they belong – in America. Do you want to say "I went to France", or do you want to share your "travels in France." Commit to the latter. Then be curious. Awaken your intellect and prepare it to be stimulated in ways you never imagined. Be adventurous. Remember "nothing adventured, nothing attained!" Then keep Alan Alda's words to heart: "…you will get there by not knowing quite what you're doing, but what you'll discover will be wonderful. What you'll discover is yourself."
Rosemary Chiaverini has traveled in France since 1984. She was inspired by
a 1994 Gourmet Magazine article about traveling the back roads of Provence.
Her passion became apparent when she spent a month in France in 1997 reliving
those experiences through her own eyes. Rosemary is embarking on a project called
'France by the Book', to encourage others to follow in the footsteps of those who wrote about France.
She wants travelers to share the writers' experiences while making their own unique memories.
[Photos by Rosemary Chiaverini. Copyright 2010. All rights reserved.
Mouse over photos for complete descriptions.]


Gallery & Exhibition News ~ Provence & Paris
Galerie Petrov at La Maison des Arts et Lettres, Saignon
Saignon, August, 2010 -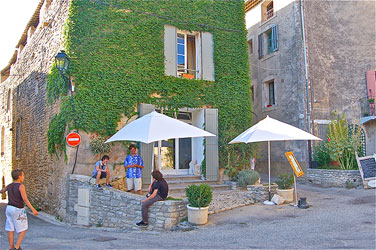 It was a guard room a tack shop, a souvenir store, and a bar/hangout among other things, depending upon the century. Now, the glass doors of La Maison des Arts et Lettres open to the art gallery of Andrew Petrov, an American artist of Russian heritage, who has lived in the Provençal village of Saignon with his partner, Marcia Mitchell, for the past ten years, painting the landscape and teaching aspiring artists from around the world.
Through many summer workshop seasons, hanging his students' work in the medieval cellars of the ancient building where he lives, he dreams of a brighter more permanent place to display art ~ including his own. All that time the perfect space was literally over his head, shaped like a ship's prow, with a cobbled terrace right on the Place d'Horloge. Perfect except for the reluctant owner and his mean tenant, whose noisy crowd of pastis-drinking, cigar-smoking card players created a less-than-artistic atmosphere.
Then along cam Canadian, Juli McCue, a past painting student of Andrew's who had fallen in love with Saignon and was looking to invest. Et voila! She bought the whole rez-de-chausée and invited Andrew to create his dream gallery in the front space.
Cold winter months of renovation uncovered long-hidden features ~ wood beams blackened by smoke from archaic fires, rugged stretches of the original ramparts, and a tall stone arch that once held a wine press ~ and has brought the expats praise and appreciation from the locals.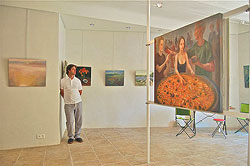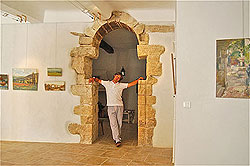 For Andrew, the mix of old and new-world aesthetics suits his background and the timeless style of his art. For visitors to the Luberon region of Provence, Galerie Petrov offers a friendly new stop to take in some culture and experience the magic of Provence.
La Maison des Arts et Lettres, in the village of Saignon, is the home of Personal Provence's
residential painting workshops and writers' retreats where visitors just dropping by
can make it a spontaneous cultural event. Click here to send an email for more information.

---
Grand Palais Exhibition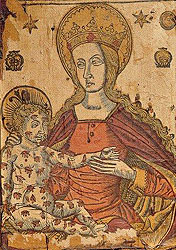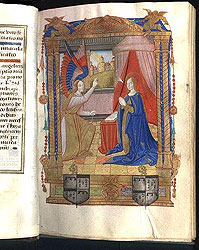 Paris, September 2010 -
The Pictorial Arts at the Dawn of the Renaissance is a major show being presented in Paris, New York and Chicago by Les Enluminures Gallery and its founder Sandra Hindman, the leading expert and author of many books on Medieval and Renaissance manuscript illumination. It is designed to complement a major international exhibition, "Entre Moyen Age et Renaissance France 1500" organized by Reunion des Musées Nationaux (Paris) and the Art Institute of Chicago.
The Les Enluminures exhibition brings together 45 diverse works that include manuscripts, Books of Hours, single leaves and cuttings, coffrets with early xylographs and stained glass. Among the artists are Jean Bourdichon, the Master of the Très Petites Heures d'Anne de Bretagne, Jean Fouquet, Noel Bellemare, Guillaume Barbe, and many others. Sandra Hindman says that the themes of the exhibition ~ French Humanism, the Dominance of Paris, the Influence of Italy and the North ~ encourage a re-appreciation of the flourishing of the arts at the dawn of the Renaissance.
While the Museum exhibition takes place in Paris at the Grand Palais October 6 to January 10, 2011, Sandra Hindman has coordinated the three Les Enluminures Gallery shows on the subject to begin at Les Enluminures gallery in Paris September 9 to November 28; go on to New York from January 19 to February 5 and then move on to Chicago from April 21 - 23, when the Art Institute of Chicago will present the museum show from February 26 to May 30.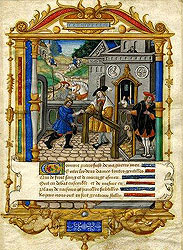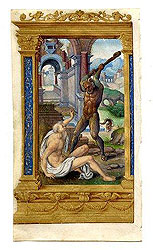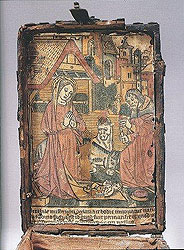 The primary focus of Sandra Hindman and Les Enluminures is illuminated manuscripts and miniatures, but the gallery also presents works of art such as sculpture, small-scale metalwork and ivories, as well as finger rings. Dr. Hindman consults with a number of experts and authors the annual catalogues Les Enluminures issues.
Among the many international clients of the gallery are the Musée du Louvre, the Metropolitan Museum of Art, the National Gallery of Art, the British Library, and the Getty Museum.
Dr. Hindman opened Les Enluminures at the Louvre des Antiquaires in Paris in 1991.
She holds a Ph.D in Art History from Cornell University and is Professor Emeritus of Art History
at Northwestern University where she taught for 18 years and twice served
as Chair of the Department of Art History. She also taught for 11 years at John Hopkins University.
Sandra Hindman has provided important assistance to museums and private collectors
who know the gallery's reputation and have seen its exhibitions at some of the finest art
and antiques shows including the Winter Antique Show in New York, the San Francisco Fall Antiques Show,
the Biennale des Antiquaires in Paris and the European Fine Art Fair (TEFAF) in Maastricht.
For more information, please click here to send an email.
[Please mouse over each photo to read detailed description.]

FEATURING: Paris' 7th Arrondissement
Do you know anyone with the Left Bank postal code 75007? If so, your lucky acquaintance lives the glorious 7th arrondissement in the City of Light. A lady's open fan best describes the shape of the Paris' 7th. The curved top boundary is formed by the River Seine. The avenue bordering the southwest where the 7th meets the 15th is avenue de Suffren. A little notch in the south is formed by rue Pérignon and avenue Saxe cutting through the center of Place de Bréteuil where the 7th meets the 6th arrondissement along rue de Sèvres which becomes rue des Saints Pères. This leads northeast to meet the Seine once again with a little jog westward on Quai Voltaire to the Pont du Carrousel. Follow these boundary roads and the river on the map below; they are indicated by the dark gold lines.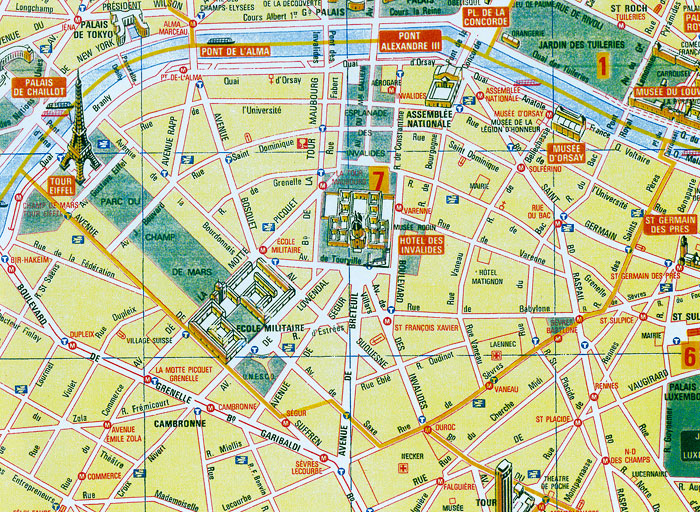 MICHELIN STREET MAP, PARIS 7ème arr. Permission No. 9707392

The 7th offers many bridges to cross the Seine. Beginning in the west, Pont d'Iéna takes you from the Eiffel Tower across river to the Palais de Chaillot and the Trocadero in the 16th arrondissement; Passerelle Debilly (a pedestrian bridge) allows you to stroll across the Seine from Quai Branly near the Musée du Quai Branly to the Palais de Tokyo also in the 16th; The Pont de l'Alma is where you board the Bateaux-Mouches for a river cruise, and it leads across river to avenue George V in the 8th arrondissement; next is the Pont des Invalides that becomes avenue Franklin D. Roosevelt and the beautifully-refurbished Belle Époque Pont Alexandre III in its golden glory takes you across the river to the Grand Palais, Petit Palais and the Champs-Elysées, and Pont de la Concorde leads to the Place de la Concorde, all in the 8th; pedestrian bridge Pont Solférino is the route to the Jardin des Tuileries in the 1st arrondissement; the Pont Royal (Paris' third oldest bridge) will lead you across to the Musée du Louvre, also in the 1st, as will the Pont du Carrousel.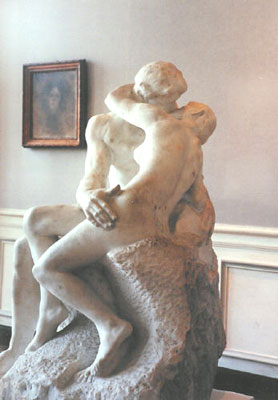 Now you know how convenient the 7th is, but what really makes it so irresistible? Perhaps seeing the 307 meter tall Eiffel Tower, not from across the city, but close up just outside your hotel window will make it special. Perhaps evening strolls along tree-lined residential boulevards (the Paris address is the 7th!) will endear you to its lovely neighborhoods. Perhaps a shopping trip to the outdoor market (and indoor shops) on rue Cler will fill part of your day. Tourist sites are abundant in the 7th, from La Tour Eiffel, awe-inspring in daylight and sparkling when lit up after dark, to the Hôtel des Invalides encompassing the Musée de l Armée, Musée des Plans et Reliefs, Église Saint-Louis des Invalides, and 'Église du Dôme des Invalides. The latter is a glorious architectural gem designed by Mansart housing the sarcophagus of Emperor Napoléon I. Its golden dome is lined inside with magnificent frescoes. The Army Museum displays military costumes and weaponry which will fascinate even those with no interest in such things. Allow yourself a minimum of two hours to see it all.
Cross boulevard des Invalides to reach the Musée National Auguste Rodin. The house, Hôtel Biron, was given to the artist in 1908, and Rodin lived and worked there until his death in 1917. You'll see wonderful examples of his marble and bronze sculpture as well as the art and sculpture of his student and muse, Camille Claudel. Inside, you will find The Kiss, a work that took Rodin ten years to complete.
Other attractions in the 7th include the UNESCO Headquarters and École Militaire (no visits permitted) on av Lowendal. Between École Militaire and the Eiffel Tower is the grand Parc du Champ de Mars. A highlight of any visit to the 7th arrondissement is a visit to the Musée d'Orsay, across rue de Bellechasse from the Musée de la Légion d'Honneur. A converted railway station, the Orsay's rococo clock dominates the grand space. Stroll along the Seine on Quai Anatole France, and you will come upon the Palais Bourbon, seat of the National Assembly.
Restaurants, brasseries, cafés, bistros, wine bars and tearooms abound in the 7th. Cafés are everywhere, offering light meals and beverages. If you choose an outside table, you can expect, perhaps, to pay a little more than for the same menu item eaten inside. But, who'd miss sitting at an outdoor table when given the opportunity ~ to watch Paris moving by!? A bistro is chosen by people who dine out frequently. Homestyle cooking is the norm and food is abundant. A brasserie is cheerful and loud, and wine and beer are flowing. A wine bar is for wine lovers who want some pleasing décor along with a light meal and fine wines. Tearooms are simply that! You can linger in a peaceful atmosphere, meet a friend for a quiet chat, or just stop in to rest your feet from walking Paris' streets all day ~ of course you must order tea or coffee or whatever light beverages are offered. Restaurants are open for full meals at specific hours of the day. You will rarely find someone waiting for your table as you enjoy dinner, since one seating per meal is the practice. You will never be rushed out so someone else can have your spot. Enjoy!
Whether you select a little out of way eatery that you discover on your own, or you are looking for an upscale and well-known place for that special meal, the 7th has it all. You may want to experience the Jules-Verne restaurant in the Eiffel Tower, or L'Atelier de Joel Robuchon at 5, rue de Montalembert, or the famed Arpège Restaurant at 84, rue Varenne.
Travelers who wander the neighborhoods of the 7th arrondissement will find all the necessary conveniences as well, from la poste, banks, hair salons, pharmacies, boutique shops, small groceries, bakeries, perfume shops, newsstands, and at least 15 Métro stations to make getting around Paris very easy.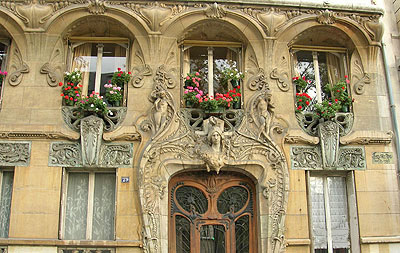 ART NOUVEAU APARTMENT IN THE 7TH
We encourage exploring the neighborhoods to take in the beauty of the elegant apartment buildings, the little out-of-the-way tree-lined streets, and to mingle with more Parisians than tourists. The architecture of the 7th includes the classic Parisian homes with wrought iron balconies and long lovely windows, as well as some amazing Art Nouveau architecture that demands a long pause and a photo or two! We have stayed in many different areas of Paris, and all have strong points to recommend them. But, we always come back to the 7th, which feels like we're coming home.