This column is intended to advise you about cultural events, news and happenings
in France or France-related events taking place in the United States
between now and the publication of our next issue.
In France. . .
o In the News: * The newest food item on French menus this year is algae used in everything from soup to seafood dishes and even bread! Adapted from Japanese sushi menus, seaweed adds natural saltiness to restaurant offerings, and chefs are finding a variety of ways to apply it to their cuisine. * Traps were set in April in several départements of Provence-Alpes-Côte d'Azur to stop the spread of the tiger mosquito when a small number were discovered in Marseille. These pests can carry two flu-like viruses including dengue fever. Residents are encouraged to remove standing water on their properties to eliminate sites where mosquitoes can lay their eggs. * The lower VAT that French restaurants are permitted to charge has reportedly prevented the closure of some 25,000 restaurants during the world-wide recession. Although a majority of citizens disapprove of this tax break (5.5% tax as opposed to the 19.6% tax charged by other businesses), there are claims that nearly 6,000 new jobs have been created with higher beginning salaries. Statistics show that the restaurant industry had a bankruptcy rate of 1.35% in 2009 in comparison to 4.85% in all other French business sectors. * Perhaps you've seen people board French trains and disembark several stops later without ever having their ticket punched by a conductor. (We have!) Fines are rarely paid, so SNCF will team up with the central parking fine office in Rennes that sends out 9,000,000 notices per year claiming a 93% collection rate. SNCF hopes to make use of central parking's address database. * Non-smokers will be happy to learn that in the autumn a web site will be launched by DNF (Droits des Non-Fumeurs) listing smoke-free terrasses at cafés and restaurants, applying the same rules governing smoke-free interiors. The web site URL is not yet available. * Eurostar is planning the purchase of new trains for the Channel crossing. Although the purchase is out for bids, German manufacturer Siemens appears to be the favored supplier at this time. Also in the running are French companies Alstom and Veolia. The new trains are set to go into service from 2012 to 2016.
o The Centre Pompidou-Metz has opened at 4 Rue du Chanoine Collin, and as stated on its web site it will offer "Dance, theatre, music, the performing arts, cinema, conferences and young people's workshops. . . side by side with exhibitions." Learn more at http://www.centrepompidou-metz.fr/site/?lang=en.
o This month French actor Bruno Cremer passed away at the age of 80. He was best known for his portrayal of Inspector Maigret, the French police detective, in 54 episodes of the series of the same name shown on French public television. Maigret was the creation of Belgian writer Georges Simenon.
o Paris Plages, the Seine river front 'beach', opened for a month on July 20th. Lining the banks of the river in the 19th arrondissement are palm trees, beach chairs and lounges, beach umbrellas and 16 beach cafés, all on tons of sand brought in from a nearby quarry. Free concerts are given throughout the month. Paris Plages is designed to provide a pleasant place for low income families to enjoy the summer.
o Chamber music and a weekend at Château de la Barre in the beautiful Sarthe is offered in conjunction with tours of the château, visits to local villages and Renaissance sites, and much more. September 3, 4 and 5. Click here to read all the details and to find out how you can reserve your room. Space is very limited.
o The Musée Marmottan offers visitors a look at Monet et l'Abstraction which shows the influence Claude Monet's work had on other artists in the second half of the 20th century. The show presents his work alongside that of Mark Rothko, Jackson Pollock, Gerhard Richter and others. Until September 26th. Information at www.marmottan.com.
o Who can resist the Musée des Arts Décoratifs, especially with its exhibit through November 30 entitled Animal? The exhibit explores the many ways that animal motifs and materials have been incorporated into fashion, posters, furniture, design and décor over time. More information is available at www.lesartsdecoratifs.fr.
o Other exhibits in France: * Giacometti & Maeght 1946-1966 in St-Paul-de-Vence through October 31. Bronzes, drawings, paintings and more. www.fondation-maeght.com. * Rencontres d' Arles famous photography festival, includes workshops and other programs through September 19. Details at www.rencontres-arles.com. * The Centre National du Costume de Scène (National Theatrical Costume Center) in Moulins is paying homage to the Diva, that prima donna endowed with a magnetic aura and exercising fascination over her audience, via an exhibition entitled Vestiaires de divas (The Divas' dressing room), until December 31, 2010. * The Opening of Jean Cocteau's House took place on June 24 in Milly-la-Forêt. Purchased in 1947 with Jean Marais, Jean Cocteau's house in Milly-la-Forêt was the theater of creation for his most important works. Harmony exists with the buildings and gardens and the aesthetic quality of the property allowed it to become his refuge. Closed Mondays and Tuesdays. Contact www.jeancocteau.net for open hours and admission fees.
o Some 14,000 Spaniards will cross the border into France to pick grapes during this year's vendange, up 3.7% from last year, primarily due to Spain's 20%+ unemployment rate. The hourly wage in France of about 8.86 euros compares to Spain's hourly rate of 6.10 euros according to unions. The pickers will arrive at the end of August and stay for three to three and a half weeks.
In the US . . .
o Monday, September 13th is the date scheduled for the premier of Lafayette: The Lost Hero on PBS stations at 10 PM Eastern Time. The documentary chronicles the adventure, romance, history and drama surrounding the life of Marie-Joseph Paul Yves Roch Gilbert du Motier, known more familiarly as the Marquis de Lafayette, an important figure in both the American and French revolutions of the late 18th century. Our thanks to Kate Kelly of WETA (Washington DC public television) for this advance notice. More information at http://www.weta.org/. For those interested in staying in château B&Bs in France that have strong connections to General Lafayette, check out Château de Reignac in the Loire and Château de Vollore in the Auvergne.
o There is a lot of wine web sites out there, but the buzz these days is about Wine-searcher.com (from New Zealand) which provides a database of over 18,000 retailers and where you can compare inventory and prices of wines you must have. If you've enjoyed a particular wine in a restaurant or at a friend's house, you can search for the nearest retailer on wine-searcher.com by entering your ZIP code. The site has received good reviews for transparency and its up-to-date accuracy, with the only complaints focusing on a few retailers who are less than honest about their inventories and prices. Visit them at http://www.wine-searcher.com.
o Twilight Visions: Surrealism, Photography and Paris is the exhibit at the Jepson Center, Savannah, Georgia, through October 10th. Paris in the 1920s and 1930s is explored through photos, books, films not only of day and night but through fantasy and reality, modernism and nostalgia and beauty and the grotesque. More information at www.telfair.org.
o The Morgan Library and Museum in New York will host the exhibit American Women Rebuilding France, 1918 - 1924, from September 3 until November 21. As seen through photographs and film documenting the humanitarian work of Anne Morgan, the daughter of financier J. Pierpont Morgan, the reconstruction projects undertaken by some 350 American women in the Picardy region of war-torn France is vividly presented. The Château de Blerancourt where the women lived in wood barracks is now the Franco-American Museum. Get details of the exhibit at www.morganlibrary.org.
o Philadelphia's Museum of Art brings us the exhibit, Late Renoir, as the artist left the Impressionism of his youth to take inspiration from the Old Masters in the last decades of his life. Visitors will see 80 paintings, sculptures and drawings that he completed despite his battle with debilitating rheumatoid arthritis. Some pieces by Bonnard, Matisse and others are also on exhibit. Until September 6th. Information available at www.philamuseum.org.


---

Our Readers Write about France . . .


Some time ago, we asked readers to submit their own experiences of France to us in the form of short articles
~ photos included ~ so that their time in France can be shared with all our subscribers. We're looking forward to receiving yours!
In keeping with our recent theme of encouraging independent travel to France, we are happy to include the following article from
a very special subscriber, Rosemary Chiaverini, of California. You'll be hearing more from her in the future! Enjoy!




SOLE SEARCHING

by Rosemary Chiaverini

Alone. Just the word itself used to demoralize me. It connoted separation, loneliness and abandonment. As a result, I did nothing alone. Every single thing I did, I needed to do with my 'side car' ~ a friend for company.
There weren't too many people in my life who could afford the time and expense of a trip abroad, and so the years went by and with them my French dreams. The passage of time and an unfulfilled life did nothing to motivate me to change my perception of 'alone.' As a result, my trips to France were limited to getting lost in the glossy pages of delicious coffee table books on all things French.
Then in 1982 while working for Alan Alda as his personal assistant, I was given the task of transcribing his commencement address to Connecticut College. I typed mindlessly as he was in a hurry to see a draft, but then he said these words:
"Be brave enough to live life creatively. The creative is the place where no one else has ever been.
It is not the previously known. You have to leave the city of your comfort and go into the wilderness of your intuition.
You can't get there by bus, only by hard work and risk and by not quite knowing what you're doing,
but what you'll discover will be wonderful. What you'll discover will be yourself."
That paragraph changed my life.
Until three years ago, I was in that city of comfort to which Alan referred. Although I had eventually closed the coffee table book and boarded a plane to Paris, a 'side car' came along; only this one had a passport.
Then fate stepped in. I had back-to-back unfulfilling trips. The first one planted the seed of 'next time' The second one, however, caused me to constantly mutter under my breath and to anyone who would listen: "My next trip will be toute seule."
So with Alan's words implanted, I planned my first solo trip EVER. My formerly blank itinerary was now full of anticipation, excitement and a sense of adventure. I love exploring the remote villages of France and discovering that special café. All my past trips had been with my little Renault or Peugeot hugging the tiny country roads. For this first solo trip, however, I needed to take public transportation to my final destination and for day trips as well. But how does one visit the wonders and splendors of France without the freedom of a car for exploration and discovery?
Two of the most the most wonderful things about France are its transportation system and its road network that make it easy to travel to virtually every angle of the hexagon. Paris will always be at the top of everyone's list (mine, too) and from there you can take the train or TGV to a specific region. Or you can pick up your car and courageously face the periphérique and head to a medieval village. You're ready to venture out – but with all the choices, which one will you make?
This is where the fun begins – the journey of self-discovery. Remember Alan's words about living life creatively? You plant the seeds by taking time to ask the important questions about yourself and your preferences. What interests me the most? What do I want to bring home from this trip? What kind of experiences do I want to have? What is on my "Must See" and "Must Do" lists?
Take your time to answer these questions – do very deep soul searching. Remember, this trip to France will be your trip to France. Every day you will be making the decision as to how you want to spend your time. No longer will there be the comfort conversation: "What do you want to do today?" " don't know – what do you want to do today?" No longer will you have to dig into your inner resources for patience and tolerance while you visit yet one more castle while what you really wanted to do was see the lavender in bloom around the Abbey de Senanque and hear the monks chanting. Ask the questions, and then listen for the answers. Disregard anything that begins with the words I should, and embrace all thoughts that begin with the words I want.
For what will happen is this: Instead of being a tourist in France and going to places a guidebook says are "must-sees," you will become a traveler visiting France and going to places your soul beckons to be.
So where is your spirit taking you? Are you a WW II buff? Then perhaps Normandy would be a good place to start. Do you love outdoor sports and mountains? Then Franche Comté or any département near the Pyrénées would be good choices. Are you interested in wine? Then think Aquitaine or Burgundy. Are you like me and love music and cultural manifestations? Then the South of France, which is abundant with festivals, is for you.
To make yours a full vacation where you get to know the French people and live the way they live, my suggestion is to pick one place and stay there for a period of time. We Americans are always rushing from place to place and thinking of the next day and the next town instead of allowing time for total immersion and absorption in where you are – at the moment.
Here's where the 'sole searching' comes into play. Which city, town, or village will you make your home base? Your home base will become just that . . . a home. Once you park or arrive by train or bus, it's time to settle in and let the days unfold. You will get to know the people at your château, manor house or B&B, and you will be treated more like a guest in a home instead of a client. The hosts get to know you, and you will find that little hospitality nuances have started to sneak into your daily living. One morning, it might be an extra serving of your favorite bread bursting out of the basket near your plate. Or, you'll find a small bottle of wine and some cookies in your room when you return from sightseeing. Perhaps Monsieur wants to take you to le Mont St. Michel at high tide since he has a special permit that allows him to park where no one else can park. You see, not only are you getting to know the French – the French are getting to know you. A longer stay turns your two weeks' vacation into 14 days of once in a lifetime experiences.
My first choice for traveling solo was the French Riviera for a variety of reasons. I love the sea, I need to be intellectually stimulated with art and music, good food is a must, and there needs to be a choice of excursions to a variety of interesting places easily accessible from Nice. (At the end of the trip, I added one more advantage – the efficiency and size of Nice Airport!) Plus, in July there are two major annual jazz festivals going on – with jam sessions at hotels going on into the early hours of the mornings.
In the two weeks I was there, I took local trains, regional trains, a tourist train to Digne, a boat, a hydrofoil, the tram around Nice and even a parasail. All this was done after unpacking once and getting comfortable with my 'home' for the two weeks. I visited Cannes, Antibes, Juan-les-Pins, Cagnes-sur-Mer, and the Friday market in Ventimiglia, Italy, all by train.
My choice of a place to stay was a wonderful boutique hotel named the Villa La Tour. I chose it because the building had an interesting past, and its location could not be more ideal: it was within walking distance to the Mediterranean Sea, on the edge of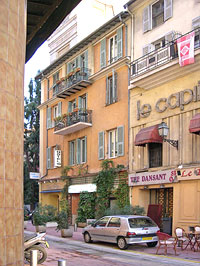 Old Town and right across the street from the Gare Routière which is the main hub for the local regional buses to such fabulous villages as St. Paul de Vence, Vence and Sospel. I had stayed at the Villa La Tour for several nights a few years back and, based upon that experience, decided to call it home.
Barbara Kimmig, the charming owner, greeted me as I arrived as did Eva, her very efficient front office manager, and when I entered my room I was welcomed back with a small bottle of red wine and a hand-written note from the two of them.
Once unpacked, I engaged in my favorite ritual – walking along the Promenade des Anglais to watch the sea turn five shades of blue while listening to Diana Krall. To this day, every time I hear Diana's version of 'S Wonderful I am transported back to those balmy nights walking along the Promenade with couples holding hands, families and babies out for an evening stroll, as rollerbladers wove in and out of the crowd. Cole Porter may be keenly associated with the French Riviera, but to me it will always be Diana and Gershwin. There is nothing more 's wonderful than sitting on one of those white benches with your legs on the railing, just getting lost in the sunset changing colors and the smell of the sea air.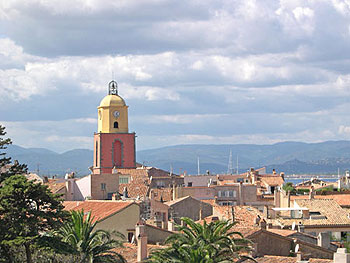 Now it's time to heed Alan's next advice and "go into the wilderness of your intuition." My first suggestion is to visit the local tourist office. Get a map of the city and of the environs. Ask if there is a Tourist Card or a Museum Pass that allows you to visit the highlights and the museums for minimal cost. If you are using public transportation and not a car, inquire about the availability of a train and/or bus pass and obtain the current bus and train schedules. If you are traveling by car, ask the tourist office to indicate on the map where the gas stations are and a list of times they are open. In addition, ask about payment options as most gas stations in France do not take our U.S. issued credit cards. On your way out, pick up all the brochures on the welcoming kiosk that are of interest to you.
continued on page 3
---