THE LIGHTHOUSE: A fading tradition?
Ten years ago, our feature article was about the myriad inventions by the French from hot air balloons and photography to the aqua lung and a computer memory chip in a plastic card. After that article was published even more inventions by the French came to light. But, did you know that a French physicist, Augustin-Jean Fresnel (1788-1827), invented the crystal lens for lighthouses, and another Frenchman, engineer Leon Bourdelles (1838-1899), put those turning lamps on a mercury flotation system that would move with the earth as well as eliminate friction? The combined system was first used in 1893.
France has over 2000 miles of coastline on the Channel, the Atlantic and the Mediterranean, and lighthouses are an integral part of these rocky shores and must be visible for up to thirty miles out to sea. Some lighthouses are popular tourist attractions, while others are unreachable and unmanned, except for the occasional visit by a maintenance technician.
I don't know about you, but I adore lighthouses. Having grown up on Long Island, New York, they were a common sight as the Island is home to twenty-four lighthouses. Vacations in New England and north brought us to more lighthouses - the Nobska lighthouse at Wood's Hole or the Nauset lighthouse, both on Cape Cod, and the Rose Island lighthouse at Jamestown, Rhode Island. And, one mustn't fail to mention the 28 essential beacons on Prince Edward Island in the Canadian Maritimes - standing watch on windswept knolls at the very edge of the sea.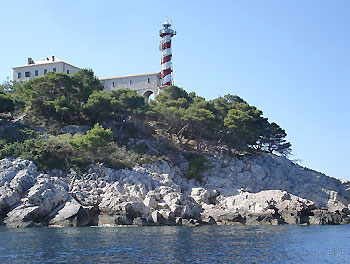 My interest in lighthouses may be inbred, as my grandfather, when just a teenager, became a merchant seaman sailing from his home on the Adriatic. I'm sure lighthouses played an important role in his life as he traveled the world by sea - those shining beacons warning sailors of reefs, shoals and a rocky coastline. I can no longer ask him about them, but I'll wager that he liked, and most certainly appreciated, lighthouses as much, if not more, than I. Perhaps as he set sail this is the lighthouse he last saw along the coast of his homeland - which brings us back to France, as it was made in France in 1876 - the only iron tower on the Adriatic Sea. Workers on site had to bolt and weld it together before its beacon could be lit.
continued on page 2