This column is intended to advise you about cultural events, news and happenings
in France or France-related events taking place in the United States
between now and the publication of our next issue.
In France. . .
o News from France: Sunday shopping in Paris was approved by the French government in April and will become a reality at the end of 2014. Those trying to preserve French culture and the tradition of Sundays off were very much opposed to the decision. The measures will only be applicable to shops in defined tourist zones of the city. Foreign Minister Laurent Fabias (also responsible for trade and tourism) said he thinks it will benefit the country if tourists could shop any day of the week. . . The Paris Zoological Park in the Bois de Vincennes east of Paris reopened April 8th after being closed for six years of renovations. It originally opened in 1934, and with $230 million in upgrades and improvements, it will once again share its 1000 animals belonging to 179 species with the public... Renowned French filmmaker, Alain Resnais, whose intellectual contributions to film included Last Day at Marienbad and Hiroshima Mon Amour died March 1 at the age of 91. He was an important member of the French 'New Wave' and was praised by French President Hollande as one of the nation's greatest filmmakers. . . French drivers are protesting the proposal to lower speed limits on the nation's secondary roads from 90 kilometers per hour to 80 kilometers per hour (approximately 49 miles per hour from 55 miles per hour). Especially angry about the proposal are motorcyclists, but the National Center for Road Safety (CNSR) believes this will reduce the number of traffic accidents. Reduction in the speed limit 10 years ago cut fatal accidents in France in half. The plan will first be tried in certain regions. . . The European Parliament endorsed a plan to limit the use of plastic shopping bags, carelessly thrown away, ending up as litter and polluting the environment. Some EU countries have already taken steps in that direction. May is the month the new Parliament takes charge, so final approval and implementation is expected to take a good deal of time. . . Smoking in France is again in the news. Although the French have cut back on alcohol consumption, taken up jogging quite seriously, and are slimmer than anyone else in the Western world according to our sources, they are only beginning to take more seriously the health risks of smoking. It has been banned in offices and restaurants for quite a long time, but now cigarette sales have fallen nearly 8 percent over last year and statistics show that only 27% of adults in France smoke, down from 33% in 2010. The French Senate is encouraging an increase in the price of a pack of cigarettes from its current 7 euros - nearly $10 US - even as E-cigarettes are gaining in popularity, which carry health risks of their own. . . Paris is still the world's top tourist destination, and despite the economy, 2013 had the highest number of foreign visitors in ten years with almost 15.5 million, an 8.2% increase over 2012. . . Art identified as stolen by the Nazis during World War II and that is in France is kept in French museums that must report the works and display them in the hopes that rightful owners or their heirs will see and claim them. In March, France returned three paintings to their owners, but some 2000 pieces of art still remain unclaimed. To date, they have only managed to return 70 pieces. . . Paris has it first female Mayor, Spanish-born Socialist Ann Hidalgo, who won by a substantial margin on an election day that saw her party being trounced elsewhere. She was born in Cadiz and was brought to France as an infant to grow up in a working class neighborhood of Lyon. She favors working closely with those in the Green party and promises thousands of new housing units and 5,000 kindergarten places for the city [courtesy of Expatica] . . . Filmmakers in France are not happy that Netflix, the California-based streaming video service, has invaded France by way of Luxembourg (to avoid some French regulations). They claim it will harm their industry and is an unfair competitor. Netflix is already several other EU nations. . . In February two stolen paintings, one by Bonnard and the other by Gauguin, were found in Italy. Their theft and recovery is worthy of a movie, as they disappeared from a London family in 1970, were abandoned on a train, found in the lost and found of an Italian train station, and sold at auction in 1975 to a factory worker who had them hanging in his kitchen ever since. He bought them for the equivalent today of 23 euros. Lengthy detective work, following a tip that they might be stolen, traced auctions, exhibition catalogs and old newspaper reports, to find the family to whom they belonged. A final decision on their disposition has not been decided.
o The amazing Chauvet Cave (see our September 2007 issue) was first revealed to us in the book The Dawn of Art: The Chauvet Cave (The Oldest Known Paintings in the World) by Jean-Marie Chauvet. Naturally, after lessons learned at Lascaux in the Dordogne, the Chauvet Cave's location was kept a secret to preserve the painting so easily damaged by human presence. Now there is a replica, as was created at Lascaux, that will open in late 2014. The paintings predate those of Lascaux by 19,000 years, and the replica is 37,000 square feet and will simulate as much of the art as possible located in the original, larger cave. The beautiful book is still available at Amazon.com. For more information about visiting this replica of Chauvet Cave, visit the French Tourism Board web site at http://www.rendezvousenfrance.com.
o Marseille's Museé des Civilisations de l'Europe et de la Méditerranée presents three exhibits: ancient bronzes, Splendeurs de Volubilis, most excavated in Morocco; Le Monde à l Envers, exploring the carnival traditions of Europe and the Mediterranean - both running through August 25; and Des Artistes dans la Cité, focusing on contemporary Moroccan artists through painting and performance, through September 8. Information available at www.mucem.org.
o Cathedrals 1789 - 1914, un mythe moderne is the exhibit in Rouen through August 31 presented by the city's Musée des Beaux Arts. Over 180 masterworks from paintings and sculptures to jewelry and furnishings as well as photography and films will be on display.
o Yerres, about twenty minutes by train from Paris, was the family home of Gustave Caillebotte and the location for Caillebotte à Yerres, au Temps de l'Impressionnisme. Most of the paintings have never been on public display. Through July 20. Visitors will be able to explore the property to see where the artist set up his easel. Details available at www.yerres.fr.
o Musée du Luxembourg in Paris will mark the 200th anniversary of the death of Empress Joséphine with works from her private art collection. Artifacts from her origins as Joséphine de Beauharnais, daughter of a sugar plantation owner from Martinique, to her widowhood during the Reign of Terror, her later marriage to Napoleon Bonaparte, and her life after their divorce, will be on exhibit. Through June 29. Information at www.museeduluxembourg.fr.
o The Musée Rodin is the venue for Mapplethorpe-Rodin through September 21, featuring 50 sculptures and 120 photographs from these two very different artists, exploring common themes in their work. More details at www.musee-rodin.fr.
o Paris' Grand Palais will host a grand exhibit to commemorate the 2000 anniversary of the death of Roman Emperor Augustus I entitled, Moi, Auguste, Empereur de Rome. A recreation of a villa, frescoes and art objects, statues, furniture and more will be on display to show the visitor the impact this one man had not only on Romans but citizens elsewhere that came under his influence. To July 13. More information at www.grandpalais.fr.
o The Musée Jacquemart-André (one of our favorites in Paris) will feature De Watteau à Fragonard, les Fêtes Galantes - Le Temps de L'Insouciance, showcasing the French, German, English and American masters of 18th century Rococo paintings - noble ladies, idealized outdoor settings, and more - through July 21. Information at www.musee-jacquemart-andre.com.
o The Pompidou Centre hosts the first major European exhibit of the work of the late photographer Henri Cartier-Bresson. More than 300 photos, films and documentary materials recording the great events of the 20th century will be on display. Through June 9. Information at www.centrepompidou.fr.
In the US . . .
o Impressionist France: Visions of Nation from Gray to Monet shows how photography in mid-19th century France freed the artists from having to paint realistic images, allowing Impressionism to take a foothold. Seven categories of landscape are displayed in 125 works. Until July 6 at the Saint Louis Art Museum. Visit www.slam.org.
o Corning, New York, is the appropriate setting for René Lalique: Enchanted by Glass through January 4, 2015 at the Corning Museum of Glass. A companion exhibit, Designing for a New Century: Works on Paper by Lalique and his Contemporaries, presents rare books, photos and design drawings. More information at www.cmog.org.
o Washington, D.C.'s National Gallery of Art presents Degas/Cassatt offering insight into the close artistic ties between two renowned Impressionists. Over 70 works of art show the influence each had on the other. Through October 5. Information at www.nga.gov.
o The National Gallery of Art has sent some 70 Impressionist and Post-Impressionist works on tour - Intimate Impressionism from the National Gallery of Art is the title capturing the art of Gauguin, Degas, Bonnard, Monet, Renoir and Manet. Through August 3 at San Francisco's Legion of Honor. Details at legionofhonor.famsf.org.
o The Loire Valley's incredibly beautiful Château de Challain is offering Jazz Weekend Specials from November to March 2015. Up to 24 guests can have exclusive rental of the château for two nights, including a 3-course dinner the first night, and breakfast on two mornings. Cocktails and canapés prior to a four-course dinner will be served on the second night, and a local jazz band will play from 8 to midnight. For more information, please contact inquiry@au-chateau.com and put Jazz in the subject line.
o Classical music concerts will be offered in June, July, August, September and December at the elegant Château de la Ballue in Brittany. Their gardens are registered Historical Monuments and are not to be missed. To schedule a visit, to attend a concert or to book a lovely bed and breakfast room at the château, please contact inquiry@au-chateau.com and put Ballue in the subject line.


Other Countries . . .
o Montreal, Canada's Centre de Sciences de Montréal will host Scenes from the Stone Age: The Cave Paintings of Lascaux, a virtual tour of this World Heritage Site. Through September 15. More information at www.centredessciencesdemontreal.com.





THE LIGHTHOUSE: A fading tradition? . . . continued

Traditional lighthouses are quite distinctive, capturing your attention as you drive along a coastal road. Many of them are similar in design, embellished with wide red and white or black and white horizontal bands. Some are exceptionally tall; some are short and stout, while others are simply the light atop a lonely lightkeeper's house. One of the tallest at 450 feet was Pharos in Alexandria, Egypt - a Wonder of the Ancient World - sadly destroyed in an earthquake in the 14th century. Taken from the ancient Greek pharos, the French word for lighthouse is phare. No matter their height or girth, they all serve the same purpose: to light the way and warn seamen of hazards with their fog horns, bells and even cannons!

As you can imagine, lighthouses must endure rough treatment from the spray or pounding waves of salt water to wind and stormy weather. In France, the expense of maintaining them has become a problem. The French Department of Lighthouses and Signals sees many of them disintegrating, and several years ago, Marc Pointud, a specialist in maritime treasures, sounded the alarm. Those out in the sea rather than on shore are in the worst condition, obviously. People are able to maintain the light in the tower, but the elegant structures themselves are left without care due to budget constraints. Today, skeletal steel structures can be quickly erected with fixed lights rather than those that rotate. Sadly, the romantic lighthouses of centuries past might be replaced by these ugly towers, so every effort must be made to preserve those historic structures that have saved so many ships and lives.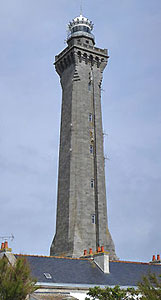 Some lighthouse maintenance in the United States is taken on by local citizen committees or towns who encourage visits by tourists charging admission to help fund maintenance expenses. Since tourists flock to France's lighthouses, a small entry fee can do a lot to help the cause as is being done at Echmühl lighthouse on the Brittany coast near Penmarc'h shown in this photo.
There is certainly an aura of mystery, adventure and drama surrounding lighthouses. September will find us in Normandy and Brittany, and we have planned our driving routes along the Cotentin and Channel coasts to visit many of the lighthouses found there. We will be guided by our trusted Michelin Road Atlas which shows even those lighthouses located miles out to sea. Look for more about France's lighthouses in our Autumn newsletter.

- Editor