2014 : THIRTEENTH « PARIS BEACHES » SUMMER - PARIS PLAGES
by Arthur Gillette

Many years ago I lived with an English sailing companion on the Seine. Our boat was tied up to a quay and attracted the attention of many riverside strollers who thronged by when the weather was clement.

Our mooring was apparently not entirely legal on a long-term basis, and we had to change the site from time to time to avoid river police reprimands. One day, my pal was on land hauling us, sturdy rope in hand, toward a new berth, while I was on the foredeck fending off the quay with a boathook. My eyes were on his hand signals, and I didn't notice that my boathook was just about to slip onto a quayside steel plate. Suddenly, skreek! Slip it did, and I flipped head-over-heels into the river. Yuck! It was disgustingly filthy!

No wonder, we later mused, that in something like a year as floating Seine residents we had never seen anybody take a dip in the river - where, in any event, swimming was interdit.

That has not always been the case, however. Here, for example, is a postcard of a Seine-side beach in 1903: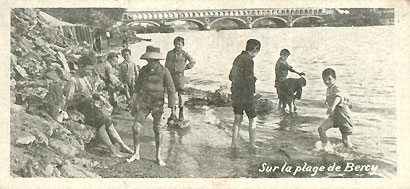 Our jobs took my friend and me away from Paris soon afterwards, and the boat was sold. We were thus (happily) absent when the strollers' Seine quays were converted into roaring, heavily trafficked and quite polluted motorways. Okay, no swimming was missed, but many Parisians - not to forget visitors - felt deprived of and nostalgic for Seine-side strolls and relaxation.
Time passed and an ecology-oriented municipal government was elected in 2001. An early project, brought to fruition in 2002, was the July-August conversion of at least some of those highways into a Paris Plage - a Paris Beach.

Over the years this annual project has offered more and more varied facilities and activities. Just a few (car-free and thus carefree) mileposts: during the horrendous 2003 heat wave, many huge 'fog showers' sprayed welcome relief; in 2005, rowing initiation courses were begun; 2006 saw the installation of a floating swimming pool, where, for decency's sake and as for all riverside sun-bathers, topless bathing suits were forbidden; in 2007 bars opened, some as guinguettes with live music to dance to; and 2011 saw the installation of a kilometer-long beach of real sand, not to forget the possibilities of practicing tai-chi, beach volleyball, pedal boating and kayaking.
No wonder that fully two-thirds of Trip Advisor reactions to Paris Plage rate the operation 'good' or 'excellent'!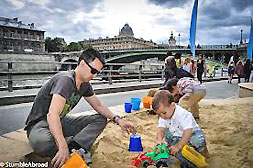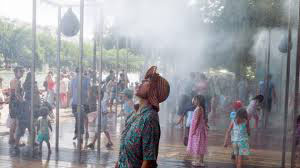 Children love to play in the sand Misting provides welcome relief
Given its increasing variety, the operation has become 'Paris Plages - Paris Beaches'. And this year they will be open from July 20 until August 17, aiming to attract and please ever-growing numbers of French and foreign visitors as well as Parisians who, for one reason or another, are not leaving town for the summer
Something on the order of three million people are expected, of whom perhaps as many as a quarter will take part in organized activities. The rest will content themselves - and how! - with a pleasant, traffic-free riverside stroll.
Contact Arthur Gillette to take advantage of his amazing knowledge of Paris
(and France) by enjoying one or more of his Paris Through the Ages Strolls.
Visit our Marketplace page for a complete list of strolls and information about Arthur.
Email: pouchkine38@gmail.com

Editor's note: If you've wondered, as we have, where all that sand comes from,
about 5,000 tons of sand is barged into Paris from Normandy each year!


---
SPONSORING THIS ISSUE

Find France's most special places to stay on a web site that offers
personal service from your first inquiry to confirming your reservations.
au Château offers over 85 unique properties for bed and breakfast accommodations,
weekly rentals, or self-catering gîtes on a château estate. We have member properties
from the north near Calais to Provence, and from the foothills of the Alps to the Atlantic.
Experience the most delightful getaways in the bucolic French countryside.
Visit au Château today!

---