"The traveler sees what he sees. The tourist sees what he has come to see."
-
G. K. Chesterton
FRANCE On Your Own is going to sponsor its second photo contest for amateur photographers who submit their own photos of France. Many of you have a photo taken in France that you think is special. Share it with us! The submission deadline is December 31, 2012, and all photos must be the sole property of the sender.
Photos should be emailed to us in .jpg format and no larger that 2000 pixels on the long side. They must be fully described in an accompanying email as to date taken, exact location and include the complete name of the subject of the photo (building, monument, village, beach, national park, etc.). The name, email and country of residence of the photographer must also be included. Send to publisher@franceonyourown.com with Photo Contest Two in the subject line.
We will select a dozen photos to include in our Winter 2013 newsletter, and we'll ask readers to vote for their favorite. The top three choices will be in the Spring issue of FRANCE On Your Own. The photo receiving the most votes will be our winner - and the photographer will receive a prize.
Gather your photos together and submit them to us - maximum of three photos per entrant, please. Here is last year's winning photo of Najac Castle submitted by Garth Bailey of Alberta, Canada.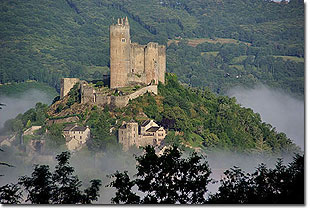 ---
As many of you may be visiting France in the autumn this year, we want you to know about European Heritage Days, celebrated by citizens in 50 countries and established in 1991 by the Council of Europe. It was based upon a French idea from 1983 and has been a joint action with the COE and the European Commission since 1999 ~ putting new cultural assets on view and opening up historical buildings normally closed to the public. In France it is known as Les Journées du Patrimoine (National Heritage Weekend) that is always the third weekend of September - this year the 15th and 16th.
Paris offers heritage trails and architectural trails focusing on Paris' buildings. Or, on your own you can go behind the scenes at the Elysée Palace, the Moulin Rouge, and a host of places not usually open to the general public. In the countryside, as well as in the cities, endless historic monuments, châteaux, museums, and more are offered without admission costs for those two brief September days. For information about heritage weekend and more to see and do in France, read Ici et Là on page two.