NOTES FROM NARBONNE - Work & Play in the Cathedral City by the Sea by Marlane O'Neill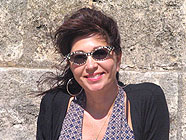 If there is one thing we can count on it is 'change' – and the changes are happening here in Narbonne. For starters, let's take a look at the new view of Place de Jacobins – no more scaffolding, and everything is almost finished. The crews were changing all the time as well; first they were Polish, and they did the initial work of taking out all the old concrete and gutting the building. The Russians were next with shiny new Mercedes and heavy gold watches. Yes, they were the supervisors watching over their own group of men who proceeded to install the electric and water pipes. Just as we were used to their exotic presence, the Portuguese arrived and smoothed over all the ancient exposed rocks with concrete. At last we had a team of Algerians to do the interior plaster work and paint. They started at 7 AM, worked late into the night and on Sundays as well. Did I mention any French? Hmmm . . . this is the European Union exemplified.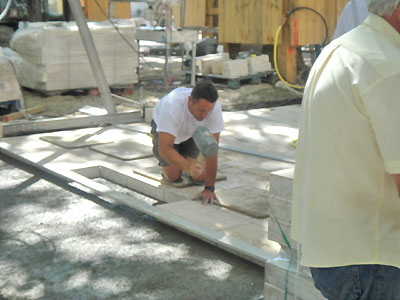 The work in the city center around the canal is zooming along. The workers are putting in the huge, finished heavy stone tiles. Each piece must weigh 100 pounds – roughly two feet long, a foot wide and four inches deep of solid, beautiful pale pavers. The masons are all very hefty and use gigantic rubber mallets to pound in each stone to the exact level of the one next to it. They then pose a string along the length of installed pavers to measure any difference in level by the millimeter. It reminded me of historical novels that portray the excruciating work necessary to build the fantastic churches and cathedrals we have all over Europe. Narbonne's cathedral is one of the most visited in the south of France due to its size and the fact that it remains unfinished.

I was lucky to be strolling by during the inauguration by the mayor and his staff. Mayor Bascou kindly posed for a photo for me and then came over for a chat along with the head of the Narbonne Tourism office. I've since received regular emails from the Tourist Office with guest inquiries. It helps to meet people in high places! Guests at my little bed and breakfast remark how beautiful Narbonne is already, even before the work is done.
The theme for Jours d'Antan, or Days of Yesteryear Festival, was Roman times. In the Place de L'Hôtel de Ville a large stage was placed to feature Roman musicians and actors who played out different vignettes. One was of four bare-chested muscular men who wrestled with each other and fought with heavy chains à la gladiator style. The crowd was enormous, despite the hot sunshine. The Hôtel de Ville was festooned with huge red ribbons and flowers.

La Fête de La Musique was also a big success. This is an event that occurs all over Europe on the 21st of June and everyone stays up until dawn to dance and celebrate the summer solstice – the beginning of summer. In Narbonne we had dozens of lively bands play in various parts of the city. Last year it took place around the canal, but this wasn't possible due to the heavy construction. Thus, the Tourist Office issued a map of all the different locations where music of all kinds could be enjoyed. For the first time in a few years there was no rain, and we danced until dawn, finally! Last year it ended at 1 AM due to heavy rain. Summer 2012 started on the right note.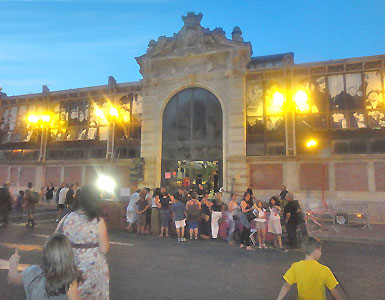 The Festival Occitan is a much smaller event that took place next to Les Halles. It featured – what else – Occitan music that sounds very much like Irish traditional music. We danced square dance style; everyone held hands and snaked in and out between each other until we formed a human knot. It was great fun and people from 8 to 80 years old all participated. There is a surge of interest in original culture and languages of the region. In Narbonne, it is Occitan, in nearby Perpignan which is closer to Spain, it is Catalan.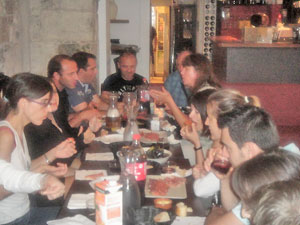 The author (right) and friends at Festival Occitan Annual meeting of NarboRollers
The beginning of summer also brings more sports. Narbonne is famous for kite-surfing, rugby, volleyball and now has a rollerblading club called NarboRollers – and I am a member. Clubs in France are important. Members immediately tutoyer each other on first introduction and the camaraderie is strong. I am a débutante, but the more experienced members are more than helpful, showing me all kinds of moves and ways to increase my speed and expertise. We are officially registered with the City of Narbonne, have rules to follow regarding safety equipment, insurance for accidents, and there is an annual meeting to prepare for the coming year. This year our meeting was held in a small tapas restaurant owned by one of the members. We talked about increasing the present size of 50 members to over 100 at which point the government starts to give us more substantial financial subsidies. That is socialism, and sometimes I think it is a very good thing to have tax money go back to the people rather than subsidize big corporations and banks. There was probably more wine drinking, chatting and smoking than 'official business', but the evening was productive in bringing us all together with common goals and aspirations.
Narbonne is ideal for bicyclists, skaters and rollerbladers with its flat roads and numerous smooth cycling paths. Recently we skated all along the beach in nearby Gruissan. We also take to the country roads that wind through the vineyards.
This year I have taken advantage of one of Narbonne's treasures – its proximity to Barcelona. Within two and a half hours I can be in the center of one of the most exciting major cities in the world. It is said that Barcelona's beach is one of the best urban beaches on the planet, and I agree. I visited a few times this year and really enjoyed the change of language and culture. Many people come through Barcelona to stay in Narbonne as well. Narbonne is considered to be the first 'true' French city north of Spain, as Perpignan and the small towns between it and Spain have more of a Catalan culture.
Narbonne with its tiny winding streets can hold secrets. I discovered one of them when Irish friends decided to vacation here for a week. As there were seven of them, they needed a place much bigger than just a hotel room or two. Nestled in La Cité on one of the oldest streets of Narbonne is a typical maison de maître with arched doubled doorway that used to be the entrance for the horse and carriage. Open these doors and you are greeted by a beautiful large swimming pool surrounded by walls covered with vines and flowers. Inside the house there are painted beams, a traditional kitchen with marble counter tops and lots of beautiful white furnishings and marble fireplaces. The house is about 500 years old and many of the original wall murals have been kept uncovered rather than plastered over which is often the case. A true treasure for vacationers, it is the only house in Narbonne's city center that has a swimming pool.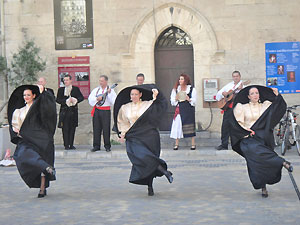 Maison de Maître in Narbonne's La Cité June brought dancers to Narbonne's streets
Starting in mid-June Narbonne becomes full of mysterious figures roaming the town in troubadour outfits and Medieval garb. As they stroll along they'll take a stop and start to sing and dance for restaurant customers and bystanders. While having a coffee in the Place de L'Hôtel de Ville I was treated to several groups who entertained the café crowd. It is almost impossible to describe some of the dancers and costumes. For example one trio of women twirled themselves around until their hoods opened wide like sails on a ship; the photo does the best job of describing how exotic they looked.
The entertainment continues at Place des Jacobins, à la television. One day ITV France called me out of the blue to request the use of my space for about four hours to film a portion of a TV reality series. Four couples are competing for the deluxe honeymoon of a lifetime. A Narbonnais couple thus appeared at the door followed by a chief cameraman, a reporter and a sound man carrying enormous boxes of equipment. The apartment was quickly transformed into a set – furniture pushed aside, candles I never used were lit behind the subject, super-hot lights all made it look like somewhere besides my home.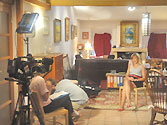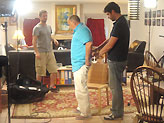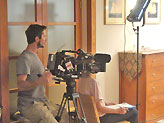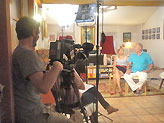 Television film crew at author's home on Place des Jacobins
No one had a carte de visite so I had everyone sign the livre d'or just to know who was in my home. They were all very professional. I acted as hair sprayer – ironically the subject is a hairdresser, but she had her hair falling in her face too often. I also did prop work supplying lamps and chairs. The mess was fixed up rather hastily and not quite to what it had been, but it all went off well. I breathed a sigh of relief when it was all done, and asked the crew why my place was chosen - they had no idea. I suppose I will need to call the producer in Paris to find out. The show will be aired some time the end of the year on French TV; hopefully, there will be the credits they promised me in exchange!
When the sun is hot and city life in Narbonne's center soars over 30 degrees centigrade I like to take to the beach and hang out at La Voile Rouge.[Editor's note: see photos and read more about La Voile Rouge in our Summer 2011 edition.] It is an enormous affair of white tents and red umbrellas put up in mid June; it comes down mid September and is an oasis of fun and relaxation during the summer. La Voile Rouge also provides nice shelter from the famous winds of Narbonne Plage which can cover you with sand everywhere if it blows hard enough. The restaurant is separated into two parts; one which serves haute cuisine and the bar which is separately managed with drinks and nibbles. In addition to les plages of the Narbonne region, we are spoiled with hidden swimming spots in nearby Bize-Minervois. Fresh water cascades in several idyllic spots creating cool swimming holes and bubbling streams under tall shady trees. Lots of large rocks provide tanning spots in the sun. It is a nice change from the salt and sand of the beaches.
For this article I thought it would be nice to return to the roots of my favorite French wine: the Côtes du Rhônes. While they are not from the Languedoc Roussillon their excellence is hard to ignore, and I thought it would be a nice change to include one that I found particularly good.
Domaine des Escaravailles' Les Antimagnes is 70% Grenache and 30% Syrah, two of my favorite wine grapes. Approximately 30,000 bottles have been produced in 2009. The color is ruby red, and the wine is smooth with a heady finish as it is 15% alcohol by volume. maintaining the fruity flavor that I really like about many Côtes de Rhônes. There is a hint of crushed strawberries and raspberries along with a peppery chocolate note that makes it very special. I am looking forward to trying more of the wines of this Domaine as they have several awards for excellence. Click on the link to visit their web site which is still under construction.
Vocabulaire
tutoyer - a familiar form of ''you''
La Cité - the old part of Narbonne, about 1300 years old
Maison de Maître - Master's House or a house that is luxurious and grand in style
débutante - beginner, novice
Carte de Visite - photo identification card; calling card
Livre d'Or - Guest book (literally 'golden book')
La Voile Rouge - The Red Sail
les plages - the beaches
For additional information about living in or visiting Narbonne
by land or canal boat, or for a lovely bed & breakfast stay with Marlane O'Neill
[http://www.narbonnegites.com] contact marlaneoneill@hotmail.com.
[Photo credits: Marlane O'Neill 2012. All rights reserved.
Mouse over photos for additional credit information and descriptions.]

Welcome to summer - Welcome to new arrivals to Paris!
Get ready for The 42nd Bloom Where You're Planted. We have a freshly designed program to help newcomers quickly adjust to living in Paris.
Mark your calendars now: Saturday, 6 October from 9:00 AM until 6:30 PM at The American Church in Paris.
NEW TO PARIS? Jump-start your social and professional network at BLOOM! This is Paris' foremost opportunity for individuals, couples and families to launch a great Parisian experience! The program includes The Bloom Book, lunch, and a Wine & Cheese tasting. The children's program will provide kid-friendly, age appropriate activities and lunch.
Pre-registered participation fees for adults €45 each and for children €15 each. Online registration and payment can be made at bloom.acparis.org.
The American Church in Paris, 65 quai d'Orsay, 75007 Paris. Tel: 01 40 62 05 00 Email contact: acpbloom@yahoo.com