Our Readers Write about France . . .
Some time ago, we asked readers to submit their own experiences of France to us in the form of short articles
~ photos included ~ so that their time in France can be shared with all our subscribers.
We're looking forward to receiving yours!
Here are the fifth and sixth of such vignettes submitted by Cathy Russell from Wisconsin
who has visited France seven times since 2000. We hope you enjoy it!
Chocolat
Chocolate – hot chocolate, cold chocolate, melted chocolate, frozen chocolate, dark chocolate, milk chocolate, chocolate with nuts, fruit, topped or filled – all have a rightful place in the repertoire of a true chocolatier. And where better to experience the delights of chocolate than in France, a mecca of food lovers everywhere.
Of course we had read recommendations from various sources and had our list of Paris sites to check out as we walked the city, but when we entered the small shop on rue Cler, Cacao et Chocolat, we knew we were in a special place. The aroma was heady but at first we couldn't figure out from where. There were chocolates everywhere, of course, but the already formed, although fascinating, chocolates couldn't be exuding the intoxicating richness that we could almost taste.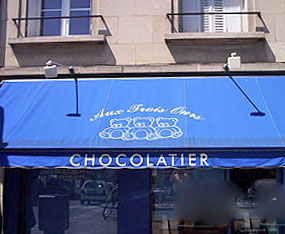 Then we spied the counter tucked into a corner of the shop, with 3 stools lined neatly in front. We looked at each other, wide-eyed, as if to silently confirm that yes, we must have found the jackpot, and sidled over. Just at that moment, a bright young woman, speaking French far too fast for us to understand, came over and poured a cup of melted chocolate for a woman who slipped onto one of the stools. Our mouths dropped as we realized that the content of that cup – far too thick to be called liquid – was the source of the scent that drew us through the shop door.
We pulled ourselves together and tried to look nonchalant – after all, this was Paris – as we sat down and requested the same. Melted chocolate bar. But not just any old chocolate bar. One that was between milk and dark, not too sweet, without bitterness, smooth, with a silky mouth feel that danced with complexity on the tongue. As we sipped, rolling the chocolate around the mouth, we searched after the nuances, trying to identify them, but the blending was so exquisite that we could not. Not even a distant relative to the watery, chalky liquid we were used to, THIS was hot chocolate!
As we got towards the bottom of the cup, we held it tilted to our lips longer and longer in attempt to capture every creamy drop. In the end, we wondered if there was anything in proper French table manners that would permit licking the cup…
Why Not?
Why not? It was a philosophy we came to embrace on our trips to France. Another pair of shoes to add to the collection? Pourquoi pas? How about that fourth dessert of the day? Pourquoi pas? A leisurely stroll along the Seine? Maybe a drive through the countryside to enjoy Monet's garden? Splurge on lunch? Pourquoi pas?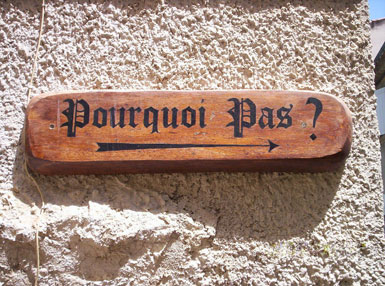 It was only on the way home, with extra weight in our luggage and around our waists, that we began to question the wisdom of this as a way of life. But, oh, how we had enjoyed it while we were still under its spell.
We hope to publish more of Cathy's tales of her adventures and discoveries in France in the near future.
In the meantime, why not send us your stories? We don't promise we can use them all, but we'd love to have the opportunity!


Daily Life in Sixteenth Century Paris . . . as portrayed by the 'Plan de Bâle' - Part 2 of 2
by Arthur Gillette
(Photos: Clara Dudezert)
We are pleased to bring the second of a two-part series of short illustrated vignettes on 16th century Paris.
About 1550, two Paris cartographer/engravers ~ Olivier Truschet and Germain Hoyau ~
carved on wooden blocks and published a map of their city and its suburbs,
some 1 by 1.25 meters in size, showing main monuments and little scenes of daily life of the time.
This was not just a scientific and technological achievement, but also ~ with its brightly colored illustrations ~
an attempt to enhance Paris' reputation and also, according to some specialists, to lure tourists!
Only one copy has survived which was discovered about 1875, strangely uncatalogued,
at the Library of the University of Basel, Switzerland, hence its modern title, the 'Plan de Bâle.'
Arthur Gillette accessed a replica and has been studying its vignettes of (not always charming)
daily life and surroundings. In this feature he shares with our readers a few striking literary descriptions.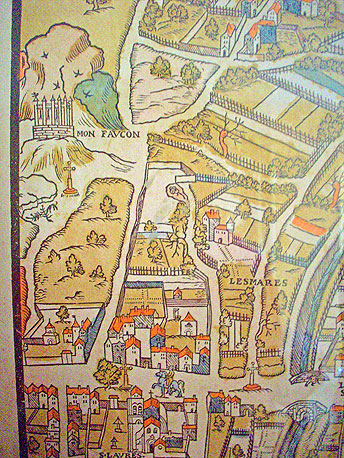 One of the less charming ~ and very gruesome ~ features of daily life in Paris during the sixteenth century was public hangings. The main gallows was the Gibet de Monfaucon built in the thirteenth century near today's Canal St. Martin and where executions continued until 1629. As many as fifty people could be strung up at any given time! The faucon (falcon) referred originally not to the birds who came to feed on the cadavers who were left to rot on the gallows, as you can see in the Plan de Bâle's portrayal of it below, but to a Medieval Count Falco (Latin for 'falcon') on whose hillock it was built. As for gibet (gibbet in English), it stems from the Arabic djebel (mountain). Thus, following an eighth century North African invasion of southern Spain led by a certain Tarik, a mount he conquered became none other than djebel al Tarik (Gibraltar).
A particularly grisly feature of this Plan de Bâle portrayal is seen in the lower portion of this image: a dog feeding on a skeleton that has fallen from the gibet.
Originally built at the end of the 14th century (during the Hundred Years' War against the English) as a fortress defending the eastern entry to Paris, the Bastille was still a formidable Medieval military structure two hundred years later although when the Plan de Bâle was published, King Henri II was already changing it.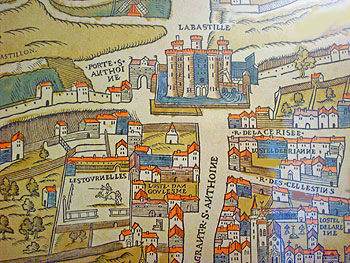 Contrary to a widespread impression, however, it had not become by the time Revolutionaries 'took' it on July 14th 1789 (hence 'Bastille Day') a terrible prison with clanking chains, screams of the tortured, and so on. In fact, its inmates that day included only seven people: one political prisoner, yes, but also four counterfeiters (immediately reincarcerated!), a nobleman who had practiced incest and a madman whose parents paid rent for his apartment there.
Close by was the Palais des Tournelles (Towerlets Palace) visible at the back end of the jousting area in the lower left-hand corner of the image. When the Plan de Bâle was published, King Henri II lived there with his queen, Catherine de Médicis. Very soon after publication, however, he was accidentally killed in a playful (?) joust and, horrified at his fate, she had the Palace torn down. Not long afterwards, the rather large vacant lot thus created was replaced by today's Place des Vosges.

As is evident by the revelations in this article, Arthur Gillette
is a wealth of information about his beloved Paris.
Several of Arthur's guided strolls to discover Paris Through the Ages
~ including his 'Naughty Marais' itinerary taking in the Place des Vosges ~
compare today's reality with the Plan de Bâle's imagery.
Sign up for his 'Medieval Sampler' stroll, which covers St. Germain des Prés, or
any of his other fascinating historic walks listed on our web site's MARKETPLACE page.
Contact Arthur by email at armedv@aol.com.


---


Argentat
FEATURING: The Corrèze - a département of the Limousin region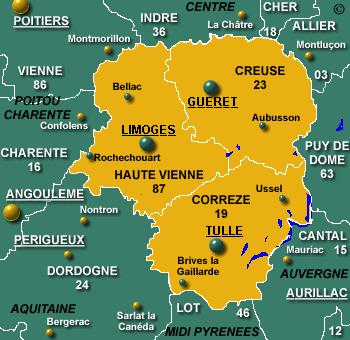 Tucked in between the well-known Dordogne on the west and the rugged Auvergne on the east, and bordered by the Midi-Pyrénées to the south and the rest of the Limousin (of which it is a part) to the north, the Corrèze is absolutely beautiful and offers visitors a wealth of delights.
The Corrèze is one of three départements comprising the Limousin region. Its major cities are Tulle and Brive-la-Gaillarde, and its villages and towns are filled with charm and fascination. You may even be familiar with Collonges-la-Rouge, Argentat, Turenne, Uzerche and Beaulieu-sur-Dordogne. Its landscape is lush, its scenic drives abundant, and the two rivers it shares with its neighbors, the Dordogne and the Vézère, are dramatic and compelling. Its very own River Corrèze has a brief life between Brive and Tulle, and following its scenic course along the N89 is worth your time.
Lovers of the out-of-doors and nature will appreciate the Corrèze's eastern boundary with the Auvergne where they'll discover the Gorges de Dordogne and the Gorges du Chavanon. On the wild Vézère south of Vigeois in the northwest is the Gorges du Saillant, and the Gorges de la Cère is at the département's most southern point. Dozens of small rivers traverse the area, and it is a green and hilly region of France with several large lakes. The many scenic routes invite exploration by car.
We will begin our visit in the large cities ~ first to Brive-la-Gaillarde, which, by the way, is a great place to arrive from or take the train to Paris, making a visit to the Corrèze quite easy. (Visit www.raileurope.com for complete fares and schedules.) Brive (La Gaillarde means 'the bold' owing to its brave citizens historically resisting invasion) is a lively city, and its important rail station creates a hustle and bustle found in more metropolitan areas. It has several museums. One, the Musée Ernest-Rupin, is devoted to items from prehistory through Gothic and includes a collection of Napoléonic furniture donated by a former guard of the Emperor on Elba. Another is Musée Edmond Michelet, named for a French prisoner of Dachau in World War II, also known as Musée de la Résistance et de la Déportation Edmond-Michelet, and dedicated to the French Resistance.
If you are in Brive on a Saturday, you will be able to enjoy the weekly market just outside Eglise St-Martin, a church dating from the 13th century. Produce and interesting products from well beyond the Corrèze are sold in this market, making it quite enticing. The Vielle Ville in the heart of Brive is bordered by a ring road and within its borders are old houses dating as far back as the 15th century.
Not far from Brive, cave fanciers can explore Gouffre de La Fage (chasm) whose underground galleries are home to six species of bats. South along the D920, in the direction of Cahors, are the Grottes de St-Antoine, sandstone caves used by St Anthony of Padua when he lived in Brive. Franciscans still provide a hospitable welcome there for visitors. Then there are the Grottes de Lamouroux, a group of caves in tiers and used in the past in times of danger.
Tulle, almost two thirds smaller than Brive in population, is an historic city with houses on terraces overlooking the River Corrèze. It boasts an elegant cathedral reconstructed from a church by the Abbott Guillaume beginning in 1103. There is also Tulle Abbey, founded on the site of a Roman temple dedicated to the goddess Tutela. And, when visiting the city, don't miss the 13th century Cloisters, whose two restored galleries are all that remain standing after much damage over the years.
Interesting villages are to be found everywhere in the Corrèze, not the least of which is Turenne, population under 800. The ability of the lords of Turenne to resist Viking invaders proved how powerful they were, leading to their independence from royal rule. By the 15th century, Turenne controlled over 1200 villages and several abbeys. A French pun, 'Pompadour pompe, Ventadour vente, Turenne règne' describes the respect given to Turenne, as it loosely translates that the others were full of hot air, while Turenne possessed a noble quality.
The Viscounts of Turenne had absolute rule, much like the French monarchy, even to the point of collecting taxes. The inhabitants of the Turenne lived quiet lives, protected by their lord and fortunate to be taxed less than other French peasants of their day. But in 1738 all that changed when the last viscount of the La Tour d'Auvergne dynasty, penniless, sold the viscounty to Louis XV ~ the taxes were then raised tenfold!
Visitors to Turenne today will be interested not only in the pretty village itself, but its church built in the 16th and 17th centuries in the form of a Greek cross, the elegant homes in the Barri-bas quarter (the old town at the bottom of the hill) attesting to the village's past wealth, and the remains of the Château - the clock and César's tower — destroyed by the King once the viscounty was purchased by the crown.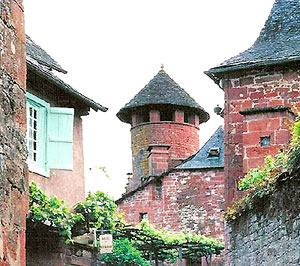 Collonges-la-Rouge, founded in the 8th century and to the east of Turenne, is well-known for its distinctive and beautiful red sandstone buildings. This medieval town is a magnet for tourists, but we are pleased that kiosks and souvenir stands are not in evidence...just the unique buildings from the 15th, 16th and 17th centuries. Heavily fortified during the Hundred Years War is the 11th-12th century Romanesque church complete with battlements, and, similarly, the 16th century home of one of the viscounts of Turenne, Gédéor de Vassinhac, Castel de Vassinhac, is rife with turrets with pepper-pot roofs, towers, watch towers and loopholes. Collonges is a compilation of architectural styles representing Quercy, Limoges and the Périgord. Walking through little Collonges is very enjoyable with many small restaurants along the way. Find rue Noire to get a close up look at old houses adorned in wisteria vines and designed with turrets and towers.
The region around the Corrèze river is known as Vallée de la Corrèze. The river begins just west of Meymac at an altitude of nearly 3000 feet. It then crosses the Monédières range and forms a deep valley in the granite rock. It flows southwesterly through the cities of Tulle and Brive and then merges into and becomes part of the Vézère River. It is here that visitors will discover the Parc du Coiroux and its lake, where beaches and sailing are popular; Sainte-Fortunade, a Romanesque church; Puy de Sarran, a 2700 foot mountain; and the villages of Le Tourondel and Aubazine.
Uzerche, with a population of under 4,000 residents, is a pretty sight, filled with well-designed and well-built mansions and old homes. Its location on a hill in a bend of the River Vézère only adds to its appeal. Many of the buildings have bell towers and pepper-pot roofs. But, its amazing history is as interesting as its architecture, for it was here that the Saracens were duped.
In the year 732, the famed Frankish hero, Charles Martel, defeated the Saracens at Poitiers. The fleeing forces then attacked Uzerche. The town had the protection of high walls and eighteen fortified towers and was able to hold back the invaders for seven years! Starving and near surrender, the townspeople decided they would trick their enemy by an offering of food ~ an offering that would convince the Saracens that Uzerche had ample stores and could continue to hold out. They presented the emir with their last calf and all their corn. The Moors gave up the siege. Uzerche never lost in any siege of the Middle Ages, and to this day its crest bears words that translate 'never sullied'.
Porte Bécharie is the last remaining gateway in the old town, and next to it is the Château Bécharie bearing the city's coat of arms. Place des Vignerons is a small town square with many old houses and the Chapel of Notre-Dame, Uzerche's oldest church. Nearby, off rue St-Nicolas, is place de la Libération where you will find Eglise de St-Pierre, a large Romanesque church from the 12th and 13th centuries, with an 11th century crypt and a 12th century Limousin-style belfry. La Lunade Esplanade will enable you to enjoy a view of the Vézère River and the surrounding landscape.
Argentat is a personal favorite despite the existence of a nearby hydro-electric power station on the upper Dordogne. The town with less than 4000 inhabitants, straddles the Dordogne River along the D12/D18 just southwest of the Gorges de Dordogne. This part of the Corrèze is one scenic drive after another and shouldn't be missed!
Argentat, known for its distinctive schist roof tiles (a crystalline rock easily split into layers) was, in centuries past, a major supplier of wood for barrel making. Today, it is simply a lovely town to visit and remember.
Five Most Beautiful Villages of the Corrèze
Both Collonges-la-Rouge (the very first of the Most Beautiful Villages of France) and Turenne are among the five Most Beautiful Villages located in the Corrèze...now numbering 152 throughout France. The three remaining are Ségur-le-Château, Saint-Robert and Curemonte. Let's pay a brief visit to each.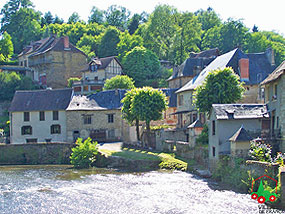 Ségur-le-Château is a tiny village of just under 300 residents deep in the Auvézère River Gorge. It is believed that Ségur goes back to Gallo-Roman times. In the Middle Ages it was home to the first viscounts of Limoges, and in 1470 the birthplace of Jean d'Albret, first king of Navarre, and grandfather of Jeanne d'Albret the mother of King Henri IV. Today, it is a village that attracts painters who capture the charm and character of the old half-timbered houses with their pointed tile roofs, Gothic doorways and turrets. It is located on the D6 east of Thiviers. continued on page 4