This column is intended to advise you about cultural events, news and happenings
in France or France-related events taking place in the United States
between now and the publication of our next issue.
In France. . .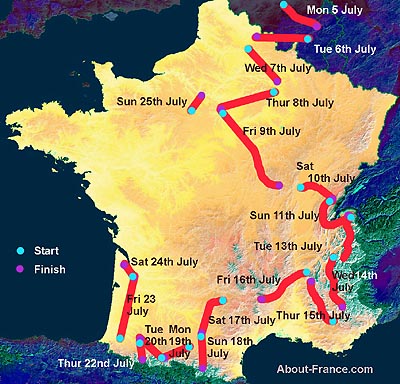 o The Tour de France begins on July 3, this year in Rotterdam, the Netherlands (Pay Bas) and proceeds to Belgium for Stages 3 and 4, where on July 6 the race enters France. It will wend its way through Champagne, the Centre, Burgundy, Franche Comté and the Rhône Alpes before a rest day on July 12. The Tour will then start again on July 13 and head for Provence-Alpes-Côte d'Azur (PACA), continue to Languedoc, the Midi-Pyrénées and Aquitaine. This edition marks the 100th anniversary of the race's first incursion into the Pyrénées when in 1910 Octave Lapize famously conquered the Col du Tourmalet. To celebrate this anniversary there will be two exceptional stages in the Pyrenees, the 20th and 22nd of July. For the 16th stage on the 20th July, the Tour will relive a classic Pyrénéan stage by crossing five Cols: the Peyresourde, Aspin, Tourmalet, Soulor and Aubisque. The stage starts from Bagneres de Luchon finishing in Pau for a day of rest on the 21st.. On the 22nd July for the 17th stage, the race starts from Pau to climb the Marie Blanque and Soulor passes with a finish… at the top of the Col du Tourmalet! Finally, beginning on July 22, the Tour will cover 415 kilometers reaching the Bordeaux/Pauillac area on Saturday, July 24. After being transported to Longjumeau, the final 105 kilometers of the race will end in Paris on July 25th. If you will be in any of the places along the route in July, you may just be able to see the cyclists racing past!
o A thief stole five paintings from Paris' Museum of Modern Art during the early morning hours of Thursday, May 20th, after breaking a window to gain entrance. Embarrassment spread among museum officials and city bureaucrats as the museum's alarm system was not working since the end of March. The paintings have a value of about $100 million, but officials and art experts, including investigators at Interpol in Lyon, are saying that they are too well-known to be sold or displayed and they expressed confidence, based upon past experience, that they will get them back - when, is another question. Stolen were one painting each by Matisse, Modigliani, Leger, Braque and Picasso, all stripped from their frames which were found outside leaning against a wall. Nothing was mentioned in the press about the possibility that it could be someone with inside knowledge that the security system was off!
o New words have been agreed upon to replace five English words used by young people in France. The created words were the result of a competition among young people, and the English word 'newsletter' was among those being replaced. As that interests us, we thought we'd tell you what it and the other four new words are: buzz will become ramdam, tuning (relating to an automobile) will become bolidage, chat is to become éblabla, talk will become débat (not a new word but thought to be a good choice), and, finally, newsletter will be infolettre, a choice we liked the most! The winning students will have time in a French cultural center overseas as their prize.
o Earlier this month, France experienced some very harsh and erratic weather with warnings of avalanches in the Pyrénées, snow in the Languedoc, very high waves washing over the Côte d'Azur, and the closing of the Promenade des Anglais in Nice. Winds of up to 120 kilometers an hour (80 mph) roared across southwestern France from the Midi-Pyrénées to Languedoc-Roussillon. There were widespread power outages in the Ariège. Fortunately, it all passed before the Cannes Film Festival!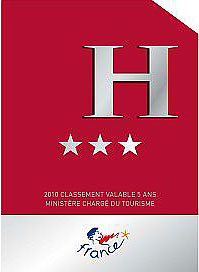 o Of interest to travelers is the new hotel rating system that was put into motion July 22, 2009 in France. Replacing the old blue octagonal shape are rectangles: red for hotels with 1 to 4 stars and gold for hotels with a 5-star rating. All plaques have the official France brand (inaugurated January 1, 2009) at the bottom. Hervé Novelli, Secretary of State for Commerce, Artisanal industry, Small and Mid-sized Business and Tourism, unveiled the redesigned hotel classification signage in a ceremony affixing the new plaque to the Hôtel Caron in Paris' first district. The newly-minted three-star is the first hotel in France to have received the new signage after completing the new vetting process of hotel classification in France which was initiated last year by Novelli. Its a voluntary system, and hotels must meet certain strict standards and a more stringent vetting process. Loans will be made available at very preferential rates for owners to renovate and upgrade their hotels. There are over 17,000 rated hotels in France, most of which are family-owned and operated.
o The First-Ever Normandy Impressionist Festival - Normandy, the birthplace of the Impressionist movement, will host one of France's major cultural events this summer: the first ever Normandy Impressionist Festival. From May through September, towns across both Upper and Lower Normandy will participate with exhibits, concerts, and celebrations not only of painting, but of all the artistic disciplines (music, dance, literature) influenced by the Impressionists and their works. For more information, visit www.normandieimpressionniste.fr.
o Opening: the long-awaited Centre Pompidou-Metz in May 2010. An architectural masterpiece, the Centre Pompidou-Metz was designed by Shigeru Ban Architects (Japan) and Jean de Gastines (France). The 10,700 sq. meter space offers a wide variety of programming possibilities, with the Grand Nave dedicated solely to large-scale installations. The various spaces unfold around a 77-meter spire in reference to 1977, the opening of the Centre Pompidou in Paris. The inaugural exhibit, Chefs d'ouevre? (Masterpieces?), will present nearly 500 works of contemporary art. www.centrepompidou-metz.fr This is but one of several Paris museum 'branches' planned for other French cities. The new branch of the Louvre-LENS broke ground in January and is scheduled to open in 2012 in Lille.
o Jazz in Marciac - from 30 July – 15 August 2010 in the Gers (Midi-Pyrénées) 50 kms southwest of Auch, Marciac has lived by and for jazz for nearly 30 years now. This 13th century bastide has acquired an international reputation with its jazz festival. Every year, for two weeks in August more than 170,000 visitors from all over Europe and the United States gather to celebrate with the biggest jazz stars. For details www.jazzinmarciac.com[see Anita Rieu-Sicart's comprehensive list of music festivals in the Var on page four of this newsletter.]
o Marseille was voted the European Capital of Culture for 2013 - This cultural project brings together several cities in Provence, and Marseille will be sharing the spotlight with Aix-en-Provence and Arles with their magnificent cultural assets. Check out the blog and all the news on events, the EuroMediterranean Ateliers, and the many different projects on the official site: www.marseille-provence2013.fr.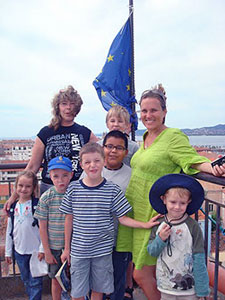 o French (Language) Summer Classes in Cannes, offers French language programs for children (from age 3), teenagers and adults. We offer a pleasant way of learning French while enjoying wonderful vacation in the south of France. Our language programs consist of morning language classes allowing the rest of the day for leisure and recreation. For further information and details about students' time in Paris, please visit the French Summer Classes web site at http://www.frenchsummerclasses.com or sent them an email to info@frenchsummerclasses.com.
o Travel: bits and pieces of information
o Aéroports de Paris is now offering a new service in Terminal 2E of the Paris-Charles de Gaulle Airport: free baby strollers, available 24 hours a day to passengers and located at two loan points just beyond security. There are plans to gradually expand the service to all terminals in Paris-Charles de Gaulle and Paris-Orly. www.aeroportsdeparis.fr.
o New Train Stop in Chamonix (Rhône-Alpes) - the Chamonix-Aiguille du Midi - passengers can arrive from every corner of Europe via the St Gervais line and arrive in Chamonix in the small express valley train. For more information, visit www.raileurope.com.
o NEW: trains between Arles and the Marseille Provence Airport. Details at www.marseille.aeroport.fr
o 2011: Launch of the self-service electric car in Paris - self-service electric car hire service with 3,000 vehicles in 1,000 stations in and around Paris.
o Discover Marseille-Provence through the eyes of its inhabitants - Marseille Provence Greeters is the opportunity to meet with local Provence inhabitants who want to share their knowledge and their legendary lifestyle with visitors. The Marseille-Provence Greeters are volunteers who propose to greet you and show you their vision of their city, their favorite spots and other insider information. www.marseilleprovencegreeters.com
o Vélopop: 200 bicycles ready to use in the centre city of Avignon. www.velopop.fr
o Rail Europe's Anywhere Anytime France™ is the first pre-paid electronic ticketing system for European train travel, ideal for travelers who wish to explore more than two cities in France. Travelers simply create their own Anywhere Anytime France™ account online at www.raileurope.com, purchase a prepaid first class trip at a flat fee of $169, and all subsequent trips cost just $50.
o JOGG'IN CITY: A new way to see Lyon - Lyon offers a unique new way to see the city while staying in shape: "sight-jogging." Historic Lyon, inscribed in the World Patrimony of Humanity by UNESCO, is the ideal spot to combine sightseeing with jogging. Hour-long visits are accompanied by a guide that is part-trainer and part tourist guide. Individual or group jogging tours can be arranged, in English or Italian. www.joggincity.fr (web site in French)
o On foot, by horse, and by shuttle: the new means to access le Mont St-Michel (Brittany) - From the parking lot (with 4200 spots, 8.50 euros per car) visitors can reach the foot of le Mont St-Michel by foot or on a free shuttle. The two-way shuttle has 100 spots and runs year-round from 8 AM. to 1 AM., every 3 or 4 minutes or every 15 minutes depending on the season. A horse-drawn shuttle (6.50 euros round trip per person) will be available as well from 10 AM to 8 PM or from 11 AM to 5 PM every five minutes (or every 15 minutes, depending on the season). The shuttle will transfer visitors from the parking lot to the foot of le Mont St-Michel. The symbolic animal of the region, the horse, offers a clean and playful solution to the transport issue. For people with reduced mobility, a free minibus will take visitors from the parking lot to the top of the church.
[Our thanks to ATOUT FRANCE - France Tourism Development Agency for much of this cultural and travel information.
We thank About-France.com for their allowing us to use their Tour de France route map. Visit them at http://about-france.com]
In the US . . .
o Renovations at Musée d'Orsay / Two Major Exhibitions head west - Starting in November 2009, Musée d'Orsay began a partial renovation and re-installation to prepare for its 25th Anniversary in 2011. Two major exhibitions will head to the U.S. in 2010: Birth of Impressionism: Masterpieces from the Musée d'Orsay and Van Gogh, Gauguin, Cézanne and Beyond: Post-Impressionist Masterpieces from the Musée d'Orsay. San Francisco's de Young Museum will be the only museum in the world to host both exhibitions. Each exhibition will include approximately 100 paintings from the Musée d'Orsay's permanent collection and highlights the work of nearly 40 artists including Cézanne, Degas, Gauguin, Manet, Monet, Pissarro, Renoir, Rousseau, Seurat, Sisley, Toulouse-Lautrec, van Gogh and Vuillard. The Musée d'Orsay will remain open during the renovations, despite the absence of several hundred key pieces of art. www.musee-orsay.fr / www.deyoungmuseum.org
o Air France will increase its number of flights from San Francisco to Paris from seven to ten per week. This will begin June 22 and last through September 4. The new flights will be operated with A340-300s which seat 272 passengers, while the regular daily flights will have a larger capacity with B747s holding 436 passengers. All aircraft offer Voyageur (Economy) and Affaires (Business) classes of service. [Courtesy ATOUT FRANCE - France Tourism Development Agency]
o Matisse: Radical Invention, 1913-1917 sheds light on a little-known time in the career of Henri Matisse. The collection is primarily on the process behind the artwork and is revealing of the influence of the process in his creative evolution. Until June 20 at the Art Institute of Chicago. Visit http://www.artic.edu.
o Leap into the Void: Documents of Nouveau Realist Performance is the exhibit at the Menil Collection, Houston, Texas, through the 8th of August. This exhibit focuses on the avant-garde movement founded in 1960 by Pierre Restany and a group of artists, and presents some of the group's projects. For more information http://www.menil.org.
o Washington Early Music Festival will celebrate the music of French composers of the Medieval period to the Baroque with concerts, workshops and lectures. At various venues in the Washington DC area. For information please pay a visit to http://www.earlymusicdc.org.
o Café and Cabaret: Toulouse-Lautrec's Paris is the title of an interesting exhibit at the Museum of Fine Arts, Boston. A fine selection of his impressions of the nightlife in Montmartre will intrigue visitors to this show. Through August 8. More details are available at http://www.mfa.org.
o Henri Cartier-Bresson: The Modern Century includes about 300 prints from 1929-1989, some never before on public display. These photographs present the artistic talent of the photographer in a creative and documentary way. Through June 28 at New York's Museum of Modern Art. Details at http://www.moma.org.
o Until July 31, 2011 at the National Gallery of Art in Washington DC, be sure to see From Impressionism to Modernism: The Chester Dale Collection. Late 19th- and 20th-century works by French and American masters. Further information at http://www.nga.gov.

---
PARISIAN RELIGIOUS BUILDINGS OFF THE BEATEN TRACK
by Arthur Gillette
Most travelers who visit the French capital on their own
tour Notre Dame Cathedral and at least pass by the Saint-Germain
des Prés Church. But Paris also offers a number of other, lesser-known
religious buildings with often curious (indeed beguiling) histories.
To help you discover some of them, FRANCE On Your Own offers this series
of illustrated short takes ~ in this issue two very different religious buildings.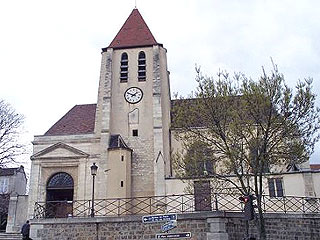 Saint Germain de Charonne
(rue de Bagnolet, 20th arrondissement)
Legend has it that around 430 A.D. Germain, Bishop of Auxerre (not to be confused with Autun's 6th century Germain who gave his name to Saint Germain des Prés), met and blessed on this spot a six-year-old girl from Nanterre. She was Genevieve, later to become Patron Saint of Paris. To commemorate that encounter an oratory was built here, replaced in the 13th century by the church now there. Its 'village-y' aspect is confirmed by the fact that it is one of only two Paris churches still to have its own cemetery. And in that cemetery you can find the tomb built for himself by an 18th-19th century jokester nicknamed Magloire who (falsely) claimed to have been Robespierre's secretary. He liked his drink, and it is said that he was buried with a bottle of red wine, still (full?) in the tomb!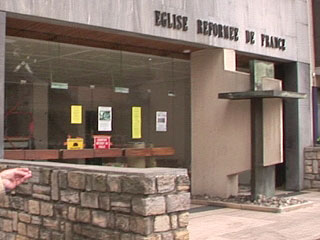 Protestant Temple of Auteuil
(rue Erlanger, 16th arrondissement)
A first 'Reformed' Temple was built here in 1897 for some fifteen parishioners. Only a wooden shack, it was replaced by a brick structure in the 1930s when the neighborhood faithful had reached about 200. By the mid-1960s they had soared to some 500 plus Sunday school pupils. Quandary: how to self-finance a new and bigger church? Answer: construct a building whose upper floors could be sold or rented, and fit the place of worship in the cellar and the lower stories.





Photos courtesy of www.netprof.fr , a free educational site on which
you can see (in French) more on the St-Germain de Charonne and the
Auteuil Protestant Temple ~ on the home page, scroll down to "Histoire de Paris"
and click on Des Lieux de Culte exceptionnels.
Join Arthur Gillette on one of his historic explorations of Paris.
Visit our MARKETPLACE page for his Paris Through the Ages Strolls.


---