IN THIS ISSUE:
Traveling on your own . . .
~ Plan your own visits to France
Paris Enigmas
Ici et Là
Parisian Religious Buildings
Off the Beaten Track
by Arthur Gillette
Our Readers Write about France
~ Chocolat
~ Why Not?
by Cathy Russell
Daily Life in 16th Century Paris
~ as Portrayed by the Plan de Bâle
Part 2
by Arthur Gillette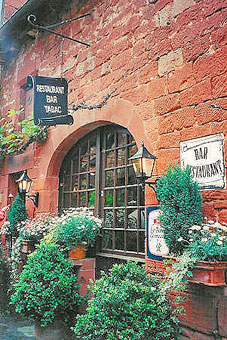 A restaurant in Collonges-la-Rouge
FEATURING:
the Corrèze département
~ and its 5 Most Beautiful Villages
What's On in the Var?
by Anita Rieu-Sicart
Notes from Narbonne
~ Snowflakes to Suntans
by Marlane O'Neill

"Even disasters - there are always disasters when you travel - can be turned into adventures."

There was a time when each edition of this newsletter contained a quotation relating to travel. We have decided to include quotations again, beginning with this Spring 2010 newsletter. Our first is from Marilyn French, an American writer, and we think it is appropriate for our opening comments about independent travel in France.

We believe we offered a lot of good advice in those early newsletters, so this issue will resurrect some of what was written back then, and we hope that it is as relevant today as it was in the Spring of 1998.

---
With regard to independent travel, we believe that only when you take time to learn about a place and then venture out to discover it on your own will you truly find what you are looking for. The little experiences and sudden surprises that come when you are off the beaten path will never be forgotten. The people you meet in places where tourists rarely visit will long be remembered. The joy of finding a superb restaurant in a small village - a place where only the locals dine, but where you are made to feel at home - is an experience that you will recall for years to come. The overwhelming sense of history when you awake in the morning deep in the countryside in a medieval castle will enrich your life. If the walls could talk in those romantic and intriguing places, what would they say about the hundreds of years that have come before?
If, instead, you choose to let a tour organizer or travel agent arrange your entire vacation, or if you decide to join an excursion that covers the exact same route a dozen times a year, you will just hit the high spots on the tourist trail. (Note: We are not telling you not to use a travel agent, but go to them with a clear idea of what you want to do, where you want to go and where you want to stay.) If you wish to become a traveler instead of a tourist, experiencing what the real France has to offer - the hidden pleasures, the out-of-the-way enchanting villages, the rural people who may have seldom met an American or an Australian or a South African, the farmer, the shepherdess, the country innkeeper who treats you like family, the local boulanger who sells you hot bread each morning - then you must treat your visit to France like the adventure it can become.
This isn't to say that you should go unprepared without reservations, of course. You can plan your route and reserve places to stay, but you needn't go just to Paris for five days and then fly home again! And, when you do visit Paris, be sure to see the important tourist attractions, but leave plenty of time to visit the little shops on the side streets, the cozy family restaurants that guide books don't tell you about, the quiet neighborhoods where Parisians live and work each day. Speak with people you meet, show them you are interested in them, ask for advice about seeing their Paris or their region of France, and they will open up a whole new world for you.
France is a unique country. We often find it hard to put into words what France means to us. But, when we try, and even when we fail, those to whom we are speaking say, "We can tell when you talk of France that you really love it! It must be wonderful there!" It truly is.

---
Now, we're back in 2010, and we think it is time to make some recommendations for those travelers who are open to planning their own visit to France from scratch! If you're the kind of person who must have a guide book in hand, we recommend the Eyewitness Travel Guides from Dorling Kindersley Ltd (DK Publishing, Inc) in London and reprinted in the US. They are available in most bookstores. Their regional guides not only focus on the sights worth a visit, but the in-depth descriptions, great photos, facts and history bring to life towns, cities, historic monuments, and little-known facts. They also recommend restaurants, places to stay, have a Survival Guide and give tips on general travel information. Start with them to plan your French holiday.
continued on page 2