FEATURING: Corrèze continued . . .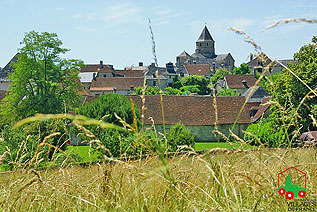 Saint-Robert is located at the Dordogne border on the scenic D5 not far from Brive-la-Gaillarde. This medieval village is perfectly preserved and impeccably maintained, one of the conditions of being designated as one of the Most Beautiful Villages of France. Its twelfth century Romanesque church, Saint-Robert en Corrèze, is the focal point of the village, and the monastery, built at the beginning of the 12th century into the fortified walls of the village, is dedicated to Saint Robert who died in 1067.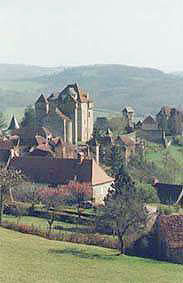 Curemonte is a beautiful village about mid-way between Beaulieu-sur-Dordogne and Collonges. Curemonte has an extremely rich architectural heritage: three castles, three area churches, six or seven 16th century "noble houses", a hall, and various rural houses which have maintained their authenticity. Two of the three castles in the village surround the church and the hall and have belonged to the same families since the 17th century. The Saint-Hilaire castle, having square towers, is the oldest built at the end of the Hundred Years War. The Plas Castle, with round towers, was built in the mid-16th century. Those two castles were home in 1940 to Bel Gazou, the daughter of the renowned French writer, Colette. She chose the village as a retreat for a short time, and while there wrote, "Journal à Rebours", which contains a lyrical reference to Curemonte.
The third castle, La Johannie, was built in the early 15th century and resembles Saint-Hilaire with the primary difference being a high Renaissance style window which is considered a masterpiece. The church is worth visiting ~a large 12th century structure, somewhat modified over time, but fully restored today. A book has been written about the history and preservation of the village: Curemonte : chronique d'une renaissance, and can be purchased at the town hall.
We hope this little visit to the Corrèze has piqued your interest in traveling off the beaten path when you are next in the French countryside. And, if you are seeking fine accommodations during your visit, be sure to look into a few nights at Château du Bois Noir, a charming and cozy retreat on its own wooded estate.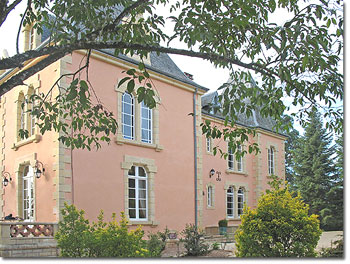 Château du Bois Noir
Located only minutes from the Dordogne and the towns of Brive-la-Gaillarde and Périgueux, this fine chambres d'hôtes offers four beautifully appointed guest rooms with opulent en suite bathrooms. All guest rooms have impressive views of the Corrèze countryside and each of the four bedrooms has been named for an historic person in French history. The owners offer several interesting packages for guests including a three-night Golf package, a two-night In Transit package to discover the surrounding countryside, and a 2010 Christmas package, also three nights, which includes 2 four-course dinners, a Christmas brunch and much more! For nature lovers, there is also a four-night Culinary Hiking package that includes packed lunches to take along on your hike and fine four-course dinners upon your return.
The Corrèze département of the Limousin is rich in history, stunning scenery and natural wonders. Your stay in France will be enhanced by time spent in the Corrèze.
Do visit the web site of the Most Beautiful Villages of France to discover
all the wonderful country villages you can enjoy while in France. The site provides
a history, the highlights and photos of each, and it also explains the criteria
used to select a village to become part of this prestigious group.
Our gratitude to France Keys for allowing us to use their map of the Limousin for this article.
Please visit their very helpful web site at http://www.francekeys.com/english/index.shtml


SUMMER FESTIVALS IN PROVENCE: The Beat is on - The beat is here . . . in the VAR!
by Anita Rieu-Sicart
Editor VAR VILLAGE VOICE


Holiday makers heading for the Var - that fabled corner of Provence, knee deep in vineyards and forests, that stretches from St. Tropez on the coast of the Mediterranean to Lac Ste. Croix and the chasms of the Gorges du Verdon in the north – are in for wonderful treats as the summer season of Festivals of all shapes and sizes takes off.
Perhaps lesser known worldwide than its next door cousin, the Alpes Maritimes - the blitzy, ritzy Riviera / Côte D'Azur - its quieter country cousin the Var also throws itself into celebrating summer with a feast of musical and theater festivals in superb settings.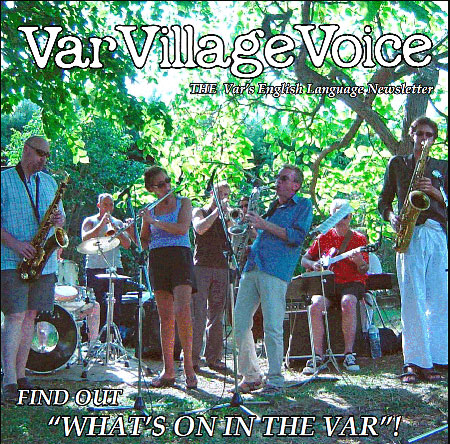 The climate, of course makes, it all possible! One can sit out on a summer's evening under purple night skies, listening to the cicadas chiming desperately in competition with a classical chamber music quartet in some village 'theatre de verdure' all over the Var, with, naturally, a glass of local chilled rose wine in hand.
There are lots of lovely places to stay - countryside gîtes, villas to rent with pools - in the hundreds of hillside villages, plus there are the seaside resorts, like Bormes, Sanary, Hyères, Lavendou, Cavalaire, and Ste Maxime, St. Raphael and of course St. Tropez where one rubs shoulders with the millionaires and stars. And it really pays to penetrate into the 'arrière pays', totally girt about with superb small vineyards – the symbolic Mediterranean umbrella pines quit at the autoroute, the A8 that threads through the center of the Var – but upland the countryside is just as beautiful with small valleys hiding their own very special charm.
There are any number of natural amphitheaters scattered around the many hillsides and vineyards of the Var, home to the Côtes de Provence and Côteaux Varois appellations. After all, the Romans were here not that long ago.
TheSEASON just kicked off this May with the BRAVADES now happening all over – village events involving a lot of dressing up in 18th century uniforms and the discharging of ancient guns and blunderbusses all to salute the village's Patron Saint - for example in St.Tropez where they celebrate in great style, feting their Roman soldier martyr St. Trophim, for several weekends, plus holding a great regatta.
The much smaller villages of Gonfaron and Roquebrussane celebrate in similar style with costumed soldiers, gun salutes, et al all in honor of their local donkeys (Fête de l'Ane) and some legend of a 'Flying donkey', but all good for entertainment and lightening up one's spirits.
Earlier this month a huge Ducati Motorbike Rally vroomed into life at Bauduen on the shores of Lac Ste Croix in the hills, shortly followed by an ever more huge and much-awaited Harley Davidson HOG Rally at Grimaud and St. Tropez when hundreds of Harleys roared into town and up and down the hillsides of the Var. It was vroom, vroom all over; you could stumble into many a village to find the local bars totally taken over by the black leathered, chained and ear ringed Harley hordes, pony tails flying - reminding one possibly of the Mongol hordes - but all in good humor. There was dancing on the beaches to several rock bands far into the night, but now they have roared back home to the far corners of Europe. It likely inspired many a local resident to lock up their wives and daughters.
Festival de L'Anche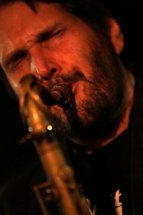 At the end of May there is the Hyères Reed three-day Music Festival – Festival de L'Anche - paying homage to the invaluable 'reed used by all wind musicians, saxophone, oboe, clarinet etc. for most - in fact 90% - of the reeds used by musicians worldwide, are grown in the cane plantations (Les canneries) all around Hyères. The Fest blasts off the first night with a concert by Tenor Sax Generation, - SIX JAZZ tenor sax players – and blast it will be. The events finish up with the Steve Grossman Two Tenors Quintet playing in the cane fields outside Hyères – concerts not to be missed, and most of them are free! This Festival is just a small forerunner of what is to come in July and August.
Local musician Tony Bagwell, baritone sax player and the retired Musical Director of the Sporting Club of Monte Carlo, told me that this all essential reed used to be very patchy in quality, that one tended only to find two useable in a box of ten, but now they are far more reliable.

Art et Vin
Around mid-June the Art et Vin shows will open with wine tastings at around 33 or more domaines and wine châteaux hosting the art works of new and old artists up and the down the Var. Even if you don't like the art, you definitely will like the wines. Don't miss out. Just follow the flags to the domaines.
Mark your calendars for the many other summer events in the Var that you won't want to miss: The Toulon Music Festival runs from 12 June to 17 July, and encompasses opera performances, song recitals, concerts including Les Voix de Sardaigne, and Le Bolero, with Katia and Marielle Labeque at two pianos, from Toulon to Six Fours, with concerts at Châteauvallon, the Tour Royal and all around. . . . Cello Fan will be held the 25th and 26th of June in the small village of Callian, home to a family of quite well known and renowned cello players, who invite their colleagues who this year include Pierre Fournier, Alan Meunier and Paul Tortellier from other orchestras to participate in a very special three-day cello fest with workshops. . . Fête de la Musique on the 21st of June will host concerts up and down the Var in every village on the main streets and all over. . . in fact all over France. . .The season really kicks off in July, with FESTITANGO in La Garde, from 1 – 4 July; two couples Erna & Santiago and Armanda & Adrian Costa, demonstrate the art of the tango and lead the dance classes. . . The seaside town of Hyères (with its own Casino), and La Seyne, nearby town to Toulon, all dive into jazz again. . .and salsa, with free street jazz in every quartier. . . Les Dracenuits Musicales, 27th of June to 30th of July are recitals under the direction of Eric Courreges, flautist, and held mainly at the wine domaine of Château Ste. Roseline in Les Arcs. . . JAZZ À PORQUEROLLES is one of the big guns from the 12th to the 18th of July, attracting headline jazz artists to the island just off the coast at Hyères. Attendees have to boat over to this magic island where no cars are allowed, only bicycles, and you queue up for the boats and bus navettes. This year the headliner is Archie Shepp on saxophone with Marc Ribot, and includes a superb night of music from the Antilles. . . There are jazz and classical concerts in the vineyards all around Lorgues, under the title of FETE DANS LES VIGNES, including events at Chateau de Berne which hosts several Sunday Jazz picnics in their jasmine garden throughout July and August. . .The SOIRÉES ROMANTIQUE DU DOMAINE DU RAYOL are quite something else. The Domaine de Rayol Canadel is a huge garden estate created in the mid 1930s featuring all the best of Mediterranean and allied region's flora from throughout the world. From July 12th to August 9th they hold concerts, usually classical piano recitals on a Monday night, in the open air looking out on a fantastic panorama from the gardens over the blue Mediterranean. It really does not get better than this. This year featured pianists will be Cyril Huve. Philippe Cassaro, Marie-Josephe Jude, Marie-Claire Le Guay, with cellist Francois Salque, and the final concert will be given by two very gifted singer guitarists, Angelique Iontos and Katerina Fotinaki.. . .The village of Grimaud hosts street music from different countries every week under the title of Les Grimaldines. . .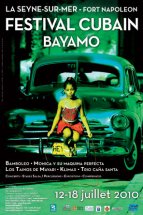 La Seyne sur Mer, next to Toulon, takes off with its FESTIVAL CUBAIN BAYAMO between the 12th and 18th of July with fantastic concerts by the likes of Cana Santa Trio, Monica Mesa, Los Tainos de Mayari, and Klimax – plus salsa classes for debutantes as well as advanced pupils. There are also percussion classes, conferences, Cuban cookery - all providing a totally exhilarating taste of all things Cuban. . . There's a small Opera festival in the village of Pourrières from the 15th to the 23rd of July hosting a unique production of Pauline Viardot & Ivan Tourgueniev's opera Le Dernier Sorcier. . . JAZZ À TOULON provides free jazz concerts in streets, squares and parks all over Toulon from the 16th to the 25th of July. Free jazz reigns! It kicks off with a great concert in Place de la Liberte, Toulon, by the Glen Miller Memorial Band. The diet is very varied, ranging from the Maraca new All Stars Project with David Sanchez, the Memory Big Band, Fly Trio, Steve Laffont Trio, Michel Jonasz Trio, and lots of others. . . The next big event is the VOIX DU GAOU, July 17th to 29th, held on the island just off Six Four. This hosts leading major as well as up-and-coming rap, hip-hop and reggae artists from all over, including this year Skunk Anansie, Bob Sinclair, Babyshambles, Toots & the Maytals, and Julian Marley. Tickets for these events, range from 30 to 38 euros. . . Then 17 July to 7 August the Nuits Musical de Mazaugues starts in the Theatre de Verdure just outside the Mazauges Château, for classical recitals, the Duo KW at two pianos, piano and violin soloists from all over. . . Callas, a small village in the hills, gives its name to its excellent FESTIVAL DE MUSIQUE ANCIENNE, 18 – 30 July - the classical chamber music concerts take place in the churches of Callas and other neighboring villages: Bargemon, Figanieres and Montferrat. Compositions of Bach, Scarlatti, Pergolese, and Monteverdi feature on the programs. . . The Cistercian Abbey of Le Thoronet hosts a feast of MUSIQUE MEDIEAVALE from 18 – 26 July, the program is headed by the Gilles Binchois ensemble, and includes musical contributions from Armenia, England and Japan. . . LES SOIRÉES MUSICALE DE L'ABBAYE ROYALE DE LA CELLE happen next to the l'Hostellerie de la Celle now run by top chef Alain Ducaisse, which makes it very popular with gourmand melomanes. The concerts take places alternately in the Cloister of the Abbey and the nearby Church, and feature chamber music as well as Jazz. The program is not yet available. . . NUITS DU CHATEAU DE LA MOUTTE – St. Tropez, 20 July to 13 August - concerts held in the Château just near the old Port of St Tropez are also magical for their setting – they range from violin recitals, to theatre, homage to Django and Astor Piazzola with two nights devoted to the theme of 'Tango', and a Russian song recital. . . JAZZ AT FORT NAPOLEON, La Seyne sur Mer, usually provides a very varied program of Jazz. The program this summer runs from 26 to 31 July, program details not yet are available. . . LES NOCTURNES DU CHÂTEAU DE VINS-SUR-CARAMY - The Vins sur Caramy Château nestles in a small valley near Brignoles, and provides a charming setting in its courtyard and cloisters for a series of classical concerts. The first is July 8th, and the program continues from the 27th of July to the 13th of August; pianist Eric Le Sage features, and the concerts encompass chamber music, contemporary, baroque and madrigals. At the same time the Festival hosts a series of master classes for students. . . A new arrival on the Var Festival scene is the NUITS DU PIANO DE CABASSE from the 27th of July to the 6th of August, which only started about a year ago. It is hosted by the wine Bastide de Château Requier at its Domaines du Lac, not far from the Lac de Carces. Star pianists will be Anne Queffelec, Stephanie Proot, Augustin Voegole, and Ilya Rashkovskiy. . . At the beginning of August there are smaller village events combining Jazz with classical concerts in Puget sur Argens, La Londe, Le Pradet and Bargeme up in the hill, plus concerts outside the cathedral in St. Raphael, and St. Maximin la Ste. Baume puts on a very varied program of concerts, and organ recitals. For those whose French is up to it there are theatre festivals in Ramatuelle and also in Carqueiranne, featuring classics of Molière and Feydeau. . . Early in August there is also a gem of an International Guitar Festival in the village of Montauroux that is well worth taking in. . . The Cistercian Abbaye de Thoronet continues with another music fest, MUSIQUE & ESPRIT, from the 3rd to the 14th of August, the Russian Choir of St. Petersburg heading the varied program, plus Gregorian chants, trumpet and flute concerts. . .MUSIQUE CORDIALE – SEILLANS, August 4 to 14. This wonderful music Festival nestled in the hills was started just a few years ago by professional musician Pippa Pawlik, who, like so many others, fell in love with the south of France and managed to combine her loves all in one Festival. She has put together amateur and professional musicians and singers (the amateurs pay, the professionals get paid!). That sounded like a recipe for disaster, but it wasn't; the Festival has grown and grown and now gets great reviews. You'll be able to read more about this in later issues of VAR VILLAGE VOICE and its spin off What's On In the Var. This year the program as before will have a Opera Vignette production, this time of Cosi Fan Tutti, some jazz, a baroque showcase, song recitals, Vivaldi, plus choirs, with concerts in Seillans and many of the surrounding hillside villages. . .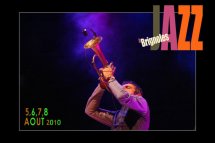 JAZZ À BRIGNOLES, 5 – 8 August. Just a few days of cracking jazz from sessions at apéritif time that tend to be free, to great evening performances by the side of the Caramy River. This year's headliners include NEPS, the Aurore Quartet, Nico Wayne Toussaint, Yan Yalego, and the Var's very own Jojo Labitat, superb jazz accordionist. – if you love the music of Astor Piazzola, you have to hear Jojo! More details at www.jazzabrignoles.net . . .JAZZ AT RAMATUELLE is from the 16th to 20th of August. This Jazz Event plays out in the Theatre de Verdue of Ramatuelle, just behind St. Tropez, and it provides a feast not just of great evening concerts, but also of 'Off' events: groups playing and jamming before and after. Headliners are Brussells Jazz Orchestra headed up by Bert Joris, the Kenny Warner Quintet, Martial Solal with Stefano Bolliani, the Emile Parisien Quartet, finishing up with the superb Belmondo brothers, Belmondo Quintet. A feast. . . CHAMBER MUSIC FESTIVAL ENTRECASTEAUX, 20 – 29 August. This classical Festival shelters under the hugely impressive Château d'Entrecasteaux in the hills that goes back to Ligurian times. It has weathered numerous financial storms, but still keeps going, hosting a variety of concerts, under the direction of Alain Meunier, in neighboring villages in this hillside region of the Var. As well as some superb concerts, which this year will feature Annie le Bozec, piano, and Alain Meunier, cello, one of the unique delights of this particular Festival is that one can also attend the rehearsals in the village as the musicians attack Kodaly, Bartok, Hindemith, Falla and Copland. . .The last event in the Musical Festival calendar is that of the FESTIVAL QUATUORS A CORDES EN PAYS DE FAYENCE from the 23rd to the 30th of October, attracting major string quartets from all over the world.
It would be hard to replicate the ambiance of the musical events that take place in the Var. There is an incredible atmosphere of shared pleasure and the warmth of connection, it is far easier here to strike up friendships in this very special region, and these concerts truly provide a feast for all the senses. As one London newspaper music critic wrote, quite literally, a rave review about Musique Cordiale: he was amazed at one of the venues, a small church, to see people practically hanging off the rafters, so as not to miss the wonderful music being created.
If you would like to know more about these events, you have only to email WHATSONINTHEVAR@VARVILLAGEVOICE.COM to get the latest lowdown every month. WHAT'S ON IN THE VAR is a spin off from the popular VAR VILLAGE VOICE monthly English language magazine which circulates to English speaking residents throughout the Var and covers regional events. It has been specifically designed for the thousands of tourists and villa renters who flock to this region from May to October, and it provides helpful information about events and local facilities.
Anita Rieu-Sicart is a long-time resident of Provence's Var département,
and as editor of the VAR VILLAGE VOICE she is the best source of information
relating to living or visiting the Var. From shopping to dining out to entertainment,
Anita is the local expert. Contact her at anita@varvillagevoice.com and
be sure to visit her web site at http://www.varvillagevoice.com for both informative
and pleasurable reading and a lot of insight into life in this lovely corner of Provence.