This column is intended to advise you about cultural events, news and happenings
in France or France-related events taking place in the United States
between now and the publication of our next issue.
In France. . .
o Author To Lead Walking Tour of Paris Movie Locations (PARIS, France) The author of the book Paris Movie Walks, reviewed in our August newsletter, will lead a walking tour of famous film locations on November 25, 2009 at 4:00 PM, starting from Shakespeare and Company, the famed Left Bank English language bookstore.
Michael Schürmann's book, subtitled 'Ten Walking Tours Through the City of Lights! Camera! Action!' lets walkers see the famous sites and quiet neighborhoods of Paris as seen in famous films, from Hollywood blockbusters to New Wave classics to the most recent art house releases.
The hour-long walk will take in Notre Dame Cathedral and Rive Gauche locations as Schürmann recounts tales of the filming of such films as An American in Paris, Breathless (A Bout de Souffle), and Before Sunset. After the walk, back at Shakespeare and Company, Schürmann will sign copies of his book.
Shakespeare and Company is located at 37, rue de la Bucherie, steps from the Seine, in the 5th arrondissement. The nearest Métro stop is St Michel-Notre Dame. For more information call 33 1 43 25 40 93.
o Château de la Barre in the Sarthe département of northwestern France invites you to share in their New Year's celebration at Leonardo DaVinci's manoir 'Le Clos Lucé'. Bring in the New Year in this historic part of France, a celebration that includes two gala dinners, Champagne and so much more. For details click here and scroll down to the detailed description of the exciting and exclusive four night event, one you will long remember as the years go by. And, visit Château de la Barre to see their lovely gardens, drawing rooms and your spacious and luxurious accommodations. A limited number of openings is still available.
o The Tiffany Exhibit opens at the Musée du Luxembourg. For the first time since the 1900 World's Fair, the works of American glass master Louis Comfort Tiffany are once again on display in Paris. A tribute to Tiffany's life and work, Tiffany: Color and Light, will be shown at the Musée du Luxembourg through January 17, 2010. The 8,500 square-foot exhibit features approximately 160 objects, including blown glass lamps, lead-glass windows, vases, mosaics, bronzes, and jewelry.
o Look for Coco avant Chanel: A Movie + A Visit to the Auvergne -Coco avant Chanel tells the story of Gabrielle ("Coco") Chanel's amazing journey from a headstrong orphan, to become one of the most influential fashion designers of our time. The film portrays the formative years of Chanel's life, many of them spent in the Auvergne, the years spent discovering and inventing herself.
o France is experiencing what is being called the political 'trial of the decade' as the former Prime Minister under Jacques Chirac, Dominique de Villepin, faces accusations of complicity to slander, complicity to use forgeries, receipt of stolen property and breach of trust. He faces five years in jail if found guilty. This all stems from accusations by Nicolas Sarkozy that de Villepin plotted to smear Sarkozy when they were rivals for the French Presidency and earlier charges of kickbacks at the Clearstream bank involving the sale of French frigates to Taiwan. This promises to be a complicated and dramatic trial complete with international intrigue and spies!
o Own an apartment in Paris! Paris Fractional Ownership is a very sound way for people who want to own a beautiful Paris apartment for their regular visits to the City of Light without having to worry about property ownership throughout the year to achieve their goal. For a fraction of what buying a Paris apartment fully would cost, the buyers receive a permanent title corresponding to their shares each year. You will own the property rather than just membership or usage rights, allowing you to benefit directly from market appreciation. This title can be held onto as long as they like, and when they like, it can be sold or given to their children like any other asset which makes it really very solid and a great way to invest in a Paris property for the first time…. For more information the web site is http://www.paris-fractional-ownership.com or send an email to Glenn Cooper at glenn@paris-fractional-ownership.com or phone (in the US) 1.415.655.1830.
o Jean-Louis Bruguiere, a well-respected, decades-long former anti-terrorism investigative magistrate in France and currently the European Union's envoy to Washington, has written a 481-page book entitled, What I Could Not Say (or All I Could Not Say), to be published in France in November. It details extremist activity in Pakistan, his view that the Pakistani intelligence agency is no longer trusted by foreign governments, and other issues about which he has an inside perspective. The book is 'a portrait of one of Europe's best-known crime fighters' according to the article in the Los Angeles Times, and it tells of his life both as a child influenced by his father's artist friends, as a young adult participating in the leftist student protests of May 1968, and as a magistrate interrogating fanatics and traveling to the most dangerous corners of the world.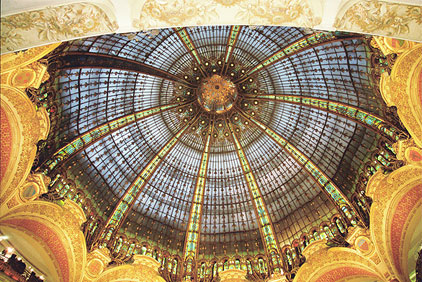 Dome of Galeries Lafayette on Boulevard Haussmann in Paris

o Galeries Lafayette, the famous domed grand magasin de la mode on Boulevard Haussmann in Paris, has inaugurated its new 34,500 square feet shoe department, giving shoe addicts yet another reason to come to Paris. The new footwear department ~ the world's largest, according to Galeries Lafayette ~ opened in July and carries 150 brands of shoes, 75 of which are exclusive to the department store.

o Famed French philosopher, Claude Levi-Strauss died at age 100 in Paris. Considered the father of modern anthropology, Levi-Strauss studied tribes in Brazil and North American, concluding that all societies shared commonalities of behavior and thought. As the leader of the French intellectual scene in the 1960s and 1970s, Levi-Strauss founded the school of thought known as 'structuralism'.

o Matt Kramer, wine contributor to Wine Spectator magazine since 1985, wrote in the November 15th issue that he is very impressed by Loire wines. He wrote, ". . . Loire wines are not moneymakers. They are a labor of wine love." We discovered some wonderful Chinon (a Loire wine) on our recent visit to the region in October, and we can certainly agree with Mr Kramer! When next shopping in your favorite wine store, do look for Bourgeuil, Chinon, Vouvray, and/or any other superbly crafted Loire wines. You won't regret it!

In the US . . .

o Until January 3, 2010 the exhibit Cézanne and American Modernism will be the first show on this subject, offering a collection of paintings and paper art work telling of the artist's profound influence on American artists from 1907 to 1930 and will include work by Man Ray, Arshile Gorky and others. At the Montclair (New Jersey) Art Museum. More information at http://www.montclair-art.org.

o Also through January 3, 2010, the Morgan Library and Museum in New York City, presents Rococo and Revolution: Eighteenth-Century French Drawings. This exhibit follows artistic design in France from the end of Louis XIV's reign to the collapse of the ancien regime, encompassing works by Fragonard, Boucher and David...taking us from Rococo to Neoclassical austerity. More details at http://www.themorgan.org.

o Watteau to Degas: French Drawings from the Frits Lugt Collection is the exhibit through January 10 at the Frick Collection in New York City. Visitors will enjoy more than sixty of the finest 18th- and 19th-century pieces from the collection including works of art, collector's marks and art sales catalogs permanently housed in an 18th-century Parisian mansion. For further information visit http://www.frick.org.

o Paul Gauguin: Paris, 1889 is the exhibit at the Cleveland Museum of Art through January 18, 2010. Included in the show are some 100 works of art, including the artist's first set of print. Details can be obtained at http://www.clevelandart.org.

o Washington, DC will be the venue for Renaissance to Revolution: French Drawings from the National Gallery of Art, 1500-1800 - three centuries of art from both French artists and their foreign contemporaries who worked in France. Works by Callot, Lorrain, Cellini, Boucher and David are included. At the National Gallery of Art; visit http://www.nga.gov.

o New York's Museum of Modern Art will host an exhibit of Monet's Water Lilies from now until April 12, 2010. The collection belongs to the Museum and contains work from Monet's late period when he was living and working at Giverny. For more details please visit http://www.moma.org.

o The Hillwood Estate, Museum and Gardens in Washington, DC, will present Sèvres Then and Now: Tradition and Innovation in Porcelain, 1750 - 2000. This exhibit is a retrospective featuring about ninety pieces of the famed porcelain including elaborate 18th century pieces to works of the late 20th century. Through May 30, 2010. Information available at http://www.hillwoodmuseum.org.

o Conducted by James Levine, Les Contes d'Hoffmann (The Tales of Hoffmann), by Offenbach will be staged at the Metropolitan Opera in New York from December 3 to January 2. More details are available at http://metopera.org.




---
GUSTAVE EIFFEL: a truly 'towering' figure of French architecture
by Arthur Gillette
2009 is the 120th anniversary of the Eiffel Tower,
and we thought it only fitting before the year came to an end
to offer our readers a portrait of its creator, Gustave Eiffel,
who was born in Dijon in 1832 and died in Paris at the end of 1923.
Paris-based Arthur Gillette filed this story.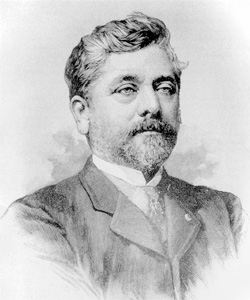 During World War II, and while her husband was a U.S. Navy officer in the Pacific theatre, my aunt came to live with my family in suburban New Jersey. In the 1930s, he had been posted at the U.S. Embassy in Paris and, as I remember (I was quite small at the time), my aunt was very nostalgic for la vie parisienne. A sharp image I've retained is my aunt's bright yellow smock across which traipsed black poodles and black Eiffel Towers.
It was several years before my family visited Paris, but, when we did, a ride to the top of the 'steel lady' was a definite must.
What many people (including many Parisians) don't know is that La Tour was anything but Eiffel's only architectural achievement. Early destined for a scientific career, he soon branched off into civil engineering and, at the age of 23, graduated from the prestigious Ecole Centrale des Arts et Manufactures. At a time when France was covering herself with railways and other steel-supported structures ('steel, steel, nothing but steel' then-emperor Napoleon III is credited with remarking), Eiffel became fascinated with that material.
At 26, the young engineer directed the construction of a 500-meter-long railway bridge near Bordeaux, along the way jumping into the river being spanned by the structure to save a worker who had fallen from it. Six years later, he set up his own steel-oriented engineering firm and soon commissions were pouring in. More railway bridges in France, but also steel structures for two churches and one synagogue in Paris, as well as other commissions from Hungary, Romania, Portugal, Spain and countries as far-flung as the Philippines, Chile, Peru and Vietnam.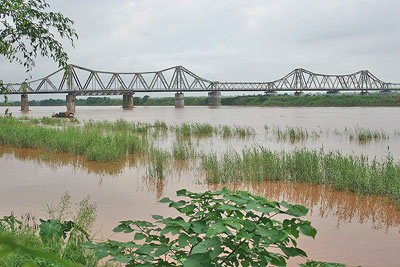 Long Ben bridge by Eiffel - Hanoi, Vietnam
And let's not forget the steel framework for Bartholdi's Statue of Liberty, destined for... you know where.
An associate assisting Eiffel on the Statue of Liberty project was a certain Monsieur Gaget. A smart businessman, he traveled to New York for the monument's inauguration in 1886 and hawked there small replicas of it. The Americans had a problem pronouncing the soft 'g' of Gaget and added a 'd', creating Gadget, a nickname soon given to the statuettes and, since, to all sorts of other gadgets!
"Let's Be Wary of 'Great Men'"
169 meters high, the Washington Monument was inaugurated in 1885. It may well have given two of Eiffel's collaborators the idea of building an obelisk still taller out of lacy steel, much lighter and much less wind-resistant. Be that as it may, Eiffel patented the idea and proposed to make it a reality for an International Exhibition soon to be held in Barcelona. The Catalan capital's answer? "Very unrealistic and much too expensive!"
Not ones to be easily discouraged, Eiffel and his team entered the competition for a major (if temporary) monument to be erected on Paris' Champ de Mars for the all-important International Exhibition to be held in 1889 marking the first centenary of the French Revolution. Their proposal for a steel tower 300 meters tall (almost twice the height of the Washington Monument) was audacious, but certainly not the most far-fetched of entries. One of the others, for example, suggested a soaring obelisk of solid stone. The somewhat marshy Seine-side site selected probably wouldn't have borne the weight!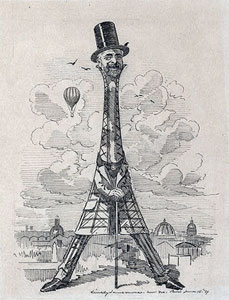 In any event, the Eiffel project won the day and construction began in early 1887. The mammoth task doesn't need to be detailed; just imagine the work involved in, to take but one example, fixing the girders with no less than two and one-half million rivets!
The design was far from pleasing everybody. True enough, some Art Nouveau architects were beginning to take steel 'out of the closet' and displaying it somewhat provocatively. This was, for example, the case with the façade of Hector Guimard's soon-to-be-built Castel Béranger, which one wag nicknamed 'Castel Dérangé'. But steel was considered vulgar and many cultivated Parisians reacted to the Eiffel project with disgust. Some examples: "The ugliest lamppost in Paris" and "A solitary suppository riddled with holes". A joint letter published by Le Temps magazine and signed by such luminaries as Opera architect Charles Garnier, composer Charles Gounod and writers Guy de Maupassant and Alexandre Dumas' fils referred to "the odious column of bolted sheet steel /born of/ the mercantile imaginings of a machine builder" and the "gigantic black factory chimney whose barbaric mass /will/ crush all our humiliated monuments."
Guimard's reply? "Let's be wary of 'great men'!"
The Eiffel Tower was finished on schedule, 31 March 1889, and during the Centennial Exhibition (15 May to 6 November) received no less than 1,953,122 visitors, some 11,800 per day! It is still, 120 years later, probably the most visited single monument in Paris. And, over the years, has been the theatre of some strange shenanigans. A small selection:
· Already in 1889, one Sylvain Dornon climbed to the second floor on... stilts
· In 1923, a journalist rode a bike down the stairs from the second floor
· In 1948, the oldest elephant in the world (from the Cirque Bouglione) climbed up to the second floor
· In 1984, an American aviator piloted Beechcraft Bonanza between the Tower's 'legs'
· A tightrope walker celebrated the monument's first century, in 1989, by crossing a wire stretched some 700 meters from the Tower across the Seine to the Palais de Chaillot.
The Tower was barely complete when Eiffel launched into a new steel venture: designing and building locks for the Panama Canal. There ensued a scandal concerning finance and corruption; Eiffel was tried, found guilty of being involved and sentenced to a fine and two years in prison...but this was annulled after an appeal.
Services Rendered to the Motherland
Soon afterwards, he abandoned construction for scientific experimentation including aerodynamics (for airplane propellers, for instance) and 'wireless telegraphy'; the first radio broadcasts were made from the Tower as early as 1898.
As mentioned above, the Tower was originally meant to be a temporary edifice; Eiffel's contract was for 20 years, following which the Tower was to be dismantled and probably sold as scrap steel. Scientific experiments, and particularly early radio, seem to have earned it a reprieve, and it survived into World War I when it became an important military radio link. During that conflict, those in charge atop it began to pick up coded messages sent by the German forces to someone ~ apparently a spy ~ moving hither and yon around France. Ultimately, the person in question (who turned out to be none other than Mata Hari!) was caught, tried and shot.
Recent scholarship suggests that although she frequented German officers she was in fact not a spy. Still, she played an involuntary role in saving the Tower, which was rewarded with survival until today for patriotic services rendered to the Motherland. So, I guess I have Mata Hari to thank for the Black Eiffel Towers traipsing with black poodles across my aunt's World War II bright yellow smock!
---
Don't hesitate to go to our MARKETPLACE page
and scroll down to check out the strolls Arthur guides
to discover Paris Through the Ages