IN THIS ISSUE:
The French Easel
~ A glimpse of France through the art
of Linda Hampton Smith
Paris Enigmas
Ici et Là
Gustave Eiffel
~The 120th Anniversary of the
Eiffel Tower
by Arthur Gillette
The Black Diamond of the
Rhône-Alpes
by Jeni Matthews
Parisian Religious Buildings
Off the Beaten Track
by Arthur Gillette
A Paris Restaurant Discovery
~ Le Cardinal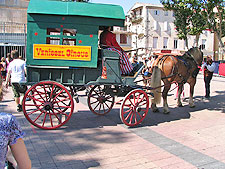 The circus comes to Narbonne
FEATURING: Cruising the Beautiful
Canal Latéral à la Loire
Notes from Narbonne
~ Sand Dollars, Narbonne Nights
and Wine Notes
by Marlane O'Neill
We want to begin this last issue of 2009 with some charming artwork from another of our kind contributors,
all of whom have a special place in their hearts for France. We hope you enjoy the talent of Linda Hampton Smith.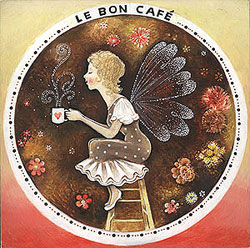 As a young girl, Linda Hampton Smith was mesmerized by the magnificent fairytale illustrations of French painter Adrienne Ségur. This greatly influenced her decision to become an artist, and she went on to study in Paris with Parson's School of Design. There, she was given daily assignments to paint en plein air at points throughout the city. With her French easel (a foldable easel that transforms into a backpack), she painted everything from tiled rooftops to barges along the Seine to the bubbling fountains in les Jardins du Luxembourg.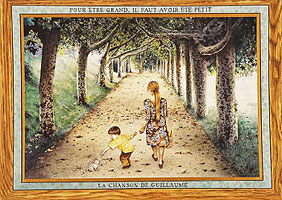 After having taught elementary school art for many years, Linda is now at work illustrating her own children's books. She enjoys inventing characters and placing them in all sorts of vignettes. These little characters very much mirror her passionate love of France.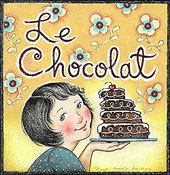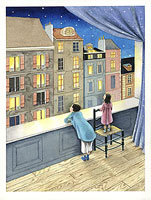 Linda sells prints of her paintings at French heritage festivals and through her online store which can be found at http://www.thefrencheasel.com. Linda may also have a booth at The France Show in London January 8 through 10. If you plan to be in London in January, don't miss it!
---