The Black Diamond of the Rhône-Alpes
by Jeni Matthews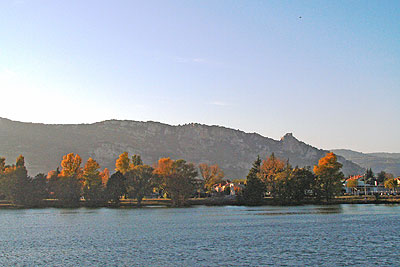 The beautiful Rhône-Alpes region of France
The black truffle is one of the most exclusive culinary delicacies in the world, and the Rhône-Alpes region in France is one of the rare locations where this fungi king can be found. An extremely fragrant mushroom-like tuber, the truffle has long been shrouded in mystery and scandal due to its rarity. In fact, theft, fraud, and even kidnapping are not uncommon during the high season.
Truffles are quite difficult to find, as they are grow slightly below ground at the base of oak trees. At one time pigs were used to sniff them out; however, the greedy beasts too often celebrated a find by devouring the precious treasure before their master could get his hands on it. Therefore, pigs were eventually replaced by specially trained dogs that could scout just as well but with a bit more self control.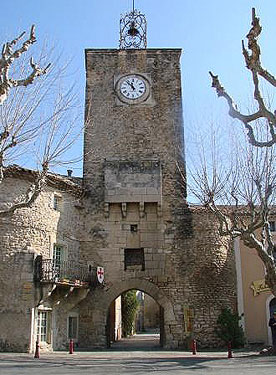 The secretiveness that accompanies the truffles is utterly fascinating. To understand, one only has to go to the weekly market in the tiny village of Richerenches, known to be the largest black truffle market in the world. The main street of the village is lined with vendors, but further down the road, from behind the parked cars is where the real sales occur. It is not rare to see three or four people, their heads bent over the trunk of a car, whispering together as they barter prices for truffles. Although one must be wary of imitation Chinese imports, some of the best truffles can be found from this less than legal checkpoint.
Yet another captivating experience is to visit one of the many local truffle traders where much of the buying and selling takes place. They usually live on a truffle farm, meaning they have a forest of row upon row of oak trees. Here you can meet their truffle dogs, although don't get too close as the owners are highly protective of their valuable (one might say priceless) animals. Some traders offer tours, where you can do a little truffle hunting of your own. See for yourself how challenging it is to find these mysterious little black orbs.
Truffle trading usually happens in the cool, damp cellars of the truffle farm. People arrive with their sack of truffles clutched closely to their chests, their dogs following closely behind. They look furtively left and right to size up their fellow hunters' cache. They wait patiently while the trader lovingly cleans and weighs each black diamond before pronouncing his final offer. Money and truffles change hands, and the hunters leave as quietly as they arrived. The entire hushed process lasts not longer than five or ten minutes.
Richerenches
Once you've finally obtained a truffle or two, one might wonder what to do with these strange looking lumps. The key is to use them quickly and simply. Although they can be frozen, they are best used fresh and must be used about eight days. Because the truffle taste is so strong, a little bit can go a long way to transform a simple dish into a mouthwatering feast. The truffle should either be very thinly sliced (a razor blade works well) or grated. One of the most divine recipes starts with a basic cream sauce. Add a few truffle shavings, and pour everything over linguini. It will be the most memorable pasta you've ever experienced.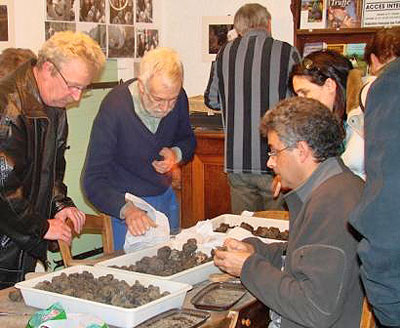 The art of truffle trading
Should you prefer to forego the whole do-it-yourself process and skip right to the taste test, the majority of local restaurants offer various truffle dishes during the season. These can vary from a simple but delicious omelet at the no-frills Restaurant L'Escapade in Richerenches to steamed sea bass with a luscious leek fondue, dressed with a grating of fresh truffles in the nearby Michelin-starred Les Cèdres.
Throughout the season, truffle-themed activities abound in the Rhône-Alpes. Many hotels and bed and breakfasts offer special packages, while restaurants often present truffle tasting menus. Hunting with a truffle dog, cooking classes, and the truffle museum (Maison de la Truffe et du Tricastin) in Tricastin are also possibilities.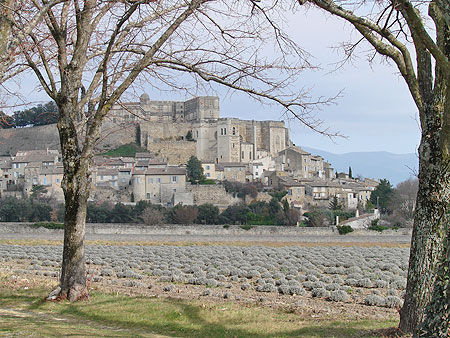 Not to be outdone by this magnificent organic treasure, the Rhône-Alpes is also renowned for powerful wines, charming hilltop villages, formidable mountainous backdrops, incredibly rich history, and culinary expertise. Attractions include the picturesque hilltop villages of Grignan, la Garde Adhémar and Mirmande; pottery classes offered by local artisans in Cliousclat; the fascinating World War II Resistance Museum in the Vercors Mountains; skiing or snow shoeing in the nearby Alpes; even local Christmas markets. Of course, one should never leave the Rhône-Alpes without a visit to Lyon, the culinary capital of the world.
Truffle fever abounds every year from November to March. With the crisp, wintry air having settled over the land, the wood stoves burning, and the Christmas season rapidly approaching, the excitement is palpable. What a perfect time to investigate what this culinary indulgence is all about! A journey through the Rhône-Alpes offers the opportunity to discover both the majestic truffle and the sublime area in which it is found.

A fascinating hilltop village in the Rhône-Alpes
Jeni Matthews owns and operates Red Balloon Travel and Consulting
Red Balloon Travel offers spectacularly unique holidays for people interested in a completely original French experience.
As American-run tourism specialists based in the Rhône-Alpes of France, these travel experts know the region inside and out,
all the while maintaining a foreign perspective. They have personal relationships with each business with which they work,
thus ensuring experiences that surpass even the highest of expectations.
Visit their web site for extensive information on their itineraries and suggestions for your visit to the Rhône-Alpes:
http://www.red-balloon-travel.com
Send an email to contact@red-balloon-travel.com
Tel: 33.4.75.43.22.51
Fax: 33.4.75.43.22.51
Cell: 33.6.47.69.65.89

---
PARISIAN RELIGIOUS BUILDINGS OFF THE BEATEN TRACK
by Arthur Gillette
Most travelers who visit the French capital on their own
tour Notre Dame Cathedral and at least pass by the Saint-Germain
des Prés Church. But Paris also offers a number of other, lesser-known
religious buildings with often curious (indeed beguiling) histories.
To help you discover some of them, FRANCE On Your Own offers
this series of illustrated short takes beginning with two very different churches.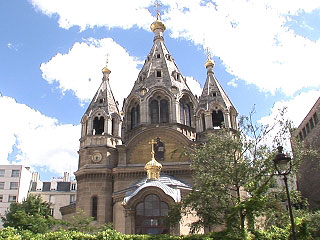 Saint Alexander Nevski Russian Orthodox Cathedral
(12, rue Daru, 8th arrondissement)
In the mid-1800s there were only about a thousand Orthodox Russians in Paris, but Napoleon III authorized the construction of a church for them, named for the 13th century Grand Duke of Novgorod. He was a popular leader having obtained a reduction of the tribute paid to Mongolian rulers, and he defended Russian territory against the Swedes and Teutonic Knights.
Nevski ended his life as a monk and was sainted soon thereafter. So well-loved was he by the Russians that during the atheist Soviet period Sergei Eisenstein devoted a film to him, with music by another Sergei. . . Prokofiev.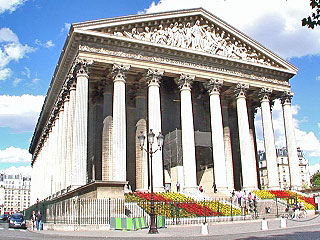 La Madeleine Church
(Place de la Madeleine, 8th arrondissement)
Although not exactly « off the beaten track » physically, its up-and-down history is little known. Begun as a church by King Louis XV in the 18th century, it was finished in neo-classical style (a Parisian Parthenon) by Napoleon I in 1806 ~ not as a religious building but rather a monument to the French Armed Forces, then victorious throughout Europe. The came Napoleon's disastrous Russian campaign of 1812, and he handed the building back to the Church.
Story over? Not quite. Around 1842, the Madeleine narrowly escaped becoming the first major Paris railway station! It was finally consecrated as a church in 1845.
Photos courtesy of http://www.netprof.fr, a free educational site on which you
can see (in French) more on the Cathedral and La Madeleine. On the home page, scroll down
to Histoire de Paris and click on Des Lieux de Culte exceptionnels.
Join Arthur Gillette on one of his historic explorations of Paris.
Visit our MARKETPLACE page for his Paris Through the Ages Strolls.


---
A Paris Restaurant Discovery . . .
One of our last days in Paris this October was spent wandering from shop to shop looking for last minute gifts to bring home to family members and the kind neighbor who watched over our garden during our absence. We found ourselves on the bustling Boulevard des Italiens in the 2nd arrondissement not very far from the apartment we were about to vacate. Our morning of walking had given us an appetite for a nice lunch. We looked at a few places on the boulevard, checking out their menus and prices, but didn't come across anything that impressed.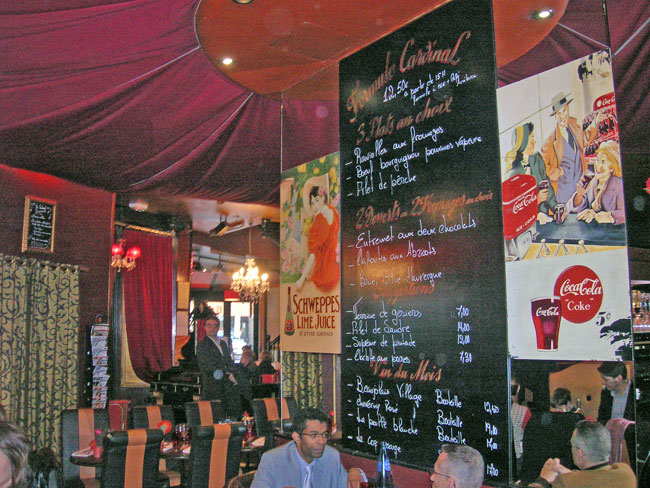 We happened upon Le Cardinal at number 1, boulevard des Italiens, Métro stop Richelieu-Drouot, and a few steps from Place de l'Opéra...calling itself a Restaurant / Bar / Brasserie and one with 'Service Non-Stop' from Sunday through Thursday (7 AM to 2 AM the next morning and closing at 5 AM on Fridays and Saturdays). It was busy ~ a sign to us that the food and service are, at a minimum, good. Their web site, which we found after our visit, indicates that it is a new place in a modern setting and they say you will be welcomed by dynamic and polite personnel, eager to please both individuals and groups. As you will see as you read on, the restaurant does live up to its claims for attentive service and ambiance in our opinion.
The décor is really interesting. We liked the curves used in the table placements and the fact that there were several levels, some only a few steps up, but all intending to create a comfortable yet functional layout. Despite the fact that the restaurant was filled with people, it was not at all noisy, which is probably attributable to the clever use of sound absorbing fabrics as you can see in the photo.
First impressions really do count. The moment we stepped inside, a pleasant gentleman greeted us and escorted us up a few steps to a table for two and gave us our menus. Having already looked at the specials posted outside, we were almost certain what our choices would be. A large menu board just happened to be on the wall below our table, and we once again looked over the selections. The menu was 12.50 euros if you chose from three main courses and three desserts.
Within a minute or two, our young waiter came to our table to ask if what we would like to drink, and dashed off to get our wine and water. When he returned to take our order and bring us a selection of country breads, we told him we were interested in the filet de perche, and we asked his opinion of our choice. He said that it was excellent. He was absolutely right about that! As we sat looking over the colorful restaurant, filled with business people and nary a tourist that we could discern, our meal arrived. The perch was perfectly prepared and placed over a bed of tiny steamed vegetables and surrounded by a lovely sauce. It was a generous portion, more than enough for two hungry shoppers at lunchtime. We each chose a different dessert: one, 'entremets aux deux chocolats', was a small rectangle of a thin layer of cake atop a layer of white chocolate and topped with a third layer of dark chocolate. It, like the perch, melted in the mouth. The other dessert was a 'clafoutis aux abricots', a light pastry with apricots. Delicious!
We have to say that half the enjoyment of having lunch at Le Cardinal was our delightful waiter. He had a great sense of humor and was bright and efficient. He anticipated our needs and made us feel as though our being there mattered...we were not going to be rushed out so that our table could receive new customers.
When you are next in Paris, do take a stroll down Boulevard des Italiens and head for Number One. You won't be disappointed.
Visit Le Cardinal's web site for a little slide show / video
of the brasserie / bar / restaurant at http://www.lecardinalrichelieu.fr.
[Photo by Cold Spring Press. Copyright 2009. All Rights Reserved.]