by Marlane O'Neill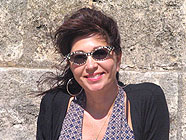 Sand Dollars
The French see summer in a different way from Americans and perhaps other Europeans as well. Summer is not just another season; it has a time zone of its own ~ another world that is escape from everyday life. Adventure, abandon, even ecstasy is in the air and a chance to escape the mundane.
The French go on vacation with missionary zeal. The beaches of Narbonne and the surrounding area are testament to this; in June they were almost empty but by July they are bursting with tourists, mostly French with Germans a close second. Our precious beach real estate shrinks daily, and we are thankful to find enough sand to park a blanket and cooler by mid-August. People of all nationalities ~ Americans, Chinese, Australians, and Europeans (of course) ~ have invaded Narbonne and are staying on the beach with us for the next two to four weeks. The sight of all this humanity enthralls us. It's a great opportunity to people watch different cultures interacting and playing with each other. The greatest pastime is digging in the sand followed by burying people and building sand castles, the likes of which are very authentic. Most Europeans have seen real castles so their renditions are complete with moats filled by sea water, drawbridges, little flags, turrets and interior courtyards with wells, tiny churches and towns.
Narbonne lives up to its part in the deal. The weather never ceases to be perfectly cloudless with good, hot temperatures hovering around 90 to 95 Fahrenheit, (32 to 38 Celsius), low humidity and lots of boisterous, fragrant restaurants serving up mussels steamed in white wine, paella, platters of shellfish on ice, and gallons of chilled wines. As a bonus, there are never any traffic jams from Narbonne to Narbonne Plage (beach), even during peak hours. Free parking is always available, although it came perilously close to being completely full at times. The same can't be said for Gruissan Plage or Leucate Plage, nearby beaches. They had some traffic backups but they never lasted more than an extra 15 minutes. Our favorite beach is thus Narbonne Plage. Not just for the convenience but for the extraordinary drive from the city to the beach. A winding road with no traffic lights glides non-stop from city to beach within 15 to 20 minutes and travels through Narbonne's greatest natural treasure: La Clape.
La Clape is a natural reserve of untouched beauty. Majestic cliffs frame the sweeping ocean view at some of the high points while the windswept valleys contain very old wineries and olive trees. The overall impression is of a wild Mediterranean garden of several thousand hectares. There are no communities and only an occasional house grandfathered into the reserve. The soil is dry, pale and there are innumerable species of plants and trees, some deciduous while others are conifer. Picnic benches and tables have been thoughtfully planted along the road along with observatory spots for people to pull over so as not to have an accident from rubbernecking the unchecked beauty. It is a fairly new two-lane road, put in within the last 10 years. Each time we travel down this idyllic road we learn to appreciate it more and more. Too much traffic, chain restaurants, billboards, no parking, and unattractive hotels ruin many a trip to the beach. This is a pristine, unadulterated voyage that actually relaxes one into the final destination and contact with the natural world.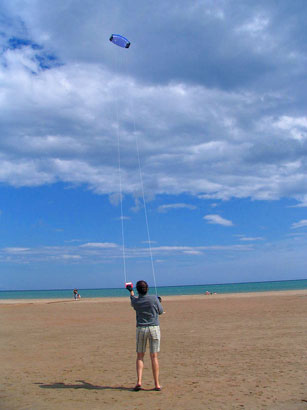 Just as we are about to surrender the beach to the tourists, they disappear. Not gradually, but within a couple of weeks we go from at least 100,000 bodies on the shore to less than 1,000. Just like that. Fittingly, the last week of visitors around mid-September is nothing but Russians and Scandinavians who can bluster the still chilly waters with the air temperature below 90 Fahrenheit (about 34 C). By the third week of September we are flying kites in the wild Narbonne winds and running on the wide deserted beach with barely a bikini in sight.

The same can be said for the other beaches such as Leucate Plage. We decide to revisit Les Pilotis, our favorite restaurant/beach shack on Leucate Plage toward the end of September. We bring along some out of town visitors in the hopes of catching the last vestiges of summer fare before it vanishes completely. As we pull into the sandy parking lot I feel a strange sense of something missing. Are we in the right place? We peer through the windshield to see - the barren pilings of Les Pilotis. The entire building has been swept away. We blink in the still summery bright sunshine and try to take it in. It is so neatly gone, so completely dismantled it has to have been done intentionally. We travel down to the next beach restaurant (there are only two on Leucate Plage) and find the owners in the middle of dismantling it as well. So they are truly seasonal, taking down the entire building lock, stock and barrel to be resurrected next summer. Sheepishly acknowledging our status as Nouveau Narbonnais, we take our visitors to Pierre-sur-Mer where we are sure that some restaurants, firmly rooted in concrete, will still be open. They are, and we enjoy a good lunch of moules frites with chilled white wine.

Luckily, some restaurants stay open all year. On another recent country drive through the village of Fitou we stop in to have lunch at Agnes, a Michelin reviewed restaurant beautifully situated on the edge of town in a renovated barn. Our guests revel in the entrée, escargots in a garlic cream sauce served in a lovely little 'cocotte' (tiny casserole dish) covered by a mille-feuille pastry top. The huge doors open onto the hillside creating a sense of dining outside.

Narbonne Nights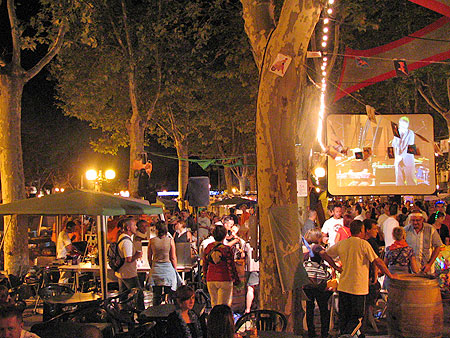 Idyllic beach days and lunches followed by long swims and siestas are perfect preparation for the non-stop party life that is Narbonne nights the entire month of August. Having lived in Key West, Miami and New York City, I thought I knew what party time was. Fantasy Fest in Key West is a four day event! Mardi Gras in New Orleans lasts a week. But August in Narbonne is a full month of extravagant festivals that leave one no time to breathe. Better to tiens la souffle (hold your breath) and hang onto your hat, because it is all topped off with the biggest Narbonnaise event of the year, the Charles Trenet Festival the last weekend of August ~ four days the likes of which I had no preparation for at all.
[Festival video provided by the tourist office: http://www.mairie-narbonne.fr/1-10685-Dailymotion.php?id_group=135102&source_newsletter=119&u=32004]
Toward the end of July we were seeing nightly musical events ranging from full symphony orchestras in tuxedos on the Espace Comtemporaire in front of our building, to modern jazz quartets on the corners and in the restaurants. Le Rive Gauche and Le Centaurée have become our 'cantines', and we bounce between the two rating whatever music they have for the evening. If we feel like splitting a bottle of wine we do so. If not, we just hang around and listen a bit. Wednesdays and Saturdays are big nights when there is ballroom dancing on the banks of the canals. More and more people here about this and by the end of the summer regular parties of several hundreds attend these events arriving complete in tango shoes and salsa dresses.
It is not just music and dancing. During two of the hottest days of August, a true three-ring Circus comes to town complete with a pair of enormous rare tigers. There are acrobats, clowns, magicians, dancing bears, and tightrope walkers as well. People crowd the makeshift fences to watch the non-stop two day show courtesy of the city of Narbonne. As I walk through town I can hear the crowd roar with approval at the various acts. Children sit on their parents shoulders and the trees are full of agile perchers who want to get a better look.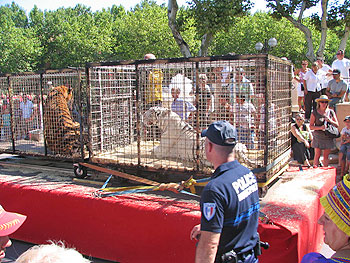 There are so many events and festivities in Narbonne, it is impossible to see all of them. We try to attend the ones we think are the most fun. Here are some highlights:.
Memoires d'Antan (Days of Yesteryear) takes place the end of June. For two days, Narbonne transforms itself into a turn of the century city. Elegant vintage cars, by the dozen, circulate centerville and their male occupants are splendid in spats, suspenders, handlebar mustaches, bowler hats and top hats. The women are even more remarkable in their beaded flapper dresses and saucy hats. Even the children get into the act looking like small adults in their somber suits and dresses. Shepherds guide herds of sheep through the streets, horse-drawn carriages glint brass in the sunlight, and people hand out 'newspapers' declaring the agenda for the next two days. We take a seat in L'Agora, a restaurant in the Place de La Mairie, where we chat with a gentleman from Carcassonne, a nearby city. He says Narbonne is his favorite destination for fun and his city doesn't compare. Thus, he declares, he is going to retire here. At least he doesn't have far to go.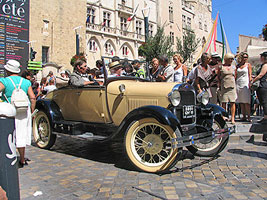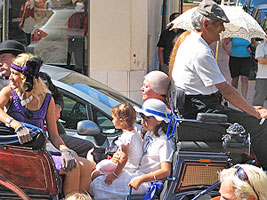 A boxing ring is set up in the center of the Place de la Maire and France's number one boxer is about to show up and give us an exhibition fight. He arrives in grand form, in a horse-drawn carriage dressed in a sweeping black cape and enters the ring with a mighty shout from the crowd. After a good-natured and entertaining dance around the ring for show with another boxer, the referee declares him the winner and he pauses to sign autographs.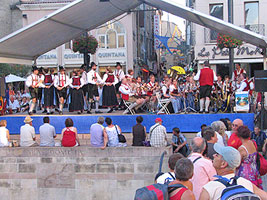 Among dozens of others, one of the major festivals of summer in Narbonne is the cultural exchange between Narbonne and its twin city, Wilheim, of Bavaria, Germany. Into the height of August's languid summer heat come troops of hearty Bavarians complete with lederhosen, string bodices, flounced full skirts and felt hats crowned in feathers. They set up log cabins in the Via Domitia, Place de la Mairie and cook up piles of sauerkraut, sausages, pork ribs and steiners of golden lager. The crowd loves the food and beer, despite the fact its not really the season for it, and they gather up around the long tables set up around the Via Domitia. Grandparents and young children, feisty teenagers and their parents, all enjoy oom-pah-pah bands, dancing, singing and even whipping displays. Somewhere in Bavaria a troupe of Narbonnaise is doing their thing as well!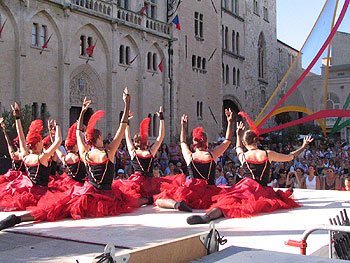 As I said before, the crowning event is the Charles Trenet Festival, the last four days of August. No less than 20,000 people jam themselves along the banks of the Canal de la Robine as they watch nationally acclaimed artists perform on the enormous stage specially set up just for the festival. Colored light shows dance upon their upturned faces and they are mesmerized by Lio and other big acts. Horn players, pianists, drummers, guitarists and dancers whirl around the singers. The bridges over the canal are closed off to prevent them from collapsing under the weight of the crowd. No one minds standing for hours; it's an incredibly well behaved audience. All around the city, huge video screens are erected so that people can enjoy the show. Most of the courtyards of the ancient buildings are opened up with bars and music and there is dancing on the cobblestones. Barrels of wine are set up in the streets while wandering musicians play all different kinds of music. Dancing people are everywhere. It's a celebration of Charles Trenet and his music and of all musicians and their love of life.
Thus the summer ends, and we have what the French call la rentrée meaning re-entry or return. Re-entry into normal life, school, work, return from vacation and back to Earth. September is here and away with the shorts, bikinis and flip-flops. They are replaced rather quickly with scarves, boots and hats. The weather is still sunny but cool snaps occur and then finally we have rain ~ not a lot, but enough to water the withering flower boxes, rejuvenate the grass and liven the people like birds in a forest.
In Les Halles the vendors are remarkably peppy, chattering about their childhood memories of splashing puddles in rubber booties and mothers welcoming them home with steaming hot chocolate. Summer is a glowing memory now, and the vendors are no doubt welcoming the fall harvest, the wine vendange and of course Christmas. The restaurants in Les Halles are jammed with local customers who chat vivaciously about the rain falling outside. It stops within a couple days and we are back to sunny weather, just a bit cooler. The cafes and bars roll in their umbrellas, tables and chairs. The musicians have gone on to play somewhere else, to other European towns. The tourists dwindle down, never quite leave completely but are now outnumbered by the Narbonnaise. Our favorite restaurants can finally welcome us personally, the proprietors no longer distracted by the demanding visitors. The electric pleasure boats on the Canal de la Robine have disappeared, and the sidewalk summer cafés along the canal are closed for the next eight months. But the weather is absolutely delightful, sunny and breezy. We keep our sunglasses on, but shrug on a light sweater occasionally. Life regains its rhythm of work and play. The grapevines have been relieved of their heavy purple fruit, and soon we will taste this years Beaujolais wine, the young fresh harbinger of the coming years vintage. Crisp apples and perfumed pears are abundant. It is now time to enjoy Narbonne's latest visitor, Autumn.
Wine Notes
The trip from Fitou to Narbonne is only about a half hour and goes through the picturesque coastal villages of Bages and Peyriac. In Peyriac we try the wines of the domaine Peyriac-sur-Mer. We are delightfully impressed with the Chardonnay, a rarity in southwest France where hearty reds are the specialty. One of the owners, Kees Graste, is our host, is Dutch and spent 22 years in the salmon farming business in Scandinavia! So, how does one go from there to here? We want to know and have a great conversation, as he is obviously passionate about his wine and the process of making wine. He always had the desire to be a vintner and caught the opportunity to leave his old life twenty years ago when he was financially able to live his dream. We must tip our hat - not only do we love his Chardonnay, but the gorgeous silky 2004 Corbières rouge (red) is a winner as well!
Château Peyriac de Mer - AOC Corbières
24, Chemin Neuf
11440 PEYRIAC DE MER
France
www.chateau-peyriacdemer.com
Notes from Narbonne will be a regular feature of this newsletter.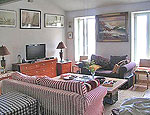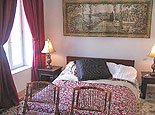 Marlane and Rob offer newly-renovated gîtes for your stay in Narbonne.
Visit them at http://www.narbonnegites.com.
---
For additional information about living in or visiting Narbonne
by land or canal boat, contact www.francehelp.info or email francehelp@live.com.
Please visit the Style de Vie page of the FRANCE On Your Own web site to read
Marlane's account of their life on the Canal du Midi.

[Photo credits: Marlane O'Neill 2009. All rights reserved.
Mouse over photos for additional descriptions.]

---
DISCLAIMER: You have received this newsletter because your email address is on our Opt-In mailing list, i.e., you have requested to receive FRANCE On Your Own ©. If you would like to discontinue receipt of this newsletter, please send an email to publisher@franceonyourown.com with "unsubscribe" on the Subject line.
Unless indicated otherwise, photos, graphics, artwork and text in the FRANCE On Your Own © newsletter are all the property of Cold Spring Press and FRANCE On Your Own © and cannot be copied, duplicated or used in any manner by anyone without the express written permission of Cold Spring Press. FRANCE On Your Own © is published online by Cold Spring Press, P O Box 26098, San Diego, California 92196-0098. This publication is copyrighted and no portions of the text, artwork, graphics or photographs may be reproduced or distributed in any form or by any means or stored in a database or retrieval system without the written permission of the Publisher. For more information about FRANCE On Your Own ©, visit our web site at http://www.franceonyourown.com.
Recommendations made in this newsletter are based upon the personal experiences of the Publishers or contributing writers solely to provide information to subscribers. Cold Spring Press and FRANCE On Your Own © make no endorsements nor are any guarantees or promises of satisfaction given or implied. Any and all information is correct to the best of our knowledge, and the Publishers accept no responsibility for errors and/or omissions. The responsibility lies entirely with the traveler to obtain current information regarding accommodations, availability, schedules, prices, reservations, or any other pertinent details. We do not guarantee the historical accuracy of the contents of articles in this newsletter. Historical accuracy is dependent upon one's sources of information -- and contradictions often exist among those sources. Links to other web sites or email addresses are provided for informational purposes only and do not imply any guarantees of service or endorsement of any organization or their business practices.
FRANCE On Your Own © is electronically transmitted via email. To add your email address to our database for this FREE newsletter, send an email to info@franceonyourown.com, and please put Subscribe in the subject line. We do not share email addresses with any other organization.
BACK ISSUES of the print version of FRANCE On Your Own © are available on our web site at http://www.franceonyourown.com/Archives.htm.
©1998-2009 Cold Spring Press All Rights Reserved

---

previous page