IN THIS ISSUE:
The Impossible Dream
~ A 370-mile cycle ride in France
by Sean Hosking
Paris Enigmas
Ici et Là
Time Doesn't Wait
~ Learning How to Let Go of
Time Management
by Jill Butler
Tuck Harvey:
~ Painting Provence
The Bookshelf:
~Paris Movie Walks - Ten Guided
Tours through the City of
Lights! Camera! Action!
Shopping Chic in Paris - Part Two
by Maxine Schur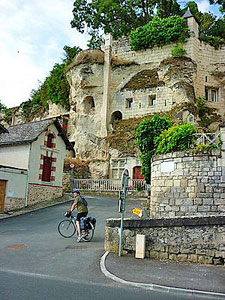 Cycling past a Troglodyte dwelling
near Saumur in the Loire
Update on France:
~ French Healthcare: How does it work
and what does it offer?
~ French Lifestyle: Data from the latest
survey
FEATURING: Haute Normandie
Fêtes & Festivals in Provence
by Barbara Beaumont
Living the Dream in Narbonne
~ Part Two in the New Series
by Marlane O'Neill
A 370-mile cycle ride from St Malo, Brittany to Confolens in the Charente

by Sean Hosking

Discontent with escalating living costs, crowded roads and terrible weather my father sold his Devonshire house, packed up his belongings and headed off to live in the idyll of rural France.
Ten years on, although the romance has diminished slightly due to practicalities and routine, he's still there ~ his only reflection of life in the UK is with disdain ~ so I don't think he'll be moving back.
As a frequent visitor to his Charentais home, I became bored of the plane, train and car and formed a flight of fancy to cycle from the northern port of St Malo through France down to his home near Confolens. It remained a pipe dream for a few years, then in March I had a ''mid-life crisis' with the thought that "if I don't do it now then I'll never do it". I broached the idea with my good friend Hugh and his partner Kim. They seemed keen, so, before they had chance to change their minds, I booked us on the ferry across the English Channel (with bikes) for June.
None of us is particularly athletic and, although we do a few miles cycling on a lazy Sunday afternoon, none of us has tried to cycle 370 miles in a week. Thankfully, we had three months to train and arrange the logistics, bikes and kit. The first job was to get Kim a bike! Before we knew it, it was time to go. Slightly unprepared and not as fit as we would have liked, we set off for the ferry to France. We nearly missed the sailing as the first puncture was had before we had even left the garage!
The one thing I had well prepared was a route itinerary, and I had also booked accommodation for us at various chambres d'hôtes and inns along the way. So, every day we knew our destination and exactly how many miles we had to cover (assuming we didn't get lost). Once we were on the French roads and as our wheels went 'round, we felt ourselves mellow and our cares slide away.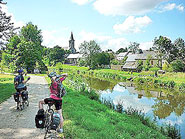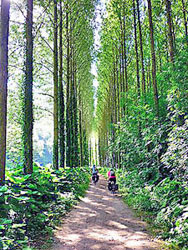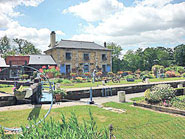 Biking along the Rance Canal and the Lock Keeper's House
Our route took in Brittany, through the Loire Valley and then to join the river Vienne and follow it all the way down to Confolens in the Charente. Brittany, similar to my home county of Cornwall, is a beautifully green and pleasant land; we followed the Rance canal to the city of Rennes. This region is famous for it's crêpes and cider which we enjoyed very much.
As we entered the Loire Valley the landscape dramatically opened up to a drier terrain and the breadth of the River Loire. We followed it's course through the pretty villages and vineyards, spending some quality time in the towns of Saumur and Chinon.
Cycling is certainly a great way to see the countryside; the pace allows one to take in details of the sights and the smells, say "bonjour" to everyone you pass, and it's easy to stop when see something of interest or sample something from the local patisserie or relax over a café au lait. We had little to care about while in the saddle: simply to ponder what we fancied to eat next and to wonder what our next port of call would be like.
continued on page 2
---