Ici et Là continued . . .
In the US. . .
o Famed French composer Maurice Jarre died in March at his Malibu, California home at the age of 84. He will be remembered most for his movie scores for the David Lean films Doctor Zhivago and Lawrence of Arabia, but he also made an impact with his compositions for A Passage to India and The Longest Day. Born in Lyon, France, Jarre served in the French Army in World War II. He won three Oscars in his career.
o In May, the US dropped the idea of a 300% tariff on Roquefort cheese from France prompted by a trade war revolving around the EU's ban on hormone-treated American beef. Only a few days before President Bush left office, the former tariff of 100%, imposed by the Clinton administration in protest of the EU's refusal to buy US beef treated with hormones, was to triple on April 23, 2009. This threat of retaliatory duties from the U.S. on EU products ranged from Roquefort cheese from France to Spanish and Italian hams and bottled water. With the tariff threat now resolved, the amount of beef cattle the US can export to the EU will triple, but that cattle cannot have been treated with any hormones. The EU states that the hormones cause cancer and pose other health risks.
o Stanford University continues to rank very high in its collection of Rodin sculptures. So, if you happen to visit Palo Alto, do take time to visit the campus and discover the Rodin creations for yourself.
o Jackson, Mississippi hosts the exhibit Raoul Dufy: A Celebration of Beauty at the Mississippi Museum of Art through the 5th of July. Over 200 paintings, textile designs and drawings and some dresses made with fabrics by Dufy depict his talent as a decorative artist. An amazing exhibit! More information at http://www.msmuseumart.org.
o Henri Matisse and Modern Art on the French Riviera is the exhibit hosted by the Philadelphia Museum of Art through November 1st. Focusing on Matisse's creations, works by Picasso, Braque, Bonnard and Maillol are also featured. Information can be found at http://www.philamuseum.org.
o Saint Louis is the venue for the staging of The Ghosts of Versailles, an opera about the ghost of Beaumarchais creating an opera to entertain the ghost of Marie Antoinette, orchestrated by John Corigliano at the Opera Center through June 27. Information from http://www.opera-stl.org.
o New York's International Center for Photography (http://www.icp.org) will host Theatre de la Mode through September 6th. The exhibit will feature 15 color photos taken for the 1990 reconstruction of the show which tells the story of the post-World War II effort by Lanvin, Balmain and other top French designers to revitalize the fashion industry with a 1945 exhibition of dolls clad in their designs. One of the original dolls will be on display.
o Cast in Bronze: French Sculpture from Renaissance to Revolution offers 125 works gathered by curators and scholars to shed light on this under appreciated art form. Until September 27 at the Getty Center, Los Angeles. More details at http://www.getty.edu.
o Shopping in Paris: French Fashion 1850 - 1925 is an exhibit at the Philadelphia Museum of Art through October 25th and focusing on the influence French couture had on dress in the United States. With a good economy during France's Second Empire, the demand for luxury goods and high fashion continued for decades. Photographs and film clips. Obtain more information at http://philamuseum.org
o The Getty Center in Los Angeles will present, through November 1, Capturing Nature's Beauty: Three Centuries of French Landscapes, bringing together drawings by 17th century artists Claude Lorrain, Nicolas Poussin and others, and following the evolution of landscape traditions up through the 19th century featuring the work of other masters. For more information please visit http://www.getty.edu.

---
SPONSORING THIS ISSUE:

Red Balloon Travel offers custom French holidays ~ culinary, outdoor, countryside and more.
As Americans based in the Rhône-Alpes, we personally arrange for experiences that will
exceed your highest expectations. Click on the banner above to visit our web site!
---
TIME DOESN'T WAIT ~ Learning How to Let Go of Time Management
by Jill Butler
Once again we have the pleasure of receiving an article and delightful art work
from Jill Butler. Do enjoy her story, and be sure to look for her books on interior design,
self-expression through design, and all her wonderful books about Paris and France.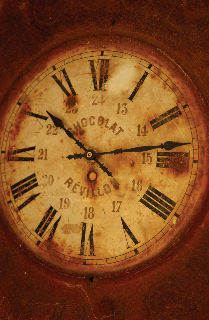 I've always been fascinated with time. I love clocks, watches and the notion of time; how to play with it, inflate it to make it seem bigger, shrink it to make it go faster. I found this perfectly rusted clock in the French countryside in a brocante, a fancy word for a flea market junk shop. It now works with a simple battery. It lives in my cottage kitchen and, more or less, keeps me on time. It's a souvenir of another time in my life.
Taking the time to watch is one way we learn about the world around us. I did a lot of watching while living in Paris. I came to drawing by watching and sitting in as many cafés as coffees I could drink. Eventually, I could do a quick sketch faster than I could write paragraphs about my experiences. Once drawn ~ a meal, a facade, a face ~ the experience of your encounter is encapsulated and literally embedded in the body memory.
I arrive early. I snuggle into a leather banquette in the back room of the famous Left Bank café, La Palette. The staff is setting up for the day. They barely notice me; nothing new about that. I've come with a sketch book, a Staedtler pencil and a hefty eraser. I've decided to draw this 'view' that I know and love; the quintessential interior of this historic and earthy cafe. It is staffed with authentic descendants of the first cafés created by les Auvergnats originally from the center of France. Still today, young, snarly Auvergnats migrate to Paris to don a long white apron and shirt and a black vest to join the waiter profession as un garçon.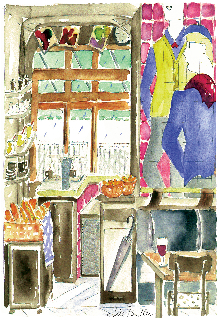 Preparation for drawing requires: reading the newspaper, drinking an extra large black coffee, eating un croissant, checking out the surroundings, making marks on the page, noodling, staying with it, drawing badly, trying again, and using the eraser often. Mostly, I felt I was wasting time until I didn't, as something acceptable began to appear.
Time management doesn't allow for waste. Time is a convenient system that we all mostly agree on to conduct and manage our lives. The surprise about time is it only expands when we let go of the calendar ~ the clock and the demands for it ~ and 'waste' some. Being overmanned and over-booked often creates malnutrition of the spirit, wounds our relationships, and diminishes our creativity.
Time spent and what will we remember?
And now, turn off the TV. The average American is currently watching 37.75 hours per week up from 22 hours before the economic downturn. My neighbors, and near-neighbors, will remember how we had to celebrate our first 76 degree day since last October. As declared by Helen, we couldn't wait to crawl out of our winter caves to share the season's first backyard bonfire. We laughed till it hurt, ate s'mores, of course, told stories and shared plenty of wine and time. And yes, we let time stand still as it expanded into the season's first memorable experience.




[Credits: Illustration by Jill Butler. Clock photo by Lisa Bousquet.
Copyright 2009. All Rights Reserved.]

Order Jill's books today with a click of your mouse!


---
THE ART OF TUCK HARVEY ~ Painting Provence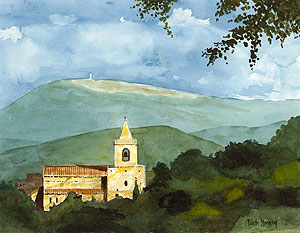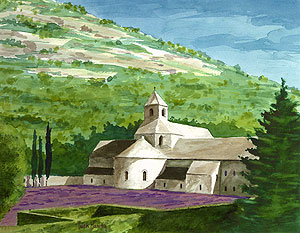 Tuck Harvey, a New York architect who has traveled extensively in France, has recently completed his first series of watercolors that feature well-known (and some not-so-well-known) locales in Provence. He's now at work on other regions ~ the Dordogne and Lot, Alsace, the Loire Valley, Burgundy and Brittany. For his subject matter he tells us that he seeks out simple vernacular architecture set in the sunny, scenic and serene rural surroundings found so readily throughout France. He offers for sale same-size Giclée prints of the 11" x 14" originals. His complete work can be seen at his web site ~ please visit there to see his incredible watercolors: http://www.tuckharveywatercolors.com/PROVENCE.html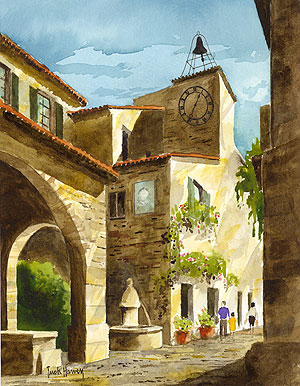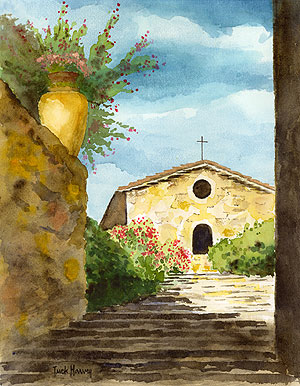 [Photos courtesy of Tuck Harvey - Copyright 2009. All Rights Reserved.
Mouse over each for the description.]

---
THE BOOKSHELF:
Paris Movie Walks ~Ten Guided Tours through the City of Lights! Action! Camera!
by Michael Schürmann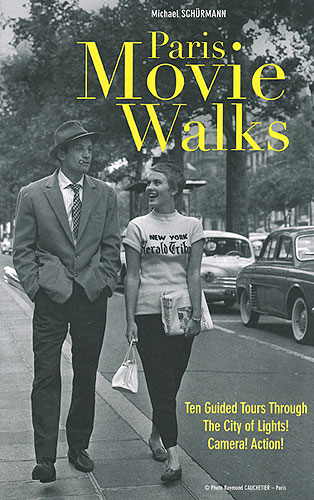 French film buffs will LOVE this book ~ and so will everyone else who has any interest in the city of Paris. It takes you to neighborhoods you might otherwise overlook. Normally, we become a bit on edge when Paris, 'the City of Light' is called by someone 'the City of Lights'... plural...but in this case the subtitle is perfectly appropriate. This book is written by someone who really knows his French films, Paris scene by Paris scene. If you have a favorite French movie and a particular scene comes to mind when you simply hear the title mentioned, then you will most likely find the shooting location of that scene in Paris Movie Walks.
The cover invokes incredible memories for those of us who have been enjoying French films for decades. What photo could have been more appropriate for this book than one of Jean-Paul Belmondo strolling down the Champs Elysées with Jean Seberg in a scene from Jean-Luc Godard's À bout de souffle (Breathless)? Follow such scenes in this book and then take the exact walks yourself next time you are in Paris!
The author is very well versed in French film locations in Paris; for years he has been a walking guide taking visitors to the sights made famous, from the French New Wave classics to Parisian-filmed Hollywood blockbuster movies like The DaVinci Code. We found that the detailed information about the exact location of a film scene also includes what today stands on that very spot. This tying together of the movie location with, perhaps, a totally different backdrop today, makes it easy to find what you are looking for, even if there is disappointment because an old building has been replaced by a newer one.
Ten tours are presented in the book including The Edge of the Fashion District to the Île-St-Louis, Around Montmartre (did you know that the recent film, La Vie en Rose with Marion Cotillard was filmed there?), Pont d'Alma to the Eiffel Tower and Beyond, along with seven others. After the tenth tour, one of the final chapters, Further Afield, takes film aficionados to scene locations not included in the tours. Among them you will find - near the Cluny-Sorbonne métro station - the location for the Police headquarters in Steve Martin's The Pink Panther, and the UNESCO headquarters building behind l'Ecole Militaire for a shot of Audrey Hepburn in Charade, as well locations near La Défense, Bastille and others. The author also suggests some movies to see before going to Paris to provide you with a sense of seldom-seen neighborhoods and Paris history in a more entertaining light than a guide book...through French film.
The photos in the book are not scenes from movies, but they are places mentioned in the text. In fact, we believe the only movie scene is the one on the cover. But, the book is a wealth of information and the photos are quite incidental.
A great index lists over 210 films covered in the book...a wonderful anthology of movies you could use as a checklist to mark off those you've viewed and those you would like to see. Each tour provides maps as well, although we believe this is only place the book fell short. As each section has two maps, it would have made sense to put them on opposing pages so they could be viewed in total, but, instead, there is a map on one page that has North to your left, for example, and causes you to have to turn the book sideways to read it. Then two pages later is the second map ~ a continuation of the first ~ that may have North at the top of the page. We believe all the maps should have been with the North arrow up and should have been able to be read without maneuvering the book around. The maps themselves, aren't marked with scene locations, so one must know the street and then find it on the map. Bring your reading glasses ~ the street names are very small. You will find the author gives very detailed walking directions, so none of the sights in the book will be difficult to find.
Overall, this is a great book to take with you to Paris. Even if you don't intend to do an entire tour presented by Michael Schürmann, you might want to pick an interesting scene from the book and make your way over to that very spot. For example, James Bond fans might recall the eye patched villain parking his car across the street from 35, avenue d'Eylau ~ a building supposedly housing the 'International Brotherhood for the Assistance of Stateless Persons' ~ only to discover it is the secret headquarters of the sinister organization, SPECTRE. Bravo to the author for his knowledge and sharing it with us in such an effective and interesting way!
Michael Schürmann is a journalist, broadcaster and translator who has lived in Paris since 1993.
Paris Movie Walks: Ten Guided Tours Through the City of Lights! Action! Camera!
was published June 25, 2009 by The Intrepid Traveler, P O Box 531, Branford, CT USA 06405
ISBN 978-1-887140-83-6
You can buy his book in your local bookstore
or with a click below from Amazon.com.